When you buy through links on this page, we may earn an affiliate commission. Commission payments do not affect the evaluations of the products.
Introducing children to geography and helping them develop an understanding of the world can be both enjoyable and educational through interactive activities. One such engaging tool is a world map puzle.
A world map puzzle combines the joy of problem-solving with learning about various countries, continents, and oceans, sparking curiosity in young minds.
Not only do these puzzles introduce children to the world's geography, but they also help develop cognitive and spatial skills. Assembling a world map puzzle involves critical thinking and problem-solving while encouraging fine motor skills and hand-eye coordination.
Moreover, the activity can turn into a fun and social experience, as kids can work together with their friends or family members to complete the puzzle.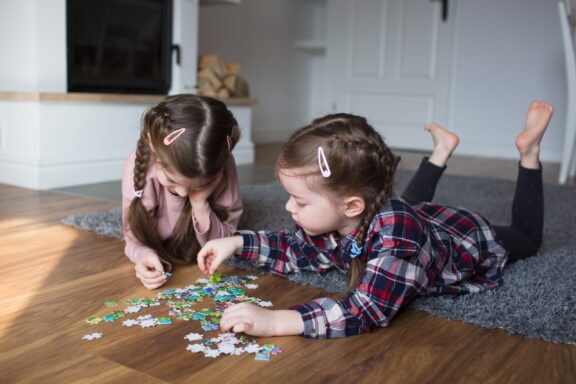 When considering a world map puzzle for kids, buyers should pay attention to factors such as the age appropriateness of the puzzle, the size and number of pieces, and the materials used in its construction.
Ensuring that the puzzle is both safe and engaging for the targeted age group is essential. Also, choosing an eco-friendly and non-toxic material will contribute positively to the child's well-being and the environment.
In summary, world map puzzles for kids are an excellent tool to introduce young learners to the wonders of geography, providing both entertainment and valuable skills. As we move through this article, we will explore our top 8 picks to help you choose the perfect world map puzzle for your child's learning journey.
Best World Map Puzzles for Kids:
Recommended age: 4-8 years
Puzzle Pieces: 100
Price on Amazon: $25.99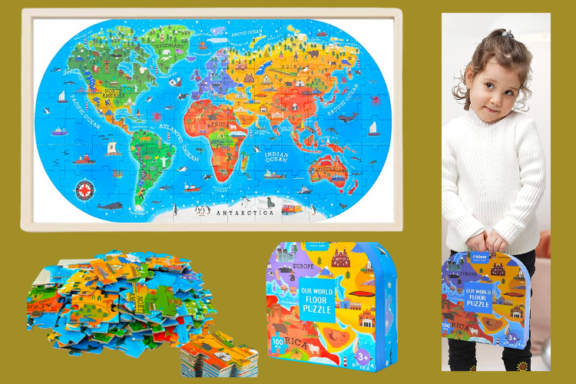 A perfect choice for kids to learn geography and explore the world while having fun assembling a puzzle.
Pros
Entertaining and educational by combining geography lessons with puzzle-solving
Safe and environmentally friendly materials used
Enhances hand-eye coordination, concentration, logical thinking, and patience
Cons
Not completely geographically accurate
Pieces can sometimes fit together incorrectly
It may be difficult for younger children to assemble
This MiDeer 100Pcs World Map Jigsaw Puzzle offers an engaging and enjoyable way for kids to learn about different countries, landmarks, and cultures. The puzzle contains 100 pieces, featuring 43 countries, 49 landmarks, natural sceneries, animals, and plants, along with historic features and customs. It can be a great learning tool for kids while they have fun solving the puzzle.
The materials used in this puzzle are thick paperboard, which is safe and environment-friendly. They meet the ASTM F963-16/17, CPSIA, and CPC standards, ensuring sturdiness and smoothness.
Despite its thickness and safe materials, the pieces may sometimes fit together incorrectly, which may be challenging for young kids.
In addition to its educational value, this MiDeer puzzle helps kids develop various essential skills. These include hand-eye coordination, concentration, logical thinking, and patience. The puzzle comes in a premium handheld gift box, perfect for friends or kids on special occasions like birthdays, holidays, and school events.
In conclusion, while the MiDeer 100Pcs World Map Jigsaw Puzzle may not be 100% geographically accurate, it still offers a fun, engaging, and educational experience for kids. It serves as a helpful learning tool while enhancing their cognitive skills in a visually appealing and interactive way.
Recommended age: 8-12 years
Puzzle Pieces: 200
Price on Amazon: $25.48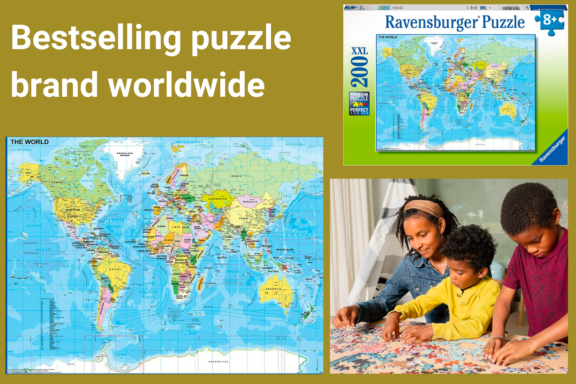 This high-quality World Map Puzzle by Ravensburger is perfect for children who love geography and enjoy challenging activities.
Pros
High-quality, unique pieces
Educational and creative
Fun activity for the whole family
Cons
Tiny graphics on individual pieces
May be too challenging for some 8-year-olds
Occasional puzzle dust noted
The Ravensburger World Map Puzzle for Kids is a fantastic way to engage your child in an educational and entertaining activity. With over 1 billion puzzles sold, Ravensburger is known for its premium quality puzzles, ensuring that each piece fits together perfectly. The 200-piece puzzle not only promotes concentration and creativity but also serves as an avenue for storytelling and family bonding.
This world map puzzle boasts an anti-glare surface, making it an enjoyable experience for kids and parents alike. Additionally, each piece is unique, avoiding the frustrations commonly felt with other puzzle brands. This puzzle also makes an excellent gift for birthdays, holidays, or even as a special treat to keep your child engaged and learning.
However, the puzzle's graphics might be too small for some younger children, and the indicated age of 8 years old might prove a little too challenging for some kids at that age. A small number of customers have noted the presence of puzzle dust, but this does not detract from the overall quality and educational value of the puzzle.
In conclusion, the Ravensburger World Map Puzzle for Kids is a well-crafted, engaging, and educational activity that encourages concentration, creativity, and family bonding time.
Its unique design, high-quality materials, and appealing graphics make it a worthwhile investment for any child passionate about geography. Despite a few minor drawbacks, this puzzle remains a great option for those seeking an entertaining and educational experience for children.
Recommended age: 4-10 years
Puzzle Pieces: 75
Price on Amazon: $16.97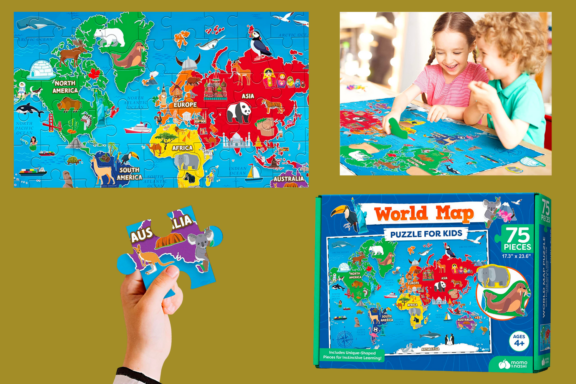 The Momo & Nashi World Map Puzzle is perfect for young learners to explore geography and learn about continents in a fun, interactive way.
Pros
Stimulates and challenges young minds
Vibrant, artist-commissioned design
Durable and long-lasting construction
Cons
Might be too simple for older children
Not suitable for kids below 4 years old
Could use more detailed information on landmarks
The Momo & Nashi World Map Puzzle for Kids is ideal for children aged 4-10 years old. Designed as an educational tool, this 75-piece puzzle encourages problem-solving, memorization, and awareness of geography among kids.
Featuring a colorful and vibrant artist-commissioned illustration, the puzzle includes various landmarks, continents, and icons. The final assembled puzzle measures 23.62×17.32 inches | 60×44 cm, providing an engaging learning platform for children to explore geographical locations.
Crafted from durable 2 mm chipboard, this high-quality puzzle ensures long-lasting enjoyment for years and generations to come. Its reinforced packaging ensures proper storage and protection when not in use. The World Map Puzzle by Momo & Nashi is fully safety tested and compliant with ASTM F963 & CPSIA standards.
Overall, if you're looking for a fun and educational gift for young kids, the puzzle is a great choice to spark their interest in geography, inspire conversations about the world, and aid in cognitive development.
Recommended age: 9-15 years
Puzzle Pieces: 300
Price on Amazon: $17.99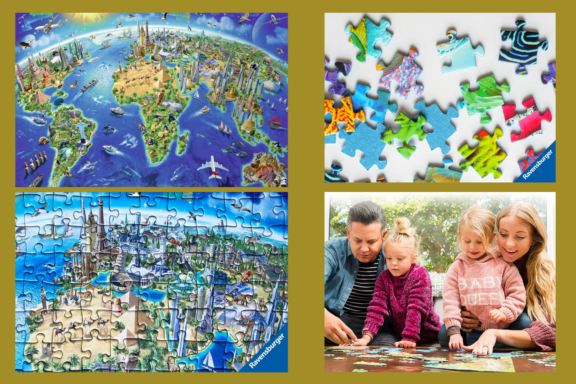 The Ravensburger World Landmarks Map Puzzle offers a fun learning experience for kids aged 9-15, with high-quality pieces and vibrant illustrations of world landmarks.
Pros
High-quality, durable pieces
Educational and engaging content
Colorful and visually appealing design
Cons
Difficulty level may frustrate younger children
Some landmarks incorrectly placed on the map
Occasional missing or duplicate pieces
The Ravensburger World Landmarks Map Puzzle is a 300-piece jigsaw puzzle that helps children develop essential skills such as concentration and creativity. With Ravensburger being the bestselling puzzle brand worldwide, parents can trust the quality of this product. The puzzle features an anti-glare surface and unique pieces, ensuring a smooth and enjoyable experience for young puzzle enthusiasts.
One of the highlights of this puzzle is its educational value. As children piece together the puzzle, they will naturally learn about various world landmarks and their locations, enhancing their geographical knowledge. Moreover, the colorful and vibrant design of the puzzle will undoubtedly keep children engaged and eager to complete it.
However, there are a few drawbacks to the Ravensburger World Landmarks Map Puzzle. The difficulty level may be challenging for younger children, leading to feelings of frustration.
Some landmarks on the puzzle are incorrectly placed on the map, which might confuse children who are trying to learn geography through this activity. Lastly, there have been reports of missing or duplicate pieces, which can be disappointing for both children and parents.
Overall, the word landmarks map puzzle by Ravensburger is a fun and educational activity for kids, but with its minor drawbacks, parents should consider their child's age and temperament when purchasing this product.
Recommended age: 5+ years
Puzzle Pieces: 100
Price on Amazon: $16.86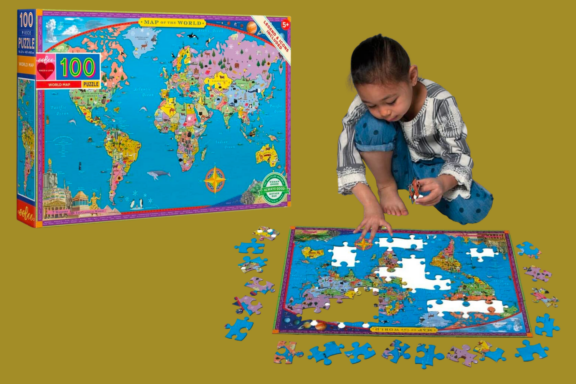 eeBoo's World Map 100 Piece Puzzle is a great choice for kids aged 5 and up, offering an engaging and educational experience.
Pros
Encourages wanderlust and curiosity about the world
Glossy pieces fit and snap together easily
Beautifully illustrated by Saxton Freymann
Cons
Some reported issues with paper delamination
Size and shape may not be as large as some other floor puzzles
May not be suitable for children younger than 5
eeBoo's World Map Puzzle is designed to spark interest in geography for children while providing a fun and educational activity. The puzzle features illustrations of countries, oceans, landmarks, and various creatures found around the globe. The artwork by Saxton Freymann is visually appealing and sure to capture the attention of young minds.
The 100 glossy pieces are designed to fit and snap together with ease, making it an enjoyable activity for children growing out of simpler puzzles.
The jigsaw puzzle also includes a legends and icons glossary, further enhancing the learning experience. The finished puzzle size of 27×18 inches | 68.58×45.72 cm is large enough to allow children to learn and explore, but may not be as big as some other floor puzzles on the market.
Although the puzzle by eeBoo has received positive reviews and an impressive 4.7 out of 5 stars rating (as of 25 May 2023), there have been a few users who reported issues with the paper delaminating after just a few uses. This is worth considering when deciding on purchasing this particular puzzle.
In conclusion, eeBoo's World Map 100 Piece Puzzle is a fun, educational, and engaging activity for young children who have an interest or curiosity in geography. The beautiful illustrations and easy-to-assemble pieces make it an enjoyable experience, but potential buyers should take note of the delamination issue reported by some users.
Recommended age: 3+ years
Puzzle Pieces: 24
Price on Amazon: $17.99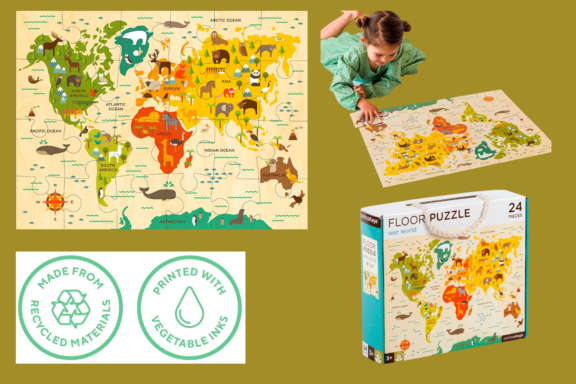 This well-designed and eco-friendly world map puzzle is a fantastic choice for kids aged 3 and up to develop their problem-solving skills.
Pros
Big, sturdy pieces perfect for little hands
Bright, detailed illustration stimulates engagement
Comes in a durable keepsake carrying box
Cons
Pieces might bend or curve at the edges
Could be more challenging for older kids
May not be as sturdy as other puzzles for young children
The Petit Collage Our World Floor Puzzle offers kids an enjoyable way to learn about the world while honing their problem-solving skills. With its big, sturdy pieces, it's ideal for little hands to assemble, and the brightly-colored, detailed illustration encourages children to stay engaged and spot various elements on the completed map.
One of the best features of this puzzle is the keepsake carrying box it comes in, complete with a soft cotton rope handle. This not only simplifies storage but also makes it an excellent gift option for birthdays or holidays. Moreover, the puzzle is made from recycled paper and printed with non-toxic, environmentally friendly vegetable-based inks, reflecting Petit Collage's commitment to sustainability and child safety.
However, there are some drawbacks to consider. Some users report that the pieces bend or curve at the edges, undermining the puzzle's sturdiness and making it less durable than expected in comparison to other puzzles for young children. Additionally, older kids might find the puzzle a bit too simple for their skill levels.
In conclusion, the Petit Collage floor puzzle is a lovely and eco-conscious choice for younger children looking to explore the world through a fun and educational activity. While it may not be the sturdiest option, the vibrant illustration and thoughtful design make it a delightful addition to any child's puzzle collection.
Recommended age: 4-10 years
Puzzle Pieces: 54 pieces and 25 cards
Price on Amazon: $29.95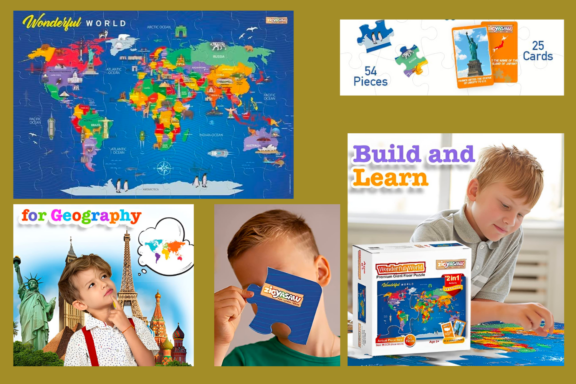 Discover a fun and interactive world map puzzle that enhances learning for young children.
Pros
Interactive and educational gameplay with quiz cards
Large and sturdy puzzle pieces for easy handling
Beautifully designed world map for learning geography
Cons
Might be too challenging for younger children
Potential for missing or duplicate pieces
Could be more visually appealing for children
The ZiGYASAW World Map Puzzle for Kids is designed to challenge children while improving their fine motor, observation, and problem-solving skills. This interactive puzzle comes with 54 pieces and 25 quiz cards that make learning about world geography enjoyable for kids ages 4 to 10 years old.
The floor puzzle measures 36×24 inches | 91.4×60.96 cm and is ideal for children who are interested in exploring the world. The vibrantly colored, polished, and glossy prints make it visually attractive, encouraging young minds to engage with the activity.
This puzzle makes a perfect gift for children who are curious and eager to learn more about countries, continents, oceans, and other geographical aspects of the world.
In addition to the educational benefits, this jigsaw puzzle is designed with safety in mind, as the pieces are large enough to avoid choking hazards.
However, it may be too challenging for some younger children. Some customers have also reported missing or duplicate puzzle pieces, which can be frustrating for both kids and parents. A bit more visual appeal could make it even more engaging for young children.
Overall, the ZiGYASAW World Map Puzzle for Kids is an engaging and educational toy that encourages children to explore and learn about the world in a fun way. It's a great addition to any child's playroom, providing valuable knowledge while also helping to develop essential skills.
Recommended age: 12-15 years
Puzzle Pieces: 4,000
Price on Amazon: $43.99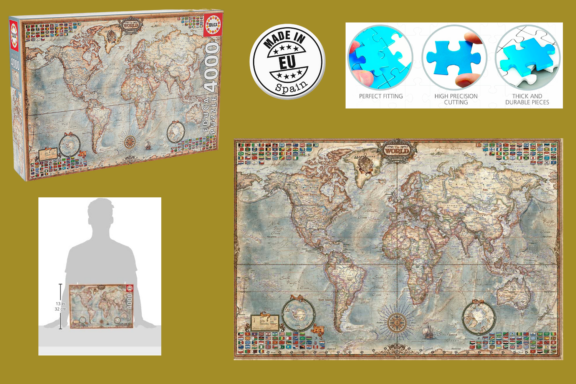 We recommend this puzzle for those who enjoy a challenging and educational activity with a beautiful final result.
Pros
High-quality and detailed world map
Includes flags of countries
Large size adds to the challenge
Cons
Not suitable for young children
May require ample space to assemble
Can be time-consuming to complete
This 4,000 piece world map puzzle from Educa offers a wonderful challenge for puzzle enthusiasts and geography lovers alike. The detailed map, featuring country flags, provides a great learning opportunity while assembling. The large size of the final puzzle, measuring 53.54×37.80 inches | 135.89×96.01 cm, also adds to the challenge, making it a perfect option for those who enjoy spending hours on a project.
The puzzle is made with high-quality materials and features a clear, vibrant design once assembled. The pieces fit together well, ensuring a pleasant building experience without issues of loose or ill-fitting parts. However, due to the complexity and number of pieces, it is recommended for ages 12 and up, as younger children may find it too difficult.
One possible downside to consider is the need for ample space to spread out and work on the puzzle. As it is quite large when finished, it may require a dedicated area for assembly. Additionally, given the high piece count, expect to spend a significant amount of time completing this puzzle – perfect for those who enjoy dedicating hours to their project.
In conclusion, if you're looking for a challenging and educational puzzle that will keep you engaged for hours, this 4,000 piece world map puzzle is an excellent choice. Its large size, high-quality design, and attention to detail make it a rewarding activity for both entertainment and learning purposes.
---
Buying Guide
When looking for the best world map puzzle for kids, there are several features to consider. We'll cover these aspects in the following sections of our buying guide.
Age Appropriateness
The first thing to consider is the age appropriateness of the puzzle. World map puzzles come in different levels of complexity, with varying numbers of pieces and sizes. We recommend checking the manufacturer's recommended age range, as well as taking into account your child's skill level and interest in maps.
Educational Value
The goal of a world map puzzle is not only to entertain but also to educate your child about geography. Look for puzzles that include additional information, such as country names, capital cities, landmarks, and even historical facts. This can provide the opportunity for your child to learn something new while having fun.
Puzzle Material
Quality is another essential aspect to consider. World map puzzles for kids can be made from various materials, such as cardboard, wood, and foam. Each material has its own benefits:
Cardboard: Budget-friendly, lightweight, and easy to handle
Wood: Durable, long-lasting, and more likely to withstand rough play
Foam: Soft, safe for younger children, and easy to clean
Puzzle Size
The size of the puzzle will affect its difficulty and the space requirements for assembling it. Choose a puzzle size that suits the available space in your home, as well as your child's capabilities. Keep in mind that puzzles with smaller pieces might be challenging for younger children or those with limited fine motor skills.
Design and Illustration
A visually appealing puzzle will engage your child's interest and make the learning experience even more enjoyable. Look for world map puzzles that showcase colorful, detailed illustrations and clear labeling to help kids better understand and appreciate various regions.
By considering these factors, we believe you can find the perfect world map puzzle that suits your child's needs and preferences. Happy exploring!