It is sad that each year more people die in traffic accidents in the USA.
According to a report prepared by World Health Organization, each year (between 2000-2013) death numbers in car accidents increased.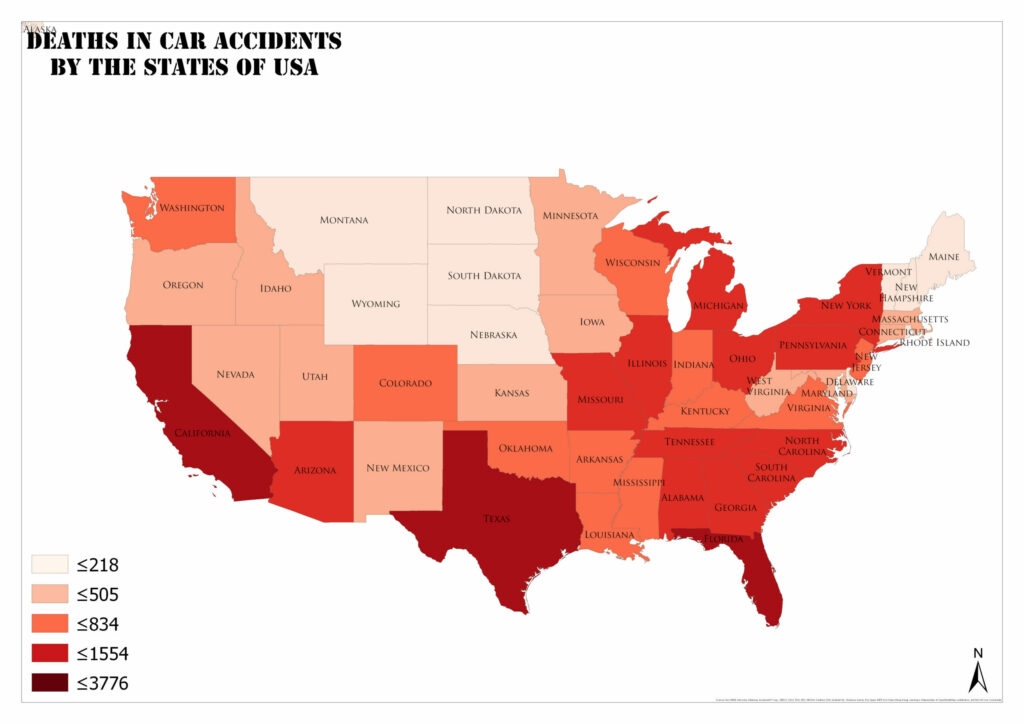 Above map shows 2016 data of car accidents in the USA. Sadly, there were 37,460 deaths in total.
3 States with Most Car Accidents
Texas, California, Florida…
Texas, California and Florida were the states where the most car crashes happened in 2016.
Apparently, Texas was the most dangerous state to drive, in 2016.
In Texas, there were 3,407 car accidents and 3,776 people died in those accidents.
Texas is followed by California with 3,357 fatal crashes and 3,623 deaths.
As well as these two dangerous states, Florida doesn't seem to be in a good position. It is the third country having most car accidents by the numbers of 2,933 fatal crashes and 3,174 deaths.
Deaths per 100,000
When we examine the data in a different aspect, the top 3 most dangerous states change.
Deaths per 100,000 population were the most in Mississippi, Alabama and South Carolina.
In Mississippi, the number of deaths per 100,000 population was 23.1,
in Alabama; 21.3 and
in South Carolina; 20.5.
This means in every 100,000 people, 23 people were dead because of car accidents in Mississippi.
Should this be the same in the future?
For changing this table and having more people alive we should know the reasons for those accidents thus we may change the future.
According to the statistics, driving with the influence of alcohol and drugs, not obeying to speed limits, careless driving and the bad weather conditions are the top reasons for the fatal crashes.
What can be done to prevent dangerous car crashes?
It is certain that obeying to traffic rules comes first.
Here are some tips to stay safe while driving:
Using the safety belt while driving,
Obeying to speed limits
Stopping alcohol and drug usage while driving
Being more careful on the road are the most important actions can be done as the first steps.