Wyoming (WY) on the US Map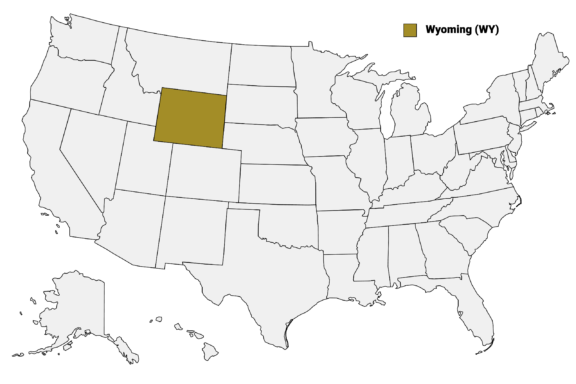 Below is a map of the 23 counties of Wyoming (you can click on the map to enlarge it and to see the major city in each state).
Map of Wyoming Counties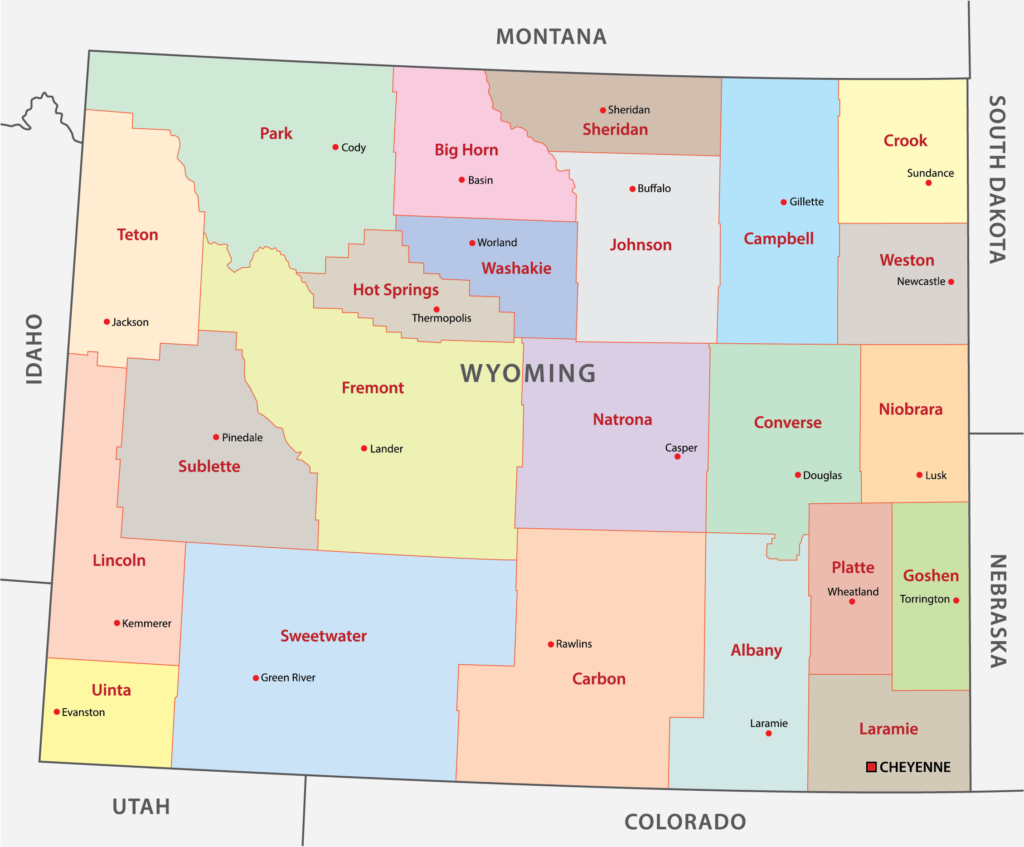 Interactive Map of Wyoming Counties
Click on any of the counties on the map to see the county's population, economic data, time zone, and zip code (the data will appear below the map). Data is sourced from the US Census 2021.
List of the Counties of Wyoming:
| County | Population | Per sq. km | Largest City |
| --- | --- | --- | --- |
| Albany County | 37,311 | 3.37 | Laramie |
| Big Horn County | 11,671 | 1.44 | Greybull |
| Campbell County | 46,758 | 3.76 | Gillette |
| Carbon County | 14,714 | 0.72 | Rawlins |
| Converse County | 13,702 | 1.24 | Douglas |
| Crook County | 7,185 | 0.97 | Sundance |
| Fremont County | 39,434 | 1.66 | Riverton |
| Goshen County | 12,642 | 2.19 | Torrington |
| Hot Springs County | 4,673 | 0.9 | Thermopolis |
| Johnson County | 8,457 | 0.79 | Buffalo |
| Laramie County | 99,905 | 14.36 | Cheyenne |
| Lincoln County | 19,457 | 1.84 | Kemmerer |
| Natrona County | 79,382 | 5.74 | Casper |
| Niobrara County | 2,486 | 0.37 | Lusk |
| Park County | 29,664 | 1.65 | Cody |
| Platte County | 8,607 | 1.6 | Wheatland |
| Sheridan County | 30,812 | 4.71 | Sheridan |
| Sublette County | 8,830 | 0.7 | Pinedale |
| Sweetwater County | 42,459 | 1.57 | Rock Springs |
| Teton County | 23,319 | 2.25 | Jackson |
| Uinta County | 20,514 | 3.8 | Evanston |
| Washakie County | 7,768 | 1.34 | Worland |
| Weston County | 6,891 | 1.11 | Newcastle |