Utah (UT) on the US Map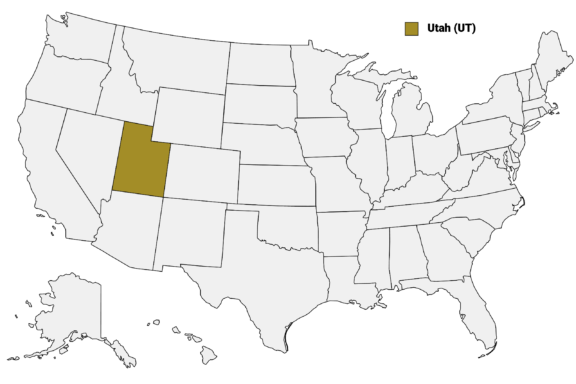 Map of Utah Counties
Below is a map of the 29 counties of Utah (you can click on the map to enlarge it and to see the major city in each state).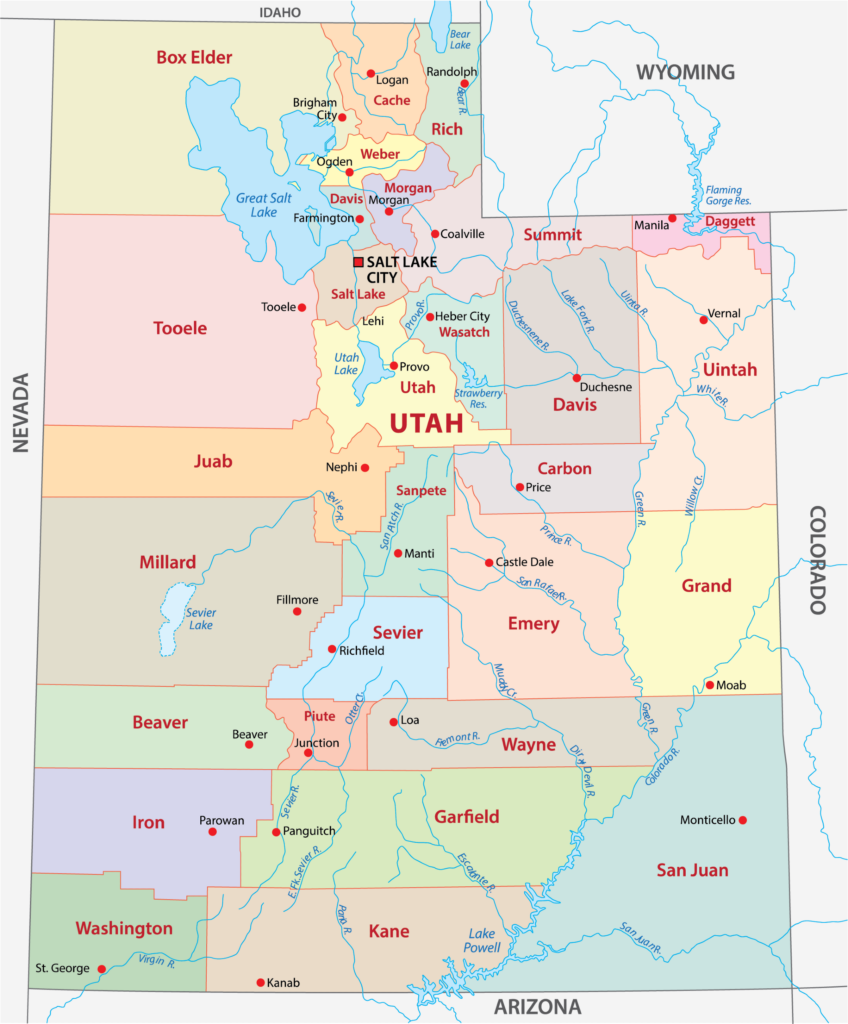 Interactive Map of Utah Counties
Click on any of the counties on the map to see the county's population, economic data, time zone, and zip code (the data will appear below the map). Data is sourced from the US Census 2021.
List of the Counties of Utah:
| County | Population | Per sq. km | Largest City |
| --- | --- | --- | --- |
| Beaver County | 6,962 | 1.04 | Beaver |
| Box Elder County | 56,891 | 3.82 | Brigham City |
| Cache County | 131,703 | 43.66 | Logan |
| Carbon County | 20,208 | 5.27 | Price |
| Daggett County | 564 | 0.31 | Manila |
| Davis County | 358,831 | 463.26 | Layton |
| Duchesne County | 19,651 | 2.35 | Roosevelt |
| Emery County | 9,839 | 0.85 | Huntington |
| Garfield County | 5,061 | 0.38 | Panguitch |
| Grand County | 9,630 | 1.01 | Moab |
| Iron County | 55,839 | 6.54 | Cedar City |
| Juab County | 11,648 | 1.33 | Santaquin |
| Kane County | 7,635 | 0.74 | Kanab |
| Millard County | 12,860 | 0.73 | Delta |
| Morgan County | 12,162 | 7.71 | Morgan |
| Piute County | 1,809 | 0.92 | Circleville |
| Rich County | 2,507 | 0.94 | Randolph |
| Salt Lake County | 1,173,331 | 610.49 | Salt Lake City |
| San Juan County | 14,610 | 0.72 | Blanding |
| Sanpete County | 28,458 | 6.91 | Ephraim |
| Sevier County | 21,471 | 4.34 | Richfield |
| Summit County | 42,156 | 8.7 | Summit Park |
| Tooele County | 71,340 | 3.97 | Tooele |
| Uintah County | 35,488 | 3.06 | Vernal |
| Utah County | 648,265 | 124.89 | Provo |
| Wasatch County | 34,028 | 11.16 | Heber |
| Washington County | 176,533 | 28.08 | St. George |
| Wayne County | 2,500 | 0.39 | Loa |
| Weber County | 259,390 | 173.79 | Ogden |