South Dakota (SD) on the US Map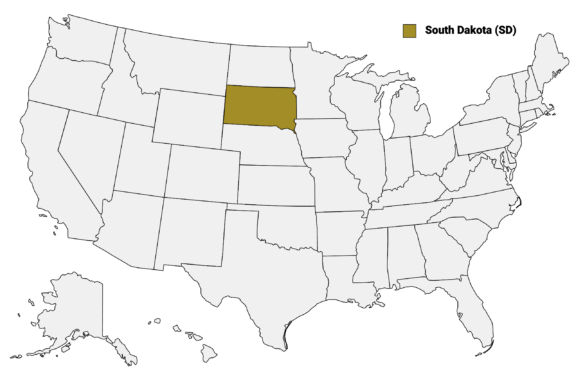 Map of South Dakota Counties
Below is a map of the 66 counties of South Dakota (you can click on the map to enlarge it and to see the major city in each state).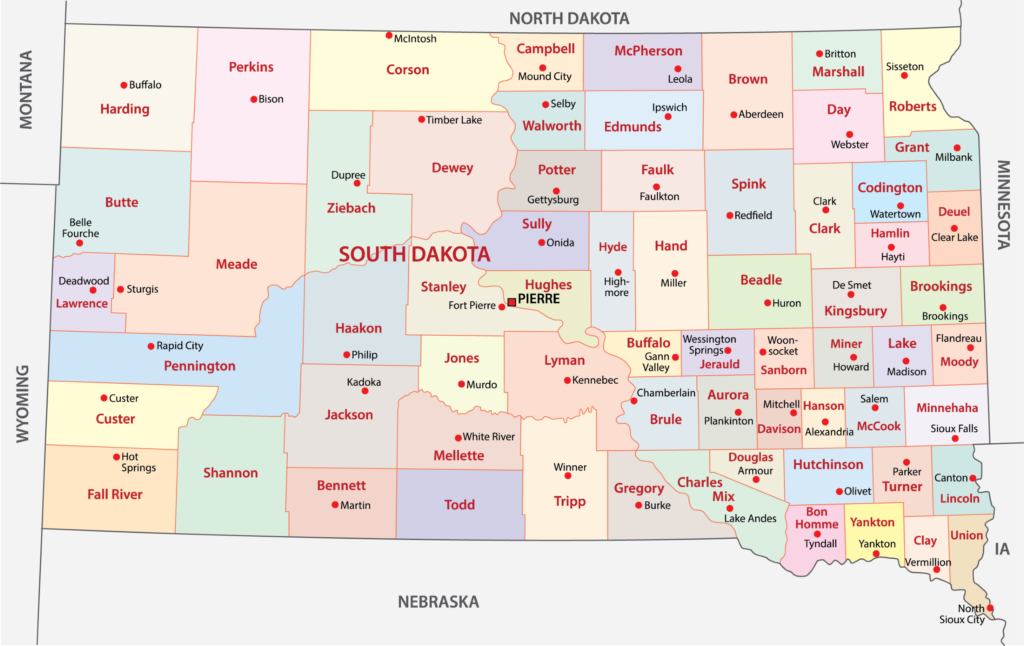 Interactive Map of South Dakota Counties
Click on any of the counties on the map to see the county's population, economic data, time zone, and zip code (the data will appear below the map). Data is sourced from the US Census 2021.
*The data for Oglala Lakota is currently being updated (previously the county was called Shannon).
List of the Counties of South Dakota:
| County | Population | Per sq. km | Largest City |
| --- | --- | --- | --- |
| Aurora County | 2,649 | 1.44 | Plankinton |
| Beadle County | 18,959 | 5.82 | Huron |
| Bennett County | 3,411 | 1.11 | Martin |
| Bon Homme County | 7,020 | 4.81 | Springfield |
| Brookings County | 34,315 | 16.72 | Brookings |
| Brown County | 38,471 | 8.67 | Aberdeen |
| Brule County | 5,247 | 2.48 | Chamberlain |
| Buffalo County | 1,974 | 1.62 | Fort Thompson |
| Butte County | 10,167 | 1.74 | Belle Fourche |
| Campbell County | 1,548 | 0.81 | Herreid |
| Charles Mix County | 9,346 | 3.29 | Wagner |
| Clark County | 3,791 | 1.53 | Clark |
| Clay County | 14,816 | 13.88 | Vermillion |
| Codington County | 28,289 | 15.89 | Watertown |
| Corson County | 3,965 | 0.62 | McLaughlin |
| Custer County | 8,360 | 2.07 | Custer |
| Davison County | 19,944 | 17.68 | Mitchell |
| Day County | 5,487 | 2.06 | Webster |
| Deuel County | 4,283 | 2.66 | Clear Lake |
| Dewey County | 5,343 | 0.9 | North Eagle Butte |
| Douglas County | 2,838 | 2.54 | Armour |
| Edmunds County | 4,005 | 1.37 | Ipswich |
| Fall River County | 6,979 | 1.55 | Hot Springs |
| Faulk County | 2,157 | 0.85 | Faulkton |
| Grant County | 7,550 | 4.28 | Milbank |
| Gregory County | 4,004 | 1.52 | Gregory |
| Haakon County | 1,868 | 0.4 | Philip |
| Hamlin County | 6,127 | 4.67 | Estelline |
| Hand County | 3,061 | 0.82 | Miller |
| Hanson County | 3,429 | 3.05 | Alexandria |
| Harding County | 1,179 | 0.17 | Buffalo |
| Hughes County | 17,829 | 9.28 | Pierre |
| Hutchinson County | 7,412 | 3.52 | Parkston |
| Hyde County | 1,381 | 0.62 | Highmore |
| Jackson County | 2,868 | 0.59 | Wanblee |
| Jerauld County | 1,811 | 1.33 | Wessington Springs |
| Jones County | 916 | 0.36 | Murdo |
| Kingsbury County | 5,131 | 2.38 | De Smet |
| Lake County | 11,358 | 7.79 | Madison |
| Lawrence County | 25,687 | 12.4 | Spearfish |
| Lincoln County | 63,233 | 42.29 | Sioux Falls |
| Lyman County | 3,746 | 0.88 | Lower Brule |
| Marshall County | 4,373 | 2.01 | Britton |
| McCook County | 5,676 | 3.82 | Salem |
| McPherson County | 2,245 | 0.76 | Eureka |
| Meade County | 29,561 | 3.29 | Box Elder |
| Mellette County | 1,916 | 0.57 | White River |
| Miner County | 2,293 | 1.55 | Howard |
| Minnehaha County | 194,884 | 93.26 | Sioux Falls |
| Moody County | 6,335 | 4.71 | Flandreau |
| Oglala Lakota County | 13,835 | 2.55 | Pine Ridge |
| Pennington County | 108,707 | 15.12 | Rapid City |
| Perkins County | 2,977 | 0.4 | Lemmon |
| Potter County | 2,613 | 1.17 | Gettysburg |
| Roberts County | 10,254 | 3.6 | Sisseton |
| Sanborn County | 2,371 | 1.61 | Woonsocket |
| Spink County | 6,408 | 1.65 | Redfield |
| Stanley County | 2,963 | 0.79 | Fort Pierre |
| Sully County | 1,279 | 0.49 | Onida |
| Todd County | 9,434 | 2.62 | Rosebud |
| Tripp County | 5,615 | 1.34 | Winner |
| Turner County | 8,621 | 5.39 | Parker |
| Union County | 16,424 | 13.76 | Dakota Dunes |
| Walworth County | 5,355 | 2.92 | Mobridge |
| Yankton County | 23,213 | 17.2 | Yankton |
| Ziebach County | 2,479 | 0.49 | Eagle Butte |