Oregon (OR) on the US Map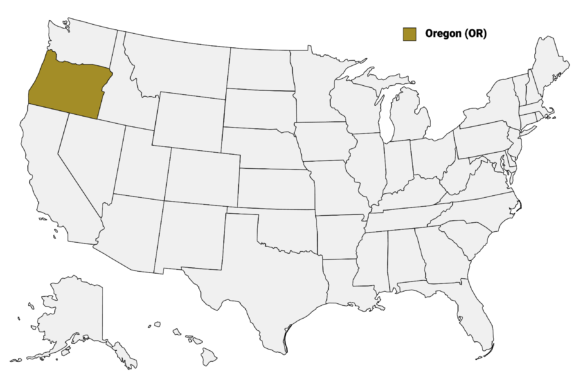 Map of Oregon Counties
Below is a map of the 35 counties of Oregon (you can click on the map to enlarge it and to see the major city in each state).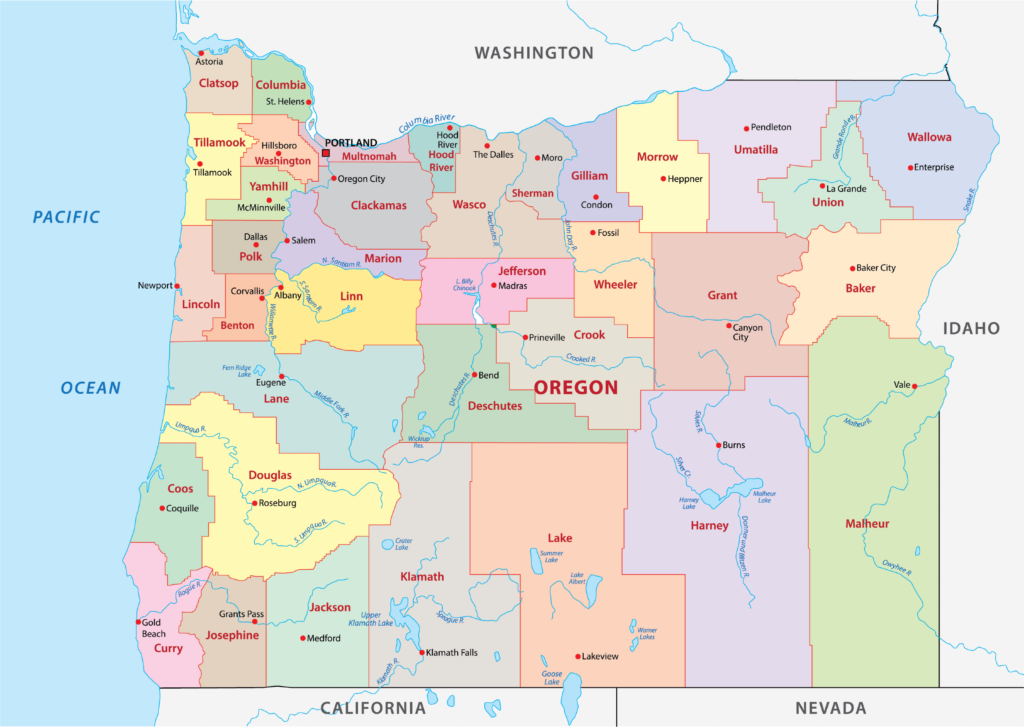 Interactive Map of Oregon Counties
Click on any of the counties on the map to see the county's population, economic data, time zone, and zip code (the data will appear below the map). Data is sourced from the US Census 2021.
List of the Counties of Oregon:
| County | Population | Per sq. km | Largest City |
| --- | --- | --- | --- |
| Baker County | 16,539 | 2.08 | Baker City |
| Benton County | 94,667 | 54.13 | Albany |
| Clackamas County | 418,577 | 86.39 | Portland |
| Clatsop County | 40,720 | 18.99 | Astoria |
| Columbia County | 52,381 | 30.7 | St. Helens |
| Coos County | 64,619 | 15.63 | Coos Bay |
| Crook County | 24,300 | 3.15 | Prineville |
| Curry County | 23,234 | 5.51 | Brookings |
| Deschutes County | 194,964 | 24.95 | Bend |
| Douglas County | 110,680 | 8.49 | Roseburg |
| Gilliam County | 1,954 | 0.63 | Condon |
| Grant County | 7,225 | 0.62 | John Day |
| Harney County | 7,454 | 0.28 | Burns |
| Hood River County | 23,915 | 17.69 | Hood River |
| Jackson County | 221,662 | 30.75 | Medford |
| Jefferson County | 24,232 | 5.25 | Madras |
| Josephine County | 87,686 | 20.66 | Grants Pass |
| Klamath County | 68,899 | 4.47 | Klamath Falls |
| Lake County | 8,119 | 0.39 | Lakeview |
| Lane County | 380,532 | 32.26 | Eugene |
| Lincoln County | 49,866 | 19.63 | Newport |
| Linn County | 127,200 | 21.45 | Albany |
| Malheur County | 31,313 | 1.22 | Ontario |
| Marion County | 344,037 | 112.47 | Salem |
| Morrow County | 11,964 | 2.27 | Boardman |
| Multnomah County | 810,011 | 725.42 | Portland |
| Polk County | 86,347 | 45 | Salem |
| Sherman County | 1,784 | 0.84 | Wasco |
| Tillamook County | 27,129 | 9.5 | Tillamook |
| Umatilla County | 79,509 | 9.55 | Hermiston |
| Union County | 26,255 | 4.98 | La Grande |
| Wallowa County | 7,330 | 0.9 | Enterprise |
| Wasco County | 26,603 | 4.31 | The Dalles |
| Washington County | 596,969 | 318.24 | Portland |
| Wheeler County | 1,477 | 0.33 | Fossil |
| Yamhill County | 107,024 | 57.72 | McMinnville |