Minnesota (MN) on the US Map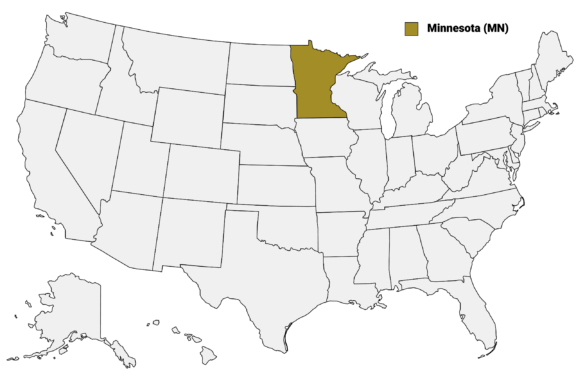 Map of Minnesota Counties
Below is a map of the 87 counties of Minnesota (you can click on the map to enlarge it and to see the major city in each state).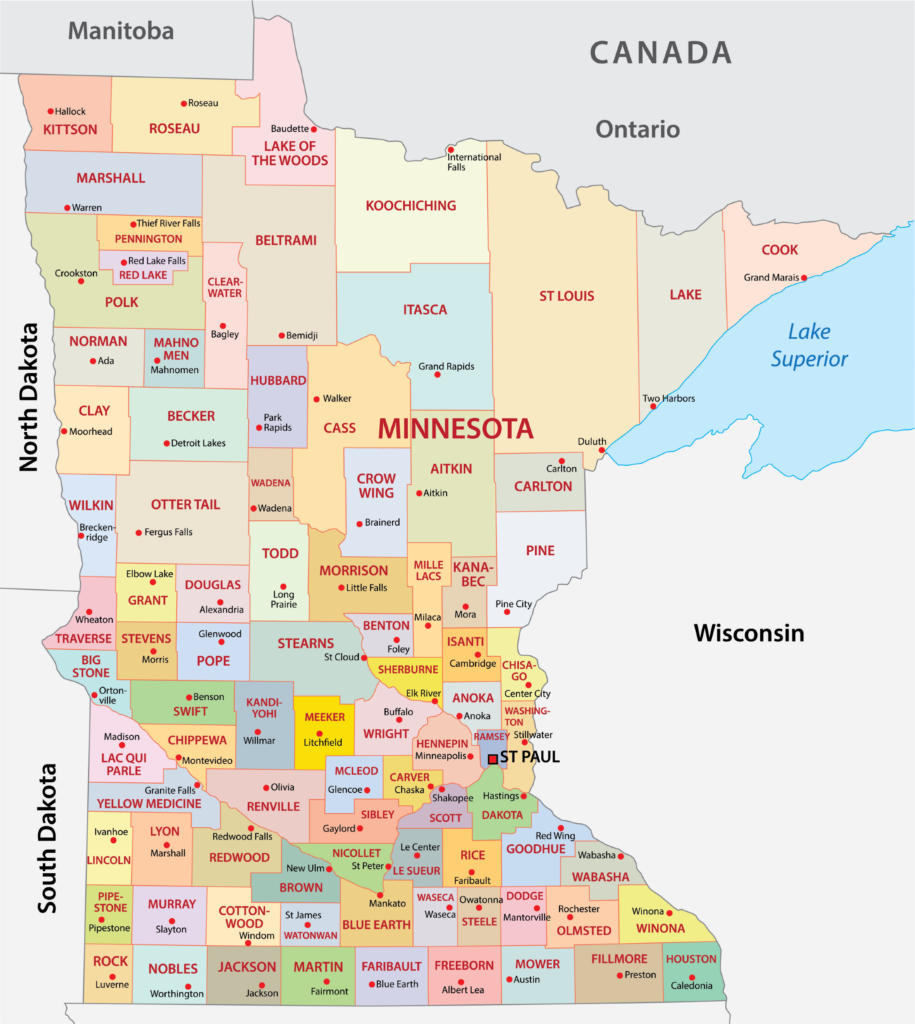 Interactive Map of Minnesota Counties
Click on any of the counties on the map to see the county's population, economic data, time zone, and zip code (the data will appear below the map). Data is sourced from the US Census 2021.
List of the Counties of Minnesota:
| County | Population | Per sq. km | Largest City |
| --- | --- | --- | --- |
| Aitkin County | 15,747 | 3.34 | Aitkin |
| Anoka County | 360,773 | 330.11 | Blaine |
| Becker County | 34,995 | 10.27 | Detroit Lakes |
| Beltrami County | 46,033 | 7.1 | Bemidji |
| Benton County | 41,087 | 38.85 | St. Cloud |
| Big Stone County | 5,155 | 3.99 | Ortonville |
| Blue Earth County | 68,575 | 35.4 | Mankato |
| Brown County | 25,894 | 16.36 | New Ulm |
| Carlton County | 36,145 | 16.21 | Cloquet |
| Carver County | 105,694 | 115.27 | Chaska |
| Cass County | 29,917 | 5.71 | Lake Shore |
| Chippewa County | 12,509 | 8.31 | Montevideo |
| Chisago County | 56,328 | 52.42 | North Branch |
| Clay County | 64,975 | 24 | Moorhead |
| Clearwater County | 8,525 | 3.3 | Bagley |
| Cook County | 5,574 | 1.48 | Grand Marais |
| Cottonwood County | 11,484 | 6.93 | Windom |
| Crow Wing County | 65,879 | 25.48 | Brainerd |
| Dakota County | 435,863 | 299.15 | Lakeville |
| Dodge County | 20,798 | 18.28 | Kasson |
| Douglas County | 38,742 | 23.48 | Alexandria |
| Faribault County | 13,933 | 7.55 | Blue Earth |
| Fillmore County | 21,179 | 9.49 | Chatfield |
| Freeborn County | 30,882 | 16.86 | Albert Lea |
| Goodhue County | 47,503 | 24.24 | Red Wing |
| Grant County | 6,045 | 4.26 | Elbow Lake |
| Hennepin County | 1,270,283 | 885.25 | Minneapolis |
| Houston County | 18,806 | 13.15 | La Crescent |
| Hubbard County | 21,219 | 8.85 | Park Rapids |
| Isanti County | 40,604 | 35.98 | Cambridge |
| Itasca County | 44,969 | 6.51 | Grand Rapids |
| Jackson County | 10,016 | 5.5 | Jackson |
| Kanabec County | 16,004 | 11.85 | Mora |
| Kandiyohi County | 43,504 | 21.07 | Willmar |
| Kittson County | 4,213 | 1.48 | Hallock |
| Koochiching County | 12,203 | 1.52 | International Falls |
| Lac qui Parle County | 6,753 | 3.41 | Madison |
| Lake County | 10,835 | 1.98 | Two Harbors |
| Lake of the Woods County | 3,757 | 1.12 | Baudette |
| Le Sueur County | 28,567 | 24.58 | Mankato |
| Lincoln County | 5,655 | 4.07 | Tyler |
| Lyon County | 25,477 | 13.77 | Marshall |
| Mahnomen County | 5,429 | 3.76 | Mahnomen |
| Marshall County | 9,082 | 1.98 | Warren |
| Martin County | 20,070 | 10.88 | Fairmont |
| McLeod County | 36,662 | 28.8 | Hutchinson |
| Meeker County | 23,268 | 14.78 | Litchfield |
| Mille Lacs County | 26,397 | 17.81 | Princeton |
| Morrison County | 33,876 | 11.63 | Little Falls |
| Mower County | 39,985 | 21.71 | Austin |
| Murray County | 8,224 | 4.51 | Slayton |
| Nicollet County | 34,295 | 29.52 | Mankato |
| Nobles County | 22,223 | 12 | Worthington |
| Norman County | 6,500 | 2.88 | Ada |
| Olmsted County | 160,928 | 95.08 | Rochester |
| Otter Tail County | 59,728 | 11.7 | Fergus Falls |
| Pennington County | 14,063 | 8.81 | Thief River Falls |
| Pine County | 28,997 | 7.93 | Pine City |
| Pipestone County | 9,370 | 7.78 | Pipestone |
| Polk County | 31,303 | 6.13 | East Grand Forks |
| Pope County | 11,216 | 6.47 | Glenwood |
| Ramsey County | 549,377 | 1393.21 | St. Paul |
| Red Lake County | 3,921 | 3.5 | Red Lake Falls |
| Redwood County | 15,435 | 6.78 | Redwood Falls |
| Renville County | 14,768 | 5.8 | Olivia |
| Rice County | 66,795 | 52.01 | Faribault |
| Rock County | 9,718 | 7.78 | Luverne |
| Roseau County | 15,321 | 3.54 | Roseau |
| Scott County | 149,568 | 162.09 | Shakopee |
| Sherburne County | 96,295 | 85.88 | St. Cloud |
| Sibley County | 14,948 | 9.8 | Le Sueur |
| St. Louis County | 200,311 | 12.38 | Duluth |
| Stearns County | 157,638 | 45.33 | St. Cloud |
| Steele County | 37,363 | 33.58 | Owatonna |
| Stevens County | 9,669 | 6.62 | Morris |
| Swift County | 9,810 | 5.1 | Benson |
| Todd County | 25,121 | 10.26 | Long Prairie |
| Traverse County | 3,362 | 2.26 | Wheaton |
| Wabasha County | 21,425 | 15.82 | Lake City |
| Wadena County | 14,009 | 10.08 | Wadena |
| Waseca County | 18,972 | 17.3 | Waseca |
| Washington County | 264,818 | 265.77 | Woodbury |
| Watonwan County | 11,223 | 9.96 | St. James |
| Wilkin County | 6,495 | 3.34 | Breckenridge |
| Winona County | 49,889 | 30.76 | Winona |
| Wright County | 139,890 | 81.69 | Otsego |
| Yellow Medicine County | 9,616 | 4.89 | Granite Falls |