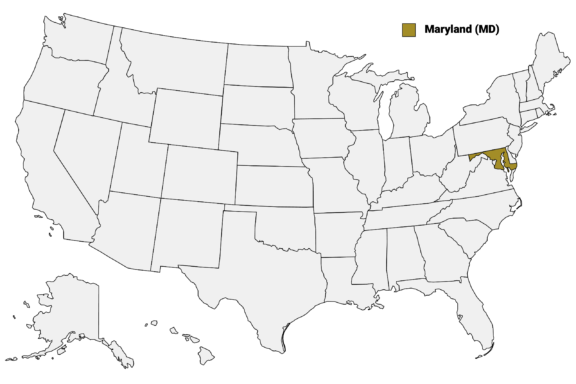 Map of Maryland Counties
Below is a map of the 23 counties of Maryland (you can click on the map to enlarge it and to see the major city in each state).
Interactive Map of Maryland Counties
Click on any of the counties on the map to see the county's population, economic data, time zone, and zip code (the data will appear below the map). Data is sourced from the US Census 2021.
List of the Counties of Maryland:
Note: Baltimore City is an independent city and not part of any county, even though it is surrounded by Baltimore County.
| County | Population | Per sq. km | Largest City |
| --- | --- | --- | --- |
| Allegany County | 68,684 | 62.81 | Cumberland |
| Anne Arundel County | 584,064 | 543.64 | Glen Burnie |
| Baltimore City | 592,211 | 2824.77 | Baltimore |
| Baltimore County | 850,702 | 548.93 | Dundalk |
| Calvert County | 92,515 | 167.55 | Chesapeake Ranch Estates |
| Caroline County | 33,234 | 40.17 | Denton |
| Carroll County | 172,148 | 148.49 | Eldersburg |
| Cecil County | 103,370 | 115.25 | Elkton |
| Charles County | 165,209 | 139.33 | Waldorf |
| Dorchester County | 32,486 | 23.19 | Cambridge |
| Frederick County | 267,498 | 156.35 | Frederick |
| Garrett County | 28,955 | 17.22 | Oakland |
| Harford County | 259,162 | 228.91 | Bel Air South |
| Howard County | 329,248 | 506.57 | Columbia |
| Kent County | 19,335 | 26.95 | Chestertown |
| Montgomery County | 1,057,201 | 827.75 | Germantown |
| Prince George's County | 957,767 | 766.18 | Bowie |
| Queen Anne's County | 49,702 | 51.63 | Stevensville |
| Somerset County | 24,834 | 29.99 | Princess Anne |
| St. Mary's County | 113,209 | 121.89 | California |
| Talbot County | 37,510 | 53.93 | Easton |
| Washington County | 153,956 | 129.85 | Hagerstown |
| Wicomico County | 103,223 | 106.44 | Salisbury |
| Worcester County | 52,322 | 43.13 | Ocean Pines |