Idaho is known for a diverse set of qualities. It's famous for its potatoes, natural wonders like Shoshone Falls, and increasingly for sectors such as technology and healthcare.
Known as the "Gem State," Idaho is located in the Western United States and is divided into 44 counties. 
Idaho (ID) on the US Map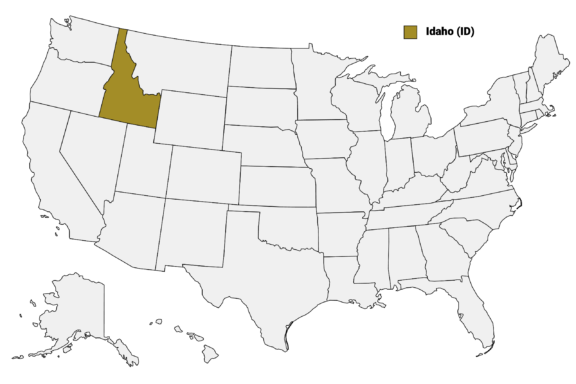 The 44 counties of Idaho are diverse in their size, population, and geography. In this post, we'll look at an Idaho Counties Map that details the largest cities in each county as well as their borders. We'll also take a closer look at what makes some of Idaho's most notable counties unique.
Map of Idaho Counties
Below is a map of the 44 counties of Idaho (you can click on the map to enlarge it and to see the major city in each county).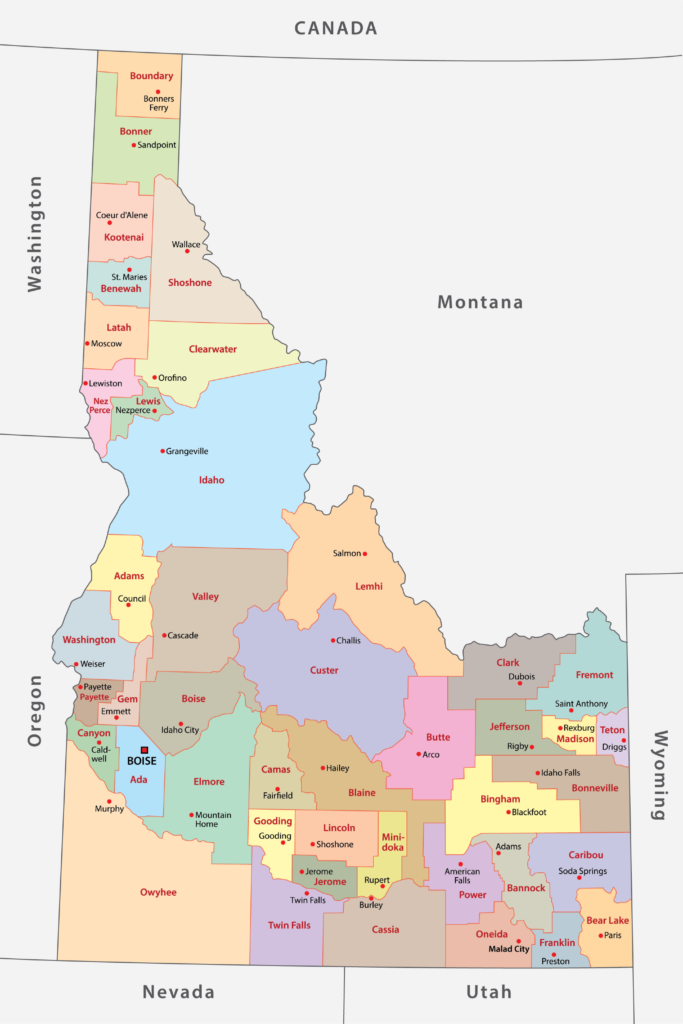 Interactive Map of Idaho Counties
Click on any of the counties on the map to see the county's population, economic data, time zone, and zip code (the data will appear below the map). Data is sourced from the US Census 2021.
List of the Counties of Idaho:
| County | Population | Per sq. km | Largest City |
| --- | --- | --- | --- |
| Ada County | 485,246 | 178.09 | Boise |
| Adams County | 4,321 | 1.22 | Council |
| Bannock County | 86,362 | 29.97 | Pocatello |
| Bear Lake County | 6,327 | 2.5 | Montpelier |
| Benewah County | 9,509 | 4.73 | St. Maries |
| Bingham County | 47,540 | 8.77 | Blackfoot |
| Blaine County | 23,868 | 3.49 | Hailey |
| Boise County | 7,549 | 1.53 | Robie Creek |
| Bonner County | 46,481 | 10.35 | Sandpoint |
| Bonneville County | 121,771 | 25.2 | Idaho Falls |
| Boundary County | 11,966 | 3.64 | Bonners Ferry |
| Butte County | 2,573 | 0.44 | Arco |
| Camas County | 1,044 | 0.38 | Fairfield |
| Canyon County | 227,367 | 149.54 | Nampa |
| Caribou County | 7,003 | 1.53 | Soda Springs |
| Cassia County | 24,469 | 3.68 | Burley |
| Clark County | 839 | 0.18 | Dubois |
| Clearwater County | 8,719 | 1.37 | Orofino |
| Custer County | 4,273 | 0.34 | Challis |
| Elmore County | 28,396 | 3.57 | Mountain Home |
| Franklin County | 14,036 | 8.17 | Preston |
| Fremont County | 13,370 | 2.77 | St. Anthony |
| Gem County | 18,692 | 12.89 | Emmett |
| Gooding County | 15,422 | 8.16 | Gooding |
| Idaho County | 16,494 | 0.75 | Grangeville |
| Jefferson County | 30,427 | 10.74 | Rigby |
| Jerome County | 24,081 | 15.56 | Jerome |
| Kootenai County | 168,317 | 52.5 | Coeur d'Alene |
| Latah County | 39,464 | 14.16 | Moscow |
| Lemhi County | 7,948 | 0.67 | Salmon |
| Lewis County | 3,613 | 2.91 | Kamiah |
| Lincoln County | 5,184 | 1.67 | Shoshone |
| Madison County | 50,979 | 41.94 | Rexburg |
| Minidoka County | 21,393 | 10.91 | Burley |
| Nez Perce County | 41,820 | 19.03 | Lewiston |
| Oneida County | 4,514 | 1.45 | Malad City |
| Owyhee County | 11,815 | 0.59 | Homedale |
| Payette County | 24,928 | 23.65 | Payette |
| Power County | 7,854 | 2.16 | Pocatello |
| Shoshone County | 13,124 | 1.92 | Kellogg |
| Teton County | 11,490 | 9.88 | Victor |
| Twin Falls County | 89,128 | 17.91 | Twin Falls |
| Valley County | 11,476 | 1.21 | McCall |
| Washington County | 10,425 | 2.77 | Weiser |
Largest Counties in Idaho by Population
Ada County
Ada County, located in the southwestern part of Idaho, is the state's most populous county and serves as a central hub for commerce, culture, and education. Established in 1864, it was named after Ada Riggs, the first pioneer child born in the area and the daughter of H.C. Riggs, a co-founder of Boise. The county seat is Boise, which is also Idaho's state capital.
In addition to hosting the state's largest urban center in Boise, Ada County also includes rural settings. The Boise River winds its way through the county, offering various recreational opportunities like fishing, rafting, and bird-watching. The Boise Foothills add to the outdoor activities with their extensive network of hiking and biking trails.
The county is also home to Boise State University, a key institution in the state offering a wide range of academic programs and contributing significantly to the local economy. Also important for the economy are several tech companies that have set up operations in the state capital.
Canyon County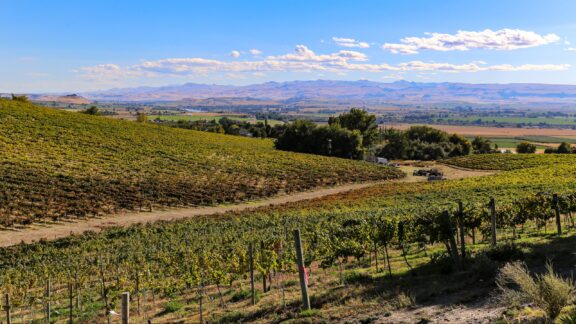 The county with the second-highest population in Idaho is Canyon County. Situated in the southwestern region of the state, it's known for its strong agricultural economy and expanding urban centers.
Established in 1891, the county was named after the Boise River Canyon, a major geographic feature that runs near the county's eastern boundary.
Agriculture plays a major role in the county's economy, producing crops like hops, corn, and alfalfa. The region is also famous for its dairy farms and vineyards, contributing to Idaho's agricultural output. The Snake River winds its way through the county, providing not only essential irrigation but also recreational opportunities, such as fishing and boating.
Caldwell serves as the county seat and is known for its historical landmarks and vibrant arts scene. It's also home to the College of Idaho and a campus of the College of Western Idaho. The largest city in Canyon County is Nampa, which is the third-largest city in the state.
Kootenai County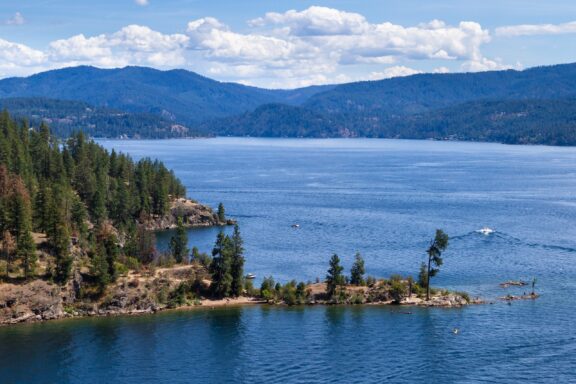 Another of the most populous counties in Idaho is Kootenai County, located in the northernmost part of the state. Established in 1864, Kootenai County was named after the Kootenai Tribe that originally inhabited the area. The region is known for its exceptional natural beauty and growing economic opportunities.
The county seat of Kootenai County is Coeur d'Alene, named after the Coeur d'Alene Tribe. The city is known for its pristine lakes, forested landscapes, and outdoor recreational activities.
One of the most significant natural attractions in the county is Lake Coeur d'Alene, which was carved from a glacier and spans 30,000 acres. It's a magnet for outdoor enthusiasts interested in boating, fishing, and kayaking.
In addition to its natural attractions, Kootenai County has a burgeoning economy with a focus on manufacturing, healthcare, and tourism. The Coeur d'Alene Airport serves as a regional hub, facilitating both commercial and general aviation.
Bonneville County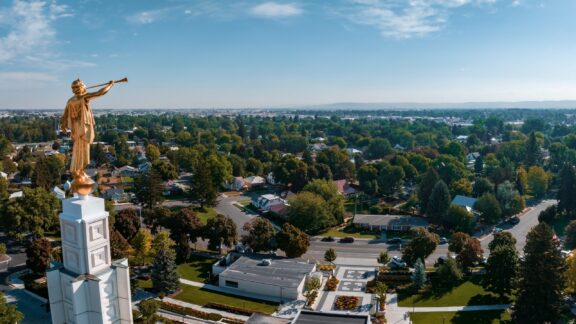 Bonneville County is situated in the eastern part of Idaho in a region marked by its diverse landscapes and thriving communities. Established in 1911, the county was named in honor of Benjamin Bonneville, a French-born army officer and explorer who mapped parts of the Oregon Trail.
The county seat is Idaho Falls, a city that has grown into an economic and cultural center for the region. The city is notably home to the Idaho National Laboratory, the nation's leading nuclear research facility. Another of the most noteworthy features of the city is the Snake River, which offers an array of recreational activities.
Agriculture remains a critical sector in Bonneville County, with farmlands producing grains, potatoes, and livestock. Additionally, the county serves as a gateway to several natural attractions, including Grand Teton and Yellowstone National Parks, drawing tourists who are eager to explore the majestic landscapes of the American West.
Twin Falls County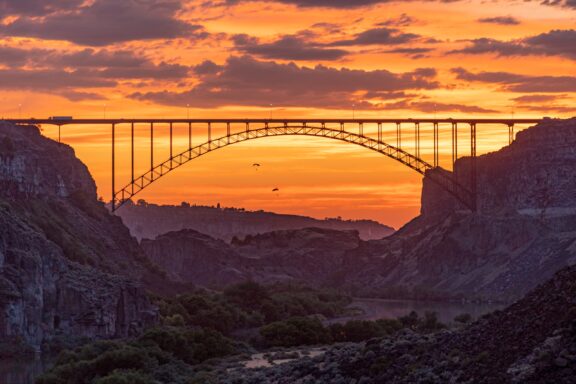 Twin Falls County is located along Idaho's southernmost border with the state of Nevada. Established in 1907, the county was named for the city of Twin Falls, now the county seat, founded three years prior. Twin Falls is also the largest city in the county.
The Snake River Canyon is one of the most iconic landmarks in Twin Falls County. The canyon is not just a marvel of natural beauty but also a hotspot for outdoor activities like base jumping, hiking, and fishing. Perhaps most famously, the daredevil Evel Knievel attempted to jump across the canyon in a specially engineered rocket in 1974.
Agriculture is a significant economic driver in the county, with dairy farming and crop cultivation, including potatoes and sugar beets, playing major roles. The region's agricultural heritage is celebrated in the annual Twin Falls County Fair.
The College of Southern Idaho, located in Twin Falls, provides educational opportunities and contributes to workforce development in the area. The area has also developed into a retail and healthcare center, drawing people from surrounding counties for shopping, medical services, and entertainment.
Smallest Counties in Idaho by Population
Clark County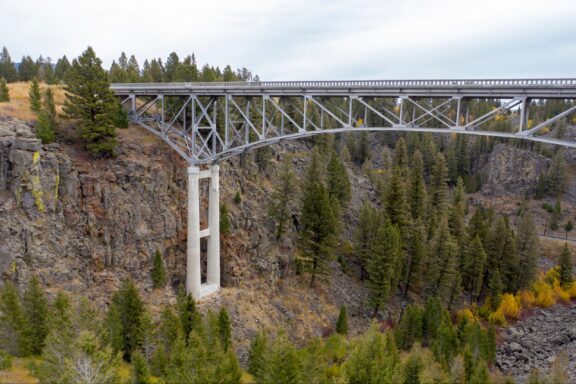 Clark County, situated in the eastern part of Idaho, is one of the state's least populous counties. Established in 1919, Clark County was named in honor of Sam K. Clark, an early settler and the first state senator from the area. The county seat is Dubois, a small town that encapsulates the spirit of rural Idaho with its close-knit community and scenic surroundings.
The geography of Clark County is marked by expansive plains and mountainous terrain. Its northern border is marked by the Bitterroot Range of the Rocky Mountains, which forms the state border with Montana. The waterways and natural landscape of the county offer numerous opportunities for outdoor activities such as hunting, fishing, and hiking.
Agriculture, particularly livestock farming, is a cornerstone of the local economy. The vast open spaces provide ample room for grazing cattle, which contributes significantly to the county's income.
Despite its low population density, Clark County has a rich history, including Native American heritage and early pioneers who came seeking opportunities in the American West. This historical depth adds layers to the county's identity and makes it an interesting locale for history buffs.
Camas County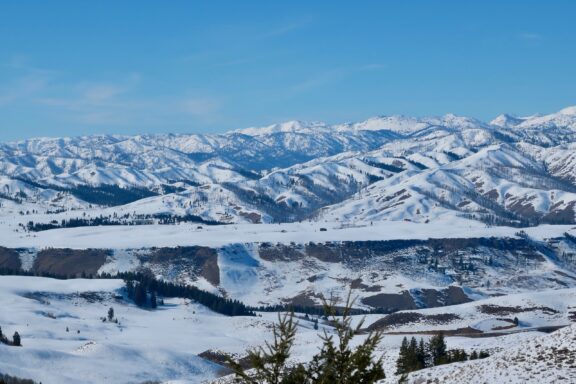 Camas County, nestled in south-central Idaho, is the second-least populous county in the state. It was established in 1917 and named after the camas root, a plant traditionally harvested by Native Americans and early settlers for its edible bulb. The county seat and largest city is Fairfield.
The Sawtooth National Forest covers a significant portion of Camas County, offering an abundance of outdoor recreational activities. The area's many trails, campgrounds, and facilities make it possible to hike, camp, fish, ride horses, climb, bike, and more. During winter, the county transforms into a snowy wonderland, attracting snowboarders, skiers, and snowmobilers.
The predominant agricultural activity in Camas County is livestock farming, which plays an important role in the county's economy. The wide-open spaces provide excellent grazing lands for cattle and sheep.
Though the county is small and remote, it has a strong sense of community. Various local events, such as rodeos and the Camas County Fair, are crucial for social interaction and community bonding. Educational needs are met by a small but dedicated public school system.
Butte County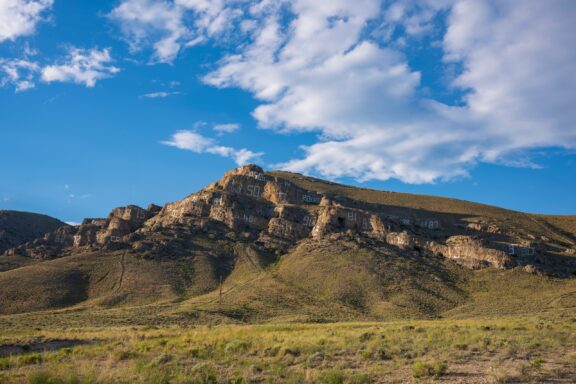 The county with the third-smallest population in Idaho is Butte County. It covers a rural area that is characterized by scenic vistas, agricultural land, and a close-knit community. It was named for the buttes that rise from the Snake River plain that served as landmarks to trappers and pioneers traveling through the area.
A settlement in what is now Butte County was established by the first European settlers in the area in 1878. This settlement became the city of Arco, now the county seat and largest city in the county, and Butte County was formed in 1917. Arco holds the distinction of being the first city in the world to be lit by atomic power.
Butte County's terrain is a captivating blend of plains, lava fields, and mountain ranges, where various outdoor activities are possible. The Craters of the Moon National Monument is a major highlight, showcasing a vast sea of lava flows, cinder cones, and unique geological formations that make it look almost otherworldly.
Notable Idaho Counties
Blaine County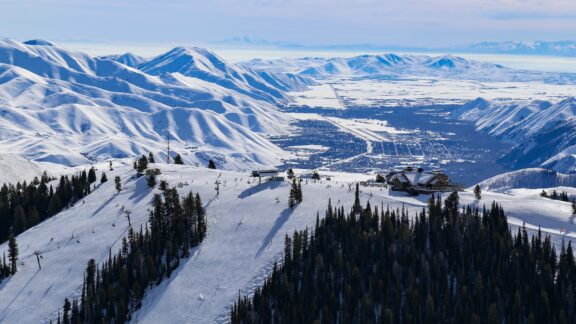 Blaine County is perhaps best known for Sun Valley, a world-class ski resort that has long been a magnet for outdoor enthusiasts, celebrities, and even world leaders. It's also the home of what has been dubbed the yearly "Summer Camp for Billionaires."
Established in 1895 from what used to be Alturas County, Blaine County was named after James G. Blaine, a U.S. Secretary of State and presidential candidate. The county seat and largest city is Hailey, located in Idaho's Wood River Valley.
In addition to winter sports, it's possible to partake in outdoor activities year-round in Blaine County. From hiking and mountain biking in the Sawtooth National Recreation Area to fly-fishing in the Big Wood River, the county is a haven for nature lovers. The area is also home to a diverse range of wildlife, including elk, mountain goats, and various bird species.
Culturally, Sun Valley and other communities within Blaine County host numerous events and festivals throughout the year, ranging from music concerts to art shows. The Sun Valley Film Festival is a notable example, attracting filmmakers and enthusiasts from around the globe.
Nez Perce County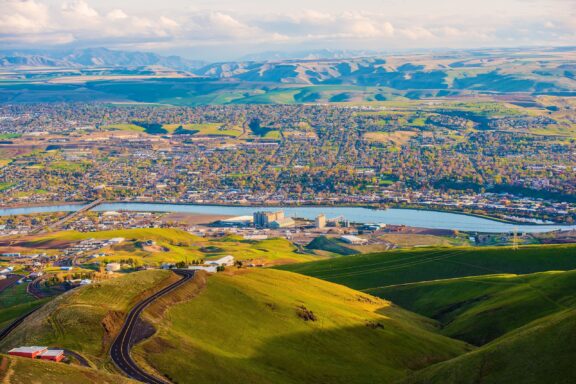 Nez Perce County, located in north-central Idaho, holds a special place in the state both for its historical significance and its contemporary role as a commercial and transportation hub.
Named after the Nez Perce Native American tribe, the county is rich in history, including the Nez Perce War of 1877, a series of conflicts and events that had a lasting impact on Native American and U.S. relations. The county was originally created in 1861, though its current borders were set in 1911.
One of the most distinguishing features of Nez Perce County is the presence of Lewiston, Idaho's only seaport. Connected to the Pacific Ocean through the Snake and Columbia Rivers, the port plays a pivotal role in the region's economy, facilitating the export of goods like wheat, paper, and timber.
Educational institutions like Lewis-Clark State College contribute to the area's workforce development and cultural enrichment. Overall, Nez Perce County serves as a multifaceted region that successfully merges its historical roots with modern-day economic and recreational activities.
More About Idaho Counties: FAQs
What is the largest county in Idaho by land area?
Idaho County is the largest county in Idaho by land area, covering approximately 8,485 square miles (21,976 km2).
Are there any counties in Idaho without a traffic light?
Yes, several counties like Clark County and Camas County do not have a single traffic light due to their low populations and rural settings.
What are some major industries in Idaho's counties?
Major industries vary by county but generally include agriculture, tourism, technology, healthcare, and energy production.
What is the origin of the name "Idaho"?
According to the Idaho Historical Society, the name was invented by a man named George M. Willing, who falsely claimed that it meant "gem of the mountains" in a Native American language.
Is Idaho mostly rural or urban?
Idaho is predominantly rural, with most of its population concentrated in a few urban areas like Boise, Coeur d'Alene, and Idaho Falls.
Which Idaho county has the highest elevation?
Custer County is home to Idaho's highest point, Borah Peak, which has an elevation of 12,662 feet (3,859 m).
Are there Native American reservations in Idaho?
Yes, there are several Native American reservations in Idaho. They include the Coeur d'Alene, Nez Perce, and Shoshone-Bannock reservations.