Florida, the Sunshine State, is a blend of rich history, diverse culture, and natural beauty. World-renowned beaches, Walt Disney World, the nation's oldest city, and the Everglades work in tandem to make this state in the Southeastern United States something totally unique.
Diving deeper, Florida is divided into 67 counties. Each of these counties plays a crucial role in the administration, governance, and delivery of public services to its residents. They vary in size, population, and economic activity, reflecting the state's vast diversity.
In this post, we'll provide detailed information on each of Florida's counties and take a closer look at some of its most interesting counties. See the Florida Counties Map below for a visual representation of Florida's largest administrative divisions.
Florida Counties Map
Below is a map of the 67 counties of Florida (you can click on the map to enlarge it and to see the major city in each county).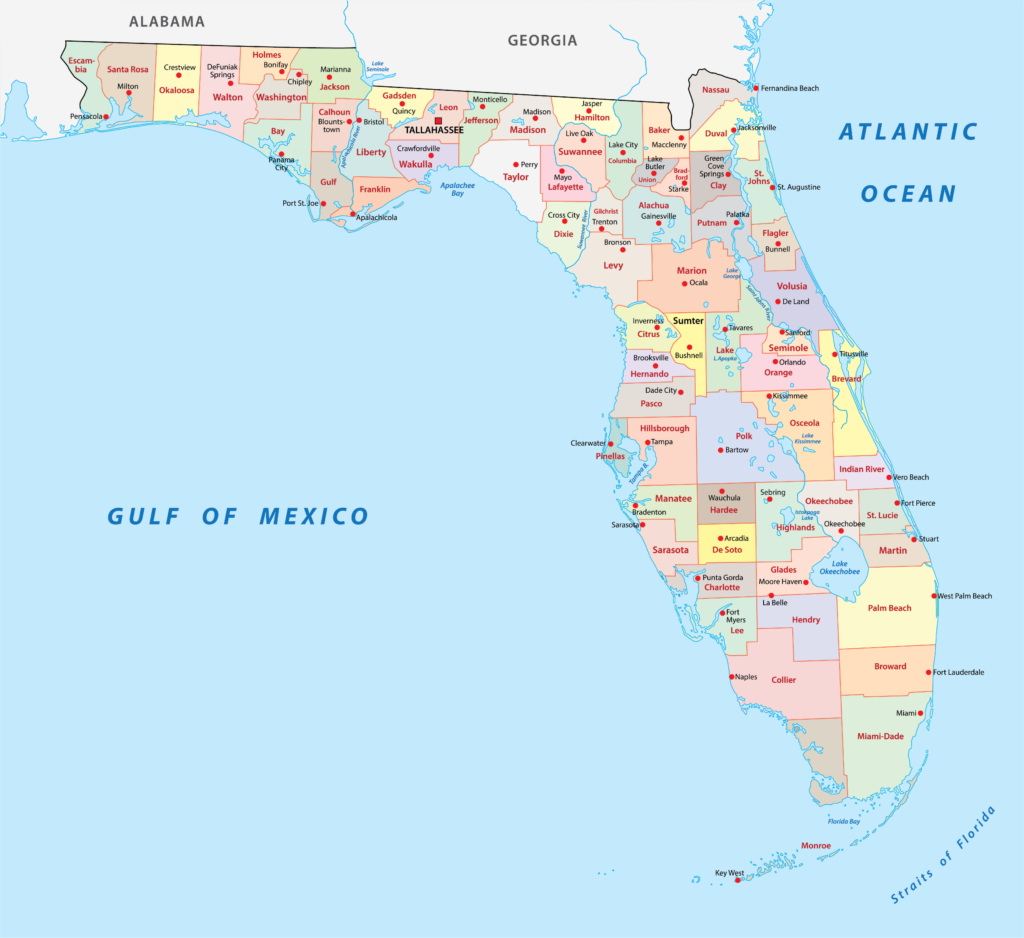 Interactive Map of Florida Counties
Click on any of the counties on the map to see the county's population, economic data, time zone, and zip code (the data will appear below the map). Data is sourced from the US Census 2021.
Counties of Florida List:
| County | Population | Per sq. km | Largest City |
| --- | --- | --- | --- |
| Alachua County | 276,171 | 121.77 | Gainesville |
| Baker County | 28,003 | 18.47 | Macclenny |
| Bay County | 181,384 | 92.31 | Panama City |
| Bradford County | 27,928 | 36.68 | Starke |
| Brevard County | 601,573 | 228.84 | Palm Bay |
| Broward County | 1,934,551 | 620.98 | Fort Lauderdale |
| Calhoun County | 13,863 | 9.43 | Blountstown |
| Charlotte County | 184,837 | 104.78 | Port Charlotte |
| Citrus County | 151,888 | 100.78 | Homosassa Springs |
| Clay County | 216,308 | 138.14 | Lakeside |
| Collier County | 372,797 | 72.08 | Golden Gate |
| Columbia County | 69,265 | 33.54 | Lake City |
| DeSoto County | 34,027 | 20.63 | Southeast Arcadia |
| Dixie County | 16,701 | 9.15 | Cross City |
| Duval County | 983,153 | 497.73 | Jacksonville |
| Escambia County | 318,828 | 187.37 | Pensacola |
| Flagler County | 113,888 | 90.44 | Palm Coast |
| Franklin County | 12,232 | 8.67 | Carrabelle |
| Gadsden County | 44,233 | 33.07 | Quincy |
| Gilchrist County | 17,759 | 19.61 | Trenton |
| Glades County | 12,183 | 5.83 | Port LaBelle |
| Gulf County | 15,205 | 10.61 | Port St. Joe |
| Hamilton County | 13,973 | 10.49 | Jasper |
| Hardee County | 25,632 | 15.52 | Wauchula |
| Hendry County | 39,439 | 13.17 | Clewiston |
| Hernando County | 192,128 | 156.84 | Spring Hill |
| Highlands County | 101,174 | 38.39 | Sebring |
| Hillsborough County | 1,444,359 | 545.48 | Tampa |
| Holmes County | 19,622 | 15.82 | Bonifay |
| Indian River County | 158,002 | 121.33 | Vero Beach South |
| Jackson County | 48,067 | 20.21 | Marianna |
| Jefferson County | 14,405 | 9.3 | Monticello |
| Lafayette County | 8,343 | 5.93 | Mayo |
| Lake County | 375,059 | 152.15 | Leesburg |
| Lee County | 752,251 | 371.89 | Cape Coral |
| Leon County | 290,965 | 168.07 | Tallahassee |
| Levy County | 42,392 | 14.64 | Rainbow Lakes Estates |
| Liberty County | 7,987 | 3.69 | Bristol |
| Madison County | 18,051 | 10.01 | Madison |
| Manatee County | 394,824 | 205.24 | Bradenton |
| Marion County | 370,372 | 90.03 | Ocala |
| Martin County | 158,323 | 112.41 | Palm City |
| Miami-Dade County | 2,690,113 | 546.69 | Miami |
| Monroe County | 82,244 | 32.3 | Key West |
| Nassau County | 88,492 | 52.67 | Yulee |
| Okaloosa County | 209,230 | 86.88 | Crestview |
| Okeechobee County | 39,716 | 19.94 | Okeechobee |
| Orange County | 1,409,949 | 602.92 | Orlando |
| Osceola County | 380,331 | 110.62 | Kissimmee |
| Palm Beach County | 1,481,233 | 291.15 | West Palm Beach |
| Pasco County | 551,598 | 285.26 | Zephyrhills |
| Pinellas County | 957,989 | 1351.02 | St. Petersburg |
| Polk County | 713,148 | 153.15 | Lakeland |
| Putnam County | 73,147 | 38.77 | Palatka |
| Santa Rosa County | 184,345 | 70.3 | Navarre |
| Sarasota County | 429,336 | 298.14 | Sarasota |
| Seminole County | 467,382 | 583.29 | Sanford |
| St. Johns County | 265,724 | 170.81 | St. Augustine |
| St. Lucie County | 324,599 | 219.24 | Port St. Lucie |
| Sumter County | 127,335 | 88.24 | The Villages |
| Suwannee County | 43,514 | 24.4 | Live Oak |
| Taylor County | 21,762 | 8.05 | Perry |
| Union County | 16,141 | 25.59 | Raiford |
| Volusia County | 548,783 | 192.39 | Deltona |
| Wakulla County | 33,144 | 21.1 | Crawfordville |
| Walton County | 73,456 | 27.32 | Miramar Beach |
| Washington County | 24,906 | 16.45 | Chipley |
Five Largest Florida Counties by Population
Miami-Dade County
Located at the southeastern tip of Florida, Miami-Dade County is the most populous county in Florida and is full of cultural, economic, and environmental significance. With a population that exceeds 2.7 million, Miami-Dade is demographically diverse and includes cultures influenced by Hispanic and Caribbean heritages.
Miami, the county seat and one of the nation's most vibrant cities, is globally recognized for its iconic skyline, bustling nightlife, historic neighborhoods like Little Havana, and events like Art Basel, which draws art enthusiasts from around the world. Miami Beach, with its legendary Art Deco Historic District and sun-soaked sands, remains a prime tourist magnet.
Miami-Dade is also home to unique natural habitats. The county provides a gateway to the Everglades National Park, a UNESCO World Heritage site, where visitors can experience a pristine ecosystem of wetlands, mangroves, and diverse wildlife.
Economically, Miami-Dade plays a pivotal role as a hub for international trade, especially with Latin America and the Caribbean, facilitated by the Port of Miami and Miami International Airport.
Broward County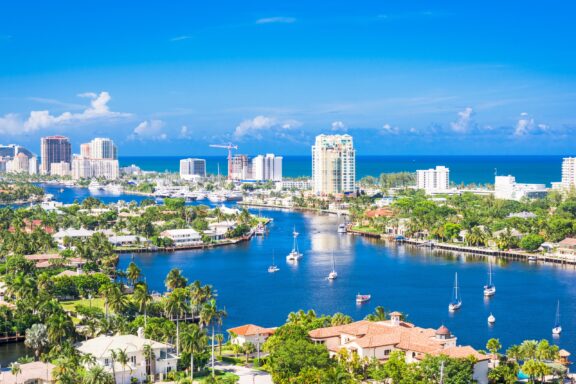 Positioned directly north of Miami-Dade lies Broward County. With Fort Lauderdale as its county seat, Broward is Florida's second-most populous county, providing a home to over 1.9 million residents. It is one of the most ethnically diverse counties in the United States.
Known as the "Venice of America" for its 165 miles (265.5 km) of inland waterways, Fort Lauderdale embodies the coastal elegance that many associate with Florida's eastern seaboard. Broward's coastline, spanning 23 miles, offers an inviting array of sandy beaches that attract tourists and residents alike.
But there's more than just beaches in Broward County. The downtown area of Fort Lauderdale, with its museums, galleries, and theaters, is a center for arts and entertainment in South Florida.
The county also boasts the Everglades Holiday Park, providing a convenient entry point to the vast Everglades ecosystem. The park is known for its airboat rides, which offer visitors a glimpse into Florida's wild side, showcasing its diverse flora and fauna.
Palm Beach County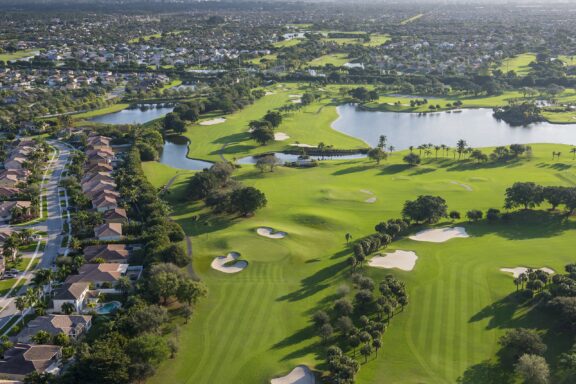 To the north of Broward County lies the expansive Palm Beach County, the largest county in Florida by land area and third-largest by population. With a rich tapestry of luxury resorts, cultural venues, and natural sanctuaries, it has long been a haven for America's elite, including several U.S. presidents who have favored its shores as a winter retreat.
The city of West Palm Beach, the county seat, reflects a sophisticated blend of historic architecture, upscale shops, and a thriving arts scene, particularly evident in areas like Clematis Street and the Norton Museum of Art.
Palm Beach County is also known for its agricultural richness, which is one of its top industries. Sugarcane fields and equestrian farms thrive in the western part of the county, and the Arthur R. Marshall Loxahatchee National Wildlife Refuge is one of the largest urban wildlife refuges in the nation.
Hillsborough County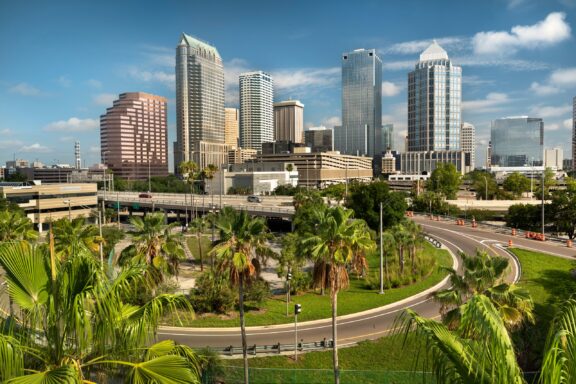 Hillsborough County is located on Florida's west coast along the Gulf of Mexico. The city of Tampa is the county seat, and it has the fourth-largest population of any county in Florida. The county was established in 1834, 13 years after the US purchased the land from Spain.
Tampa's history as a port city has shaped its diverse culture, with influences from Spanish, Cuban, Italian, and African-American heritages. The historic Ybor City neighborhood, once the cigar capital of the world, now buzzes with nightlife, boutique shops, and authentic Cuban eateries.
There is more than Tampa's urban landscape in Hillsborough County. The Manatee Viewing Center in Apollo Beach offers a unique opportunity to observe the gentle sea giants, while the county's parks and preserves provide ample space for outdoor pursuits.
The county also hosts major events, from the Gasparilla Pirate Festival to professional sports games, given its home to teams like the Tampa Bay Buccaneers.
Orange County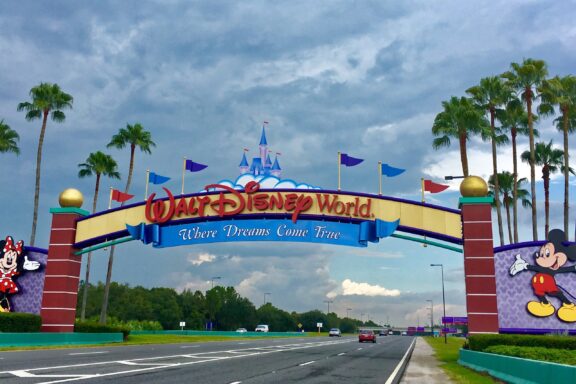 In the heart of Central Florida lies Orange County, a region synonymous with entertainment and adventure, primarily due to its globally renowned theme parks. Often referred to as "The Theme Park Capital of the World", Orlando hosts a myriad of attractions including Walt Disney World Resort, Universal Orlando Resort, and SeaWorld.
However, Orange County offers more than just theme parks. The county seat, Orlando, boasts a thriving downtown with a burgeoning arts scene, symbolized by venues like the Dr. Phillips Center for the Performing Arts.
From the natural beauty of Wekiwa Springs State Park to the educational endeavors at the University of Central Florida, Orange County is a place where recreation, education, and conservation are all important parts of its identity.
Tourism plays a major role in the county's economic portfolio and is supported by a robust tech and aerospace industry.
Five Smallest Florida Counties by Population
Liberty County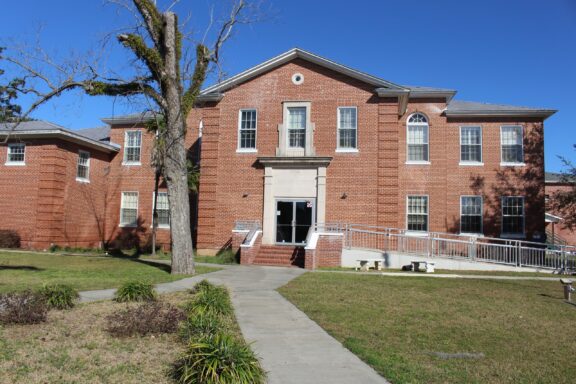 Tucked away in Florida's Panhandle is Liberty County, the least populous county in the state. The tranquil, rural landscapes of this county contrast with the state's more urbanized centers and bustling tourist hubs. Its county seat, Bristol, represents the county's laid-back, close-knit community feel.
One of the most notable aspects of Liberty County is its unspoiled natural beauty. The Apalachicola National Forest covers roughly half of the county, offering a verdant retreat of pine trees, cypress swamps, and meandering streams. Outdoor enthusiasts can find solace in its hiking trails, fishing spots, and wildlife viewing opportunities.
Economically, the county relies primarily on agriculture, forestry, and state government institutions. Its character is shaped by its rich heritage, commitment to environmental conservation, and a sense of community pride.
Lafayette County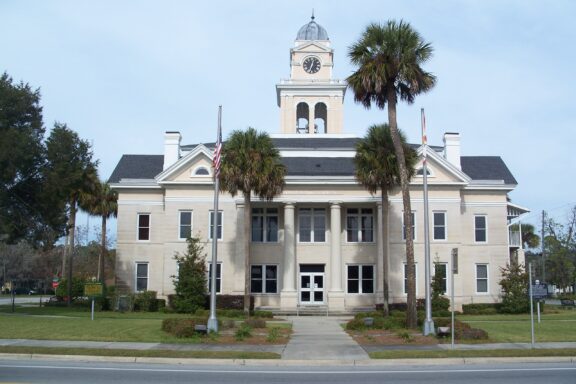 Lafayette County, located in Florida's Big Bend region, is the second-least populated county in the state. Along with Liberty County, it is one of the state's dry counties, meaning the sale of alcohol is restricted.
The county was created in 1856 and was named after the Marquis de Lafayette, a French general who fought in the American Revolutionary War. Its county seat, Mayo, gained media attention in 2018 when it temporarily changed its name to Miracle Whip as part of an advertising campaign for the Kraft Heinz Company.
A significant attraction in Lafayette is its pristine natural setting. The Suwannee River winds its way through the county and is joined by an accessible wilderness trail. Agriculturally, the county is known for its timber production and small-scale farming.
Glades County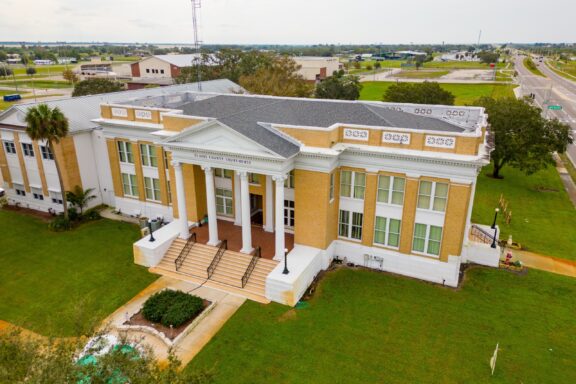 Nestled in the southwestern part of Florida is Glades County, a scenic area that displays some of the state's natural beauty.
The Caloosahatchee River to its south is just one of the waterways that have historically played a significant role in its development. Moore Haven, the county seat, stands on the river's banks and often serves as a midpoint for boaters traversing from the Atlantic Ocean to the Gulf of Mexico.
Beyond its waterways, Glades County offers an abundance of wildlife, notably in areas like the Fisheating Creek Wildlife Management Area, which is a prime location for bird-watching, fishing, and hiking.
Glades County is also home to the reservation of the Seminole Tribe of Florida who have inhabited present-day Florida for thousands of years.
Franklin County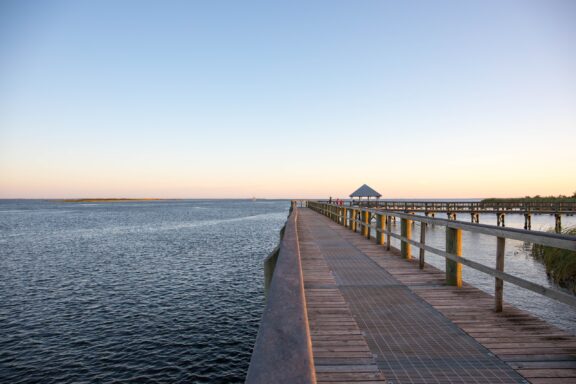 Situated along the Gulf of Mexico in Florida's Panhandle is Franklin County, a coastal region that combines maritime heritage with natural allure. Often referred to as the "Forgotten Coast," the county offers a respite from commercialization, allowing both residents and visitors to revel in its undisturbed beauty.
The county seat in Franklin is Apalachicola, and the largest community is Eastpoint, a census-designated place located next to East Bay. Apalachicola is situated across the bay from Eastpoint and is known for its bustling port and seafood, especially its oysters.
Some of the natural attractions in Franklin County include the beaches of St. George Island State Park and the dense woodlands of the Apalachicola National Forest. A diverse range of wildlife lives in this part of the state, including manatees and black bears.
Calhoun County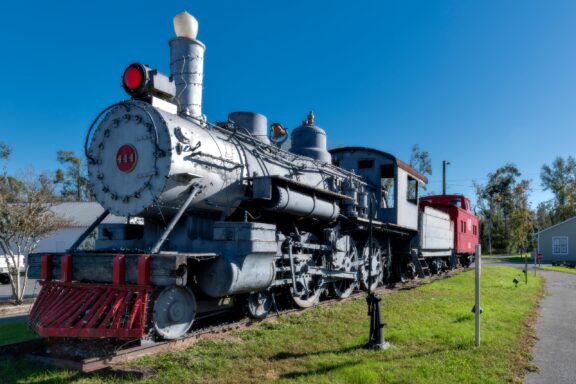 Also positioned in the Florida Panhandle is Calhoun County, which stands as a reflection of the state's enduring rural spirit. A sense of tradition and community is central to this county's identity, and it provides a glimpse into a Florida that remains untouched by the rapid urbanization seen elsewhere in the state.
The county was named after South Carolina senator John C. Calhoun and was founded in 1838. The county seat is Blountstown, which was named for Chief John Blount, a Creek Indian who helped guide Andrew Jackson in the invasion of Spanish Florida in 1818.
Calhoun County's landscape is characterized by forests, waterways, and farmlands. The Chipola River, known for its clear waters and rich biodiversity, offers recreational activities like fishing, kayaking, and nature watching.
Notable Florida Counties
Duval County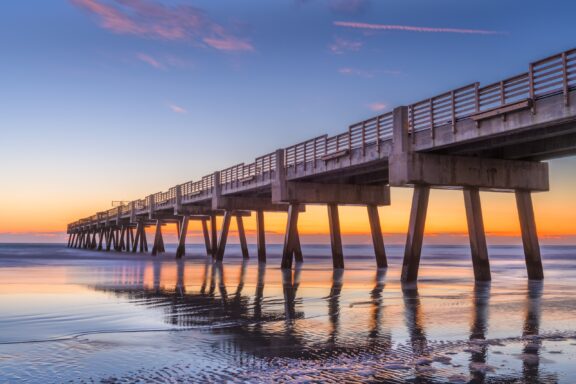 Encompassing the northeastern coast of Florida, Duval County is notable for its urban development, naval strength, and rich history. Its crown jewel, Jacksonville, is not just the state's most populous city, it's also the largest city by land area in the contiguous United States.
Jacksonville's vast urban expanse is punctuated by the winding St. Johns River, which has historically shaped Jacksonville's development and provided a vital artery for trade and transportation.
Also a significant port city, Jacksonville boasts naval bases that underscore its strategic importance in the maritime defense of the nation. The city's cultural identity includes a diverse music scene, ranging from Southern rock to blues and jazz, with various festivals celebrating this musical heritage.
Another important aspect of Duval County's cultural heritage is the history of the Timucua people, who had inhabited the land long before the arrival of Europeans.
Leon County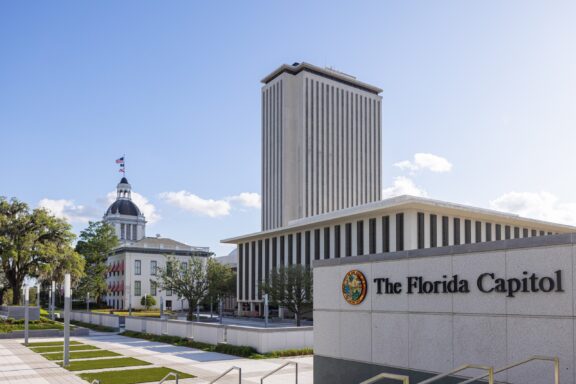 Leon County is situated in the Florida Panhandle and is one of the state's most notable counties because it houses the capital of Florida, Tallahassee. This makes it the central hub for Florida's legislative and governmental activities.
In addition to politics, Leon County is known for its contributions to learning and academia. It hosts two major institutions: Florida State University and Florida A&M University. These universities not only attract students from across the nation but also significantly influence the county's cultural and social landscape.
The county's topography consists of rolling hills, expansive forests, and pristine lakes, offering many recreational opportunities to locals and visitors. There are more than 3,400 acres of community parks in the county as well as 50 miles of maintained trails.
Monroe County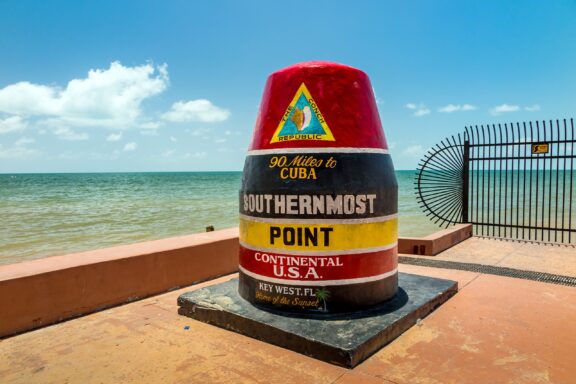 Stretching into the azure waters of the Gulf of Mexico and the Atlantic Ocean, Monroe County contains the beautiful islands known collectively as the Florida Keys. The county's mainland makes up part of the Everglades and is sparsely populated.
The county reaches the southernmost point of the continental U.S., with Key West, a vibrant city that serves as a magnet for artists, writers, and those seeking a laid-back island lifestyle. It hosts the annual Key West Songwriters Festival each May.
The county's coral reefs, part of the Florida Reef system, are a diver's paradise, boasting a vibrant underwater world that's unparalleled anywhere else in the country. The vast marine sanctuaries and national parks in the county protect its unique ecosystems and offer a sanctuary for countless species.
More About Florida Counties: FAQs
How many counties are there in Florida?
Florida is divided into 67 counties, each with its own unique history, culture, and attractions.
Which is the oldest county in Florida?
St. Johns County, established in 1821, is considered the oldest county in Florida.
Which Florida counties are known for their historical significance?
Many counties in Florida have historical significance. For instance, Osceola County has a rich Seminole Tribe history, and Nassau County is known for its historic town of Fernandina Beach, which has flags from eight different nations that once flew over it.
Which counties in Florida have cultural festivals?
Are there any natural attractions unique to Florida's counties?
Yes, each county boasts its unique natural attractions. For instance, Wakulla County is known for the Wakulla Springs, one of the largest freshwater springs in the world, and Hernando County is popular for its Weeki Wachee Springs, where visitors can watch live mermaid shows.
Neighboring States' County Maps:
Also see: Florida map with cities