Situated in the Northeastern United States, Delaware is a small but important state that serves as a bridge between the Mid-Atlantic and Northeast of the country. It's known as "The First State" for its distinction of being the first to ratify the US Constitution and has a history closely tied to its country.
Delaware (DE) on the US Map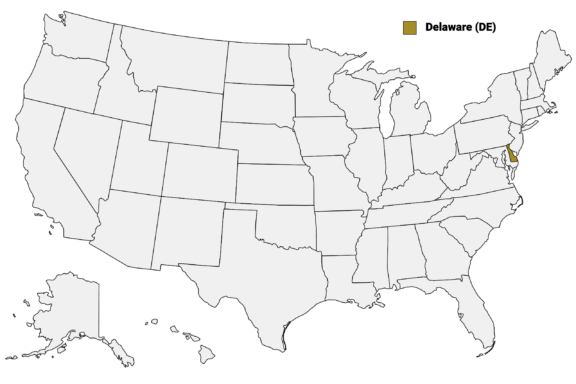 In addition to its historical significance, Delaware is known for its strong economy. Its proximity to major cities makes Delaware an influential player in the realms of commerce, banking, and corporate law.
Beyond the bustling industries and historic sites, Delaware's landscape is also defined by its unique county system. See our Delaware Counties Map below for more information.
Delaware Counties Map
Below is a map of the 3 counties of Delaware (you can click on the map to enlarge it and to see the major city in each state).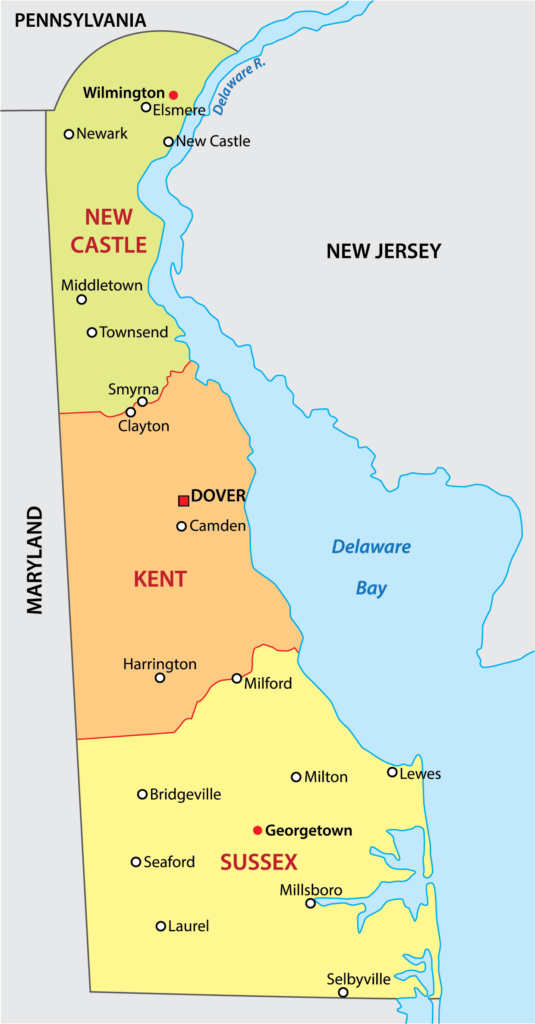 Interactive Map of Delaware Counties
Click on any of the counties on the map to see the county's population, economic data, time zone, and zip code (the data will appear below the map). Data is sourced from the US Census 2021.
List of the Counties of Delaware:
| County | Population | Per sq. km | Largest City |
| --- | --- | --- | --- |
| Kent County | 180,078 | 118.64 | Dover |
| New Castle County | 567,769 | 514.19 | Wilmington |
| Sussex County | 234,045 | 96.53 | Milford |
Counties of Delaware: Structure and Function
Delaware, in contrast to its larger neighbors, is composed of just three counties: New Castle, Kent, and Sussex. This concise county setup makes it unique, as it is the state with the fewest counties in the nation.
The counties of Delaware serve several essential functions in the governance of the state. With boundaries originally established based on former court districts, the counties now play an important role in local administration, each with its own elected legislative body.
Among the powers and duties of Delaware counties are the ability to raise taxes and control infrastructure such as garbage disposal, water supply, zoning, and building codes.
Law enforcement and court functions have been centralized in Delaware, though these are two functions that are handled at the county level in many other states.
Read on to learn more about what makes each Delaware county unique.
Kent County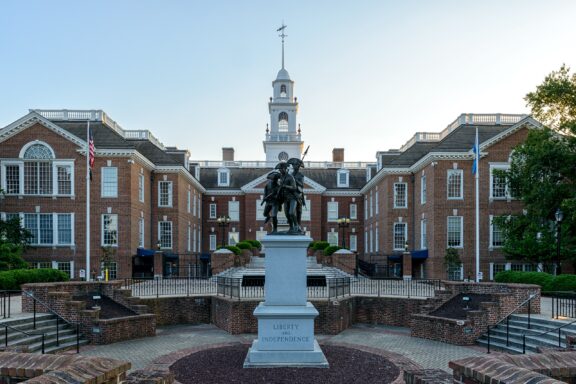 Kent County, situated in the heart of Delaware, serves as a geographical and cultural bridge between the state's urban north and coastal south. Its county seat and largest city is Dover, which is also the capital of Delaware. This makes Kent County especially important in the administration and history of the state.
Dover, in addition to being the seat of government, is full of historical significance. The Dover Green, a central square and National Historical Park, has witnessed events dating back to the Revolutionary era, including Delaware's decision to ratify the U.S. Constitution.
Dover is also home to the Air Mobility Command Museum, which offers an in-depth look into the history of military aviation. The museum is open to visitors from Wednesday to Sunday each week.
Another important aspect of Kent County's identity is agriculture. The county's fertile lands yield a diverse range of crops, from soybeans to corn, making agriculture a cornerstone of the local economy. The Delaware State Fair, held annually in Harrington, celebrates this agricultural heritage and draws residents from all over the state.
One of the most notable natural attractions in Delaware's Kent County is the Bombay Hook National Wildlife Refuge, a significant stopover for migratory birds. It protects one of the largest remaining expanses of tidal salt marsh in the mid-Atlantic region and offers bird watchers and nature enthusiasts a serene backdrop for observing wildlife.
New Castle County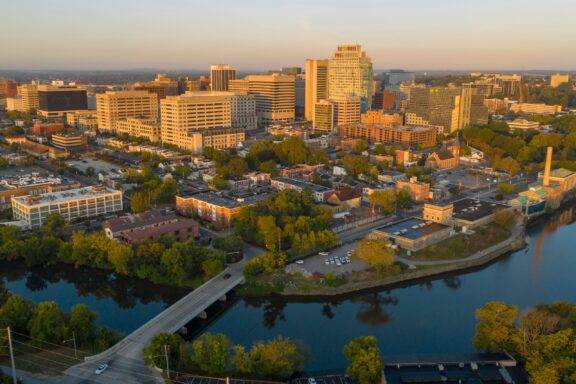 New Castle County, the northernmost of Delaware's three counties, serves as the state's primary urban and economic hub. Covering an area of just about 494 square miles (1,279 km2), this relatively compact county is home to over half of Delaware's total population.
The county's most populous city, Wilmington, often dubbed the "Corporate Capital of the World," is central to this prominence. Thanks to Delaware's favorable corporate laws, Wilmington has attracted numerous national and international businesses, making it a significant hotspot for banking, finance, and corporate legal affairs.
The bustling economic activity in Wilmington is evident in its skyline, dotted with modern buildings. The Hercules Plaza building is one of the most visually striking constructions in the city.
More than urban landscapes and business centers, New Castle County is also steeped in history, with numerous historical sites and landmarks that date back to the early days of America. Historic New Castle is located just 10 minutes south of Wilmington and features cobblestone streets evocative of a bygone era, and the majestic DuPont mansions represent the area's industrial age.
There is also a range of recreational activities available to residents and visitors alike. Parks like the Brandywine Creek State Park provide residents and visitors with ample opportunities for hiking, bird-watching, and enjoying nature.
The Delaware River, which forms the county's eastern boundary, is another focal point for recreation, trade, and transportation.
Sussex County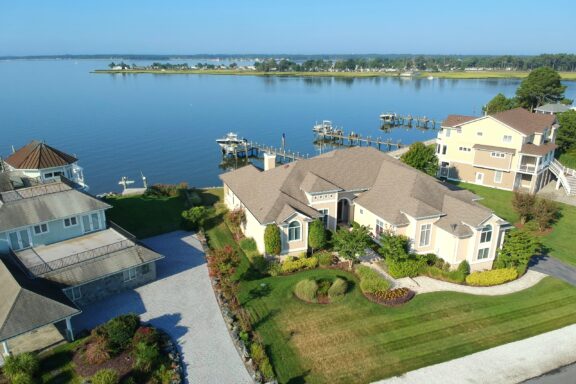 Sussex County, occupying the southernmost stretch of Delaware, is a region where the state's agricultural roots meet its scenic coastline. It boasts a unique blend of serene beaches, sprawling farmlands, and quaint towns that give it a distinct character among Delaware counties.
One of Sussex County's most notable features is its extensive coastline along the Atlantic Ocean. Resort towns like Rehoboth Beach, once branded the "Nation's Summer Capital," and Bethany Beach draw thousands of visitors each year, offering a mix of sun, sand, and vibrant boardwalks.
These coastal havens, with their mix of family-friendly activities and relaxed ambiance, are central to Delaware's reputation as a prime summer destination on the East Coast as well as the strength of the region's economy.
But beyond the beaches, Sussex County is also Delaware's agricultural heartland. The county's expansive farmlands are responsible for a significant portion of the state's agricultural output, ranging from poultry to soybeans.
The importance of agriculture to Sussex County's identity is evident in events like Georgetown's "Return Day," a unique post-election tradition that has its roots in the county's agricultural past.
The county is also home to several protected natural areas, including the Great Cypress Swamp and the Delaware Seashore State Park, where locals and tourists can immerse themselves in the region's rich biodiversity.
Sussex County embodies a harmonious blend of leisure and labor, with its bustling beach towns and hardworking farmlands standing as symbols of Delaware's diverse landscape and culture.
History of Delaware's Counties
The area now known as Delaware was explored by Dutch and Swedish colonists in the early 1600s, though it had been inhabited by the Lenni Lenape, Susquehanna, Nanticoke, and other indigenous tribes for many years prior.
New Castle County's beginnings can be traced back to the establishment of New Sweden in 1638, centered around Fort Christina, present-day Wilmington. By 1655, however, the Dutch took control and incorporated the area into New Netherland. It was transformed into New Amstel County in 1647 with roughly the same boundaries it has today as New Castle County.
Kent County, originally named St. Jones County, was established in 1680. Sussex County, originally named Hoorenkill (later changed to Deale), was established shortly afterward. Both counties' names were changed by 1682 when Englishman William Penn received the territories.
The counties played pivotal roles during the American Revolution, especially New Castle, with its strategic location on the Delaware River. The counties would later unite to ratify the U.S. Constitution in 1787.
More About Delaware Counties: FAQs
Which county in Delaware is the largest in terms of land area?
Sussex County is the largest in terms of land area, covering an area of 536 sqare miles (1,387 km2).
Which county has the highest property tax in Delaware?
Property taxes vary based on local assessments and needs. Typically, New Castle tends to have higher rates due to its urban nature, while Sussex and Kent may have lower rates due to their more rural compositions.
Are there any indigenous historical sites or reservations in any of the counties?
Which Delaware county is considered the most industrialized, and which one is the most rural?
New Castle is the most industrialized, while Sussex is the most rural.
What are the main industries in each county of Delaware?
New Castle County is known for its banking, finance, and corporate sectors. Kent County's economy is largely centered on government, agriculture, and education. In Sussex County, agriculture, tourism, and fishing are important sectors.
Which county in Delaware has the largest number of schools or universities?
New Castle has a higher concentration of educational institutions, including the University of Delaware. Kent and Sussex primarily have community colleges and local schools.
How do the populations of Delaware's three counties compare?
New Castle has the highest population density and urban growth, while Sussex and Kent are less dense and feature a mix of urban and rural demographics.
Which Delaware county has the most parks or recreational areas?
Sussex County, with its coastal stretches and natural reserves like the Delaware Seashore State Park, has the most parks and recreational areas in the state.