The Rocky Mountains, old mining towns, ski resorts, deep canyons, and vast plateaus are some of what the US state of Colorado is known for. It's located in the Southwestern region of the United States and is a major destination for outdoor lovers.
There are 64 counties in Colorado, two of which have the special status of a consolidated city and county government: Denver and Broomfield. 17 of these counties were established in 1861 with the formation of the Colorado territory, and by the time Colorado became a state in 1876, there were 26.
In this post, we'll look at a detailed Colorado Counties Map as well as dive into what makes some of the state's counties unique.
Colorado (CO) on the US Map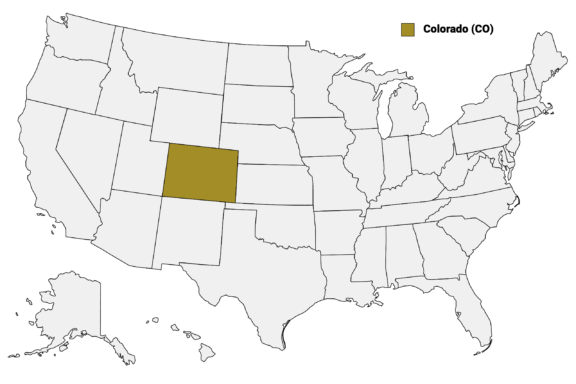 Colorado Counties Map
Below is a map of the 64 counties of Colorado (you can click on the map to enlarge it and to see the major city in each state).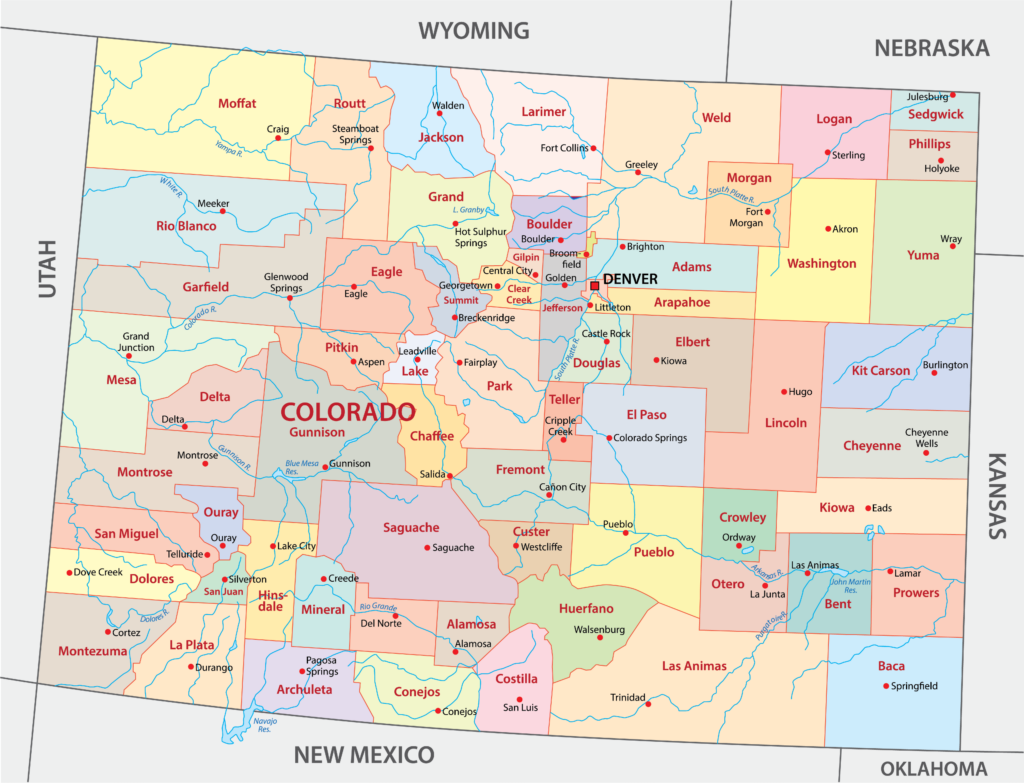 Interactive Map of Colorado Counties
Click on any of the counties on the map to see the county's population, economic data, time zone, and zip code (the data will appear below the map). Data is sourced from the US Census 2021.
List of the Counties of Colorado:
| County | Population | Per sq. km | Largest City |
| --- | --- | --- | --- |
| Adams County | 514,969 | 170.42 | Aurora |
| Alamosa County | 16,377 | 8.75 | Alamosa |
| Arapahoe County | 651,621 | 315.34 | Aurora |
| Archuleta County | 13,267 | 3.79 | Pagosa Springs |
| Baca County | 3,519 | 0.53 | Springfield |
| Bent County | 5,861 | 1.5 | Las Animas |
| Boulder County | 328,713 | 174.72 | Boulder |
| Broomfield County | 72,697 | 851.39 | Broomfield |
| Chaffee County | 19,436 | 7.4 | Salida |
| Cheyenne County | 1,691 | 0.37 | Cheyenne Wells |
| Clear Creek County | 9,427 | 9.21 | Idaho Springs |
| Conejos County | 7,579 | 2.27 | Sanford |
| Costilla County | 3,517 | 1.11 | San Luis |
| Crowley County | 6,018 | 2.95 | Ordway |
| Custer County | 4,720 | 2.47 | Silver Cliff |
| Delta County | 31,133 | 10.52 | Delta |
| Denver County | 706,799 | 1782.77 | Denver |
| Dolores County | 2,288 | 0.83 | Dove Creek |
| Douglas County | 351,929 | 161.73 | Aurora |
| Eagle County | 55,693 | 12.77 | Edwards |
| El Paso County | 722,736 | 131.23 | Colorado Springs |
| Elbert County | 25,897 | 5.4 | Ponderosa Park |
| Fremont County | 49,007 | 12.34 | Cañon City |
| Garfield County | 61,221 | 8.02 | Rifle |
| Gilpin County | 5,812 | 14.96 | Coal Creek |
| Grand County | 15,629 | 3.27 | Granby |
| Gunnison County | 16,851 | 2.01 | Gunnison |
| Hinsdale County | 858 | 0.3 | Lake City |
| Huerfano County | 6,787 | 1.65 | Walsenburg |
| Jackson County | 1,375 | 0.33 | Walden |
| Jefferson County | 580,130 | 293.03 | Lakewood |
| Kiowa County | 1,414 | 0.31 | Eads |
| Kit Carson County | 7,071 | 1.26 | Burlington |
| La Plata County | 55,673 | 12.72 | Durango |
| Lake County | 7,417 | 7.6 | Leadville |
| Larimer County | 354,670 | 52.75 | Fort Collins |
| Las Animas County | 14,531 | 1.18 | Trinidad |
| Lincoln County | 5,630 | 0.84 | Limon |
| Logan County | 21,765 | 4.57 | Sterling |
| Mesa County | 154,685 | 17.94 | Grand Junction |
| Mineral County | 794 | 0.35 | City of Creede |
| Moffat County | 13,240 | 1.08 | Craig |
| Montezuma County | 25,916 | 4.93 | Cortez |
| Montrose County | 42,328 | 7.29 | Montrose |
| Morgan County | 28,868 | 8.7 | Fort Morgan |
| Otero County | 18,665 | 5.71 | La Junta |
| Ouray County | 4,850 | 3.46 | Ridgway |
| Park County | 17,384 | 3.06 | Fairplay |
| Phillips County | 4,497 | 2.52 | Holyoke |
| Pitkin County | 17,471 | 6.95 | Aspen |
| Prowers County | 11,966 | 2.82 | Lamar |
| Pueblo County | 167,453 | 27.09 | Pueblo |
| Rio Blanco County | 6,495 | 0.78 | Meeker |
| Rio Grande County | 11,476 | 4.86 | Monte Vista |
| Routt County | 24,899 | 4.07 | Steamboat Springs |
| Saguache County | 6,369 | 0.78 | Center |
| San Juan County | 698 | 0.7 | Silverton |
| San Miguel County | 8,084 | 2.43 | Telluride |
| Sedgwick County | 2,459 | 1.73 | Julesburg |
| Summit County | 31,042 | 19.7 | Breckenridge |
| Teller County | 24,607 | 17.05 | Woodland Park |
| Washington County | 4,834 | 0.74 | Akron |
| Weld County | 322,424 | 31.24 | Greeley |
| Yuma County | 9,944 | 1.62 | Yuma |
Largest Counties in Colorado by Population
The Colorado counties in this section are those with the biggest cities and population centers. Although there are modern, urban hubs in these counties, each is also closely connected to the surrounding landscape. Read on to learn more about Colorado's most populous counties.
El Paso County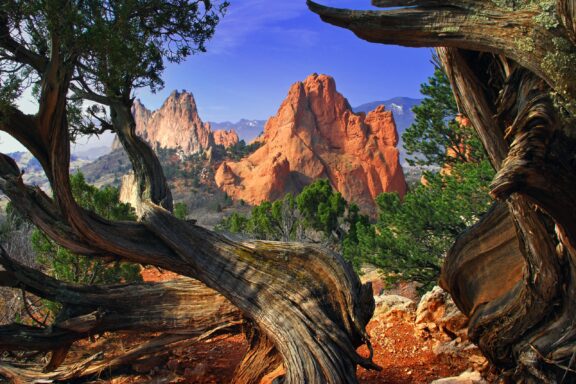 The most populous county in Colorado is El Paso County, located in the central part of the state. The largest city and county seat is Colorado Springs, which is the second largest city in Colorado and is often called "Olympic City USA" because of its ties to the U.S. Olympic Committee and the Olympic Training Center.
The landscape of El Paso County is known for its stunning beauty in places like the Garden of the Gods and the Pikes Peak Highway. Cheyenne Mountain State Park is also located in the county, as are many different hiking trails.
El Paso County is one of Colorado's original 17 counties, and today it plays a vital role in national defense by hosting several military bases, including Fort Carson and Peterson Air Force Base.
Denver County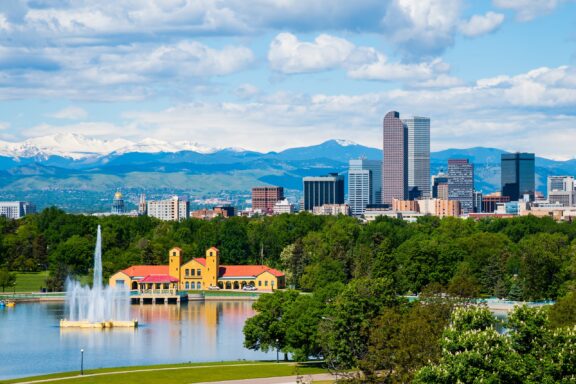 The City and County of Denver is one of only two consolidated city and county governments in Colorado. It's also the capital of the state and its most populous city. A capital and a bustling urban zone, Denver is the political hub of Colorado and offers a unique blend of modernity and history.
From its Gold Rush origins to its current reputation as a major U.S. metropolis, Denver County is known for its vibrant arts scene, diverse culinary offerings, and the Denver Broncos football team.
The area of Denver had been inhabited for many years by indigenous peoples prior to the arrival of Europeans. The Apaches, Utes, Cheyennes, Comanches, and Arapahoes were the main groups occupying the area.
Denver got its American start as Denver City of the Kansas Territory, formed as a result of an influx of people during the Colorado Gold Rush. It became the territorial capital of Colorado in 1867 and the state capital in 1876.
Arapahoe County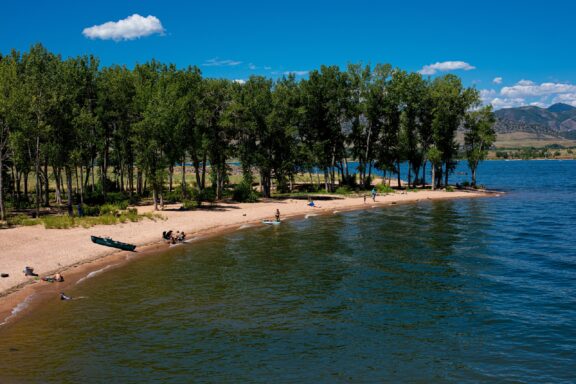 Arapahoe County in Colorado gets its name from the Arapahoe tribe that inhabited the area. It's one of Colorado's original 17 counties and is the third-most populous in the state today. The county was established in 1855, before Colorado had achieved statehood, and stretched from modern-day Wyoming to New Mexico. Today it is considerably smaller.
The largest city in the county is Aurora — Colorado's third largest — and its county seat is Littleton. The county is one of the fastest growing in the state, and it's also home to Centennial Airport, which is one of the busiest general aviation airports in the USA.
Beyond the urban centers of Arapahoe County, the area is full of picturesque communities, expansive parks, and historical charm.
Jefferson County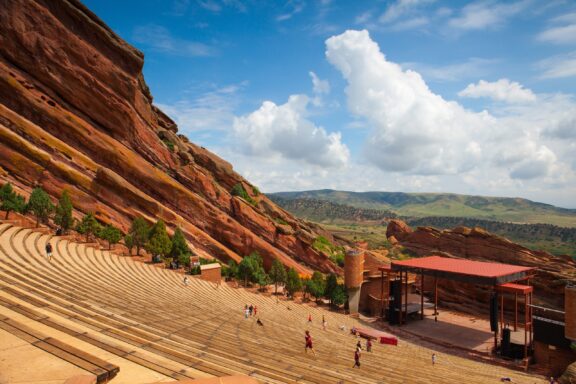 The fourth-most populous county in Colorado is Jefferson County, often shortened to "Jeffco." The county is located west of Denver, along the Front Range of the Rocky Mountains.
As part of the Denver-Aurora-Lakewood, CO Metropolitan Statistical Area but also close to nature, the county's slogan is "the Gateway to the Rocky Mountains."
Officially established in 1861, Jefferson County takes its name from former US President Thomas Jefferson. It is among Colorado's earliest counties and today offers its residents the conveniences of suburban living with the tranquility of the Rocky Mountain foothills.
The largest city in this county is Lakewood, and the county seat is Golden, Colorado. One of the outdoor attractions in Jefferson County is Red Rocks Amphitheater, a world-renowned, open-air concert venue.
Adams County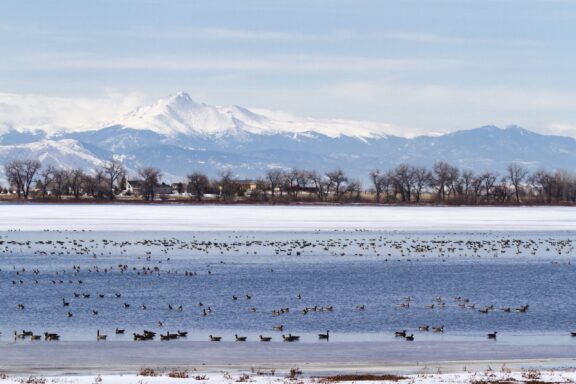 Adams County is located just northeast of Denver, serving as a gateway to the metropolitan area, and is another of the most populous counties in the state. Established in 1902 from parts of Arapahoe County, Adams County was named after the popular governor Alva Adams.
There is a mix of cities and communities in this county, from bustling suburbs to serene rural expanses. Thornton is the largest city in Adams County, and Brighton is the county seat. Thornton provides a mix of residential, commercial, and recreational amenities, such as a number of parks.
Adams County is also home to plains, farmlands, and the Denver International Airport.
Smallest Counties in Colorado by Population
Colorado is known for its undisturbed natural landscapes, and these are possibly the most pristine in its least populous counties. These counties are mostly located in the mountains and were often founded during the excitement of the Colorado Gold Rush or Silver Boom.
Their populations may have dwindled over the years, but these Colorado counties are still places of great historical and natural value.
San Juan County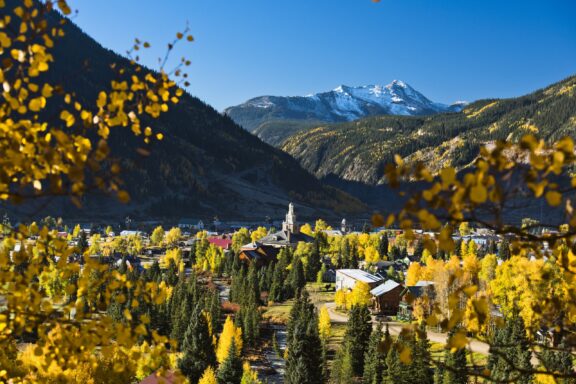 Colorado's San Juan County has a couple of claims to fame: it's the least populous county in the state with only 698 residents, and it's also got the highest mean elevation of any county in the country.
The county seat is Silverton, which is the only incorporated municipality in the county. The city got its start during the Silver Boom in the late 19th century and was once teeming with prospectors. The town still features Victorian-era architecture and is listed as a National Historic Landmark District.
For many years before the arrival of Europeans, the land of present-day San Juan County was inhabited by indigenous peoples. The Anasazi lived here, followed by the Utes, who hunted and lived in the mountains during the summer. They were still present when the first mining claims were made in Silverton in 1860.
Mineral County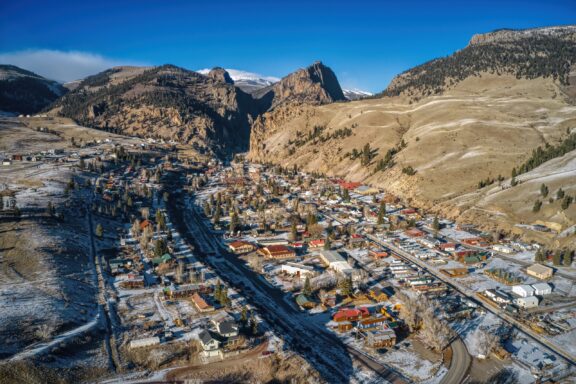 With a population of 794, Mineral County is the second-least populous county in Colorado. As with San Juan County, there is only one incorporated municipality here, Creede, which functions as the county seat.
The city of Creede was established in 1892 as a silver mining town, and its economy has since transitioned to tourism. There are a multitude of art galleries and shopping options as well as historical tours on offer.
The surrounding area is full of natural beauty and makes Creede an excellent base for taking advantage of outdoor activities like hiking, skiing, camping, and hunting. The county is also known for receiving some of the state's heaviest snowfall.
Hinsdale County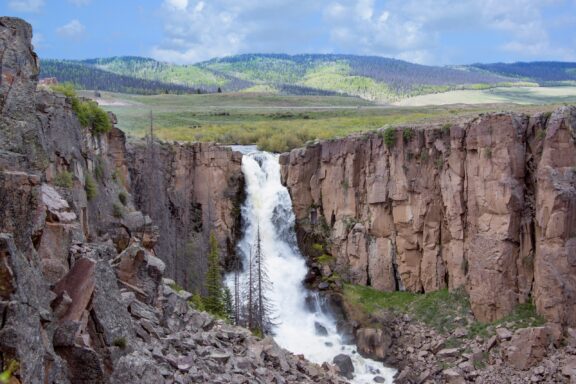 Another sparsely populated Colorado county located in the San Juan Mountains is Hinsdale County. This is one of the most remote counties in the US, with the lowest population density in the state and one of the most roadless areas in the country.
National forests and wilderness areas make Hinsdale County one of impressive natural beauty and are major attractions for outdoor enthusiasts. A high concentration of challenging mountain peaks, five of which are higher than 14,000 ft. (4,267 m), make the county an excellent locale for climbers.
The county seat here is Lake City, the largest and only town in Hinsdale County, home to more than half its population. The town is connected to others in the area via the Alpine Loop Scenic Byway, a rugged backcountry trail.
Jackson County
Also known as North Park, Jackson County is tucked away in North Central Colorado and surrounded by natural beauty. The county was named after US President Andrew Jackson, and its county seat and only incorporated municipality is Walden.
Walden is located in a wide-open valley and was named after Mark A. Walden, an early postmaster in the area. The town serves as a small regional hub for visitors and locals, providing access to many of the nearby mountains and outdoor activities.
The Arapaho Wildlife Refuge extends from Jackson County north into Wyoming and plays an important role in protecting wildlife in the area. For incredible fishing opportunities, many head to the county's Gold Medal Waters, which is also involved in important conservation efforts.
Kiowa County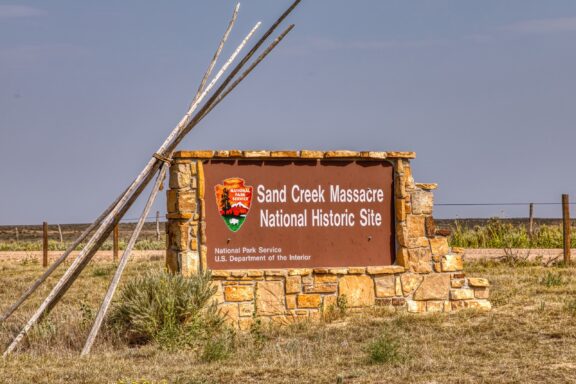 Kiowa County is located on the eastern plains of Colorado and is named for the Kiowa Indians. It was established in 1889 and its county seat is Eads, which is also the most populous municipality in the county.
The county's history includes its agricultural legacy, and the land is still populated by many fields and fertile grasslands today.
A more tragic element of the county's history is the Sand Creek Massacre of 1864. Visitors can visit what has become the National Historic Site to pay respects, reflect, and be educated.
The town of Eads was established in 1887 and has been the county seat since 1901. It was founded as a railroad town and named after James Buchanan Eads, previously named Dayon and New Dayton.
Notable Colorado Counties
Boulder County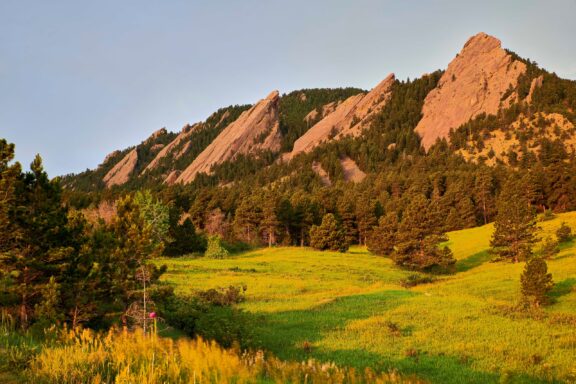 Boulder County is nestled at the base of the Front Range of the Rocky Mountains and is a blend of beautiful scenery, academic opportunities, and cultural richness. The county seat and largest city in the county is Boulder, which owes its youthful population and energy in part to the University of Colorado.
Outdoor activities abound in Boulder County. The Flatirons of Boulder are iconic rock formations that overlook the city and offer ample opportunities for hiking, rock climbing, and appreciating nature. Roosevelt National Forest and Gross Reservoir are also located in Boulder County.
San Miguel County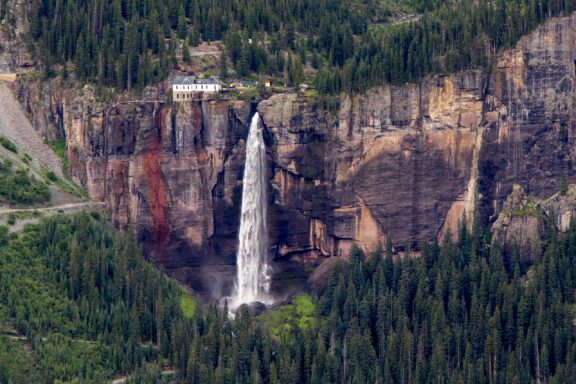 Another especially notable county in Colorado is San Miguel County, located in the beautiful San Juan Mountains. The largest town and county seat is the popular Telluride, a historic mining town turned world-class ski resort and festival destination.
Not only does the Telluride Ski Resort offer exceptional skiing during winter months, but there are also plenty of activities available to summer visitors. The town is a former silver mining camp located in a box canyon along the San Miguel River.
In addition to natural beauty, Telluride hosts several popular events such as its Hot Air Balloon Festival and the Telluride Film Festival.
The land of San Miguel County beyond the resort town of Telluride beckons lovers of the outdoors to its high desert and alpine meadows with a number of parks and trails.
Pitkin County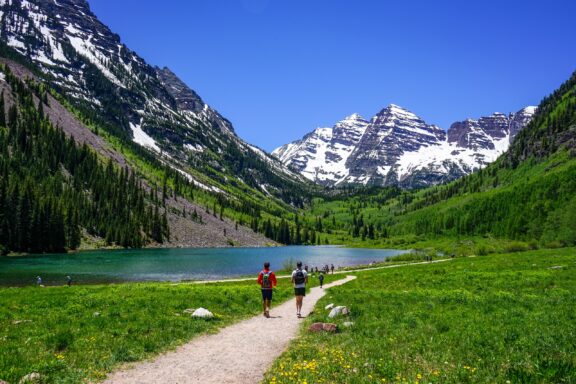 Tucked within the heart of the Rocky Mountains, Pitkin County is known for luxury, natural beauty, and cultural sophistication. Aspen, the county's most famous town, is a nexus of world-class skiing, upscale boutiques, and vibrant arts and culture.
Once a booming silver mining town in the late 19th century, Aspen has transformed into a premier destination for celebrities, world travelers, and winter sports enthusiasts alike. Beyond its ski slopes, Aspen hosts esteemed events like the Aspen Music Festival and the Aspen Ideas Festival.
Pitkin County's landscapes, ranging from the Maroon Bells – arguably Colorado's most photographed peaks – to serene valleys and dense forests, are also incredibly beautiful. There are many trails throughout the county that grant access to these stunning landscapes. 
More About Colorado Counties
Which Colorado county has the highest elevation?
Lake County is home to Mount Elbert, the highest peak in Colorado, making it the county with the highest elevation.
Which counties in Colorado are known for their world-class ski resorts?
There are many ski resorts located across Colorado. Some counties with notable ski resorts are Pitkin (Aspen), Summit (Breckenridge, Keystone, Copper Mountain), Eagle (Vail, Beaver Creek), and San Miguel (Telluride).
What are the "Maroon Bells" and in which county are they?
The Maroon Bells are two iconic peaks that are often cited as the most photographed peaks in Colorado. They are located in Pitkin County, about 10 miles outside of Aspen.