Dili is the capital of Timor-Leste (East Timor). The city is known for its scenic beauty, featuring a harbor surrounded by mountains.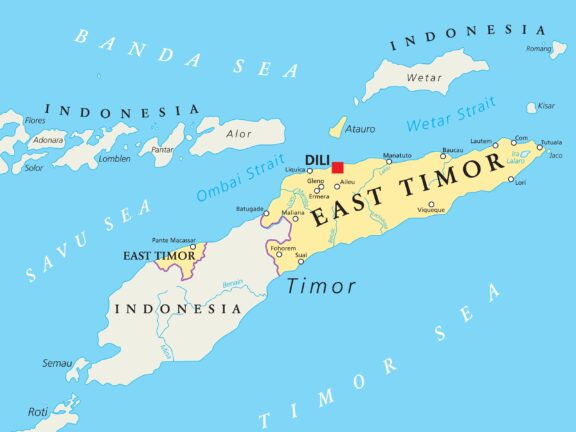 Dili serves as the political and administrative center of the country and features a blend of colonial architecture and modern buildings, reflecting its history and ongoing development. It is the hub for cultural activities, government offices, and foreign embassies in Timor-Leste.
Where is Dili?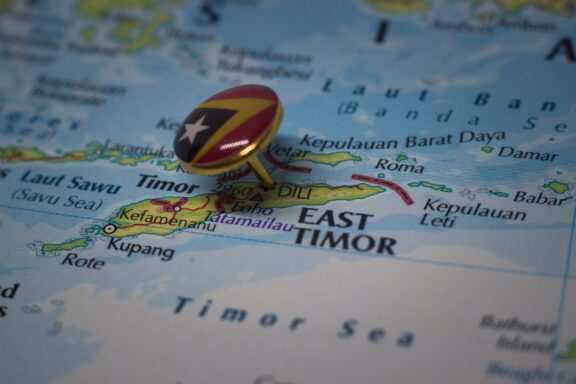 Dili is Timor Island's northern shoreline, specifically in the eastern portion of the island that constitutes Timor-Leste. In regional terms, the city is part of Southeast Asia and is closely situated in the Wetar Strait, which forms a natural boundary with the Indonesian archipelago.
Dili coordinates approximately 8.6 degrees South latitude and 125.6 degrees East longitude. It shares its eastern border with the Manatuto district and its western limit with the Liquiçá district.
History of Dili
The now Dili area was home to indigenous Timorese communities engaged in fishing, agriculture, and small-scale trading. Various tribal groups existed with their social structures, but no centralized governance resembled a city.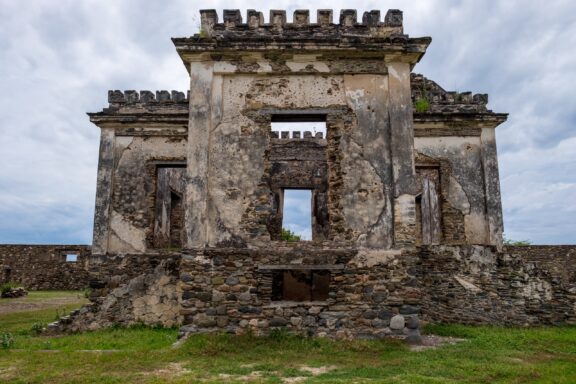 The Portuguese initially used Dili as a stopping point for spice trading. Over the years, Dili's importance grew, becoming the epicenter of Portuguese Timor.
Churches, administrative buildings, and forts were constructed, blending Portuguese architectural styles with local elements. Dili was a key location for coffee exports and became culturally influenced by the Portuguese language and religion.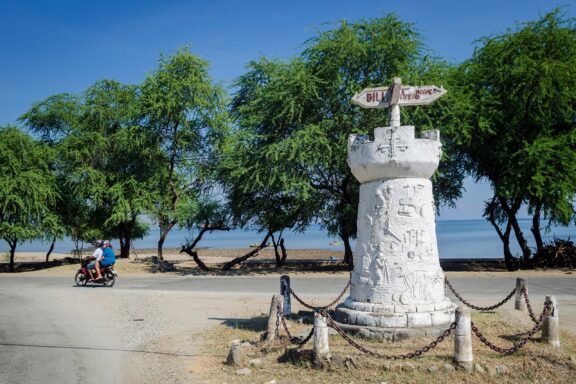 During World War II, the Japanese forces invaded Dili as part of their broader strategy in Southeast Asia. The city was used as a military base, and many infrastructures were repurposed for the war effort. The local population was subjected to forced labor, and the economy came to a near halt.
After briefly declaring independence from Portugal, Timor-Leste was occupied by Indonesia. Dili was central in the resistance against this occupation. It was a place of much suffering and violence, including mass killings and forced relocations.
The city's infrastructure was underfunded, and Dili became a place of military importance rather than civilian development.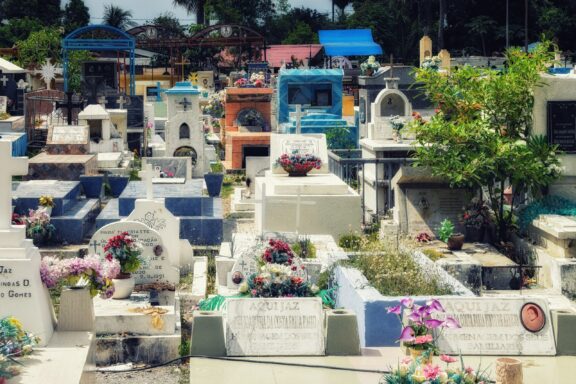 During the Independence and Post-Independence period spanning from 1999 to the present, Dili has experienced significant transformations. After a violent conflict following the 1999 independence referendum, Timor-Leste officially gained independence on May 20, 2002.
Dili became the capital of the newly independent nation and has since been rebuilding both its infrastructure and its identity. Investments in public services, a growing tourism sector, and a focus on education and healthcare have marked this era.
The city remains a symbol of resilience and is the seat of the government, shaping policies for the future of Timor-Leste.
Features of Dili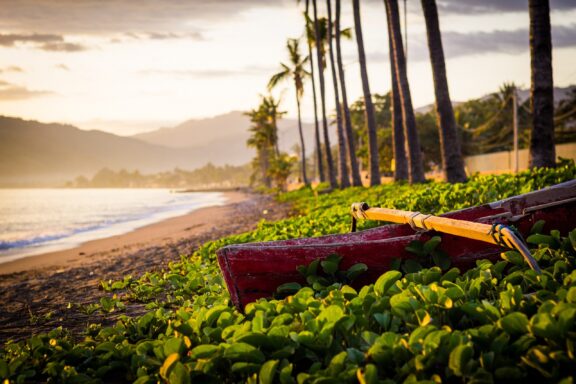 Dili is a city of contrasts and resilience, where history and modernity coexist. The Cristo Rei of Dili, a towering statue of Jesus, stands as a sentinel overlooking the city and the sea, symbolizing the religious influence from its Portuguese colonial past and the hope for a brighter future.
Dili is not just a picturesque location; it's the nerve center of Timor-Leste's governance and diplomacy. The Government Palace and various foreign embassies are clustered here, making it the focal point for domestic and international affairs.
Geography and Climate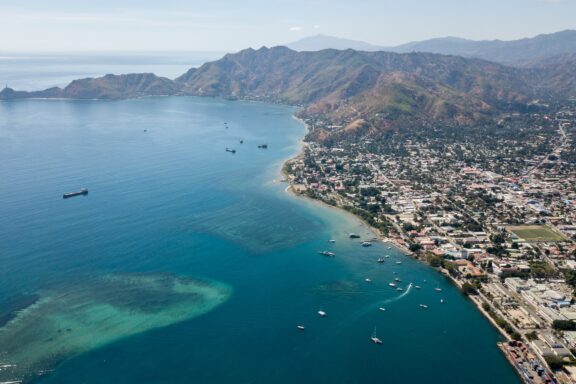 Dili experiences a tropical savanna climate characterized by a wet and a dry season. The wet season typically runs from December to April, bringing heavy rainfall and higher humidity. Conversely, the dry season from May to November are cooler and less humid conditions.
The city's climate is somewhat moderated by its coastal location, with the sea providing a cooling effect. However, the surrounding mountains also capture moisture during the wet season, creating more arid conditions inland.
Population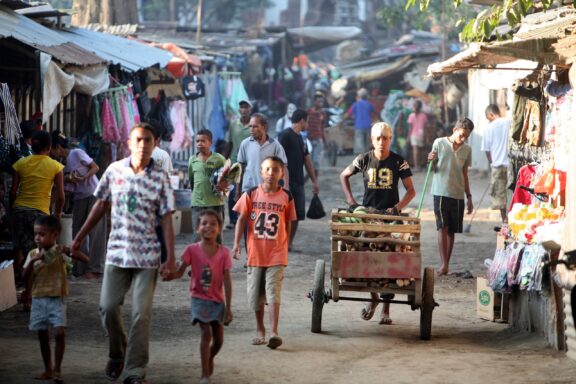 Dili is the most populous city in Timor-Leste, with a diverse population growing steadily, especially since the country gained independence. According to estimates, the city has a population of over 200,000 residents.
The population is primarily made up of native Timorese. Still, there is also a significant presence of expatriates and international aid workers, given that Dili is a hub for international organizations.
The city is youthful, with a large percentage of the population being under the age of 30. This mirrors the demographic trend in Timor-Leste as a whole, which has one of the youngest populations in the world.
Economy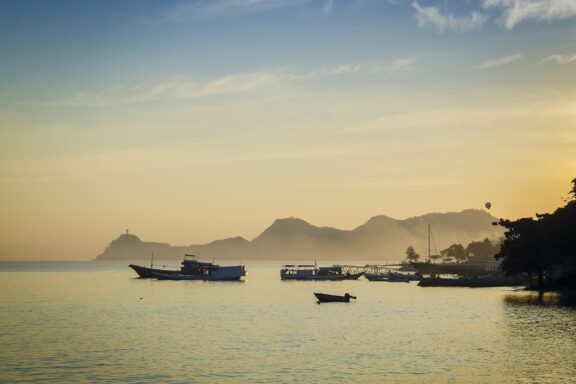 Dili serves as the economic hub of Timor-Leste, acting as a magnet for both local and foreign investment. The city is a key port, facilitating crucial trade activities.
With tourism on the rise, the hospitality sector shows signs of growth and new economic opportunities. Local markets like Taibesi Market play an essential role, providing livelihoods for many and serving as commercial hubs.
Despite its progress, Dili faces challenges such as income inequality and the need for skilled labor, but ongoing development projects and foreign aid aim to address these issues. The city's economic landscape combines traditional and modern elements, each contributing to its evolving financial identity.
Things to Do and Places to See in Dili
Dili delivers a diverse array of activities and landmarks for visitors to explore. Here are some of the most sought-after attractions and experiences in the city.
1. Cristo Rei of Dili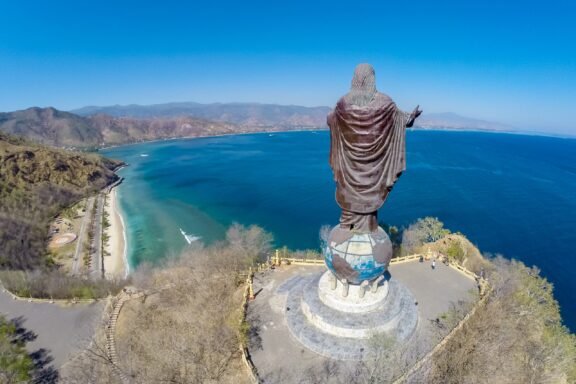 The Cristo Rei of Dili is a colossal hilltop statue that presents breathtaking panoramic views of the city and sea. Designed by Mochamad Syailillah, also known as Bolil, and completed in 1996, the statue has become an iconic landmark, attracting numerous visitors yearly.
Whether you are drawn to the site for its religious significance or the views, Cristo Rei of Dili provides a multi-faceted experience. Many people pilgrimage up the stairs as a spiritual exercise, while others come to enjoy the natural beauty and the photo opportunities that the elevation offers.
2. Timor-Leste Resistance Archive and Museum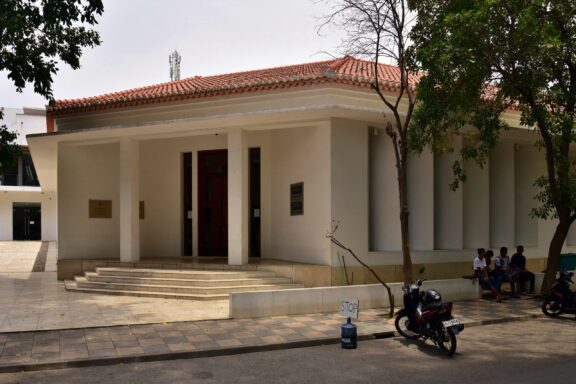 The Timor-Leste Resistance Archive and Museum is an invaluable repository of East Timor's turbulent past. It houses an extensive collection of documents, photographs, and artifacts related to East Timor's resistance against Indonesian and Portuguese rule.
The exhibits are thoughtfully arranged chronologically, showing a comprehensive look at the struggles faced by the Timorese people. The museum also features expert-led tours that provide a more in-depth understanding of the displayed collections.
3. Governor's Palace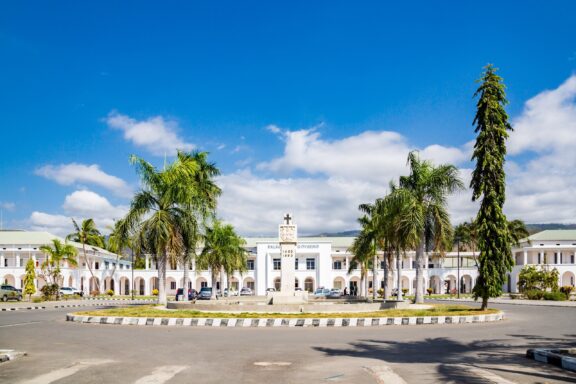 The Governor's Palace is an elegant structure that stands as a monument to governance and authority. Currently serving as the office of the President of East Timor, the palace is a must-see for those interested in the country's political life.
While the interior is generally not open to the public due to its function as a working government building, the exterior and gardens are accessible. It's a popular spot for photography, and the occasional guided tours provide a more in-depth understanding of the building's history and current role.
4 Motael Church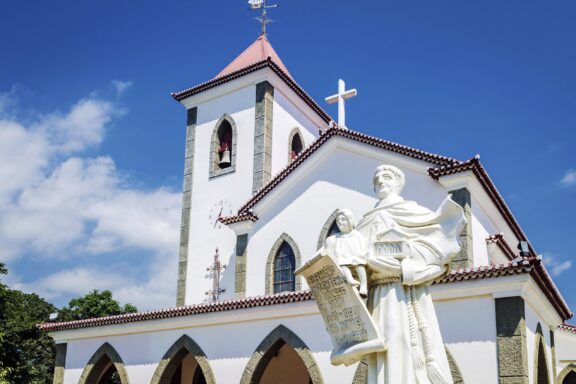 Motael Church is a cornerstone of spirituality for the local community. While its roots are deeply intertwined with Portuguese influence, the church has evolved to represent a fusion of local customs and Catholic rituals.
Visitors can attend services that often incorporate Timorese culture into the Catholic liturgy. Even outside service times, the church welcomes tourists interested in its architecture and history. The quiet and serene environment features a space for contemplation and prayer.
5. Tais Market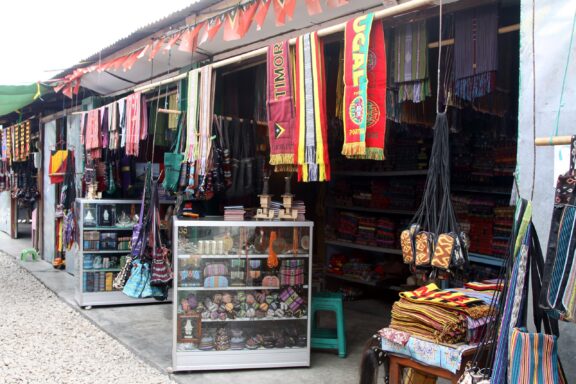 Tais Market is an authentic experience of Timorese culture. Named after the traditional textile 'Tais,' the market has become a hub for artisans and shoppers looking for indigenous crafts and fabrics.
Tourists can engage with local vendors, learn about traditional crafts, and even watch artisans at work. It's an excellent place to purchase beautiful and culturally significant souvenirs. Negotiation is common, so don't hesitate to haggle a bit to get a reasonable price.
6. Immaculate Conception Cathedral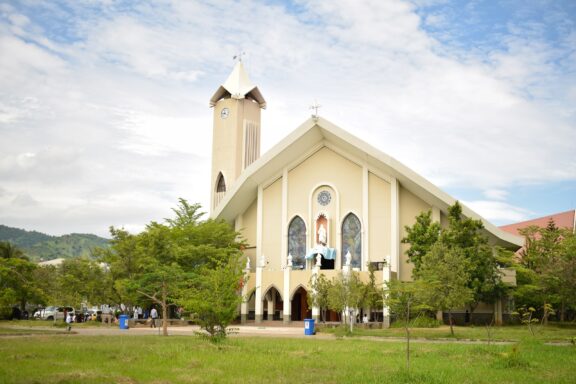 Dili Cathedral, officially known as the Cathedral of the Immaculate Conception, is an awe-inspiring religious structure that serves as a place of worship and a prominent landmark in the capital city.
The cathedral features an imposing facade and an intricate interior with elaborate frescoes, high vaulted ceilings, and beautiful stained-glass windows. Its spacious interior accommodates a large congregation and often hosts significant religious ceremonies.
7. Areia Branca Beach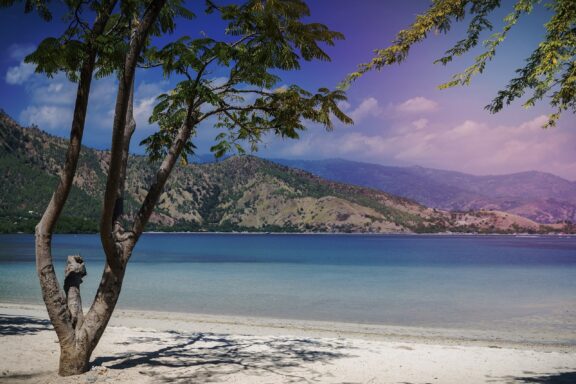 Areia Branca Beach is a beloved destination for locals and tourists seeking recreation and relaxation. Known for its clear waters and pristine sand, the beach is idyllic for various water sports and outdoor activities.
Whether you're in the mood for active water sports or sunbathing, Areia Branca Beach has something for everyone. The beachside eateries offer a range of options for meals and drinks, making it easy to spend an entire day enjoying the seaside ambiance.
8. One Dollar Beach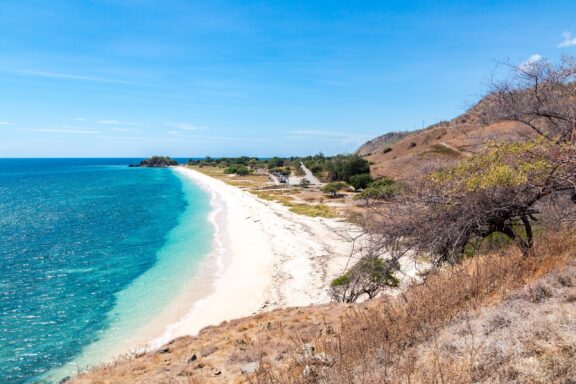 Known for its scenic beauty and laid-back atmosphere, One Dollar Beach offers a more secluded beach experience in Dili. Its name derives from the amenities' affordability, making it popular among budget travelers.
One Dollar Beach is a great place to enjoy a quieter, less crowded beach experience. It offers basic facilities like sun loungers and food stalls, allowing visitors to unwind and enjoy the natural surroundings without fuss.
9. Arte Moris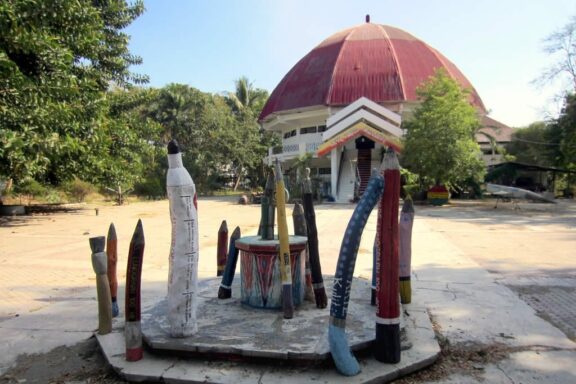 Arte Moris, which translates to "Living Art," is a cultural institution that nurtures Timorese's creativity and arts. Established in 2003, it serves as an art school and a cultural center, contributing to East Timor's post-independence cultural landscape.
Here,, you can meet local artists, view current exhibitions, and even participate in workshops or classes. The community-centered approach allows for interactive experiences, making it an enlightening visit for art enthusiasts and casual visitors.
10. Tasitolu Peace Park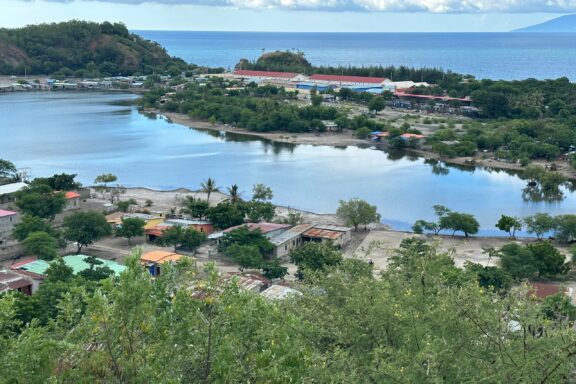 Tasitolu Peace Park is a tranquil reserve located just outside of Dili. Covering an expansive area, the park is most famous for its three salt lakes and serves as a significant symbol of peace in post-independence East Timor.
Tasitolu Peace Park offers a serene setting for relaxation and reflection. Occasionally, the park hosts cultural events and ceremonies, allowing visitors to experience Timorese culture in a peaceful environment.
Frequently Asked Questions
Is Dili safe for tourists?
While Dili is generally safe during daylight, caution is advised in areas like Tasi Tolu and Comoro, especially at night. Petty and violent crimes are not common but do exist, and foreigners can sometimes be targeted.
Secure your accommodation even when inside. Gender-based violence and sexual harassment are prevalent, so lone female travelers should be extra cautious.
What is the best time to visit Dili?
The best time to visit Dili is during the dry season, from May to November when the weather is cooler and less humid.
What language is commonly spoken in Dili?
Tetum and Portuguese are the most commonly spoken languages in Dili, though English is often understood in tourist areas and by government officials.
Are there any local festivals or cultural events to experience?
Independence Day on May 20th and Falintil Day on August 20th are major cultural and national events celebrated with parades and ceremonies.
What kind of food can I expect in Dili, East Timor?
A mixture of indigenous Timorese, Portuguese, and Indonesian flavors influences the cuisine in Dili. The abundant sea and fertile land provide a variety of ingredients such as fish, rice, and tropical fruits.
Portuguese colonization introduced elements like garlic, olive oil, and certain spices, which have been integrated into local dishes. The result is a fusion cuisine that represents the diverse history and geography of the area.
What are some must-try authentic local dishes in Dili?
If you're visiting Dili, the local cuisine offers a blend of unique flavors that should not be missed. Here are the top 4 must-try dishes:
1. Ikan Sabuko: A spicy fish dish often made with tamarind and basil.
2. Tapai: A fermented rice or cassava dish that is a staple in many meals.
3. Batar Daan: A corn, pumpkin, and mung bean mix that showcases local produce.
4. Katemak: A vegetable soup typically featuring pumpkin, corn, and beans, often seasoned with garlic and basil.
Is Dili a good base for exploring other parts of Timor-Leste?
Yes, Dili is well-connected by road to other parts of the country, making it a convenient starting point for exploring Timor-Leste.
What are the healthcare facilities like in case of an emergency?
Primary healthcare facilities are available in Dili, but severe conditions may require evacuation to a nearby country with advanced medical facilities.
Final Thoughts
Dili is a city that combines a rich historical tapestry with natural beauty, making it a worthwhile destination for those interested in both. The city has something for everyone, from its landmarks that tell stories of resilience and struggle to its beaches and nearby natural attractions that offer a serene escape.
While being mindful of safety considerations is essential, the overall experience provides valuable insights into Timor-Leste's past and present. Whether you're a history buff, a nature lover, or simply curious about lesser-explored parts of Southeast Asia, Dili provides a unique and enriching travel experience.