Dakar is the capital of Senegal. It is the largest city in the country and serves as its primary economic, cultural, and administrative center.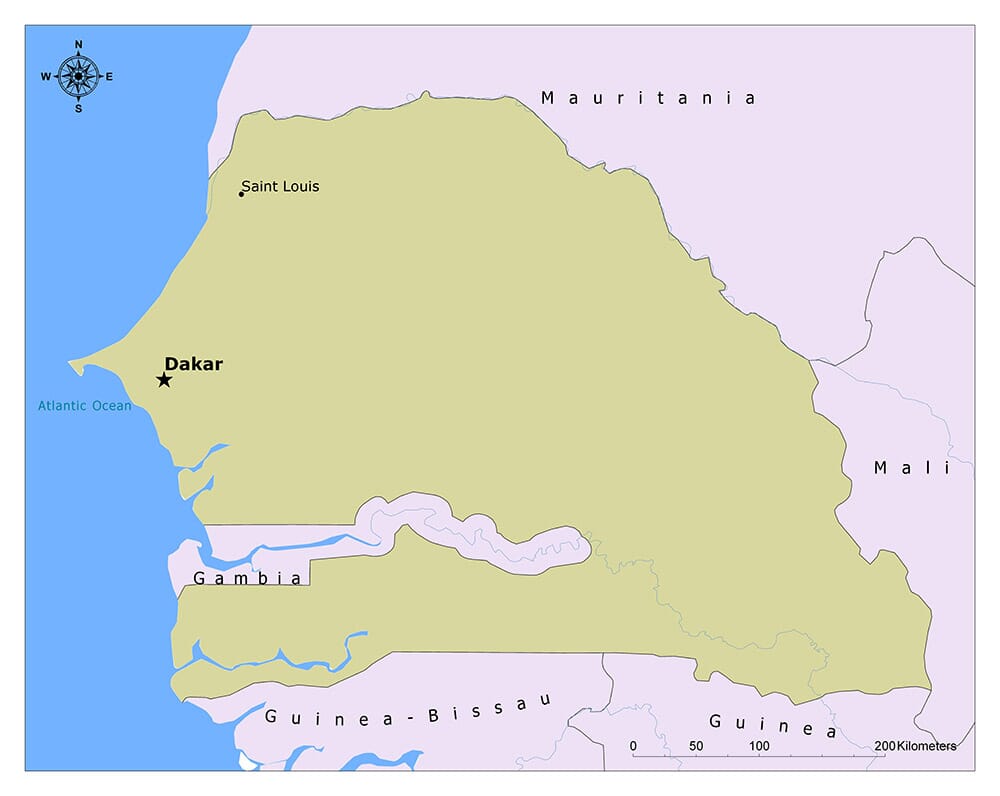 Dakar is known for its lively markets, vibrant music and dance culture, historic sites, and notable landmarks. Dakar's cosmopolitan nature, characterized by a blend of traditional, colonial, and modern influences, makes Dakar a significant cultural hub in Africa.
Where is Dakar?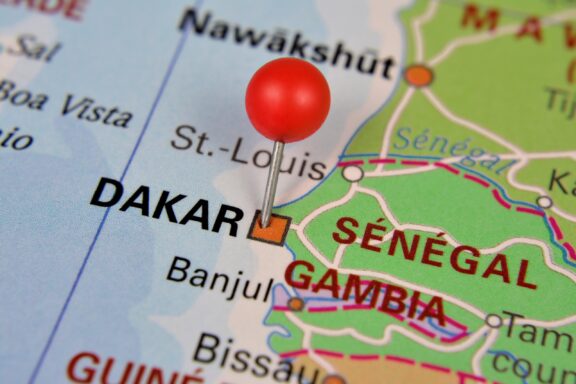 Dakar is located on the Atlantic coast in the westernmost part of Africa. Specifically, it's situated on the Cape Verde Peninsula in Senegal. The city is positioned at approximately 14.7167 °N latitude and 17.4677 °W longitude.
The geographical location of Dakar gives it the unique distinction of being the westernmost city on the mainland of the Eastern Hemisphere. This strategic location has significantly influenced Dakar's development as a major regional port and international trade and travel hub.
History of Dakar
Dakar has a rich and varied history has significantly shaped its development and character. Its origins go back to the 15th century when it was a small village of the Lebou people.
In the mid-19th century, Dakar grew as a French colonial outpost. The French first established a presence in the area in 1857 on the tiny, nearby island of Gorée, a former base for European slavers, and they founded Dakar itself in 1862. The construction of a railway and Dakar's selection as the capital of French West Africa in 1902 spurred significant growth in the city.
During World War II, Dakar was a crucial strategic base. In September 1940, the Battle of Dakar occurred as the Free French forces, under Charles de Gaulle, attempted to capture the city from Vichy French forces.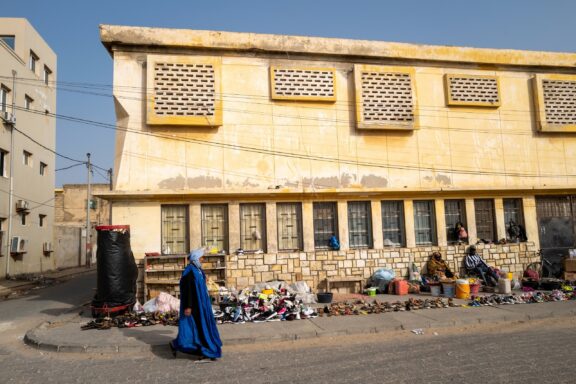 In 1960, Senegal achieved independence from France, and Dakar became the new nation's capital. Since then, Dakar has continued to grow and develop, becoming a vibrant cultural, economic, and political hub for the region. The city has faced challenges, including periods of political tension and problems with infrastructure and services due to rapid urban growth. Still, it continues to be a dynamic and vital city on the African continent.
Among the significant historical landmarks in the city, Gorée Island is perhaps the most poignant, serving as a reminder of the dark history of the Atlantic slave trade. The Maison des Esclaves (House of Slaves) is a museum and memorial to this tragic period in human history.
Another iconic symbol of Dakar is the African Renaissance Monument, unveiled in 2010 to commemorate Senegal's 50 years of independence from French colonial rule. At 49 meters tall, it's the tallest statue in Africa and symbolizes the achievements and ambitions of the African continent.
Features of Dakar
Dakar is a bustling, vibrant city known for its lively markets, beautiful coastline, and rich tapestry of cultural influences seen in its architecture, music, dance, and cuisine.
Geography and Climate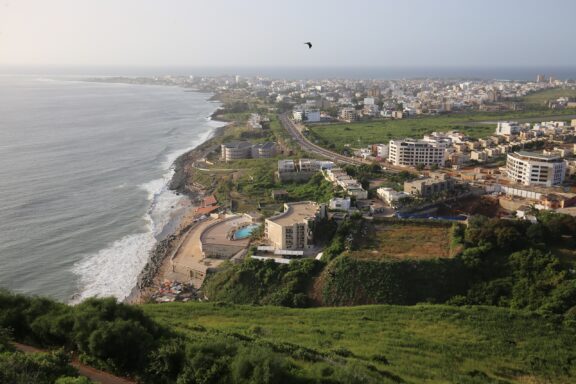 Situated on the Cape Verde Peninsula, Dakar is almost surrounded by the Atlantic Ocean on all sides, except for its east side, which connects to the rest of mainland Senegal. Sandy beaches and coastal cliffs characterize this peninsular city. Its terrain gradually rises from the coast to a small range of volcanic hills on the peninsula.
Dakar has a hot semi-arid climate, but due to the moderating influence of the Atlantic, it remains relatively cool compared to inland regions of Senegal.
The city enjoys a lengthy dry season from November to May and a shorter rainy season from June to October, characterized by brief, intense showers usually occurring in the late afternoon or evening. Temperatures are relatively stable throughout the year, with averages between 24 °C (75 °F) and 30 °C (86 °F), but can occasionally reach higher.
Population
Dakar has a population of around 3 million people. However, these numbers are likely higher today as Dakar has been experiencing rapid urbanization.
The population of Dakar is diverse, made up of numerous ethnic groups, the largest being the Wolof, who represent the majority of Senegal's population. Other significant groups include the Serer, Fulani, and Jola. French is the official language, but Wolof is widely spoken. Dakar is predominantly Muslim, with Islam profoundly influencing the city's social and cultural life.
Economy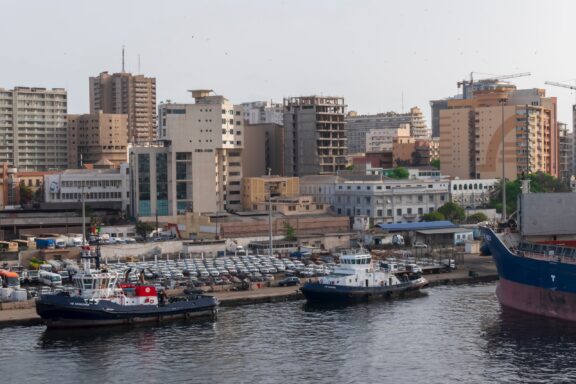 Dakar is the economic heart of Senegal and one of the major financial centers in West Africa. The city's strategic location on the Atlantic coast has made it an important regional port, serving as a gateway to the African continent for international trade and shipping. The Port of Dakar is one of the largest deep-water seaports along the West African coast.
Its economy is diverse, with key sectors including services, manufacturing, trade, and agriculture. The service sector has grown considerably, encompassing telecommunications, finance, tourism, and transportation. The city's manufacturing sector includes food processing, chemical manufacturing, textiles, and cement production.
Dakar is also a hub for fishing and agriculture, with fish and seafood being vital exports. In recent years, Dakar has aimed to establish itself as a center for information technology within the region. Despite these economic activities, like many large cities in developing countries, Dakar faces challenges such as unemployment and underemployment, especially among the youth.
Things to Do and Places to See in Dakar
Dakar offers an expansive array of activities and sights to explore. Here's a glimpse into some of the most sought-after destinations and attractions this vibrant city has in store.
1. Visit Gorée Island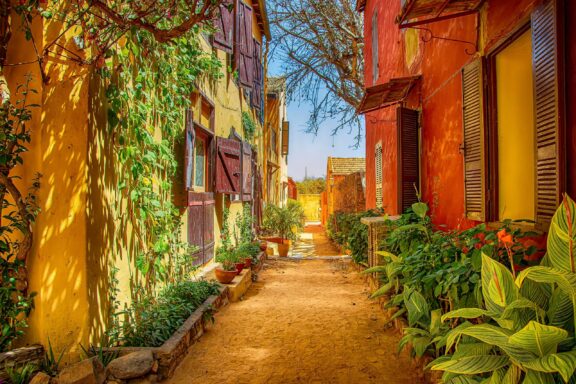 One of the most notable landmarks on the island is the House of Slaves (Maison des Esclaves), which is said to have been one of the final exit points for enslaved Africans before being shipped across the Atlantic.
It's important to note that there's an ongoing debate among historians about the scale of the slave trade through Gorée Island, and some argue the House of Slaves was not used as extensively in the trade as often represented. However, its symbolic significance as a memorial of the African Diaspora and slavery is universally recognized.
Gorée Island is also home to several other historic buildings, including forts, colonial residential buildings, and a church. Its unique architectural style fuses African, Dutch, and French influences. The island was designated a UNESCO World Heritage Site in 1978 because of its historical significance.
2. Explore the African Renaissance Monument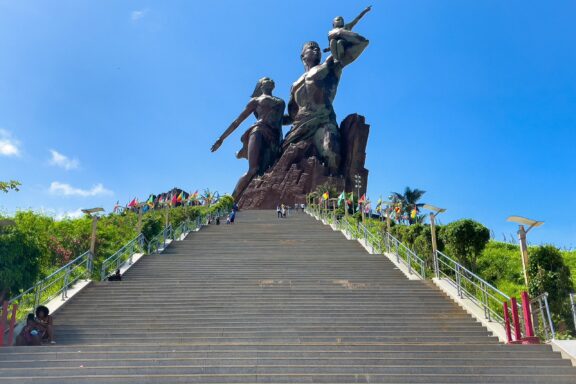 The African Renaissance Monument (Monument de la Renaissance Africaine) is a colossal bronze statue towering over the city at a height of 49 meters (161 feet).
The statue was unveiled on April 4, 2010, marking the 50th anniversary of Senegal's independence from France. It depicts a man, woman, and child pointing towards the sea, symbolizing Africa's progress and development. The man is lifting the child towards the sky, a gesture that shows Africa's hope for the future.
The African Renaissance Monument was commissioned by former Senegalese President Abdoulaye Wade, who intended the statue to serve as a beacon of Africa's progress and a symbol of Africa's emergence from "centuries of ignorance, intolerance, and racism."
3. Stroll around Marché Kermel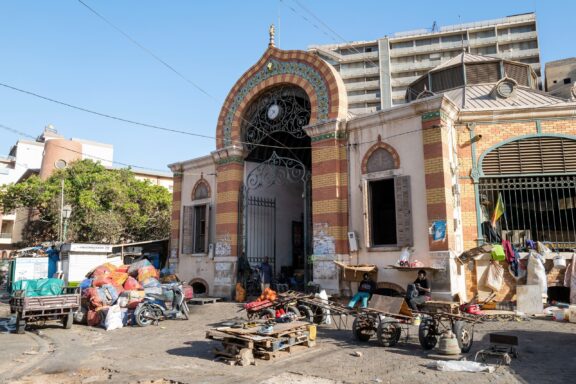 Marché Kermel, located in the heart of Dakar, Senegal, is a vibrant and colorful market known for its decadent array of goods ranging from fresh fruits, vegetables, and fish brought in by local fishermen to beautifully crafted textiles, jewelry, and artisanal goods.
Besides the plethora of goods, the market is also a cultural hotspot, buzzing with locals bargaining with vendors, which gives visitors a glimpse into daily life in Dakar. Despite its hustle and bustle, the market is generally safe and welcoming to tourists.
4. Discover the Museum of Black Civilizations and Art of the City of Dakar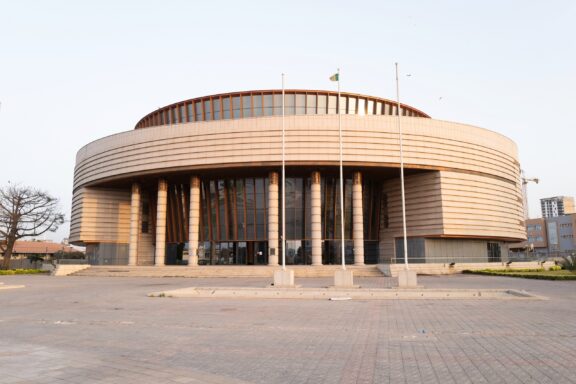 The Museum of Black Civilizations (Musée des Civilisations Noires) is a significant cultural and historical institution in Dakar. The concept for the museum was first proposed over half a century ago, in 1966, by Leopold Sedar Senghor, Senegal's first president and a major proponent of the Negritude literary and cultural movement. However, it took many decades for his vision to be realized due to various economic and political reasons.
The museum spans 14,000 square meters and is designed in the shape of a circular crown with a square base, reflecting traditional African architectural styles. It's housed in a strikingly modern building designed by the Senegalese architect Pierre Goudiaby.
5. Relax on N'Gor Beach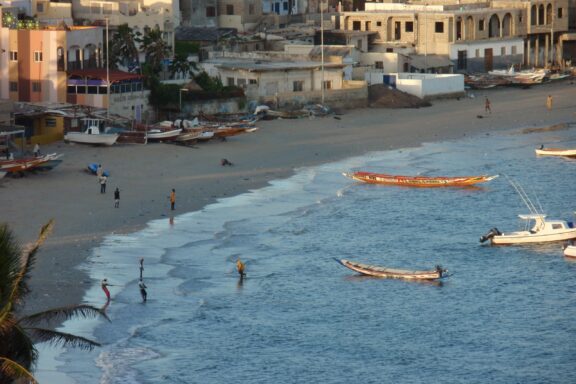 N'Gor Beach, located in the N'Gor district of Dakar, Senegal, is a popular destination for locals and tourists. It's renowned for its beautiful sandy shores, crystal clear waters, and laid-back atmosphere.
The beach is on the western tip of the Cape Verde Peninsula, offering splendid views of the Atlantic Ocean. It's an excellent spot for sunbathing, swimming, and enjoying various water sports.
One of the most notable features of N'Gor Beach is its surf break. N'Gor is a hotspot for surfers worldwide thanks to its consistent waves, suitable for both beginners and experienced surfers. The cult classic surf movie, "The Endless Summer," even features the N'Gor break, boosting its global fame among the surfing community.
6. Visit the Dakar Grand Mosque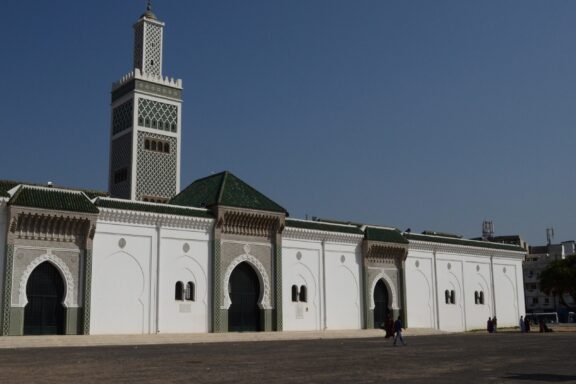 The Dakar Grand Mosque (Grande Mosquée de Dakar) is one of the most important religious sites in Dakar, the capital of Senegal. It's considered a significant symbol of Islam in the country with a predominantly Muslim population. The mosque was officially opened in 1964 and is located in the Medina quarter of Dakar.
The architecture of the Dakar Grand Mosque is notable for its large minaret, which is said to be influenced by the design of the Mosque of Touba, the most important religious site for the Mouride Brotherhood. The minaret, approximately 67 meters (220 feet) tall, is one of the tallest structures in Dakar.
7. House of Slaves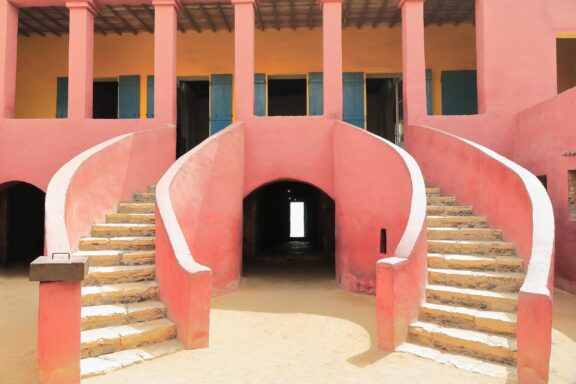 The House of Slaves (Maison des Esclaves), built in 1786 during the height of the transatlantic slave trade, is a historic structure and museum located on Gorée Island, off the coast of Dakar, Senegal. It's a potent symbol of the Atlantic slave trade and a place of remembrance for the African diaspora.
The building contains small, dark cells where people were held in cramped conditions and a larger room for those deemed more 'valuable', such as children or the so-called 'breeders'.
8. Mosque of the Divinity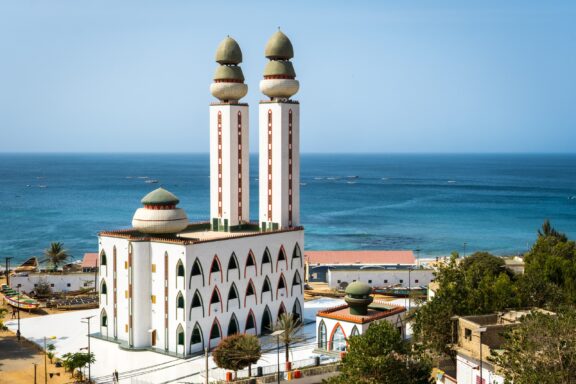 The Mosque of the Divinity (Mosquée de la Divinité) is a unique and visually striking place of worship located in Dakar, Senegal. It's situated in the Ouakam district, right on the shores of the Atlantic Ocean, which adds to its scenic beauty.
The mosque features a blend of architectural styles. Its design includes several traditional elements of Islamic architecture, such as domes and minarets, combined with more modern and local Senegalese styles. The result is a structure that is unique and easily recognizable.
9. Cathedral of Our Lady of Victories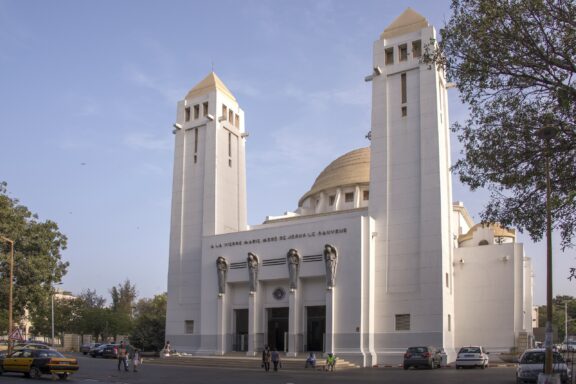 The Cathedral of Our Lady of Victories, or Cathédrale Notre-Dame des Victoires, is a Roman Catholic cathedral in Dakar, Senegal. It serves as the mother church of the Archdiocese of Dakar.
The cathedral's construction began in 1929 and was consecrated in 1936. The cathedral is located on Place de l'Indépendance, a prominent square in Dakar, and is known for its distinctive architecture. Its design combines various styles with a façade resembling a fortress. The cathedral's interior features stained glass windows and a high-vaulted ceiling.
Frequently Asked Questions
What is the best time to visit Dakar?
The best time to visit Dakar is during the dry season, which runs from November to May. The weather is warm and pleasant, and it's an excellent time for sightseeing and beach activities.
Is it safe to visit Dakar?
While every city has challenges, Dakar is generally considered safe for tourists, especially compared to many other large cities in the region. However, it's always wise to take standard safety precautions:
• Keep an eye on your belongings
• Avoid isolated areas at night
• Be aware of your surroundings
What is traditional food and cuisine like in Dakar?
Dakar's cuisine reflects its multicultural character, with influences from various ethnic groups in Senegal. Staples include fish, rice, millet, corn, peanuts, and different fruits and vegetables. Dishes often incorporate a combination of spicy, savory, and tangy flavors, and they can be hearty and highly flavorful.
What's a must-try dish/food in Dakar?
Thieboudienne, also known as Ceebu Jën, is the national dish of Senegal and is a must-try in Dakar. It's a flavorful dish made from fish, rice, and vegetables cooked in tomato sauce.
What souvenirs can I bring home from Dakar?
Dakar offers a variety of local crafts and art pieces that make excellent souvenirs, such as traditional Senegalese fabrics, boubou clothing, beaded jewelry, wooden masks, and handcrafted leather goods. Musical instruments like the djembe drum and kora harp can also be great souvenirs.
Which languages are spoken and understood in Dakar?
The official language of Senegal is French, and it's widely spoken in Dakar. Wolof, a native language, is also commonly spoken. English is understood in some places, particularly tourist areas, and hotels, but is less widely expressed.
How can I get around in Dakar?
Dakar has various options, including taxis, car hire services, and public buses. Walking can be a pleasant way to explore the city for short distances.
Is it expensive to visit Dakar?
As with many travel destinations, the cost can vary significantly depending on your choices. Unlike many Western cities, Dakar can be relatively affordable, but prices can increase with high-end accommodations, dining, and activities.
Which currencies are accepted in Dakar?
The currency of Senegal is the West African CFA franc. Credit cards are accepted in many hotels, restaurants, and shops in Dakar, but having some local currency for smaller vendors, markets, and taxis is always handy.
Is it safe to drink tap water in Dakar?
Visitors should generally drink bottled water in Dakar to avoid potential health issues. Bottled water is widely available throughout the city.
Are locals friendly in Dakar?
Senegalese people, including Dakar locals, are known for their "teranga," a Wolof word often translated as "hospitality." Many visitors find the locals to be welcoming and friendly.
Final Thoughts
Dakar is indeed a city worth visiting. Its blend of cultures, rich history, lively music, art scene, diverse food offerings, and warm, friendly locals create a vibrant and captivating atmosphere. From its bustling markets to serene beaches, from sobering historical sites to joyous festivals, the city offers a unique experience that caters to various interests.
While it has its challenges, as any city does, the charm of Dakar lies in its ability to offer an authentic and enriching insight into West African life, history, and culture. It's a place where memories are made, and visitors often leave with a greater appreciation for the resilience and spirit of this African city.