Apai is the capital of Samoa. The city is known for its laid-back atmosphere, colonial-era architecture, and vibrant local culture.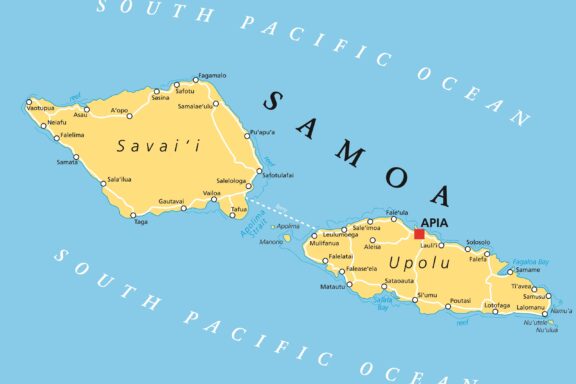 Apia serves as the country's principal port and commercial center and plays a crucial role in the nation's governance and economy. It is also a gateway for tourists exploring Samoa's natural beauty, including its beaches and coral reefs.
Where is Apia?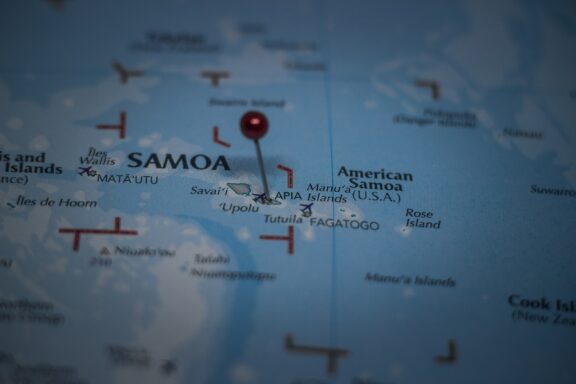 Apia is located on the north-central coast of Upolu, one of Samoa's main islands, roughly halfway between Hawaii and New Zealand in the South Pacific Ocean. Positioned near the mouth of the Vaisigano River, the city offers a natural inlet along the coast.
Its geographical coordinates are approximately 13.8415 °S latitude and 171.7528 °W longitude. This strategic location not only eases access to other regions of Upolu but also facilitates international sea trade routes.
History of Apia
Before the arrival of Europeans, the site of the capital city was already significant to indigenous Samoan communities. It was a gathering place for chieftains and commoners alike, where important decisions about the community were made. Traditional ceremonies and festivals were common, making it a cultural epicenter for the surrounding regions.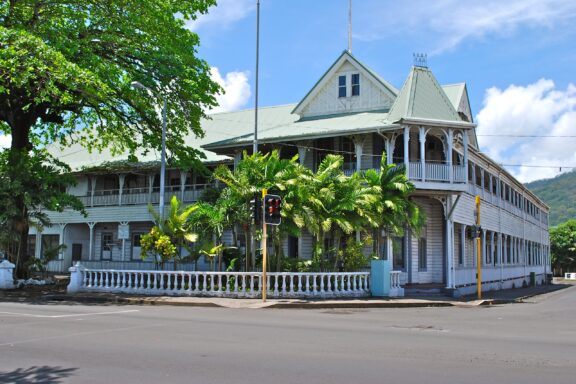 When missionary John Williams arrived in 1830, he was followed by a wave of Christian missionaries who settled there. These missionaries were crucial in converting the local population to Christianity, which has remained the dominant religion.
The missionaries also introduced new agricultural techniques and Western education, profoundly influencing the local way of life.
The late 19th century saw increased interest from European powers, particularly Germany and the United States, in the Samoan Islands. The capital city was a central point of contention, as its port was seen as strategically valuable.
During this period, the city saw the construction of colonial-style buildings, many still standing. The area's governance switched hands several times before being seized by New Zealand during World War I. The city was then administered as part of Western Samoa, a League of Nations mandate.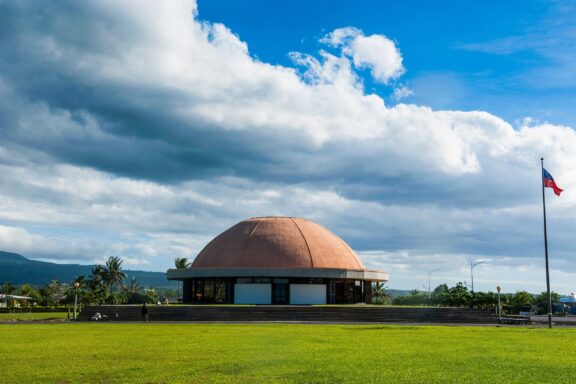 After Samoa gained independence on January 1, 1962, the capital city began to take on its modern form. Government institutions were established, including the national parliament. The city also grew economically, expanding local businesses, commerce, and public services.
Educational and healthcare facilities improved, and the city attracted tourists eager to explore Samoa's natural beauty and vibrant culture. In recent years, efforts have been made to modernize infrastructure and services to meet the demands of a growing population and economy.
Features of Apia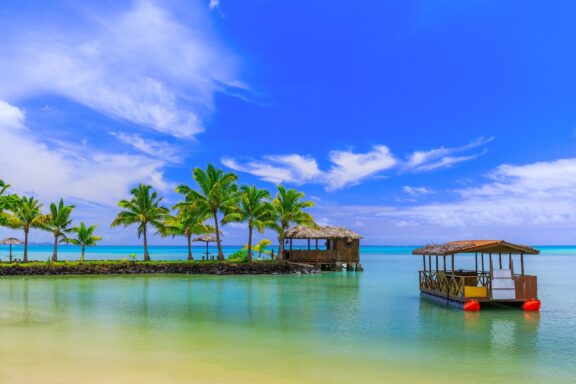 The capital city exudes a distinctive blend of natural beauty and rich culture, boasted by lush hills and facing the inviting waters of the Pacific, making the city a gateway to the island's tropical landscapes and a hub of Samoan life.
The city is notable for its colonial-era buildings that coexist with modern structures, illustrating its prosperous history and continued growth. Within the city, you'll find a variety of locally-owned shops, markets, and eateries that offer an authentic taste of Samoan culture and cuisine.
Geography and Climate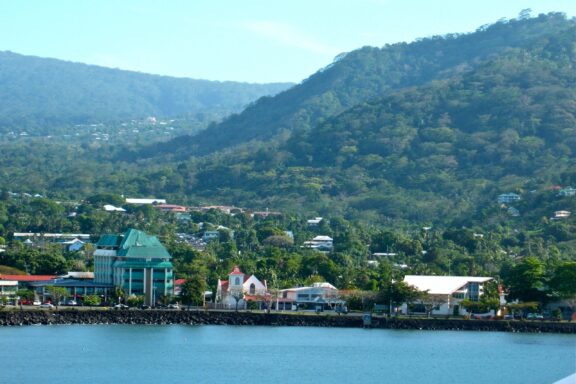 Tropical vegetation, hilly terrains, and a picturesque coastline characterize the landscape around the capital city. The city experiences a tropical climate, with a wet season from November to April and a dry season from May to October. Average temperatures range from 26 °C to 30 °C (79 °F to 86 °F), making it a warm destination year-round.
Population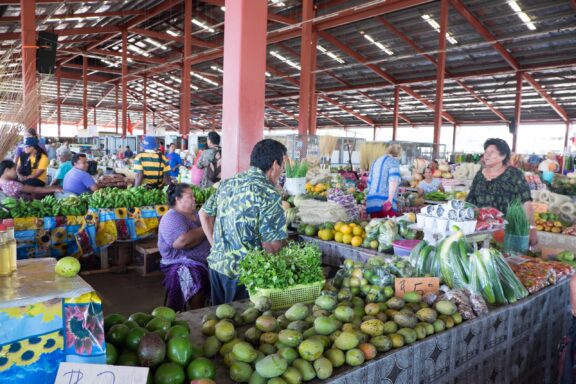 The population is approximately 40,000 and predominantly Samoan, with a small community of expatriates and foreign workers. The primary language spoken is Samoan, although English is widely understood due to its status as an official language.
The local culture is deeply rooted in Fa'a Samoa, or "The Samoan Way," emphasizing community, family ties, and respect for elders.
Economy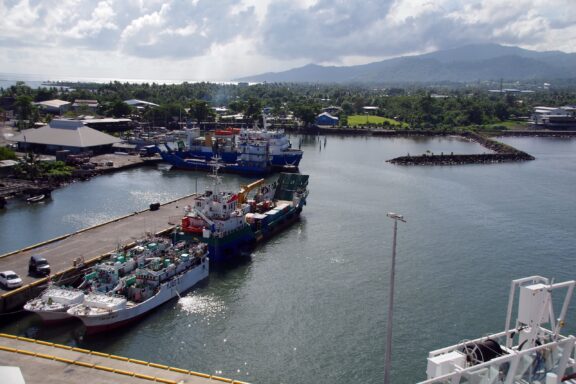 The economy is diverse, encompassing tourism, agriculture, and fishing sectors. While not an industrial powerhouse, the city serves as a crucial nexus for trade and commerce in the nation.
Small and medium-sized enterprises dominate the business landscape, contributing significantly to local employment. Over the years, tourism has grown in importance, bringing a steady flow of income and generating business opportunities in hospitality, retail, and services.
Things to Do and Places to See in Apia
In Apia, you'll encounter many intriguing activities and destinations to explore. Not only is the city home to standout attractions, but it also serves as a convenient base for venturing out to discover the rest of the island.
Here are some experiences and places you won't want to pass up.
1. Immaculate Conception of Mary Cathedral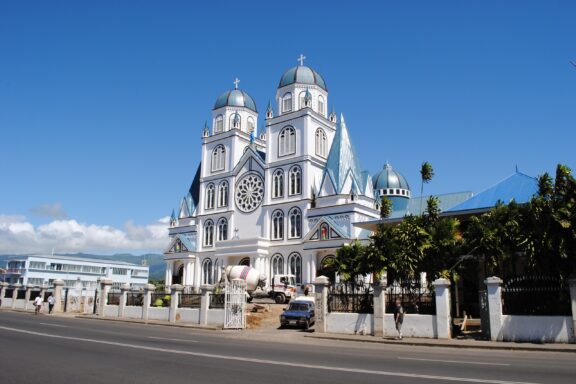 The Immaculate Conception of Mary Cathedral symbolizes the Catholic faith in Samoa and is an architectural marvel that captures the essence of Apia's rich cultural diversity.
Whether you're drawn by spiritual pursuits or architectural admiration, this cathedral offers a serene setting for reflection. Attend a service to experience local religious customs or wander through the church to admire its artistic details.
2. Palolo Deep Marine Reserve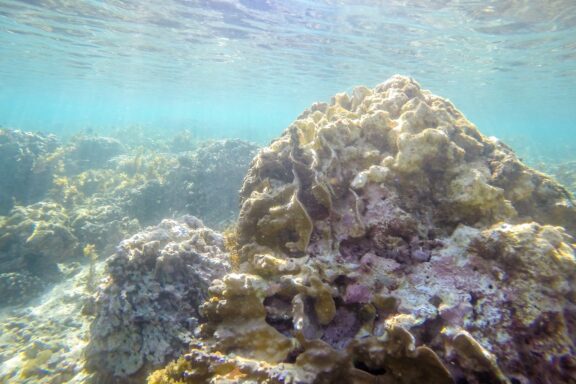 The Palolo Deep Marine Reserve is a must-visit attraction for anyone interested in marine biology, snorkeling, or simply witnessing the underwater wonders of the South Pacific.
Strap yourself with snorkeling or scuba gear and immerse yourself in an underwater world that seems almost fantastical in its colors and forms. Educational boards provide insights into marine ecology, making the experience recreational and educational.
3. Robert Louis Stevenson Museum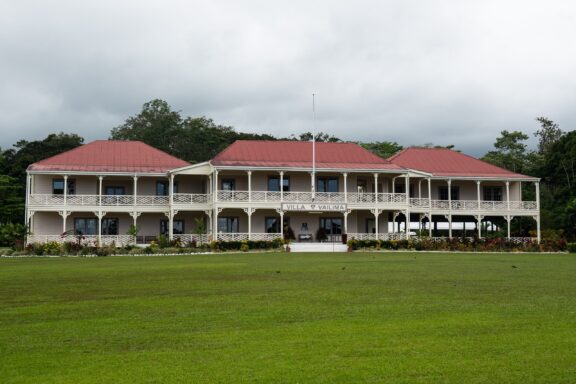 The Robert Louis Stevenson Museum provides an intimate look into his life, works, and relationship with Samoa. It consists of personal artifacts, first editions of Stevenson's works, and rooms preserved much as they were during his time.
A visit here isn't just for literary enthusiasts. The museum offers guided tours that shed light on Samoan culture during Stevenson's time. The adjacent gardens and trails offer a delightful stroll, adding a touch of natural beauty to your cultural excursion.
4. Apiatown Clock Tower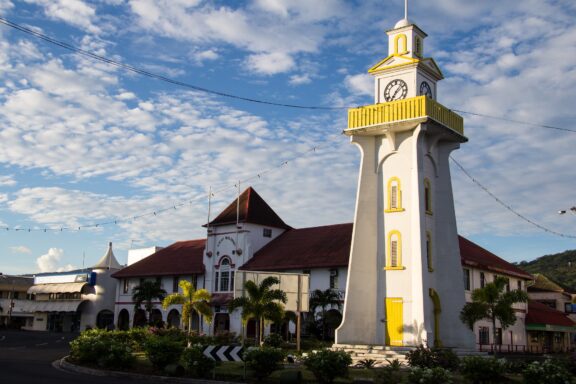 The Apiatown Clock Tower is more than just a timekeeper; it's a gathering point and navigational aid for locals and tourists. Built with sturdy materials that have stood the test of time, the clock tower features a classic design with large, easily readable clock faces.
The Apiatown Clock Tower is situated at an intersection, making it a focal point in the city's layout. Aside from being a convenient meeting spot, the clock tower is surrounded by shops and cafés, making it an ideal starting point for urban explorations.
5. Samoa Cultural Village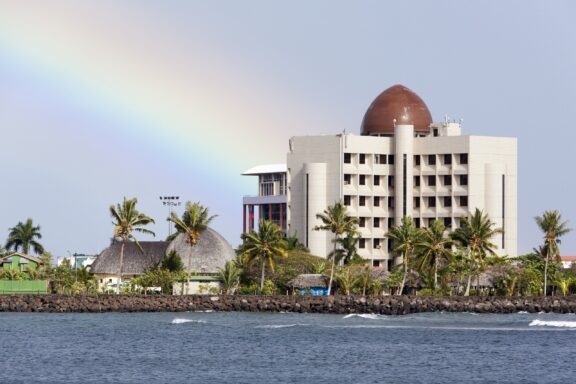 Set up like a traditional village, the Samoan Cultural Village is a cultural center that features various huts known as "fales," each dedicated to different aspects of Samoan culture, such as tattooing, weaving, and cooking. Demonstrations and interactive workshops offer hands-on experiences, letting visitors delve into the island's rich cultural practices.
Whether participating in a kava ceremony or learning about traditional crafts, this village offers a comprehensive and engaging cultural experience. It's an excellent opportunity for tourists to actively engage with Samoan culture rather than observe it, making it a highlight of any visit to Apia.
6. To Sua Ocean Trench
To Sua, meaning "big hole," is a mesmerizing ocean trench surrounded by lush greenery, offering a surreal, almost otherworldly experience. Accessible by a steep ladder, the trench features an inviting, turquoise swimming hole linked to the ocean by underwater caves.
Ideal for adventurous souls and nature enthusiasts alike, the trench provides a unique swimming experience in its calm, crystal-clear waters. If swimming isn't your thing, the panoramic views from above are equally breathtaking and offer excellent photographic opportunities.
7. Lalomanu beach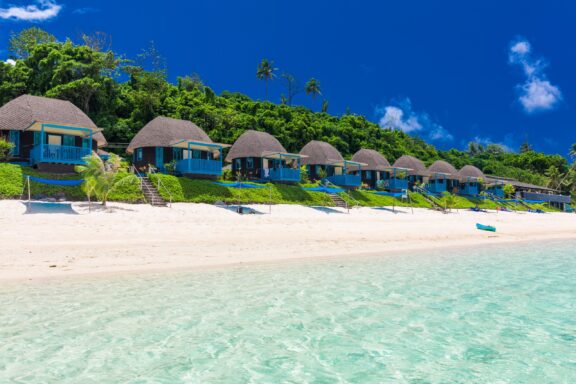 Lalomanu Beach boasts soft white sand, clear turquoise waters, and a backdrop of palm trees, making it picture-perfect. Beachside Fales are available for rent, and local vendors offer refreshments and basic amenities.
Perfect for sunbathing, swimming, or snorkeling, Lalomanu Beach offers a classic beach experience with an exotic twist. Its relative seclusion makes it an excellent spot for those looking to escape the crowds and enjoy some serene moments by the ocean.
8. Piula Cave Pool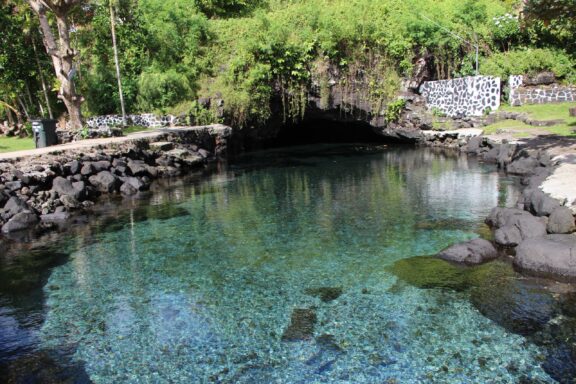 Hidden beneath a historical Methodist chapel, the Piula Cave Pool provides a mystical and refreshing escape from the tropical heat. The pool features clear freshwater springs that feed into an underground cave system. It's surrounded by rocky walls and overhanging foliage, creating a secluded, intimate atmosphere.
For visitors keen on a unique swimming experience, the cave pool offers a chance to float in a natural subterranean setting. It's also an ideal location for a romantic outing or a peaceful retreat to reconnect with nature.
Frequently Asked Questions
Is Apia safe for tourists?
The level of serious crime is low, but petty theft, robbery, and assault occur. It's advisable to avoid going out alone at night, particularly in downtown and harbor-front areas. Always use hotel safes for passports and valuables.
What's traditional food like in Apia?
The traditional cuisine in the capital city is a mix of indigenous ingredients and influences from other Polynesian islands, along with a touch of European and Asian flavors due to historical trade and colonization.
Root vegetables like taro, protein sources like fish and chicken, and fruits like coconut are staples.
What food options can I expect in Apia?
If you're in the capital city, there are several local dishes you absolutely must try:
1. Oka: A refreshing dish of raw fish marinated in coconut milk and citrus juice.
2. Palusami: Taro leaves filled with coconut milk, often accompanied by meat or fish.
3. Faiai Fe'e: A squid dish cooked in coconut cream.
4. Sapasui: The Samoan version of chop suey, usually made with beef, soy sauce, and vermicelli noodles.
What is the best time to visit Apia?
The dry season from May to October is generally considered the best time to visit.
Are there any local customs or etiquette I should be aware of?
The local culture places a strong emphasis on respect for elders and community. Dress modestly when visiting villages or religious sites.
What currency is used in Apia?
The Samoan Tala (WST) is the local currency, and money can be exchanged at banks or currency exchange offices.
Is there Wi-Fi available in Apia?
Internet cafes and Wi-Fi hotspots are available, and mobile coverage is generally good.te
Is Apia the only city in Samoa?
No, Apia is not the only city in Samoa. There are other smaller towns and villages across the islands.
Why are people moving out of Samoa and Apia?
Various factors have contributed to people moving out of Samoa, including seeking better educational and employment opportunities and joining family members who have migrated. Natural disasters and economic challenges have also played a role.
Final Thoughts
Apia offers a compelling blend of natural beauty, rich history, and vibrant local culture. From snorkeling in marine reserves to exploring historical landmarks and savoring authentic cuisine, there's something for every type of traveler.
Whether you're an adventure seeker, a history buff, or someone looking to unwind, the city provides diverse experiences that make it a destination well worth visiting.