Doha is the capital of Qatar. Doha serves as the country's political, economic, and cultural center.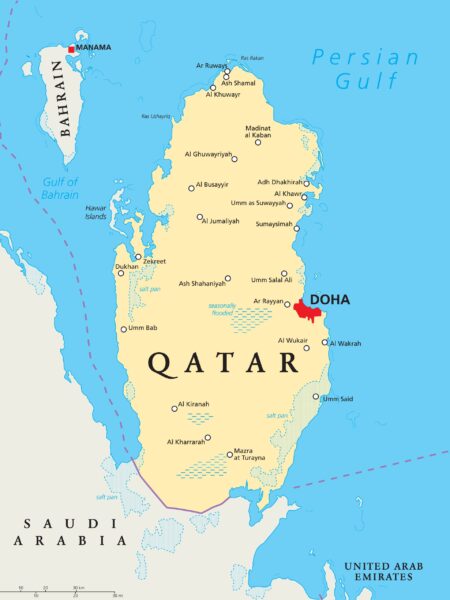 Doha's modern architecture and picturesque waterfront make it an attractive destination for tourists and residents. The city's combination of traditional markets and contemporary shopping centers reflects its blend of old and new.
Where is Doha?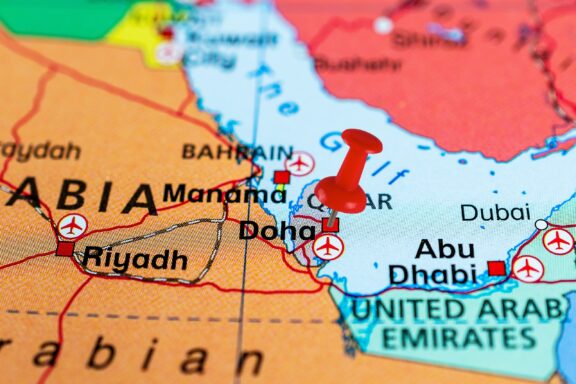 Doha is located in the eastern part of the State of Qatar, along the coast of the Persian Gulf. It's situated on a flat, arid landscape and almost surrounded by desert.
The city's coastal position has historically made it a significant port and trading center, linking it to other parts of the region and the world. Being Qatar's largest city, Doha is well-connected domestically and internationally, making it accessible and central within the country.
History of Doha
Doha's roots lie in a small coastal settlement that was part of the Al Bidda village. The residents mainly consisted of fishermen and pearl divers. The natural harbor and rich pearl beds brought economic sustenance to the community, and over time, the Settlement began to grow modestly, attracting neighboring tribes.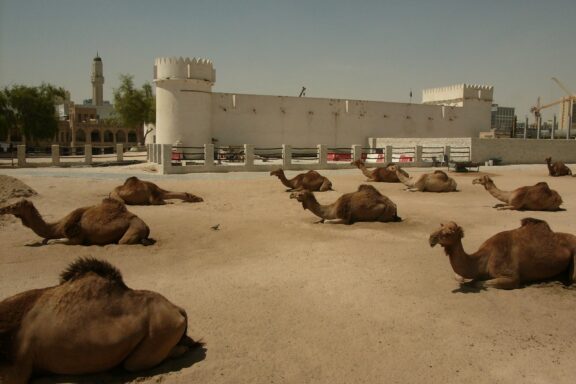 The 19th Century marked significant changes in the city. The Al Thani family established their rule in Doha, becoming instrumental in the political unification of the region.
During this time, the Ottomans arrived, leading to a short period of occupation. However, local resistance, mainly led by the Al Thani family, restored control over Doha, creating a robust base for the future state of Qatar.
The discovery of oil in the 1940s was a turning point for Doha. Oil revenues began to flow, allowing for investments in crucial infrastructure. Roads, hospitals, schools, and modern amenities became accessible to the population.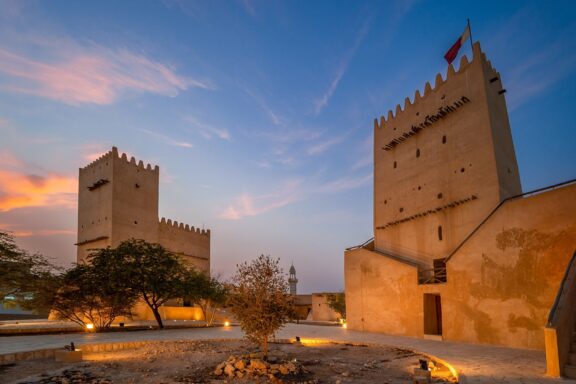 Once the cornerstone of the economy, the fishing and pearling industry began to take a back seat as the oil and gas industries took the lead. Migration into Doha increased, and a cosmopolitan population started to take shape.
From the late 20th Century onward, Doha embarked on a path to becoming a significant international player. Cultural institutions, educational facilities like Qatar University, and investment in technology positioned the city as a regional hub for innovation and learning. Major sporting events like the Asian Games also raised Doha's profile globally.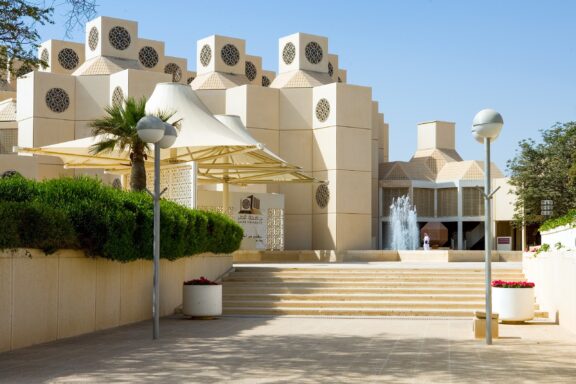 The cityscape began to transform with a blend of traditional Islamic architecture and futuristic designs. Iconic structures like the Museum of Islamic Art, designed by I. M. Pei, and the Torch Doha became symbols of the city's aspiration to meld heritage with modernity. Massive construction projects have continued to reshape the skyline, reflecting the city's growth and vision.
Doha has expanded its political influence through active mediation and hosting significant international conferences. Engagements in peace talks, regional summits, and initiatives like the Doha Development Round of World Trade Organization negotiations have made Doha an essential player in international diplomacy.
Winning the bid to host the FIFA World Cup has spurred a new era of development. Stadiums showcasing innovative cooling technology, expansion of the metro system, and enhanced hospitality facilities have all been part of the preparation. It's not just about hosting a sporting event but a symbol of Qatar's emergence on the world stage.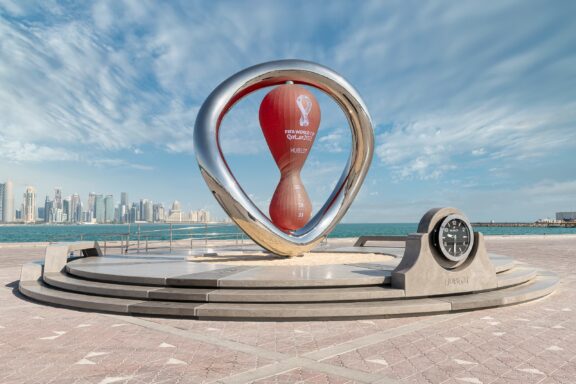 Recognizing the importance of sustainability, Doha has implemented various environmental initiatives. Green building standards, investment in renewable energy, and programs to preserve the natural landscape are part of a broader effort to align the city's growth with ecological responsibility.
Through these stages, the history of Doha reveals a fascinating transformation. The interaction between economic opportunities, cultural heritage, political strategies, and international engagements has woven a complex and vibrant narrative that continues to unfold. The city's past paints a picture of resilience, ambition, innovation, and a continuous striving for excellence.
Features of Doha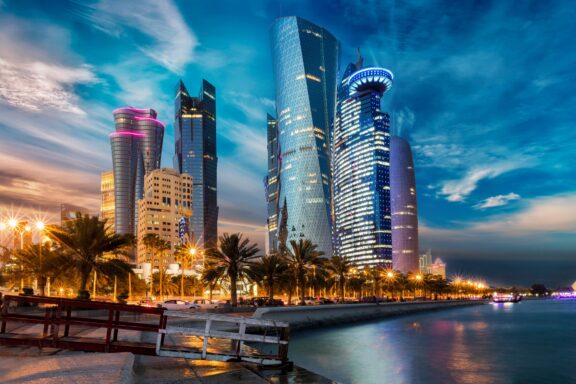 Doha embodies a fusion of tradition and modernity that reflects in its various features and notable aspects. One of the striking elements is its skyline, where futuristic towers coexist with structures inspired by traditional Islamic architecture. This blend of the traditional and contemporary is not just in the buildings but also in how life is lived in the city.
The city's waterfront, the Corniche, offers a scenic view of the Arabian Gulf and is a popular place for locals and tourists to stroll and enjoy outdoor activities. In contrast to this historic charm, Doha's ambition to be a center of learning and culture is evident in places like Education City, home to branches of several renowned international universities and the Qatar National Library.
Geography and Climate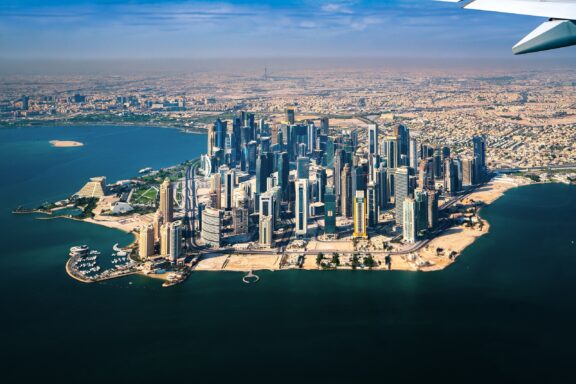 Doha experiences a hot desert climate characterized by long, scorching summers and mild winters. The summer months, from June to September, can see temperatures soar above 40 °C (104°F), with high humidity levels, especially in coastal areas.
Winters are relatively pleasant, with daytime temperatures ranging from 18 °C to 24 °C (64 °F to 75 °F). Rainfall is scarce, and the city often faces dust storms due to its arid surroundings.
Population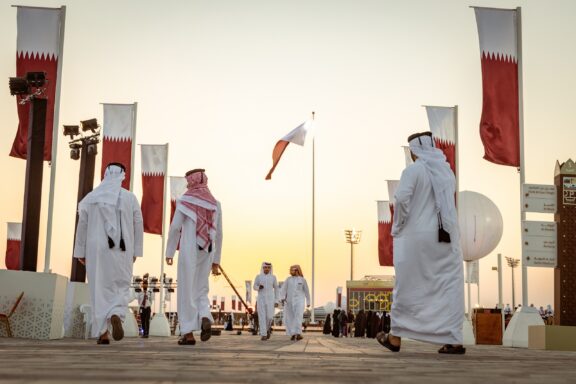 Doha's population is diverse and continually growing, with a mix of Qatari nationals and expatriates from various countries. The city's population exceeds 1.1 million, with expatriates making a significant percentage.
This multicultural fabric has shaped the city's social, cultural, and culinary landscape. English and Arabic are widely spoken, and the city's residents enjoy a mix of traditional Qatari customs and modern urban lifestyles.
Economy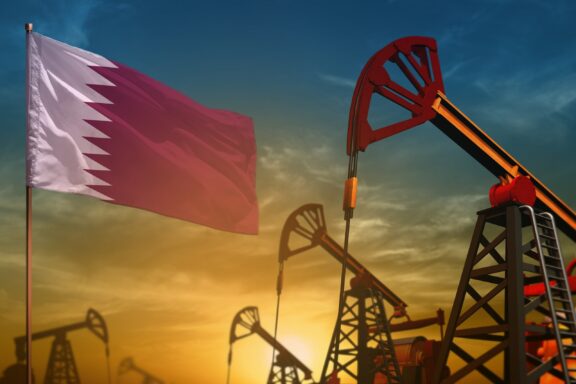 Doha's economy is robust and multifaceted. Oil and gas sectors remain the cornerstone of the city's economic health, contributing significant revenue. However, in line with Qatar's National Vision 2030, the city has been actively diversifying its economy.
Investments in finance, education, healthcare, tourism, and construction have led to the emergence of various other industries. The construction boom, in part fueled by preparations for the World Cup, has also spurred economic growth.
Doha hosts the headquarters of major Qatari companies and international corporations, making it a key regional business hub. The city's economic policies promote innovation and entrepreneurship, fostering a climate for business development and growth.
Things to Do and Places to See in Doha
Doha offers visitors an abundance of activities and sights to explore. Here are some of the most sought-after locations and attractions this capital city offers.
Museum of Islamic Art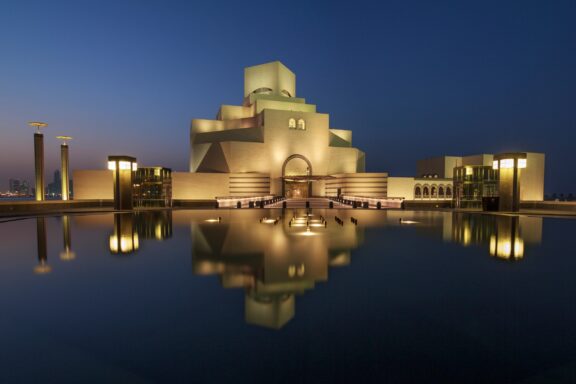 The Museum of Islamic Art, designed by the famed architect I. M. Pei stands as a beacon of art and culture in Doha. It offers visitors a chance to delve into the richness of Islamic heritage and serves as a crossroad where traditional aesthetics meet contemporary design.
The building is an architectural masterpiece, with geometric forms and a striking dome. Inside, galleries spread over several floors house one of the world's most comprehensive collections of Islamic art. The art spans over 1,400 years and includes masterpieces from Spain to South Asia.
Art enthusiasts or casual visitors will find something to marvel at in the Museum of Islamic Art. Regular exhibitions, guided tours, and educational programs offer unique insights. The on-site café and terrace provide breathtaking views of Doha's skyline, adding to the unforgettable experience.
Souq Waqif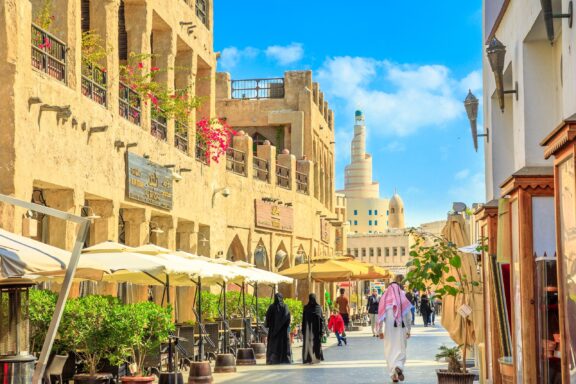 Souq Waqif, translating to "The Standing Market," is vital to Qatar's cultural heritage. With a history that echoes over a century, it's a vibrant marketplace that captures the essence of traditional Qatari commerce and communal life.
Narrow alleys filled with the aroma of spices and the chatter of shoppers lead to shops selling fabrics, perfumes, traditional garments, and handicrafts. Restored to its former glory, the Souq has maintained its authentic architectural style.
Souq Waqif is not just a shopping destination; it's an experience. Visitors can enjoy local cuisine at the various restaurants and cafés, watch traditional music and dance performances, or even stay at one of the boutique hotels within the Souq to soak up the atmosphere.
The Corniche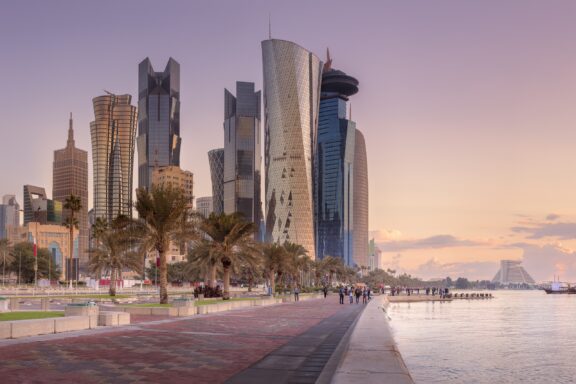 The Corniche of Doha is a beautiful crescent-shaped promenade that graces the city's waterfront. A symbol of modernity blended with natural beauty, it's a place where residents and visitors alike come to enjoy the serene surroundings.
Stretching several kilometers, the Corniche offers unparalleled views of the Arabian Gulf and the city's impressive skyline. Sculptures, gardens, and playgrounds dot the path, with well-maintained walkways inviting leisurely strolls.
The Corniche is perfect for those seeking a calm retreat in the city. Joggers, cyclists, and families find it an ideal space for outdoor activities. Boat rides, picnics, and simply watching the sunset are popular ways to enjoy this scenic area.
Katara Cultural Village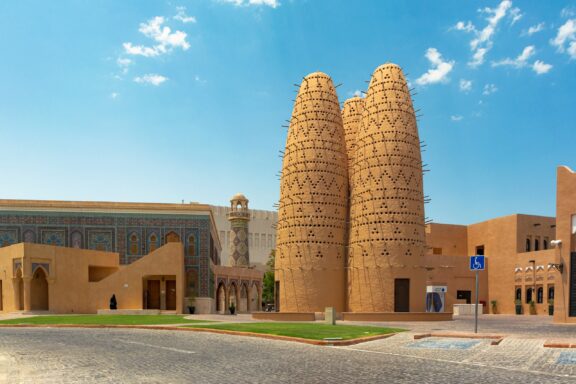 Katara Cultural Village is the focal point of cultural activity in Doha. Named after the historical name of Qatar, it fosters creativity and celebrates diversity, acting as a gathering place for artists and cultural enthusiasts from around the globe.
Katara is a hive of artistic activity with its theaters, galleries, and concert halls. The unique architectural design combines traditional Qatari elements with modern aesthetics. Open-air spaces host festivals, exhibitions, and performances throughout the year.
A visit to Katara Cultural Village is a journey through diverse cultures. With everything from opera to puppet shows, culinary delights to beachside leisure, Katara offers a multifaceted experience for all ages.
Aspire Park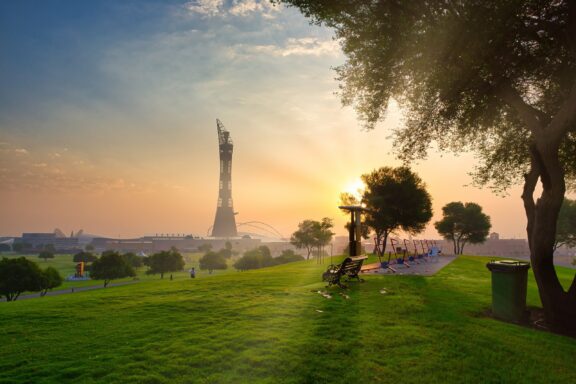 Aspire Park is the green heart of Doha's sports city. An oasis within the urban landscape, the park is a refreshing getaway that offers space for recreation, relaxation, and outdoor enjoyment. Covering a vast area, the park is home to beautiful landscapes, a lake, fountains, and walking trails.
The iconic Aspire Tower overlooks the park, adding a unique visual appeal. Playgrounds and cafes ensure a family-friendly environment. From fitness enthusiasts to families, Aspire Park caters to all. Visitors find a sense of tranquility here, whether engaging in sports, enjoying a picnic, or simply wandering among the trees. Regular events and activities also provide entertainment options.
The Pearl-Qatar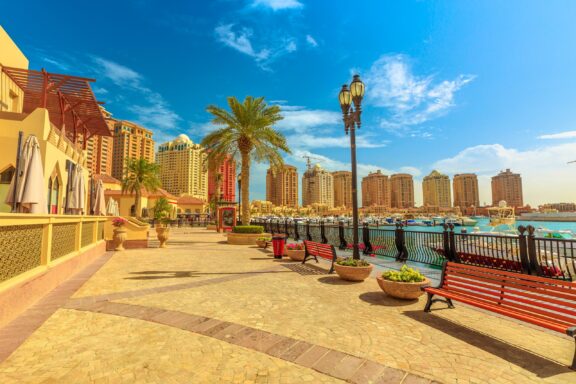 The Pearl-Qatar is a luxurious man-made island in Doha that epitomizes sophistication and elegance. An embodiment of modern living, it offers an exclusive lifestyle, complete with upscale residences, shopping, and dining experiences.
Designed with a Mediterranean flair, the island features marinas, promenades, and beachfront living. High-end boutiques, gourmet restaurants, and a range of leisure facilities create an environment of opulence.
The Pearl-Qatar offers a slice of luxury to visitors, who can explore the array of international brands, dine by the marina, or enjoy beach activities. From shopping sprees to strolls, it's a destination that exudes charm and style.
The National Museum of Qatar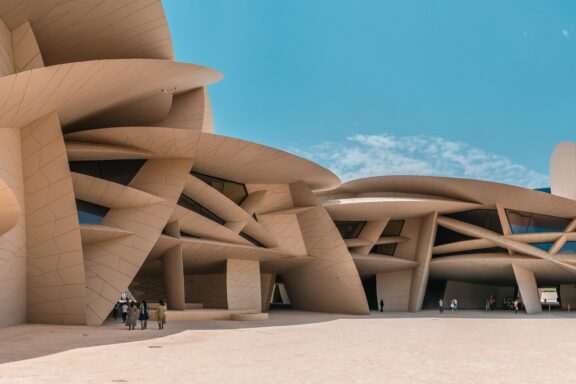 The National Museum of Qatar, designed by Jean Nouvel, tells the story of Qatar through its innovative architecture and exhibits. Resembling a desert rose invites visitors to explore the country's past, present, and future.
The museum's unique design and layout guide visitors through immersive galleries that cover various aspects of Qatar's natural history, archaeology, and contemporary life. Interactive displays and multimedia elements enhance the experience.
A visit to the National Museum is an educational and enriching experience. It provides a comprehensive understanding of Qatari identity and culture, appealing to history buffs and those curious to learn more about this dynamic country.
Qatar National Library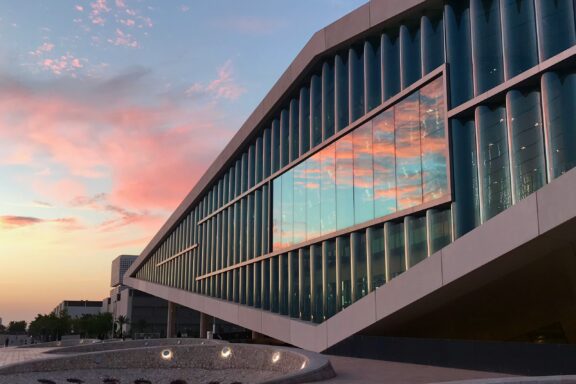 Qatar National Library, a monument to knowledge and learning, is a public and research library. With its futuristic design and commitment to accessibility, it represents a modern approach to library science.
The library's vast open space houses an impressive collection of books, digital resources, and historical documents. Cutting-edge technology, reading areas, and interactive rooms make it a lively hub for readers and researchers.
Book lovers and curious minds will find the library a stimulating place to explore. With regular events, exhibitions, and access to rare collections, it's a center for intellectual pursuit and cultural engagement.
Falcon Souq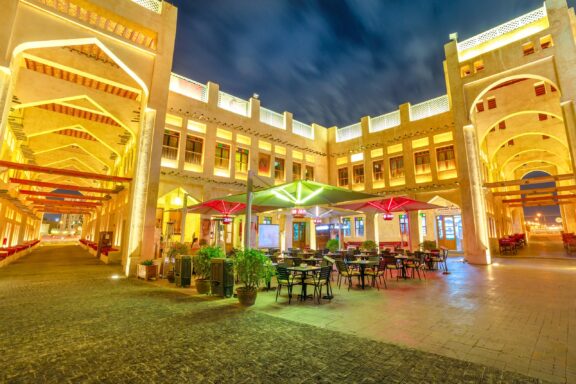 Falcon Souq Market is a tribute to the ancient sport of falconry, deeply rooted in Qatari heritage. A specialized market, it provides a glimpse into a tradition that continues to be cherished in modern Qatar.
The market hosts shops offering falcons, training equipment, and accessories. A dedicated falcon hospital ensures the birds' well-being, and experienced falconers are on hand to share their knowledge.
A visit to Falcon Souq is an opportunity to learn about a fascinating aspect of Qatari culture. Visitors can observe these majestic birds up close, interact with falconers, and even attend falconry demonstrations.
Villaggio Mall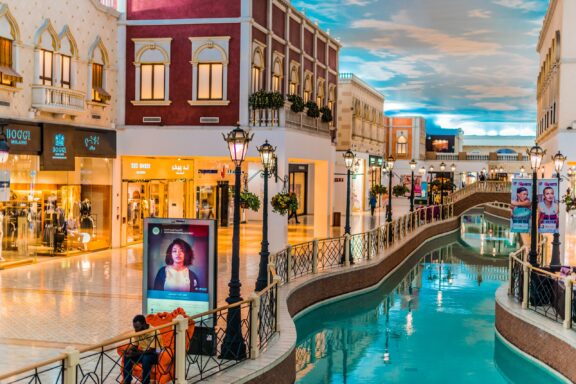 Villaggio Mall is more than just a shopping center; it's an Italian-themed experience located in the heart of Doha. Its Venetian ambiance provides a unique blend of shopping, entertainment, and leisure in a picturesque setting.
The mall's interior resembles Venetian streets, complete with canals and gondolas. Shoppers find a range of high-end brands and popular retail stores, while families enjoy the indoor amusement park and ice-skating rink. Fine dining complements the elegant surroundings.
Villaggio Mall is a destination where shopping meets fun. Visitors can indulge in retail therapy, enjoy a romantic gondola ride, or entertain children at the amusement park. It's a place that offers something for everyone, wrapped in Italian charm.
State Grand Mosque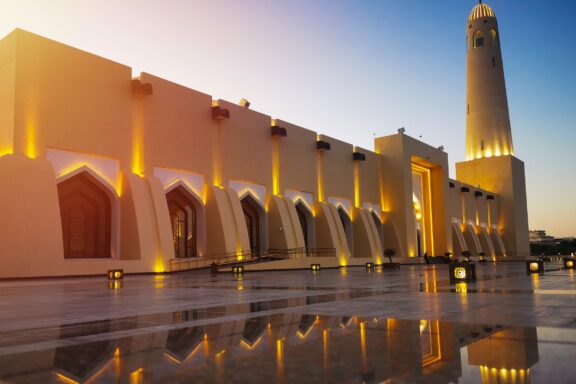 The State Grand Mosque, also known as the Imam Muhammad ibn Abd al-Wahhab Mosque, is a testament to Doha's Islamic architecture and spiritual life. Open to both worshippers and tourists, it showcases traditional Qatari design.
The mosque is an architectural marvel with its imposing minarets and a large dome. Inside, intricate calligraphy, detailed woodwork, and elegant chandeliers create a serene atmosphere. The mosque's capacity can accommodate thousands of worshippers.
The State Grand Mosque offers a tranquil retreat for those interested in Islamic architecture or seeking a peaceful place to reflect. Guided tours provide insight into Islamic traditions and the cultural significance of the mosque.
Doha Desert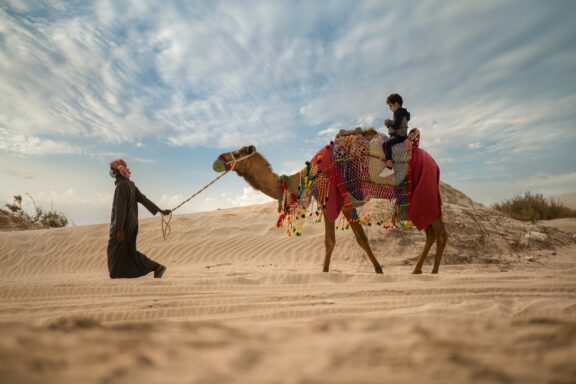 The Doha Desert offers an escape into a natural beauty and adventure world, starkly contrasting the city's urban landscape. The sweeping dunes and vast horizons create an awe-inspiring environment, with various activities that allow visitors to engage with the desert's unique landscape:
Camel Riding: An iconic and traditional way to explore the desert, camel riding provides a rhythmic and unforgettable journey across the dunes. Guided tours often include Bedouin-style meals and cultural entertainment, making it an enriching experience.
Dune Bashing: For adrenaline enthusiasts, dune bashing in 4×4 vehicles is a thrilling way to experience the desert's ever-changing terrain. Skilled drivers navigate the steep dunes, offering an exciting, awe-inspiring roller-coaster-like ride.
Sandboarding: The smooth dunes of the Doha Desert provide a perfect setting for sandboarding. Gliding down the slopes on a board, visitors can enjoy a unique and exhilarating adventure, combining the thrill of snowboarding with the warmth and beauty of the desert.
Msheireb Museums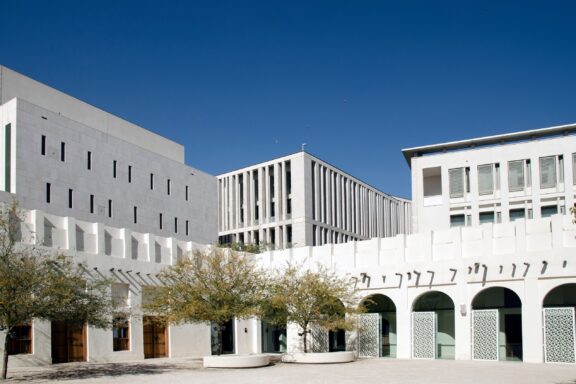 Msheireb Museums, located within Msheireb Downtown Doha, is a collection of restored historical buildings transformed into engaging museums. They narrate the story of Qatar's development and social history.
The museums cover various themes, including the history of oil, slavery, and traditional Qatari life. Interactive exhibits, artifacts, and multimedia presentations create an immersive educational experience.
Msheireb Museums are a must-visit for history enthusiasts or anyone interested in understanding the roots of modern Qatar. Each museum offers unique insights, and the restored architecture speaks of the past, bridging it with the present.
Relax on Nearby Beaches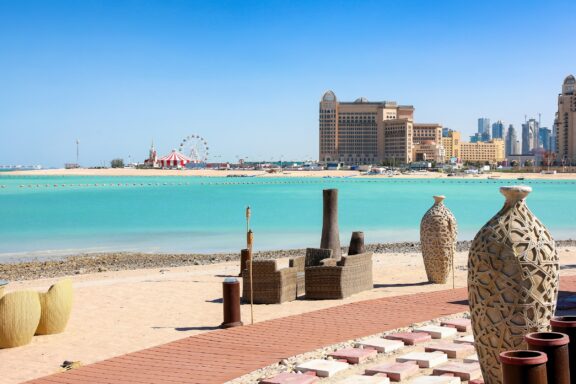 Doha's picturesque coastline offers visitors an array of stunning beaches, each with unique charm and attractions. From lively recreational spots to peaceful retreats, the city's beaches provide diverse experiences. Here are the top three beaches to visit in Doha:
Katara Beach: Located within the Katara Cultural Village, Katara Beach is a hub for water sports and family fun. Its clean sands, clear waters, and nearby dining options make it a favorite for recreation and relaxation.
Sealine Beach: Part of the Sealine Beach Resort, this luxurious beach offers golden sands, gentle waves, and comfortable resort amenities. Ideal for swimming and sunbathing, it provides an upscale beach experience.
Simaisma Beach: Situated in the northeast of Doha, Simaisma Beach is known for its tranquility and natural mangroves. Its serene environment and family-friendly picnic spots make it a perfect location for those seeking a peaceful escape by the sea.
Doha Festival City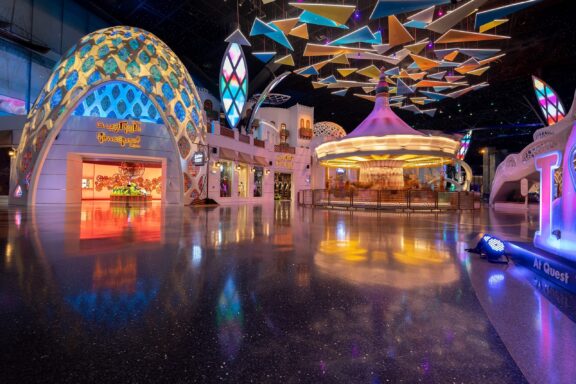 Doha Festival City is one of Qatar's premier shopping, dining, and entertainment destinations. Its vast array of stores, restaurants, and unique attractions makes it a hub for family fun, leisure, and excitement.
From retail therapy to tech-savvy entertainment, here are the top three activities you can indulge in at Doha Festival City:
Virtuocity: A state-of-the-art gaming and entertainment hub, Virtuocity offers a blend of virtual reality experiences, eSports competitions, and cutting-edge gaming technology. Catering to casual gamers and seasoned enthusiasts, it provides an immersive experience that transcends the ordinary.
Angry Birds World: Designed for families and children, Angry Birds World is an indoor-outdoor amusement park featuring beloved characters from the popular game. With thrilling rides, interactive games, and educational activities, it's a delightful destination for young adventurers.
Snow Dunes: A first-of-its-kind in Qatar, Snow Dunes brings the winter wonderland experience to the desert landscape of Doha. With its artificial snow and chilling temperatures, visitors can enjoy skiing, snowboarding, or simply playing in the snow, all within the comfort of a mall.
Is Doha safe for tourists?
Doha is recognized as one of the safest cities globally. Its stringent laws and severe penalties, even for minor offenses, create an environment where issues such as scams and pickpocketing are rarely, or ever, encountered.
What is traditional Dohan cuisine like?
Traditional cuisine in Doha reflects the rich culinary heritage of the Qatari people, influenced by the desert environment, Bedouin traditions, and trading connections with other cultures.
The cuisine emphasizes robust yet balanced flavors, with dishes often slow-cooked to perfection. Spices play a key role, and culinary techniques have been passed down through generations.
What are some must-try authentic dishes in Doha?
Doha offers an exquisite taste of Qatari culinary traditions. Here are the top 4 dishes to try, each providing a unique flavor of the local culture:
• Machboos: Seasoned rice and meat, slow-cooked with spices.
• Harees: Wheat, meat, and salt slow-cooked to a smooth consistency.
• Madrouba: Creamy rice porridge with chicken and spices.
• Balaleet: Sweet and savory vermicelli with saffron, topped with a fried egg.
What is the best time to visit Doha?
The ideal time to visit is from November to early April when the weather is cooler and more pleasant for outdoor activities.
What Currency is Used in Doha?
The Qatari Riyal (QAR) is the official currency, and ATMs and currency exchange services are readily available.
Is alcohol allowed in Doha?
Alcohol is available in licensed venues such as hotels, but public consumption and drunkenness are strictly prohibited.
What should I wear in Doha?
Modest clothing is recommended, especially in public spaces and religious sites. Light, breathable fabrics are suitable for the warm climate.
Are there any specific cultural norms to follow in Doha?
Respecting local customs and traditions, such as polite behavior, modest dress, and mindful conduct during prayer times, enhances the travel experience.
How can I get around the Doha?
Public transportation like buses, the Doha Metro, taxis, and ride-sharing apps make getting around the city convenient.
Can I drive in Doha?
International visitors can drive with an International Driving Permit (IDP) and their home country's license.
Are there any major events or festivals in Doha?
Events like the Qatar International Food Festival and the Doha Tribeca Film Festival offer unique cultural experiences.
What are the emergency numbers in Doha?
The emergency number for police, fire, and ambulance services is 999.
Is tap water safe to drink in Doha?
While tap water is generally safe, most residents and visitors prefer bottled water.
Final Thoughts
Doha presents a captivating blend of rich traditions and cutting-edge modernity. With its cultural landmarks, architectural wonders, luxurious shopping destinations, and delectable dining experiences, the city offers something unique for every traveler.
The warm hospitality of its people and the city's commitment to innovation and excellence make Doha a prominent hub in the Middle East and a worthwhile destination for tourists seeking a blend of history, culture, and contemporary flair.