Ngerulmud is the capital of Palau. The city is very small and known for its modern government buildings and scenic surroundings.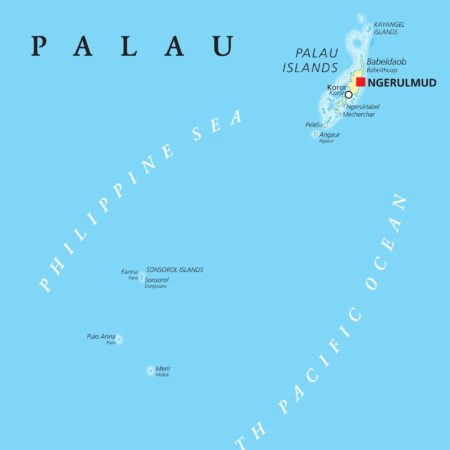 Ngerulmud distinguishes itself through its serene environment and scenic landscapes, as opposed to crowded urban centers or populous cities. Although many governmental operations and international embassies are still based in Koror, Ngerulmud assumed its role as the capital of Palau in 2006, taking over from Koror.
Where is Ngerulmud?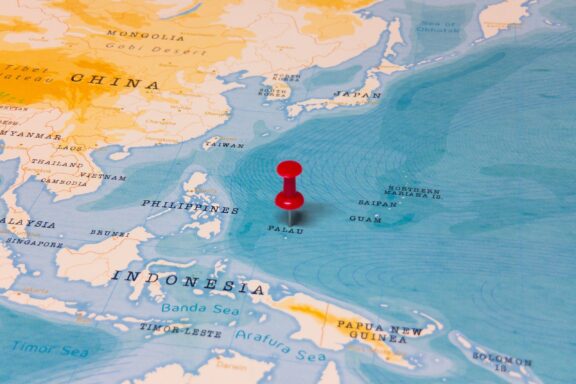 Ngerulmud is located on Babeldaob, the archipelago's largest island in the western Pacific Ocean. It's part of Melekeok state and overlooks Melekeok Bay, flanked by mangrove forests.
Close to the former capital, Koror, Ngerulmud is strategically central within Palau but globally isolated, with the nearest countries being the Philippines and Indonesia, hundreds of miles away.
History of Ngerulmud
Before Ngerulmud was selected as the capital, the land was primarily untouched, part of Babeldaob's natural landscape. It wasn't a significant settlement area, although Babeldaob has historical importance, with several ancient villages and remnants of Palauan culture. The land where Ngerulmud now sits was a blank canvas, providing the government ample space to build a new capital.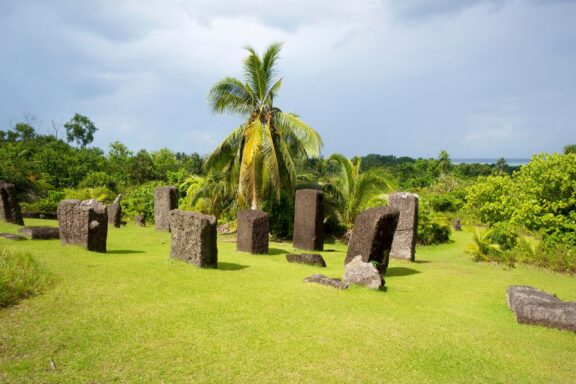 In the early 2000s, the decision to relocate the capital was driven by factors such as the limited space in Koror and the need for a more centralized government hub. After selecting Ngerulmud, a master plan was created, incorporating elements of Palauan culture into the architecture.
Construction efforts were massive and involved international aid and expertise. The Palau National Capitol Complex was the cornerstone of this phase, meticulously designed to house the government's essential functions.
On October 7, 2006, Ngerulmud was officially inaugurated as the capital of Palau. The event was marked by ceremonies and celebrations, symbolizing a new chapter in Palau's history.
The transition of governmental operations began but with challenges. For example, frequent trips between Ngerulmud and Koror were needed, as many functions remained in the older city.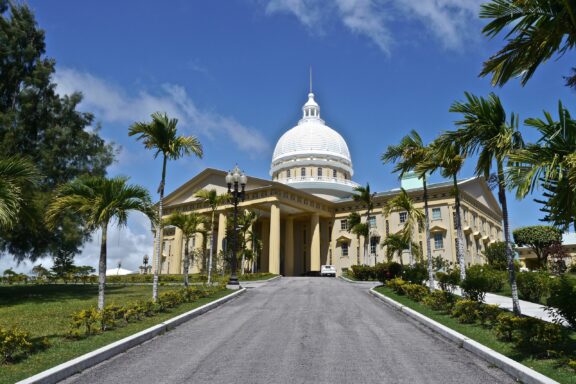 The period following its inauguration was a time of adaptation and growing pains. Ngerulmud needed help in establishing itself as a fully functioning capital. Essential amenities and services were limited, and the public had to adjust to the changes.
The government took incremental steps to improve infrastructure, but progress could have been faster. Additionally, residents grappled with the reduced availability of commercial services and entertainment options.
From the 2010s onwards, the focus has been on making Ngerulmud a more robust administrative center. Government agencies have been slowly but steadily moving their operations to the city. Infrastructure has been improving, though at a moderate pace.
The city has also started to attract more visitors, curious to see Palau's political center. However, despite these strides, it still needs commercial and recreational facilities to make it a bustling urban hub.
Features of Ngerulmud
Ngerulmud stands as a fascinating contrast of modern governance and untouched natural beauty. With its architecture inspired by traditional Palauan elements, the Capitol Complex houses the country's legislative chambers and reflects Palau's cultural identity.
Geography and Climate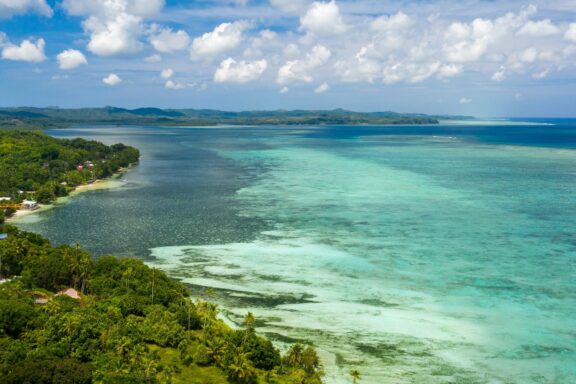 Ngerulmud has a tropical rainforest climate characterized by high humidity and consistent yearly rainfall. Temperatures remain relatively stable, usually from 24 to 31 °C (75 to 87 °F). The city is close to the equator and doesn't experience significant seasonal variations, making it warm and humid year-round.
Population
Given its status as a young and primarily administrative capital, Ngerulmud has a smaller population than other global capitals. The population mainly comprises government employees, their families, and a limited local workforce.
The city has a limited range of communities or a large international presence, as most expatriates and foreign workers tend to reside in Koror. Demographically, most residents are Palauan, with a sprinkling of other Pacific Islander, Asian, and Western nationalities.
Economy
Ngerulmud's economy heavily focuses on governmental activities, as it houses the country's main legislative and administrative offices. Because of this, public sector employment is one of the critical economic drivers.
Unlike other capitals that may have diverse economies encompassing different industries like tourism, manufacturing, or technology, Ngerulmud is pretty specialized. Most commercial and tourism-related activities are centered around Koror.
However, there are signs of slow diversification, with discussions about potential development projects to boost the city's economic profile. Overall, the city's financial health is closely tied to Palau's broader political and economic stability as a nation.
Things to Do and Places to See in and Around Ngerulmud
Ngerulmud may not boast an extensive array of tourist attractions as the world's smallest capital of a sovereign country. However, some noteworthy activities and sights remain to explore during your visit.
1. Relax at Melekeok Bay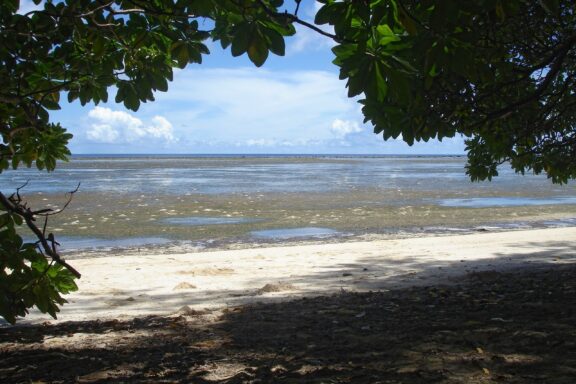 Melekeok Bay is a tranquil oasis set against the backdrop of the Pacific Ocean. Known for its pristine waters and scenic beauty, the bay is more than just a pretty face—it plays a crucial role in the local economy and ecosystem.
Visitors to Melekeok Bay can expect a serene atmosphere away from the typical tourist hotspots. Whether you're keen on water sports or prefer a leisurely day of sunbathing and reading, the bay offers a variety of activities to suit all preferences.
2. Mangrove Forests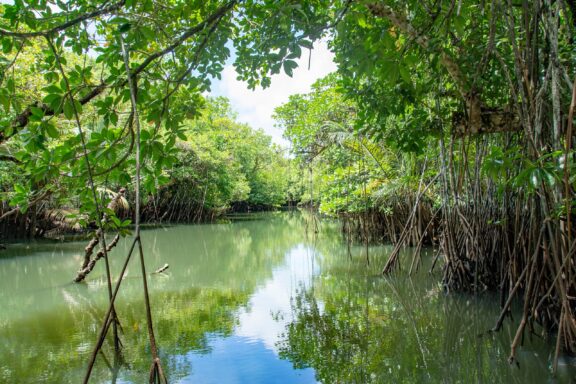 The mangrove forests in Palau are teeming with life, both above and below the water. They are characterized by the distinctive, tangled roots of mangrove trees that extend into the water. Various birds can also be seen in these forests, making it a birdwatcher's paradise.
If you're interested in ecology or enjoy the thrill of exploring, the mangrove forests are a must-visit. Guided kayak tours are available, offering an educational experience where tourists can learn about the importance of these ecosystems in climate regulation and marine life sustainability.
3. Ngardmau Waterfall
Ngardmau Waterfall is a natural wonder and one of Palau's most visited attractions. The waterfall is a majestic sight and deeply rooted in local folklore. The waterfall is set amidst a lush, tropical forest and is accessed by a well-marked trail.
For nature lovers and adventure seekers, Ngardmau Waterfall offers a dual experience of hiking and swimming. Once at the top, tourists can enjoy panoramic views of the surrounding landscape.
Those who brave the refreshing pool at the waterfall's base may even claim it to be the highlight of their Palau trip.
4. Jellyfish Lake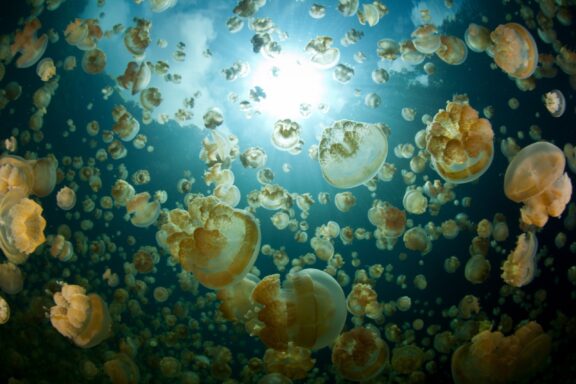 Jellyfish Lake is one of the most unique natural phenomena in Palau. The lake offers a one-of-a-kind snorkeling experience, where visitors can swim with millions of harmless jellyfish.
Encircled by limestone cliffs, Jellyfish Lake is a saltwater lake with an otherworldly atmosphere. The water's surface often shimmers with the golden hues of jellyfish, making it seem like an underwater dreamscape.
5. Explore the City of Koror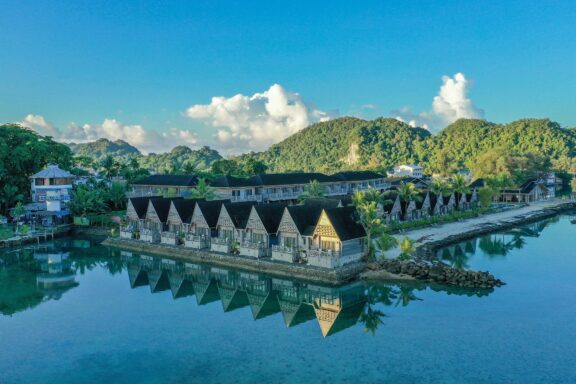 Koror is a kaleidoscope of culture, commerce, and natural beauty. The city is a lively city with a mix of modern and traditional architecture. It offers many experiences, from fine dining and shopping to museums and art galleries.
Koror is often the first tourist stop and is a convenient base for exploring the rest of the archipelago. Visitors can delve into Palauan culture at local markets, enjoy a variety of international cuisines, or embark on underwater adventures at nearby diving sites.
Frequently Asked Questions
Are Ngerulmud and Palau safe?
Yes, Ngerulmud and Palau are very safe. However, as with any travel destination, exercising common sense is advisable. Keep your valuables securely stored or on your person at all times.
Is it possible to tour the Palau National Capitol Complex?
Tours can be arranged, but it's best to inquire in advance.
Are there any hotels or accommodations in Ngerulmud?
Accommodations are limited, with most tourists staying in Koror and visiting Ngerulmud on a day trip.
Are there any shopping options in Ngerulmud?
Shopping is very limited; Koror remains the main hub for retail.
What local customs or cultural norms should I be aware of?
Palauans value respect for nature and elders; asking for permission before taking photos of people or private property is polite.
Final Thoughts
Ngerulmud offers a unique experience as one of the world's smallest capital cities of one of the smallest countries in the world. While it may not have many tourist attractions or a bustling nightlife, it provides a serene environment and a chance to connect with Palau's natural beauty and cultural heritage.
Its proximity to Koror also means that more urban amenities are just a short drive away. Overall, Ngerulmud is worth visiting for those interested in experiencing a quieter, more laid-back capital city closely connected to its natural surroundings.