Windhoek is the capital of Namibia. The city is known for its well-preserved German colonial architecture and offers a blend of African and European influences.
Windhoek serves as the country's administrative, cultural, and economic hub, and it's a city of contrasts and harmonies of historical and modern office buildings illustrating the city's rich history and its striving toward the future.
Where is Windhoek?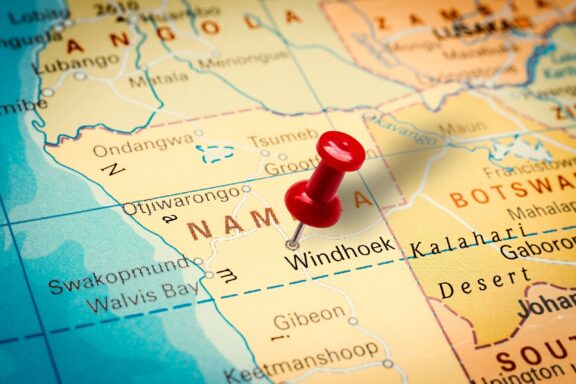 Windhoek is located in central Namibia, in a basin between the Khomas Highland, Auas, and Eros Mountains. It lies approximately 1,700 meters (around 5,600 feet) above sea level, making it one of the highest capitals in the world. The city is in the Khomas Region and serves as the geographical center of Namibia, making it a strategic location within the country.
The city is approximately 22.5594 °S, 17.0835 °E in longitude and latitude. It's about 700 kilometers (around 435 miles) south of Angola's border and roughly the same distance north of the border with South Africa.
History of Windhoek
In the years before European colonization, the area around Windhoek was a gathering point for different indigenous groups like the San and Damara.
These communities used the region primarily for grazing and seasonal migrations. The area also served as a junction for trade routes, where people would trade goods like animal hides and metalwork.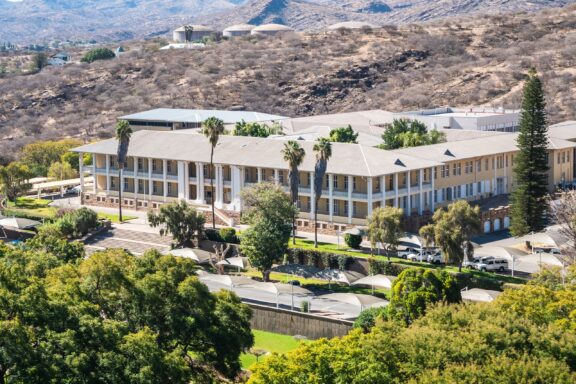 Windhoek was founded officially as a German settlement in October 1890 under the leadership of Major Curt von François. During the German colonial rule, Windhoek witnessed significant infrastructural development, including building fortifications and administrative offices.
The colonial rulers introduced German law, language, and architectural styles, setting a distinct European tone still evident in parts of the city today. This period also saw tensions and conflicts between the colonizers and the indigenous people.
After the defeat of Germany in World War I, South Africa occupied Namibia, including Windhoek, under a League of Nations mandate. Under South African rule, Windhoek was subjected to Apartheid policies, which led to racial segregation and social inequality.
The city expanded considerably during this time in terms of infrastructure and population. New neighborhoods were established, often along racial lines, due to the era's policies.
From the 1960s onward, Windhoek was a focal point for anti-colonial and anti-Apartheid activities. SWAPO, the South West Africa People's Organization, spearheaded efforts for Namibian independence.
Numerous protests and political actions took place in the city, and it became a hotbed for political activism. The struggle for independence culminated in Namibia finally gaining sovereignty on March 21, 1990.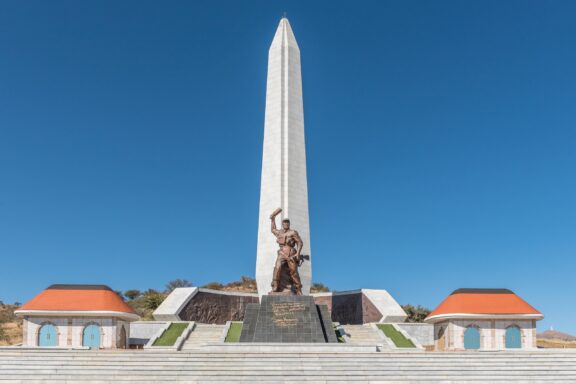 Since gaining independence, Windhoek has undergone substantial transformations. It is the seat of the Namibian government and houses important national institutions like the Parliament and the Supreme Court.
The city has focused on urban development, leading to improved public services, housing, and a diversification of the local economy. Windhoek has also embraced its diverse cultural heritage, celebrated in annual events, museums, and public spaces across the city.
Features of Windhoek
Windhoek is a city that harmoniously blends the past and the present, tradition and modernity. Whether it's the buzz of its lively streets, the culinary delights of its diverse food scene, or its array of historical landmarks and contemporary cultural venues, Windhoek captivates visitors and residents alike with its multifaceted charm.
Geography and Climate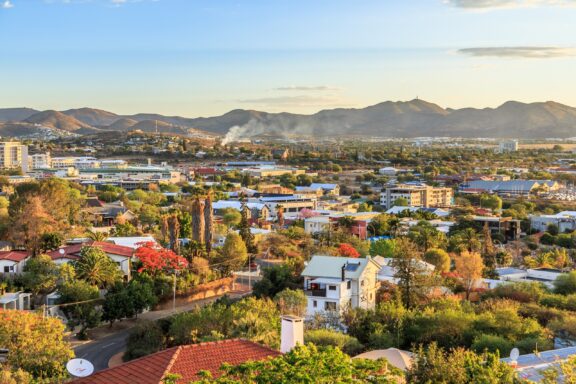 Windhoek experiences a semi-arid climate characterized by hot summers and cool winters. The city receives most rainfall between December and April, often in brief but intense thunderstorms.
Despite its arid environment, the city's higher altitude tempers the climate, making it relatively mild compared to other regions with similar aridity.
Population
Windhoek is the most populous city in Namibia, with a diverse population representing multiple ethnic groups. While exact numbers can fluctuate, the city is estimated to have a population exceeding 450,000.
English is the official language, but Afrikaans and indigenous languages like Oshiwambo and Damara are also commonly spoken. The city is a melting pot of cultures, and you'll find multiple communities, including Herero, Ovambo, Damara, Germans, and people of South African descent.
Economy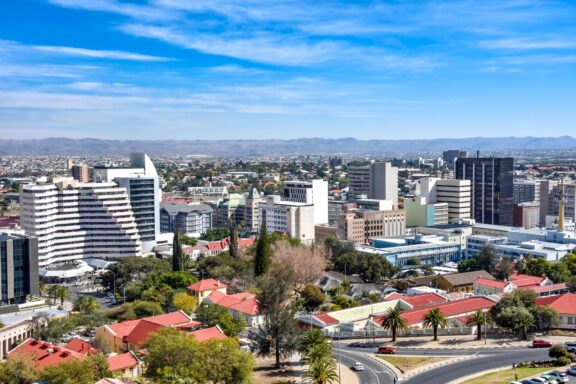 Windhoek serves as the economic heart of Namibia. It is a hub for several industries, including retail, real estate, and tourism. As the country's administrative center, government services are also a significant employer.
Manufacturing in the city includes food processing and the production of consumer goods. Additionally, Windhoek is central to Namibia's burgeoning tech scene. The financial sector is growing, too, with various banks and investment firms headquartered in the city.
Windhoek exhibits economic resilience and diversity, making it Namibia's political and economic engine.
Things to Do and Places to See in Windhoek
If you're visiting Windhoek, several must-see attractions capture the essence of the city:
1. Christchurch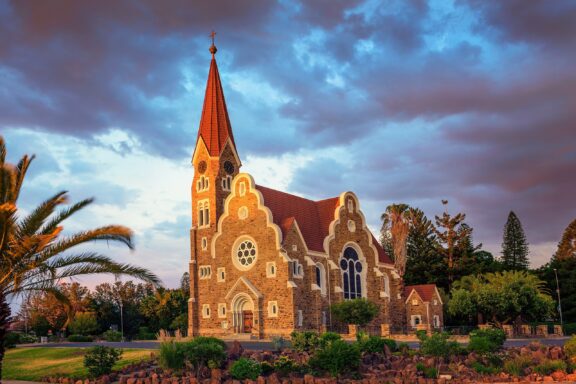 Christ Church is more than just a religious structure; it symbolizes Windhoek's complex history and architectural ingenuity. Recognized as a national monument since 1974, it has become an iconic landmark that attracts visitors interested in history, architecture, and spirituality.
Visitors to Christ Church can explore its fascinating interior, attend a worship service, or enjoy its serene atmosphere. The church provides an excellent opportunity to learn about Namibia's colonial past while appreciating art and architecture.
2. Independence Memorial Museum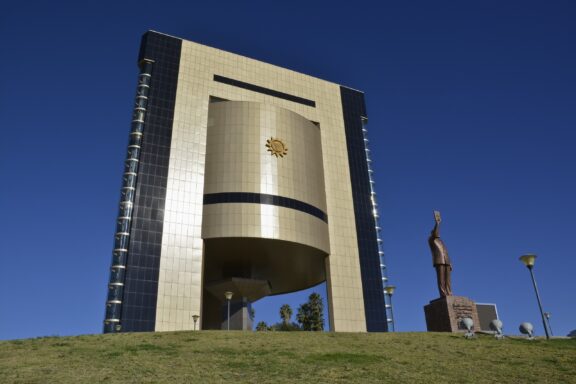 The Independence Memorial Museum is a state-of-the-art facility that chronicles Namibia's journey to nationhood. It's a modern architectural marvel with sweeping glass panels, a far cry from the historic structures usually seen in Windhoek.
This museum comprehensively examines Namibia's struggle for independence and its subsequent development. It is an essential stop for those interested in African history or modern architecture. A bonus is the museum's cafe, which offers panoramic city views.
3. Alte Feste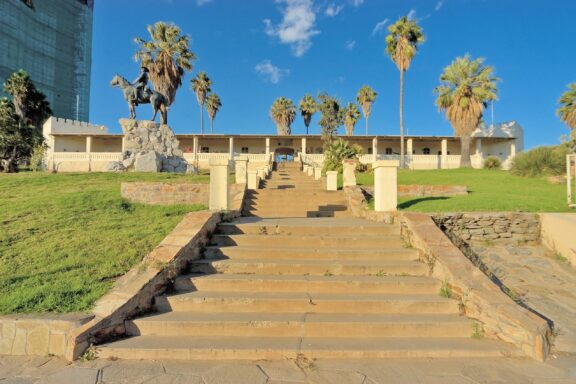 Alte Feste is a venerable structure that has witnessed multiple phases of Namibia's history. Often referred to as the "Old Fortress," this building provides a tactile link to Windhoek's past.
Alte Feste is a must-visit if you're a history fan or want to understand Namibia's diverse heritage. Aside from its exhibits, the building is a subject of interest for architecture enthusiasts and provides a unique backdrop for photographs.
4. Namibia Craft Centre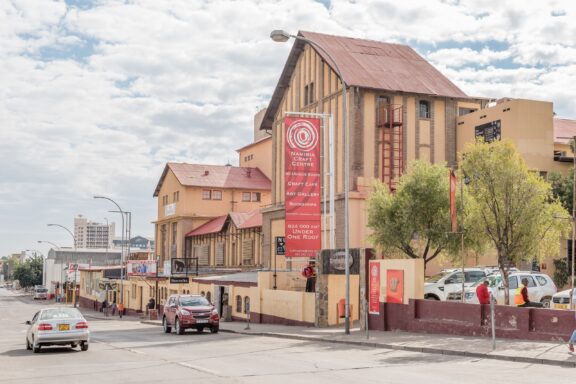 The Namibia Craft Centre is the city's premier venue for artisanal goods, showcasing Namibia's craftsmanship and cultural richness. Located in a repurposed old brewery, it offers an immersive shopping experience.
This is the place for those looking to take home a piece of Namibia. It's also a unique opportunity to interact with local artisans and understand the meaning and history behind their creations. In addition, the center has cafes and eateries where visitors can try local delicacies.
5. Daan Viljoen Game Reserve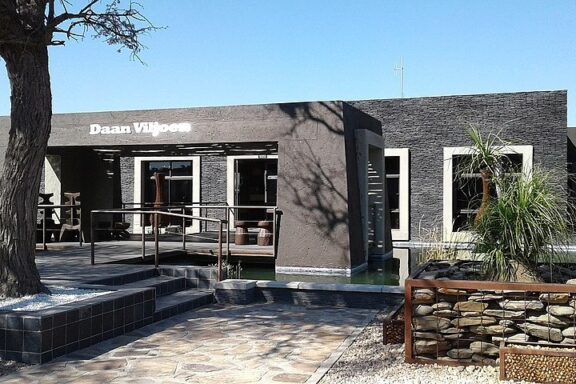 Daan Viljoen Game Reserve is Windhoek's natural retreat, offering an easy escape into the wilderness without having to venture too far from the capital city. It's an oasis of biodiversity, covering about 40 square kilometers.
This location is ideal for nature lovers, birdwatchers, and hiking enthusiasts. Whether you're there for a day trip or plan to stay overnight in one of the lodges, Daan Viljoen Game Reserve offers an authentic Namibian wildlife experience just a short drive from the city's center.
Frequently Asked Questions
Is Windhoek safe for tourists?
Windhoek is one of the safest cities in Africa. However, taking basic safety precautions is always wise, especially in less frequented areas.
What's the best time to visit Windhoek?
The ideal time for a visit depends on your preferences. June to October offers mild weather, while November to April is warmer and may have some rain.
How do I get around the city?
The city has public buses and shared taxis for local transport. Renting a car is also an option for more freedom to explore.
What kind of food can I expect in Windhoek?
The city offers a diverse culinary scene, ranging from traditional Namibian dishes to international cuisines.
Is Windhoek expensive?
Though prices can vary, Windhoek is relatively affordable compared to many other global cities.
What is the currency?
The local currency is the Namibian Dollar (NAD), and South African Rand is also accepted.
Are there opportunities for wildlife viewing?
While Windhoek isn't a wildlife destination per se, it is a good starting point for trips to Namibia's renowned national parks.
Final Thoughts
Windhoek presents a captivating blend of history, culture, and natural surroundings, making it an enriching travel destination. Whether you're looking to delve into Namibia's complex past, savor its culinary diversity, or venture beyond to explore its natural wonders, the city serves as a versatile starting point.
With its unique combination of features, Windhoek is more than just a capital; it's a gateway to understanding and appreciating the richness of Namibia. For these reasons, a visit to Windhoek is well worth your time.