Kuala Lumpur is the capital of Malaysia. Kuala Lumpur, often abbreviated as KL, is the largest city in Malaysia and serves as its cultural, financial, and economic center.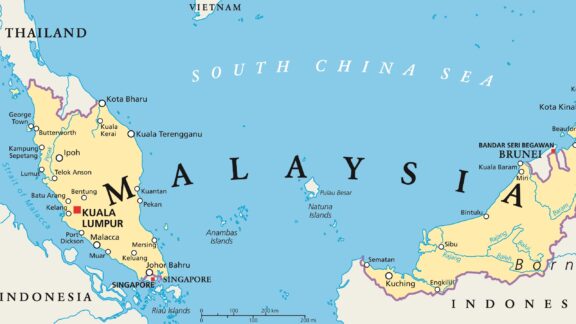 Kuala Lumpur is renowned for its multiculturalism which is reflected in the city's culinary scene, festivals, and everyday life. Kuala Lumpur is also the gateway to many of Malaysia's other attractions, with efficient transportation links to various parts of the country.
Where is Kuala Lumpur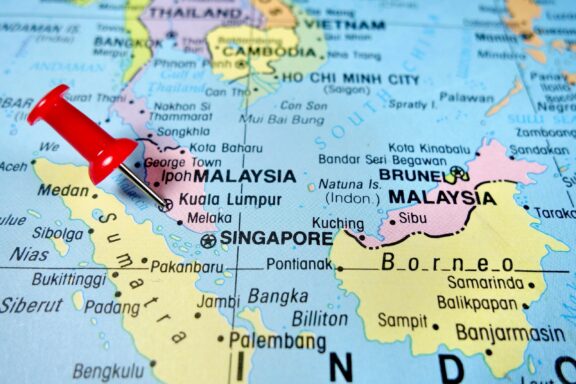 Kuala Lumpur is located in Peninsular Malaysia, in the western part of the Malay Peninsula. It is situated approximately halfway along the peninsula's west coast and is inland, about 35 kilometers (22 miles) from the coast.
The state of Selangor encompasses the city and is near the confluence of the Gombak and Klang rivers. A mix of rolling hills and valleys characterizes the geography of Kuala Lumpur.
History of Kuala Lumpur
Kuala Lumpur's history is a tale of humble beginnings, rapid growth, and resilience.
The name "Kuala Lumpur" translates to "muddy confluence" in Malay, which refers to its location at the convergence of the Gombak and Klang rivers.
The area was settled in the 1850s when the Malay Chief, Raja Abdullah, sent Chinese laborers to open new and larger tin mines. The early miners faced numerous challenges, including diseases and constant threats from wild animals.
Kuala Lumpur began to develop as a trade center with the arrival of merchants. The city's growth, however, was tumultuous. It faced several adversities in its early years, such as a civil war fought between rival Chinese gangs in the late 19th century and significant fire and flood disasters.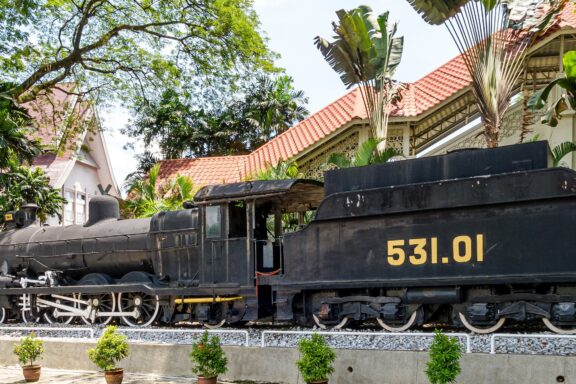 In 1896, Kuala Lumpur became the capital of the newly formed Federated Malay States under British colonial rule. The British administration brought new developments, such as a railway and modern infrastructure.
During World War II, Kuala Lumpur fell to the Japanese and remained under occupation until 1945.
The Japanese occupation brought significant change to the city's infrastructure and society. Upon Japan's surrender, the British returned but faced strong resistance from the locals.
Road to Independence
A strong push for independence from British rule marked the mid-20th century.
Kuala Lumpur was central to these movements. The Malayan Union was established in 1946, but the Malay nationalists strongly opposed it. It was replaced by the Federation of Malaya in 1948.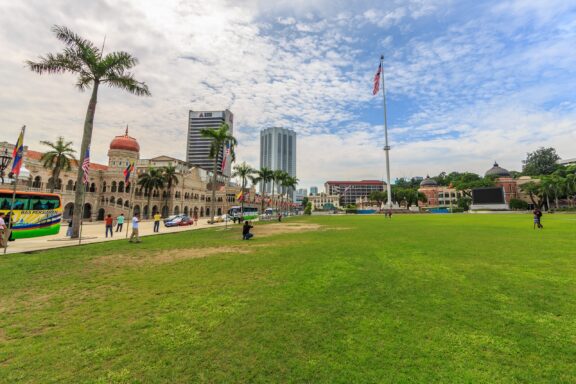 Finally, on August 31, 1957, the Federation of Malaya was independent, and Kuala Lumpur became its capital.
In 1963 Malaysia was formed when the Federation of Malaya merged with North Borneo, Sarawak, and Singapore (Singapore separated in 1965). Kuala Lumpur remained the capital.
The city witnessed rapid development and urbanization in the late 20th century. Landmarks like the Petronas Twin Towers, once the tallest buildings in the world, symbolize its modernization.
In 1974, Kuala Lumpur was separated from Selangor to form the first federal territory, ensuring the federal government's direct rule.
Throughout its history, Kuala Lumpur transformed from a small, turbulent tin mining town into a cosmopolitan capital, capturing the essence of Malaysia's diverse culture and heritage.
Features of Kuala Lumpur
Kuala Lumpur is known for its shopping malls, night markets, historic temples, and nightlife. It's a city that seamlessly integrates the old with the new, offering visitors a unique and diverse experience. Kuala Lumpur is a tapestry of contrasts and diversities.
The city's skyline, punctuated by modern architectural marvels, is a testament to its meteoric rise worldwide.
Delving deeper into the city, one can't help but be enamored by its multicultural fabric. The sounds of Islamic calls to prayer blend seamlessly with the chimes of church bells and the chants from Hindu and Buddhist temples.
Geography and Climate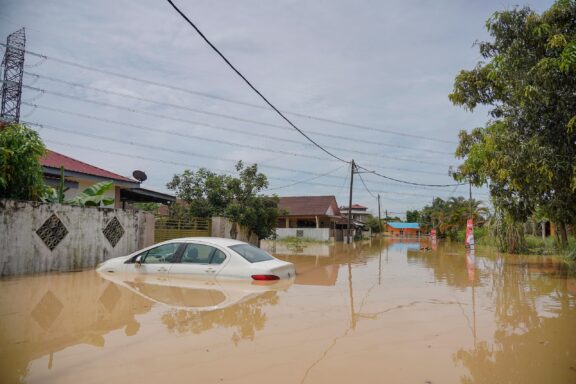 Kuala Lumpur lies within a tropical rainforest climate characterized by consistent temperature, high humidity, and abundant rainfall.
Its equatorial location contributes to its warm and humid conditions throughout the year. Temperatures typically hover between 22 °C (72 °F) at night and 33 °C (91 °F) during the day.
The city experiences two main monsoon seasons: the southwest monsoon (from May to September) and the northeast monsoon (from November to March).
The latter brings heavier rainfall to the city. Despite the two monsoon seasons, rain can be expected almost daily, often in short but intense showers.
Population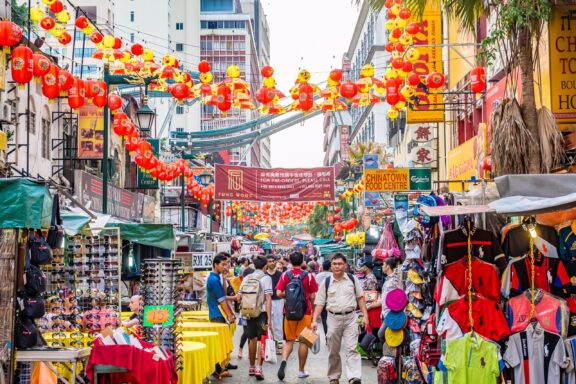 Within the city's borders, Kuala Lumpur boasts a population of over 1.8 million people and over 8,5 million in its greater metropolitan area.
The city is a melting pot of cultures and ethnicities, with Malays forming the majority, followed by significant Chinese and Indian communities. There are also indigenous groups and many expatriates and foreign workers from various parts of the world.
This diversity is reflected in the city's languages, festivals, and everyday life. Malay is the official language, but English, Mandarin, and Tamil are widely spoken due to the multicultural composition of its residents.
Economy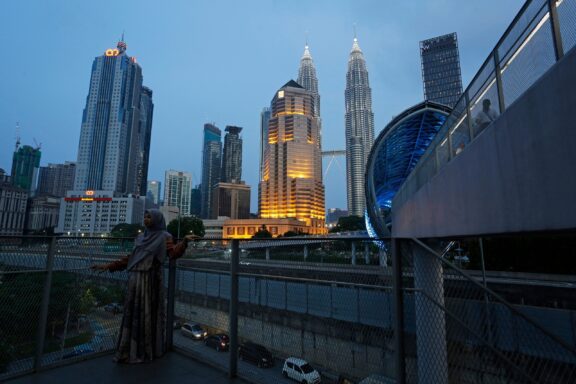 Kuala Lumpur stands as the economic heart of Malaysia, driving a significant portion of the nation's GDP.
Its economy is diverse and robust, anchored by sectors like finance, banking, real estate, insurance, media, and the arts. The city is home to the country's leading stock exchange, Bursa Malaysia, and numerous multinational companies have established their regional headquarters.
Kuala Lumpur has also embraced the digital age, with efforts to promote tech startups and e-commerce, making it an emerging hub for technology and innovation in Southeast Asia.
Tourism is another cornerstone, with millions of tourists flocking annually to experience its cultural diversity, gastronomic delights, shopping havens, and iconic landmarks.
The city's retail sector benefits immensely from this influx, with many shopping malls, luxury boutiques, and local markets catering to various preferences.
Infrastructure development and construction have also played significant roles in the city's economic landscape, with numerous projects aiming to elevate Kuala Lumpur's global status.
In summary, Kuala Lumpur is a dynamic city with a resilient economy, reflecting its position as Malaysia's capital and primary economic powerhouse.
Things to Do and Places to See in Kuala Lumpur
Kuala Lumpur offers a plethora of experiences and sights to explore. Let's review some of the city's most renowned landmarks and attractions.
1. Petronas Twin Towers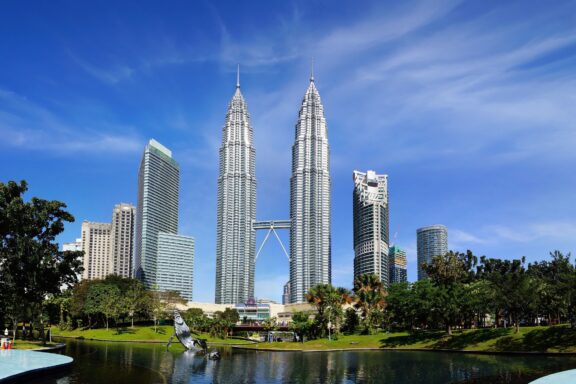 The Petronas Twin Towers are iconic in the heart of Kuala Lumpur, symbolizing Malaysia's aspirations and achievements. Soaring to dizzying heights, these twin marvels represent a fusion of technology, art, modernity, and heritage. Their design reflects Malaysia's cultural diversity and its progress in the global arena.
Visitors to the Petronas Twin Towers can expect an adventure transcending just a visual spectacle. The Skybridge offers a unique aerial perspective, while the shopping and entertainment facilities provide luxurious indulgences. Whether marveling at the towers from below or exploring their various facets, the experience is multifaceted and memorable.
2. Menara KL (KL Tower)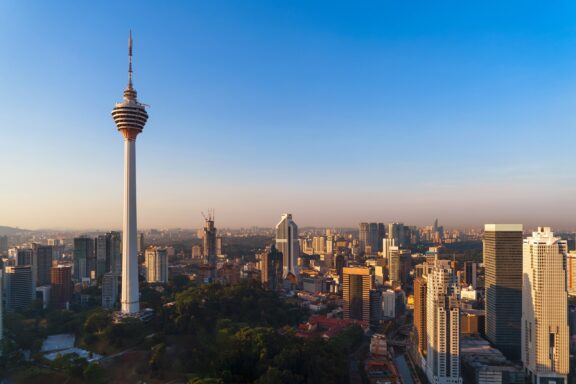 Menara KL, piercing the Kuala Lumpur skyline, is more than a towering structure. It symbolizes a city that embraces the future while rooted in cultural richness. As a telecommunications tower, it represents Malaysia's technological growth and aims to connect with the world.
Standing at 421 meters, Menara KL offers magnificent panoramic views. Its construction and design reflect innovation and cultural influences. The tower's base houses museums, exhibits, and other attractions, while the revolving restaurant and observation deck provide vistas that capture the essence of Kuala Lumpur.
3. Batu Caves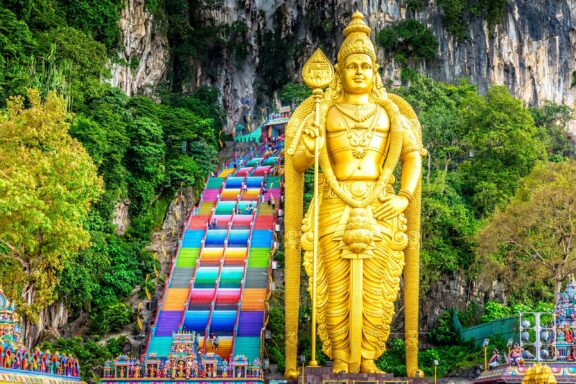 Batu Caves, nestled within towering limestone cliffs on the outskirts of Kuala Lumpur, offer a spiritual journey into the heart of Hindu tradition. The site's giant golden statue of Lord Murugan is a beacon that draws devotees and tourists alike, reflecting a vibrant religious community within Malaysia.
The intricate cave temples, adorned with paintings and sculptures, narrate stories from Hindu mythology. A steep flight of 272 steps, guarded by mischievous monkeys, leads to the main cave complex. The caves' natural beauty, combined with the artistic grandeur of the temples, create an ethereal atmosphere.
4. Sultan Abdul Samad Building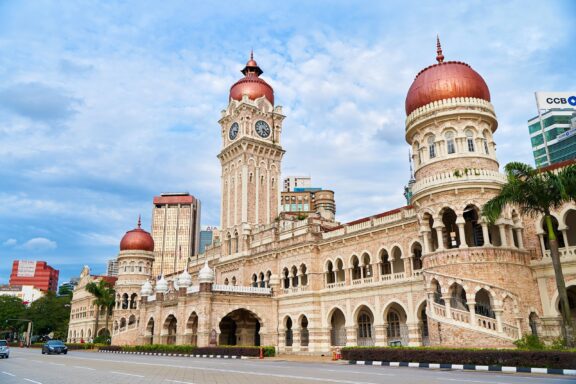 The Sultan Abdul Samad Building in Kuala Lumpur's historic heart is a proud testament to Malaysia's rich architectural heritage. Combining Moorish, Western, and local influences, this 19th-century building tells the story of a nation at the crossroads of cultures, showcasing a blend of tradition and modernity.
Visitors to the Sultan Abdul Samad Building can experience a piece of Malaysian history. The building's architecture reveals layers of cultural influence, and its proximity to Merdeka Square offers a chance to engage with national events and celebrations. It's a site where history lives and breathes, inviting reflection on Malaysia's journey.
5. Jalan Alor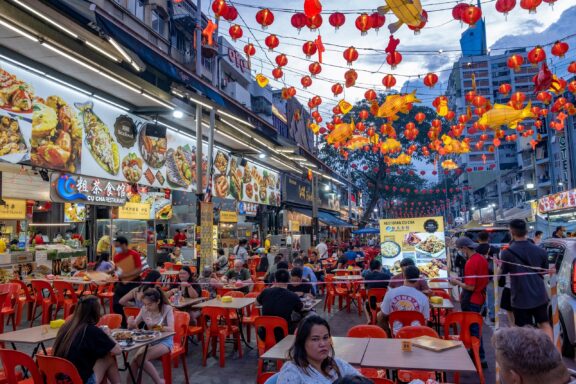 Jalan Alor is a lively street and a gastronomic paradise that comes to life as the sun sets. It's where flavors, aromas, and cultures mingle, offering an authentic taste of Malaysia's culinary diversity. Known for its bustling atmosphere, Jalan Alor is a must-visit for food enthusiasts.
The street has food stalls and restaurants offering a smorgasbord of dishes, from local delicacies to international fare. The energy of Jalan Alor is palpable, with the sounds of sizzling woks and laughter, the glow of neon lights, and the colors of tropical fruits and spices.
6. Chinatown (Petaling Street)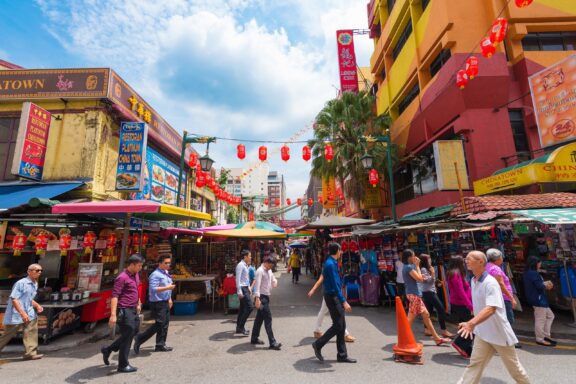 Petaling Street, the heart of Chinatown, is a colorful area that encapsulates the city's Chinese heritage. Known for its vibrant market and rich cultural landmarks, Chinatown offers a glimpse into the traditions and daily life of the capital's Chinese community.
Petaling Street's night market is famous for its variety of goods, from clothing to street food. Traditional Chinese medicine shops, temples, and historic buildings add to the area's charm. The vibrant street art, lantern-lit alleys, and local crafts enrich the experience.
7. Islamic Arts Museum Malaysia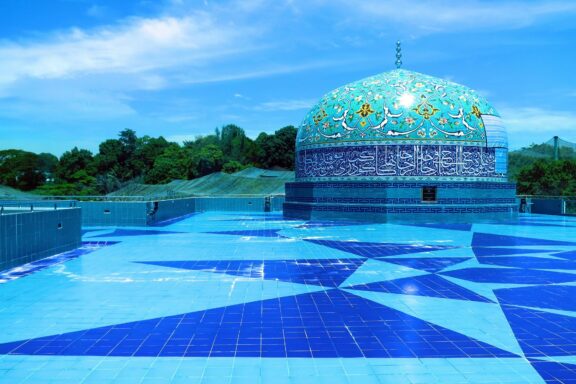 The Islamic Arts Museum Malaysia is a beacon of Islamic artistic tradition and scholarship in Kuala Lumpur. Housing an extensive collection of Islamic art serves as a bridge between the past and present, offering insights into a rich and multifaceted cultural heritage.
The museum's 12 galleries display a range of Islamic artifacts, including textiles, ceramics, metalwork, and jewelry. The building is a masterpiece, with its domed roof and geometric designs. The museum hosts interactive workshops, guided tours, and special exhibitions, offering a comprehensive experience.
8. Bukit Bintang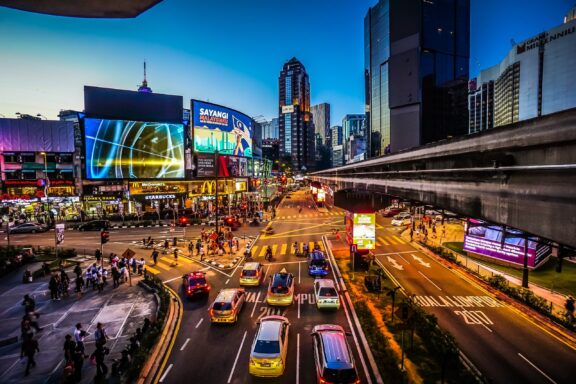 Bukit Bintang, often considered the heartbeat of Kuala Lumpur, is a vibrant shopping and entertainment district. Its neon lights, bustling crowds, and endless options reflect the city's modern and energetic character. Bukit Bintang is where fashion, food, and fun converge.
The area hosts a mix of upscale shopping malls, art galleries, theaters, and nightclubs. The streets are filled with cafes, street performers, and outdoor markets. From high-end boutiques to street fashion, from fine dining to street food, Bukit Bintang offers a diverse and dynamic experience.
9. Perdana Botanical Gardens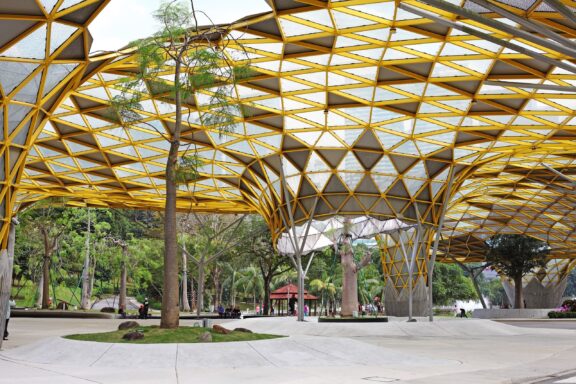 The Perdana Botanical Gardens offer a green escape within the city's urban landscape. Designed with aesthetics and conservation in mind, these gardens are a living museum of botanical beauty. They symbolize the importance of nature in urban life, providing a peaceful retreat.
Visitors to the Perdana Botanical Gardens can indulge in strolls, participate in guided eco-tours, or attend seasonal garden events. The gardens are a place for relaxation, education, and appreciation of nature's beauty. They provide a serene backdrop for reflection and enjoyment in the heart of Kuala Lumpur.
10. Aquaria KLCC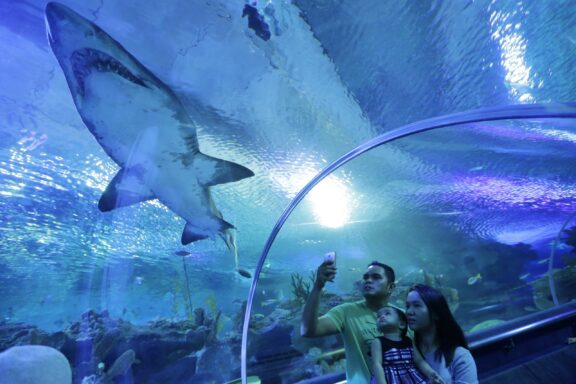 Aquaria KLCC is a state-of-the-art aquarium that brings the wonders of the aquatic world to life. With thousands of marine species from around the globe, it offers an immersive experience that educates and entertains, making it a perfect destination for families and marine enthusiasts.
Aquaria KLCC offers a rich and interactive experience that goes beyond simple observation. Guests can participate in feeding sessions, engage with knowledgeable guides, and even try dive experiences with sharks. It's a place where curiosity meets exploration, providing an unforgettable underwater adventure without getting wet.
11. Central Market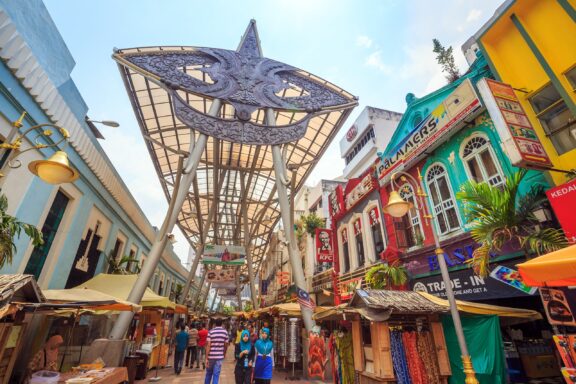 Central Market, a cultural landmark in Kuala Lumpur, is a hub for Malaysian arts, crafts, and culture. Established in 1888, it has evolved from a wet market to a vibrant space celebrating the nation's diverse heritage. It is a must-visit for those interested in traditional art and local craftsmanship.
Central Market offers more than just shopping; it's an experience of Malaysian culture. Guests can watch live performances, participate in craft demonstrations, and sample local cuisine. With its colorful ambiance and cultural richness, Central Market provides a unique opportunity to explore and engage with Malaysia's artistic traditions.
12. Thean Hou Temple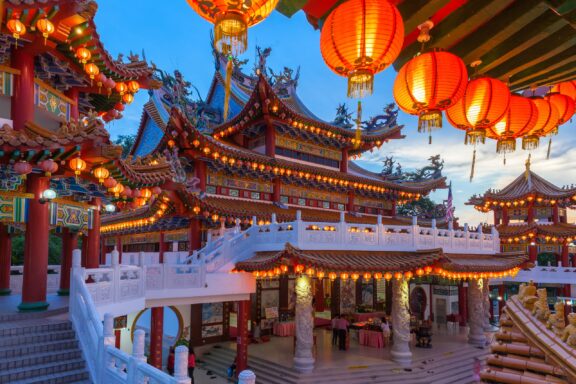 The Thean Hou Temple, perched on a hill overlooking Kuala Lumpur, is a stunning example of Chinese religious architecture. Dedicated to the Chinese sea goddess Mazu, the temple is a place of worship and a vibrant cultural center that celebrates Chinese festivals and traditions.
The temple's design blends modern architectural styles with traditional Chinese elements. With its ornate carvings, intricate lanterns, and beautifully landscaped gardens, the Thean Hou Temple is a visual delight. Its six-tiered structure houses prayer halls, function rooms, and a tortoise pond.
13. Suria KLCC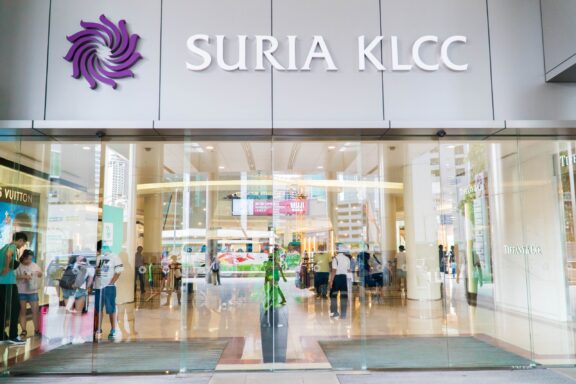 Suria KLCC is more than a shopping mall; it's a vibrant destination at the base of the iconic Petronas Twin Towers. As one of Kuala Lumpur's premier shopping and entertainment centers, Suria KLCC offers luxury, lifestyle, and culture in a unique urban setting.
Whether indulging in retail therapy, exploring art exhibitions, or enjoying culinary delights, visitors to Suria KLCC will find an array of experiences. The mall's combination of shopping, leisure, and cultural attractions makes it a dynamic and engaging destination for all ages.
14. KL Bird Park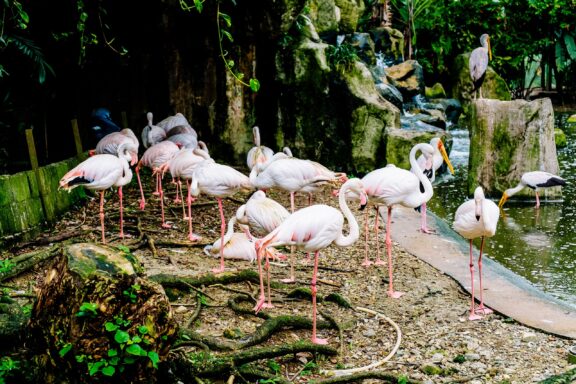 The KL Bird Park, nestled in the serene Lake Gardens, is a tropical paradise for bird lovers. As one of the world's largest covered bird parks, it provides a natural and free-flying environment for over 3,000 birds, showcasing a vibrant diversity of avian species.
The park's carefully designed landscape replicates a natural rainforest, allowing visitors to experience birds in their natural habitat. Divided into themed areas, the park offers opportunities to witness exotic birds, participate in feeding sessions, and enjoy live bird shows.
15. Merdeka Square (Dataran Merdeka)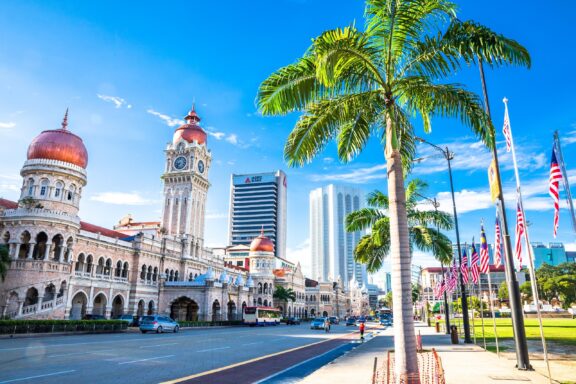 Merdeka Square, or Dataran Merdeka, is a symbol of Malaysian independence and a place of national pride. Located in the historical district of Kuala Lumpur, it's a public square that has witnessed some of the most significant moments in the country's history.
Visitors to Merdeka Square can walk through history, explore nearby museums and landmarks, or simply enjoy the well-maintained gardens. It's a place that invites reflection on Malaysia's journey towards sovereignty and offers a unique insight into the nation's identity and heritage.
Frequently Asked Questions
Is Kuala Lumpur safe for tourists?
Kuala Lumpur is considered safe for tourists and locals, especially compared to other parts of the country. However, it's advisable to mind your surroundings in crowded areas and avoid walking alone at night.
What are some must-try authentic Malaysian traditional dishes in Kuala Lumpur?
Kuala Lumpur is a rich culinary tapestry influenced by Malay, Chinese, and Indian culinary traditions, and to fully experience the city's gastronomic offerings, several must-try dishes truly encapsulate authentic Malaysian flavors:
• Nasi Lemak: Often considered Malaysia's national dish, Nasi Lemak is a fragrant rice dish cooked in coconut milk and pandan leaf.
• Char Kway Teow: This popular street food dish consists of flat rice noodles stir-fried with shrimp, bloody cockles, egg, bean sprouts, chives, and lup cheong (Chinese sausage), all tossed in a mix of soy sauce.
• Roti Canai: This Indian-influenced flatbread is a breakfast favorite but is enjoyed all day.
• Laksa: A spicy noodle soup combining Chinese and Malay cuisine flavors, Laksa is particularly famous in Kuala Lumpur.
How do I get around Kuala Lumpur?
Kuala Lumpur has an efficient public transportation system, including the Light Rail Transit (LRT), Mass Rapid Transit (MRT), monorail, buses, and taxis. Grab, a ride-hailing service, is also popular and widely used.
When is the best time to visit Kuala Lumpur?
Kuala Lumpur has a tropical climate, so it's warm and humid year-round. However, the best times to visit are typically between May to July and December to February, avoiding the peak of the monsoon seasons.
Where can I shop in Kuala Lumpur?
From high-end malls like Suria KLCC and Pavilion KL to street markets like Petaling Street, Kuala Lumpur caters to all shopping preferences.
Are there any cultural norms I should be aware of?
Malaysians are generally warm and polite. It's customary to greet with a smile, and when handing over money or a gift, using the right hand or both hands is considered polite.
Final Thoughts
Kuala Lumpur, a vibrant nexus of tradition and modernity, is a testament to Asia's dynamic growth and cultural richness. The city's skyline, punctuated by architectural wonders, reflects its ambitious spirit, while its streets echo stories of a diverse heritage.
Whether you pursue historical immersion, shopping sprees, or culinary adventures, Kuala Lumpur does not disappoint. The city is not just worth a visit but multiple vacations, each revealing a different facet of its multifaceted charm.