Tehran is the capital of Iran. Tehran is Iran's largest city and serves as its political and economic center.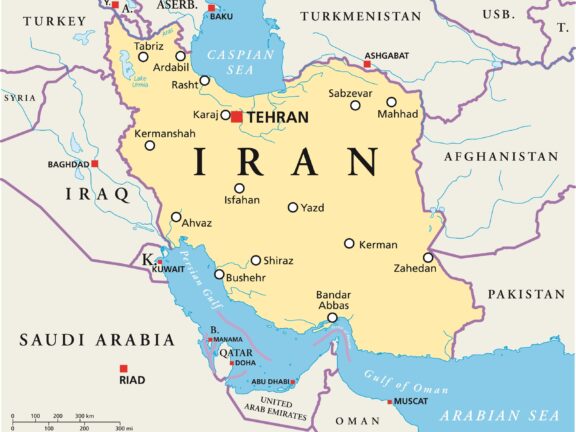 As the seat of the government of Iran, Tehran hosts all the foreign embassies and plays a significant role in the politics, culture, and economy of the country. Its urban population faces challenges like air pollution and traffic congestion, but its dynamism, rich history, and cultural relevance make it an essential hub in the Middle East.
Where is Tehran?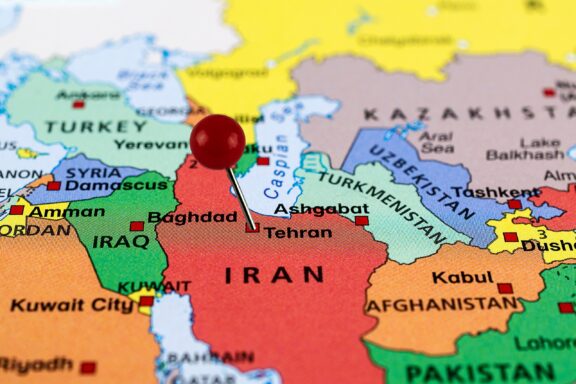 Tehran is located in the north-central part of Iran and is also the name of a province.
It is situated at the foot of the Alborz mountain range, which provides a picturesque backdrop to the city. The city lies approximately 1,200 meters (about 3,900 feet) above sea level, giving it a variable climate with four seasons.
Geographically, Tehran is positioned in a valley, which unfortunately contributes to its issues with air pollution, as the surrounding mountains can trap smog in the city. However, its strategic location at the crossroads of major trade routes has historically made it an important and influential city in the region.
History of Tehran
While less ancient than other cities in the region, Tehran has seen significant change, growth, and development. Its transformation from a modest village to the bustling capital of Iran reflects its evolving political, economic, and cultural significance.
The earliest mentions of Tehran can be traced back to the 9th century. During this period, it was a village on the outskirts of the historical city of Rey. During the Safavid dynasty, Tehran flourished and gained importance, primarily as a resort town and a location for the royalty's leisure activities.
Becoming the Capital
When the city of Rey (close to present-day Tehran) was devastated by Mongol invasions and started gaining prominence, Karim Khan Zand had a brief stint of using Tehran as his capital.
Tehran's rise began with Agha Mohammad Khan Qajar, who declared the city the capital of Iran in 1786. The city was chosen due to its strategic location, which provided security from foreign invasions. During the Qajar era, Tehran underwent significant architectural changes, with many mosques, palaces, and bazaars being built.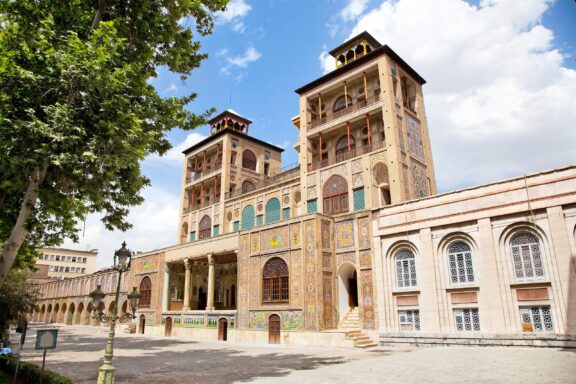 The two Pahlavi shahs worked on modernizing Tehran, pushing for infrastructure improvements, urban planning, and educational reforms. This period saw the city's expansion, the establishment of new roads, and the construction of modern buildings.
One of the most significant events in Tehran's modern history, the revolution, led to overthrowing the Pahlavi monarchy and establishing the Islamic Republic. Tehran was at the heart of these events, with significant protests and confrontations happening within the city.
Post-Revolution Period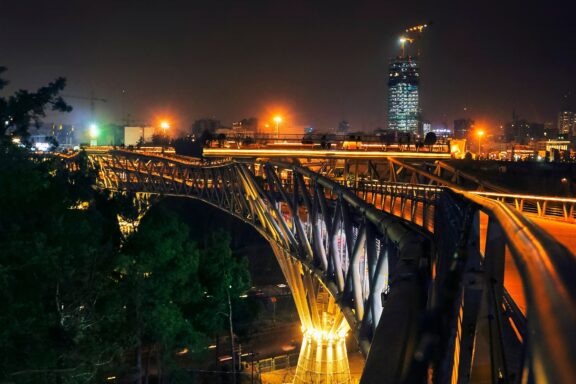 After the revolution, Tehran became the center of the new Islamic governance structure. While facing economic sanctions and political isolation from the West, Tehran continued to grow and develop. The city grappled with population booms, rapid urbanization, and other challenges like air pollution and traffic congestion.
In summary, Tehran's history is a testament to its resilience and adaptability. From a small village to a strategic center under the Qajars to a rapidly modernizing city under the Pahlavis, and finally, as the heartbeat of the Islamic Republic, Tehran's evolution mirrors the larger story of Iran in many ways.
Features of Tehran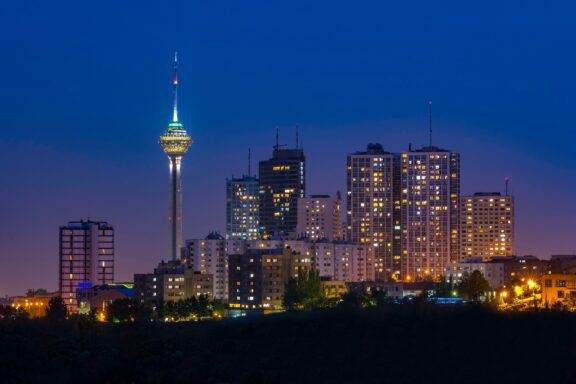 Tehran's expansive urban terrain showcases Iran's rich fusion of historical depth, cultural richness, and contemporary flair. Wandering its streets, you encounter a blend of towering skyscrapers and cutting-edge infrastructure juxtaposed with the enduring allure of historical landmarks and museums.
As a hub for intellectual and creative endeavors, Tehran embodies a city of contrasts. It masterfully weaves together elements of the past and present, the traditional and the avant-garde, forming an identity that stands distinctly apart in the diverse fabric of the Middle East.
Geography and Climate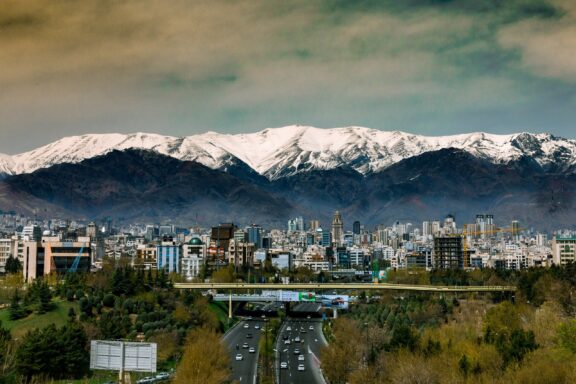 Tehran's geography is characterized by its placement between the flatter southern lands and the sharp rise of the Alborz mountains to its north. This placement creates microclimates within the city, with northern districts experiencing cooler and wetter conditions, especially during the winter when they might receive more substantial snowfall. Conversely, the southern parts tend to be warmer and drier.
Overall, Tehran experiences a semi-arid climate, with hot summers and cool winters. Precipitation is relatively scarce, but the city receives sporadic rainfall, primarily during spring and autumn. Winter months can see snow, which may blanket the town, particularly in its northern reaches.
Population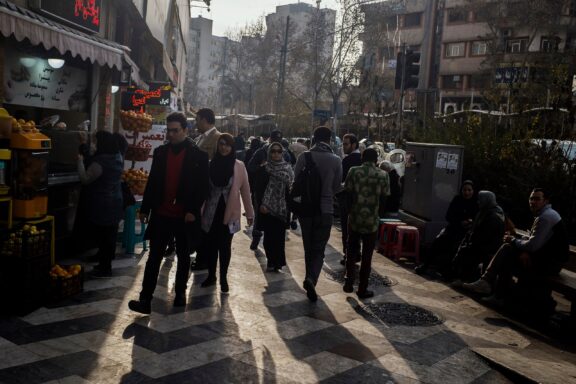 Tehran is the most populous in Iran. It is home to over 14 million residents within the greater metropolitan area. Its population is diverse, with people from all over Iran migrating to the city for opportunities.
As a result, you can find a mix of various ethnicities, including Persians, Azeris, Kurds, Lurs, and other smaller ethnic groups. Persian is the dominant language, but other languages and dialects can be heard due to this ethnic diversity.
Tehran is a melting pot of traditions, lifestyles, and cultures, and it's common to observe a broad spectrum of social norms, from more conservative and traditional practices to progressive and modern approaches, especially among the youth.
Economy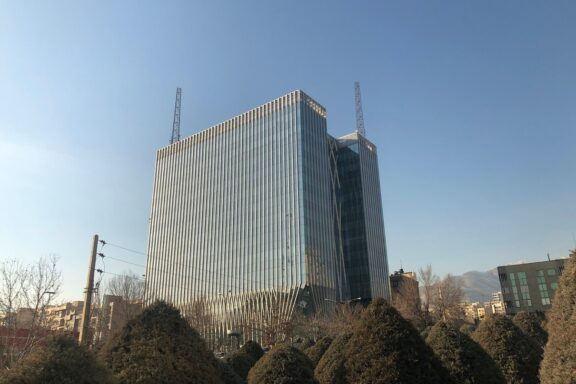 Tehran is the economic heart of Iran. It accounts for a significant portion of the nation's economy, being the hub for banking, finance, electronic commerce, and trade. The city has many of the country's largest businesses and banks.
Several vital industries are notable in Tehran, including automotive manufacturing, electronics, telecommunications, and information technology. Due to its prominence in the country, many foreign businesses and delegations also have a presence in Tehran, despite Iran's geopolitical challenges and economic sanctions.
Tehran's bazaars, particularly the Grand Bazaar, have significant economic and historical significance. These bustling markets are central to trade and commerce in the city, with goods ranging from carpets and jewelry to spices and electronics. Additionally, Tehran's real estate market is one of the most active in the country, reflecting its urban growth and expansion.
While the city has seen impressive economic growth and development, it has also faced challenges. Financial sanctions imposed on Iran have impacted Tehran's economic health, leading to inflation and other fiscal challenges. However, the city's diverse economy and role as the central hub for the nation's business activities continue to drive its economic engine.
Things to Do and Places to See in Tehran
Tehran boasts a diverse array of attractions and activities. Delve into some of the city's most sought-after sites and highlights.
1. Golestan Palace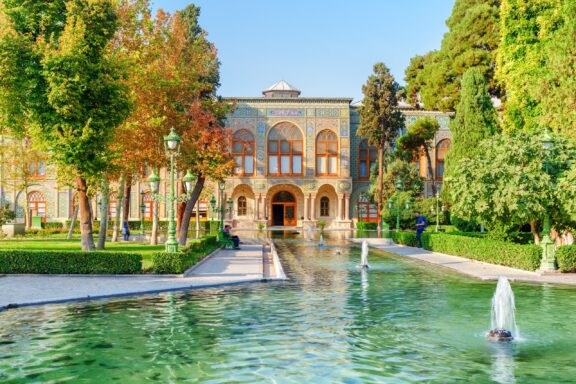 Golestan Palace, situated in the heart of Tehran, is a historical complex that embodies the cultural and artistic pinnacle of the Qajar era. As a UNESCO World Heritage site, it significantly represents Iran's royal history.
Golestan Palace dates back to the 16th century. However, it was expanded and embellished during the 19th century. It comprises several grand buildings, halls, galleries, and beautifully landscaped gardens. The architecture is an intriguing blend of Persian, Western, and Russian styles, marked by intricate tilework, mirror embellishments, and stunning frescoes.
A visit to Golestan Palace explores royal grandeur, artistic mastery, and historical depth. The stunning visual aesthetics of the interiors and the tranquil gardens provide a feast for the eyes. Visitors can delve into the historical narrative of Iran's ruling dynasty and cultural evolution through the exhibited artifacts and well-preserved architecture.
2. National Museum of Iran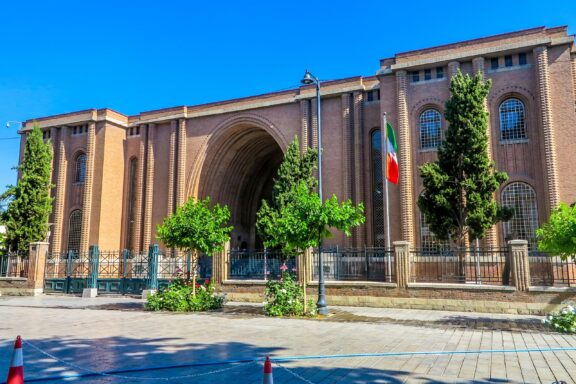 The National Museum of Iran, situated in Tehran, the capital city of Iran, is a treasure trove of artifacts and a gateway to this fascinating country's ancient and rich history. As a comprehensive museum for historical and cultural items, it attracts historians, art enthusiasts, and tourists alike.
Visiting the National Museum of Iran provides a unique opportunity to dive into Iran's deep and diverse history. The artifacts, artworks, and inscriptions provide insights into the civilizations that have flourished in this region. The museum offers guided tours and educational programs, catering to history enthusiasts and casual tourists. It's an ideal place for families, scholars, and anyone interested in understanding the cultural heritage of Iran.
3. Tehran Grand Bazaar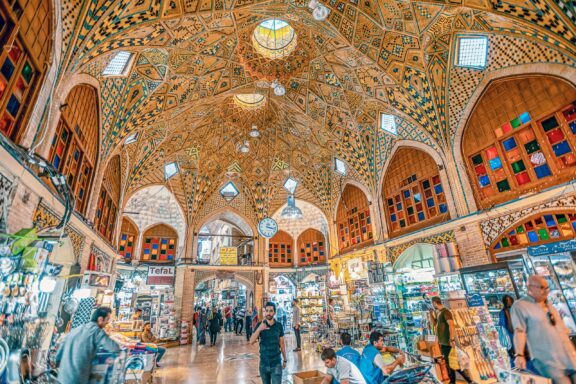 The Tehran Grand Bazaar is a vibrant and bustling marketplace. It's a maze of alleys, shops, and chambers that is often considered the economic heartbeat of the city. It is more than just a shopping destination; it's a sensory experience where visitors can immerse in Iranian culture, sample local cuisine, and engage in the art of bargaining.
One of the oldest and largest bazaars in the world, the Tehran Grand Bazaar encompasses several kilometers of labyrinthine corridors filled with various shops and traders. It's divided into sections specializing in different goods, from spices, textiles, and jewelry to household items and traditional Iranian crafts.
4. Milad Tower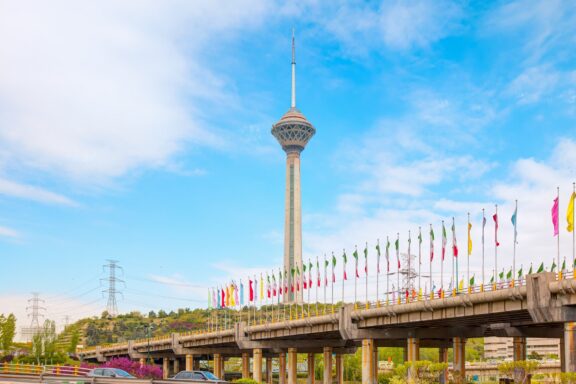 Milad Tower, a prominent landmark in Tehran's skyline, represents a blend of modern architecture and cultural significance. is the sixth-tallest telecommunication tower in the world, reaching a height of 435 meters (1,427 feet). The tower's multifunctional complex includes a convention center, a five-star hotel, a museum, and several restaurants.
Apart from exploring the architectural feat, visitors to Milad Tower can dine at its revolving restaurant, explore the museum, and enjoy various entertainment facilities. The observation deck is particularly popular, offering a breathtaking perspective of Tehran's sprawling cityscape.
5. Azadi Tower (Freedom Tower)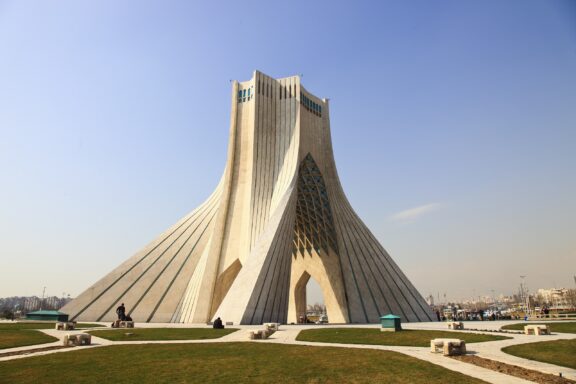 Azadi Tower is an iconic monument that symbolizes Iran's rich history and is the gateway to this vibrant city. Standing 50 meters (164 feet) tall, Azadi Tower was constructed in 1971 to commemorate the 2,500th anniversary of the Persian Empire. Its distinctive architecture is a fusion of traditional Iranian and modern elements.
Visitors to Azadi Tower can explore the underground museum, showcasing Iranian art and historical artifacts. The tower's observation platform provides a unique vantage point to admire Tehran's landscape. An eye-catching landmark during both day and night, Azadi Tower is a place where architecture, history, and art intersect.
6. Sa'dabad Palace Complex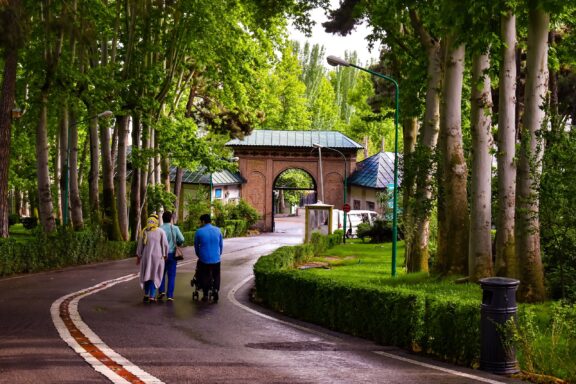 The Sa'dabad Palace Complex, nestled in the northern part of Tehran, is a grand collection of museums and royal buildings, each encapsulating Iran's rich history and cultural heritage. Spread over 110 hectares, the complex comprises 18 palaces used by the Qajar and Pahlavi monarchs. The buildings within the complex are architecturally diverse, reflecting different periods and styles.
Visitors can explore various museums within the complex, offering unique insights into Iranian history and royal life. The beautifully landscaped gardens provide a peaceful retreat within the city, making it an ideal spot for strolls. The complex also hosts cultural events and exhibitions, adding to its appeal to tourists.
7. Niavaran Palace Complex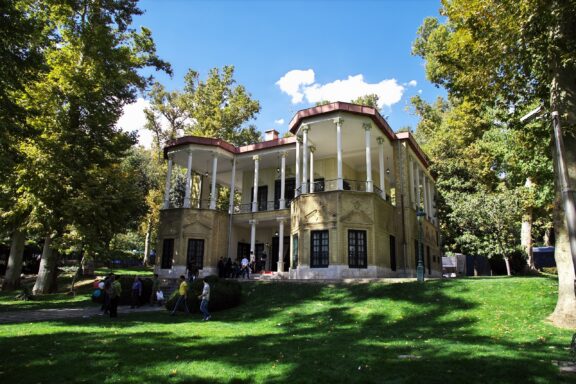 The Niavaran Palace Complex is a prominent historical site that showcases Iran's royal history and architectural splendor. The Niavaran Palace Complex consists of several buildings and museums. The complex covers an area of around 11 hectares and includes European-inspired architecture mixed with traditional Iranian elements. The complex is a beautiful blend of nature and artistry, surrounded by lush gardens.
Visitors can immerse themselves in the opulence of Iran's royal past. Touring the various palaces and museums offers insight into the Persian monarchs' lifestyles, tastes, and cultural influences. The well-preserved interior décor, the lush gardens, and the various exhibitions and cultural events held at the complex make it a multifaceted destination that appeals to history enthusiasts, art lovers, and general tourists alike.
8. Mellat Park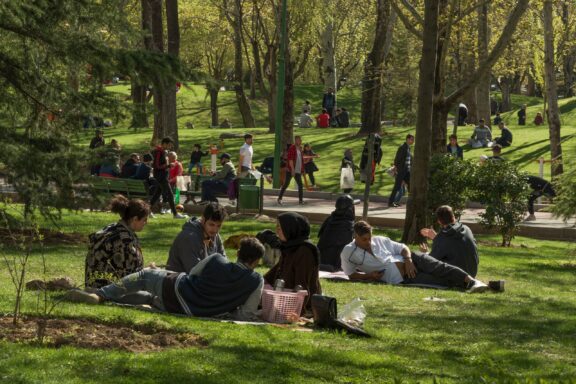 Mellat Park, one of Tehran's largest and most beautiful urban parks, offers a serene escape amid the bustling capital city of Iran. Stretching over 340,000 square meters, Mellat Park is designed with winding paths, artificial lakes, and well-maintained lawns; the park is an oasis of greenery. Various trees provide shade, while colorful flowerbeds add to the visual appeal.
Mellat Park offers a unique perspective on daily life in Tehran. Visitors can mingle with locals, enjoy the scenic surroundings, or partake in recreational activities available within the park. It's an ideal place to experience the city's community spirit and enjoy a tranquil respite from urban exploration.
9. Tehran Museum of Contemporary Art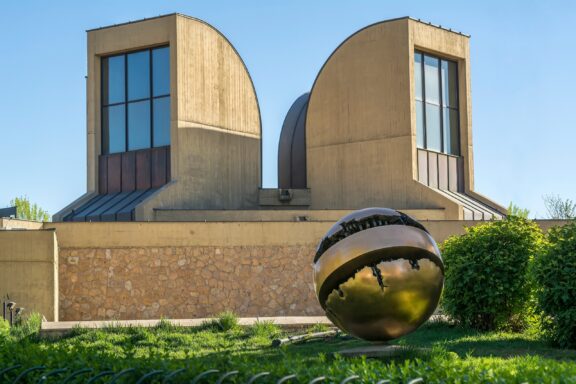 The Tehran Museum of Contemporary Art (TMoCA) is a prominent cultural institution in Iran's capital city, reflecting the country's engagement with both national and international art. The museum opened in 1977 and is home to an impressive collection of Iranian, Asian, and European art. Architect Kamran Diba designs the building, draws inspiration from traditional Persian architecture while incorporating modern elements.
Art enthusiasts and curious travelers will find the TMoCA a compelling destination. The opportunity to explore art from different parts of the world, including significant works by Iranian artists, provides a unique cultural experience. Regular exhibitions, workshops, and art-related events make TMoCA a dynamic hub for contemporary art in Tehran.
10. Darband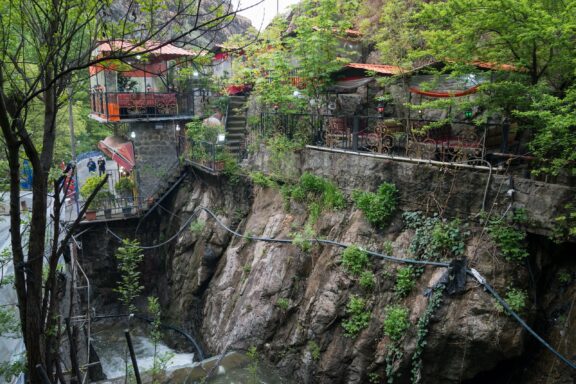 Darband is a popular retreat offering a delightful blend of natural beauty and traditional culture. It's the starting point for many hiking trails in the Alborz Mountains. Nestled at the base of Mount Tochal, Darband provides a picturesque setting filled with streams, trees, and rocky terrain. The area is known for its charming outdoor restaurants and teahouses, where visitors can relax and enjoy traditional Iranian dishes and teas.
Darband offers an escape from the urban hustle of Tehran. Visitors can engage in outdoor activities such as hiking or relaxing by the river, enjoying the local cuisine. The combination of nature, adventure, and cultural experiences makes it a unique destination. Exploring Darband allows tourists to connect with Iran's natural beauty and traditional way of life.
Is Tehran safe for tourists?
While Tehran, like any major city, has its challenges, many tourists find it safe, and locals are generally friendly and hospitable. Always check travel advisories from official sources and exercise general safety precautions.
What is the best time to visit Tehran?
Spring (April to June) and autumn (September to November) are the best times due to the mild weather. Summers can be pretty hot, and winters, with occasional snow, can be cold.
Is English spoken in Tehran?
English is understood in many hotels, restaurants, and tourist sites.
What currency is used, and are credit cards accepted in Tehran?
The official currency is the Iranian Rial (IRR). Due to sanctions, international credit cards are not widely accepted, so carrying cash is advisable. ATMs are available but might not accept foreign cards.
How should I dress in Tehran?
Iran has a conservative dress code. Women must wear a headscarf and cover their bodies with loose clothing like a manteau. Men should avoid wearing shorts.
Is there reliable internet access?
Yes, most hotels, cafes, and many public places offer Wi-Fi. However, some international websites and social media platforms may be restricted. Tourists often use VPNs to bypass these restrictions.
Are there any cultural norms or etiquette I should know in Tehran?
It's respectful to greet locals with a nod or a handshake. Avoid public displays of affection. If invited to someone's home, it's customary to bring a small gift.
Can I drink tap water in Tehran?
While tap water in Tehran is treated and considered safe for locals, tourists are often advised to drink bottled water to avoid potential stomach upsets.
Are there any specific sites or areas I should avoid?
While most tourist sites are safe, it's always advisable to avoid political gatherings or demonstrations and always respect any local
advisories or restrictions.
Final Thoughts
Tehran is an often overlooked gem in the realm of global travel destinations. As the heartbeat of Iran, it offers visitors an intimate glimpse into ancient Persia and contemporary Iran. Tehran invites exploration and understanding from its majestic palaces and world-class museums to its bustling bazaars and scenic parks.
Beyond the attractions, its people's warmth and hospitality leave an indelible mark on travelers. While it may not be the typical tourist destination, those who venture to Tehran are rewarded with rich experiences and memories that defy expectations.