Suva is the capital of Fiji. Suva is known for its lush landscapes and serves as Fiji's political, economic, and cultural center.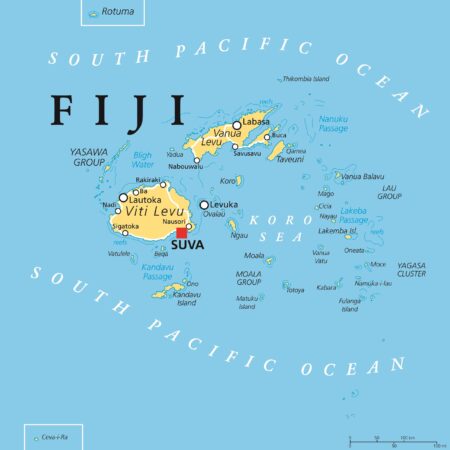 Suva offers a blend of colonial-era buildings and modern structures. The city has multiple markets where locals and visitors can buy fresh produce, crafts, and traditional Fijian goods. It also serves as Fiji's primary port, handling a significant portion of its international trade.
Where is Suva?
Suva is located on the southeast coast of Viti Levu, the largest island in Fiji. It's situated in the South Pacific Ocean. Within Fiji, it lies on the opposite end of the island from Nadi, another significant city. Suva's position makes it a key location within the Oceania region, although it's relatively far from important continents like Asia and Australia.
Suva's geographical coordinates are approximately 18.1416 °S latitude and 178.4419 °E longitude. It's positioned along the coast, facing Suva Harbor. The city's southeastern location on Viti Levu is closer to the Lau Islands, a group of islands also part of Fiji.
History of Suva
Before the arrival of European explorers, the Suva area was part of indigenous Fijian tribal territories. Different clans and chieftaincies had their governance systems and traditions. The native Fijians had a solid connection to the land and sea, crucial to their cultural practices and economy.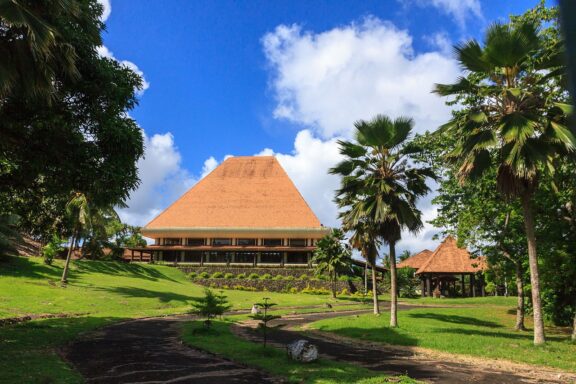 In 1877, Suva replaced Levuka as the capital of the British colony of Fiji due to Levuka's limited expandability and mountainous landscape. The British colonial administration planned the city with a more structured layout. This period saw the establishment of important civic buildings, such as government houses and churches, built in a distinct colonial architectural style.
The early 1900s saw an influx of ethnic groups, adding layers to Suva's social fabric. Indentured laborers from India were brought in to work in sugarcane fields, and they settled in and around Suva after completing their contracts.
Chinese traders also arrived, as did European settlers seeking opportunities in this growing colonial city. The city's infrastructural landscape changed with the introduction of modern conveniences like electricity and public transportation.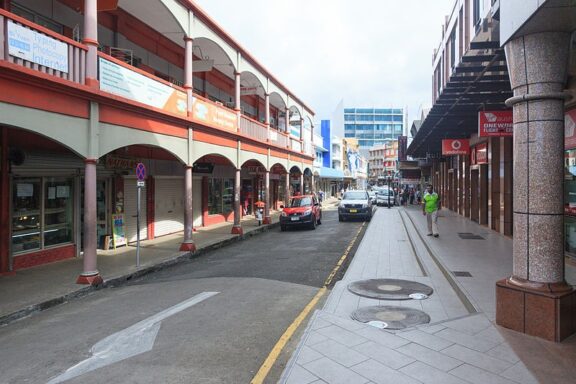 World War II brought a military presence to the region and turned Suva into a base for Allied operations. Post-war, the focus shifted towards development and education. The establishment of the University of the South Pacific in 1968 turned Suva into an educational hub for the Pacific region, attracting students from various island nations.
Fiji gained independence from British colonial rule on October 10, 1970. Suva remained the capital city and became the political heart of the newly independent nation.
New government buildings were erected, and institutions were localized, including the judicial system and educational structures. Fiji joined the Commonwealth of Nations, and Suva hosted various international events.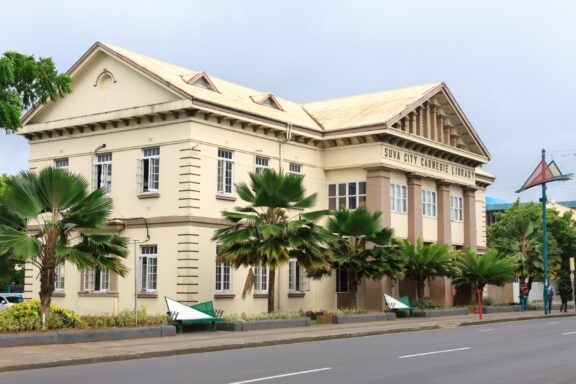 Suva faced several challenges in the late 20th and early 21st centuries, including political upheaval. Coups in 1987, 2000, and 2006 significantly impacted the city's and the nation's standing in the international community.
During this period, Suva also underwent urbanization, which led to the rise of new commercial zones and caused issues like traffic congestion and environmental degradation.
Today, Suva is a city aspiring to balance its past and future. The colonial-era buildings blend with modern high-rises, and its cultural landscape reflects its diverse population. While the city has modernized in many ways, it retains strong ties to its historical roots and indigenous culture.
Features of Suva
Suva is a city of contrasts and harmonies, where the past and present coalesce to form a unique urban landscape. The city offers an intriguing blend of styles. Colonial-era buildings with ornate facades stand beside sleek, modern high-rises. This juxtaposition creates a sense of living history, where each era has left its indelible mark on the city's skyline.
Geography and Climate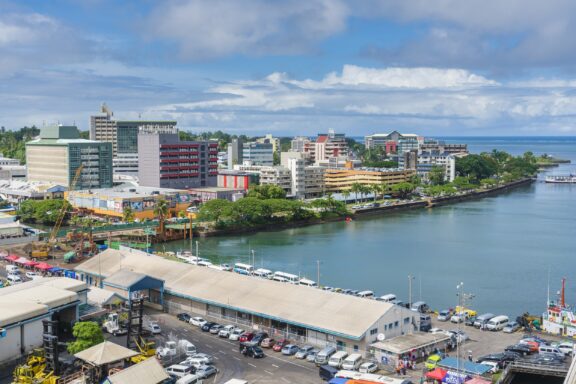 Suva experiences a tropical rainforest climate with high humidity and significant yearly rainfall. The city rarely faces extreme temperature fluctuations, with average highs ranging from 26 to 30 °Celsius (79–86 °F) and lows between 20 to 23 °Celsius (68–73 °F).
Precipitation is more abundant from November to April, which coincides with the cyclone season in the South Pacific. The city's climate creates a lush, green environment, ideal for growing tropical plants and vegetation.
Population
Suva is a diverse city in terms of its population, with a mix of ethnic groups that include indigenous Fijians, Indo-Fijians, Europeans, and other Pacific Islanders. The city has an estimated population of over 95,000, but this number swells to around 200,000 if you include the broader metropolitan area.
Suva is a microcosm of Fiji's diverse culture, languages, and religions. Various faiths, including Christianity, Hinduism, and Islam, represent the city as a rich tapestry of religious practices and cultural traditions.
Economy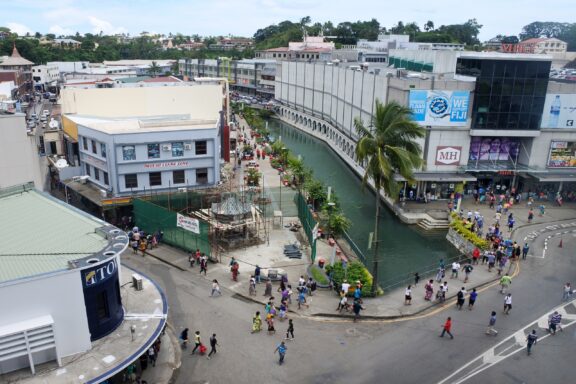 Suva is the commercial heart of Fiji, with its economy being one of the most diversified in the South Pacific. Retail, services, and administration form the backbone of the city's economy.
It serves as the headquarters for many of Fiji's banks, financial institutions, and numerous governmental and non-governmental organizations. The city has a range of shopping centers and markets where one can find everything from international brands to local crafts.
Moreover, Suva is a hub for regional transportation and communication, drawing in business and opportunities. The University of the South Pacific adds an educational dimension to the economy, offering employment and fostering research and development.
Tourism is another key industry, although Suva is not the primary tourist destination in Fiji. The city attracts travelers interested in culture, history, and business. Various hotels, museums, and cultural sites contribute to this sector of the economy.
The city has managed to maintain economic stability over the years despite facing challenges like political instability and natural disasters. Its diverse economic base and role as a regional leader contribute to its financial resilience.
Things to Do and Places to See in Suva
Suva offers an expansive range of activities and sights to explore. Here are some of the most sought-after attractions and landmarks in the city.
1. Fiji Museum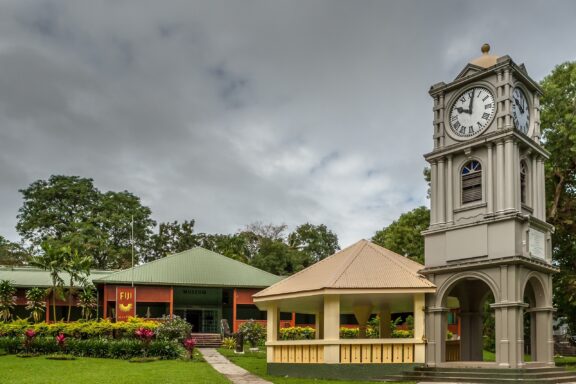 The Fiji Museum comprehensively looks at Fiji's diverse heritage and history. Although founded in 1904, the museum has been in its current location since 1955 and is governed by specific legislative acts that preserve its archaeological and paleontological collections.
The museum's extensive collection spans various galleries, each offering insights into Fijian history and culture. Among its most prized artifacts is the 13-meter-long double-hulled canoe, Ratu Finau. It also has significant objects like the rudder from HMS Bounty and exhibits that explore the impact of colonialism on the Fijian islands, including the Indo-Fijian community.
2. Thurston Gardens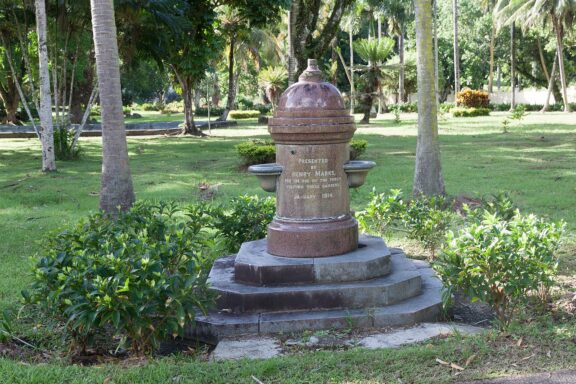 Covering 14.5 acres near the city center, Thurston Gardens offers a serene, natural respite from the busy streets of Suva. Established over a century ago, it is a botanical sanctuary and a delightful venue for strolls, picnics, and cultural exploration.
Visitors to Thurston Gardens can enjoy a peaceful afternoon exploring the unique vegetation, engage in bird-watching, or participate in photography. The gardens also often host community events like flower shows and concerts, providing a local flavor to any tourist's visit.
3. Sacred Heart Cathedral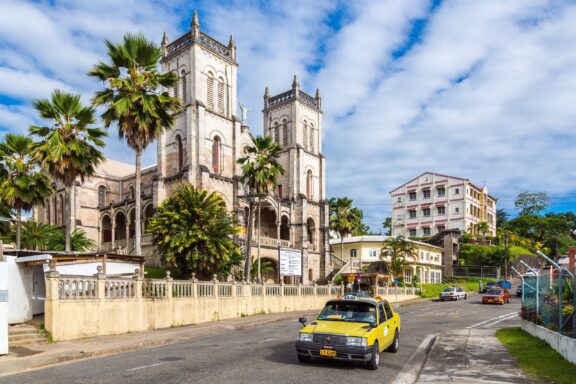 The Sacred Heart Cathedral serves as the city's spiritual and architectural landmark. Constructed in the early 20th century, it has become a symbol of the diverse religious fabric of Fiji, attracting tourists and devotees alike.
Beyond religious services, the cathedral offers quiet reflection amid its inspiring surroundings. The architecture alone is worth the visit, but those interested in religious art and history will find the Sacred Heart Cathedral a captivating stop on their tour of Suva.
4. Albert Park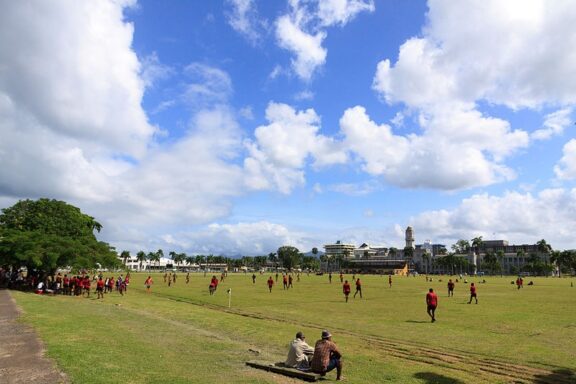 Albert Park is open for public gatherings, sports, and events. Named after Prince Albert, the consort of Queen Victoria, the park has been integral to Suva's community life for generations.
Albert Park offers something for everyone. Whether you're interested in watching a local rugby match, participating in a public event, or simply picnicking with family, this communal space is a snapshot of everyday life in Suva.
5. Colo-i-Suva Forest Park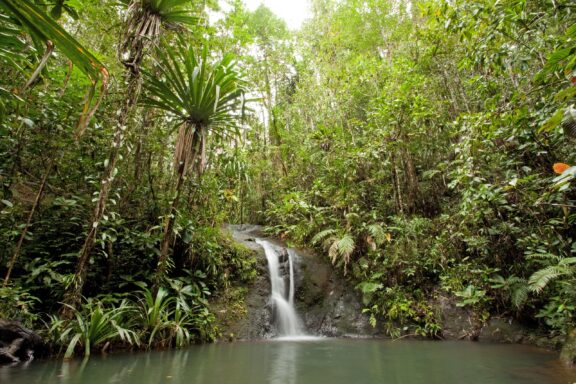 Colo-i-Suva Forest Park is an ecological haven with lush greenery, birdlife, and tranquil waterfalls. It's a paradise for nature enthusiasts and adventure seekers. The park covers approximately 2.5 square kilometers and offers an extensive network of hiking trails that lead visitors through rich rainforest landscapes.
If you want to escape the city for a day, Colo-i-Suva provides the perfect getaway for hiking, bird-watching, or simply unwinding by a waterfall. The park also offers guided tours that provide informative insights into the park's unique ecosystems.
6. Take a Trip to Dravuni Island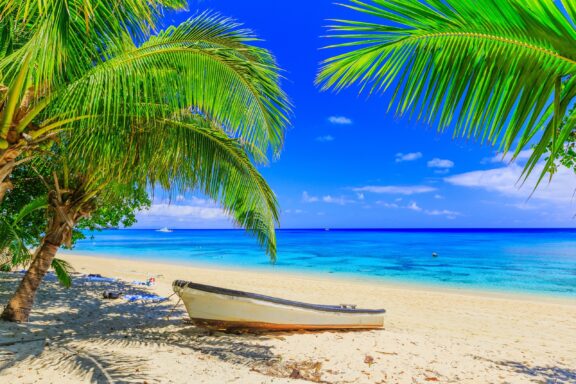 Though not directly in Suva, Dravuni Island is a compelling side trip for those seeking a serene escape from the city. This small, picturesque island lies within the Kadavu Island Group and exemplifies the dreamy South Pacific image of pristine beaches and clear blue waters.
Dravuni Island spans just a few square kilometers but offers natural beauty. Visitors can explore sandy beaches, coral reefs ideal for snorkeling, and miniature hiking trails that provide sweeping ocean vistas. The island is also home to a tiny village where visitors can experience Fijian hospitality.
Frequently Asked Questions
What is the best time to visit Suva?
The best time to visit Suva depends on your preferences. May to October is ideal if you prefer a drier climate, but remember that Suva is generally humid and receives rainfall year-round.
How do I get around the city?
Public buses, taxis, and ride-sharing services are readily available. For those who prefer to explore on foot, the city center is quite walkable.
Is Suva safe for tourists?
Suva is generally safe for tourists, but it's always advisable to exercise caution, especially in less populated areas or during late hours.
What kind of cuisine can I expect to find?
You'll find a variety of cuisines in Suva, reflecting its diverse population. Expect traditional Fijian dishes, Indian food like curries, and international options such as Chinese and Italian.
How far is Suva from Nadi International Airport?
Suva is about 192 kilometers from Nadi International Airport, and the journey typically takes around 4 to 5 hours by road.
What cultural events or festivals can I attend in Suva?
The Hibiscus Festival is one of Suva's most celebrated events, usually in August. Diwali and Christmas are also celebrated with enthusiasm.
Where can I go shopping for local crafts or souvenirs?
The Suva Municipal Market and various boutique shops around town offer a wide range of Fijian crafts, textiles, and souvenirs.
What languages are commonly spoken in Suva?
English is widely spoken and is the official language, but you may also hear Fijian and Fiji Hindi.
Do I need a visa to visit Suva?
What kind of accommodations are available?
Suva offers a range of accommodations, from budget-friendly hostels to luxury hotels.
Are there any specific local customs or etiquette I should be aware of?
Fijians are generally warm and friendly but appreciate it when visitors respect their customs. Dress modestly when visiting religious sites or villages and always ask permission before photographing sensitive or traditional areas.
Final Thoughts
Suva is a city where tradition and modernity converge, offering visitors a rich tapestry of experiences. From its historical landmarks and museums to its diverse cultural fabric and natural surroundings, the city provides a unique blend of attractions that cater to various interests.
Given its role as a political, economic, and cultural hub, Suva provides a comprehensive glimpse into the heart of Fiji. It offers a distinct experience that encapsulates the diversity and complexity of the Fijian Islands, making it a destination that should not be missed.