Zagreb is the capital of Croatia. Steeped in history, culture, and geography, Zagreb has consistently served as a critical meeting point for Eastern and Western politics. It unifies elements of both terrestrial and Mediterranean spirits, resulting in a vibrant and multifaceted cultural identity.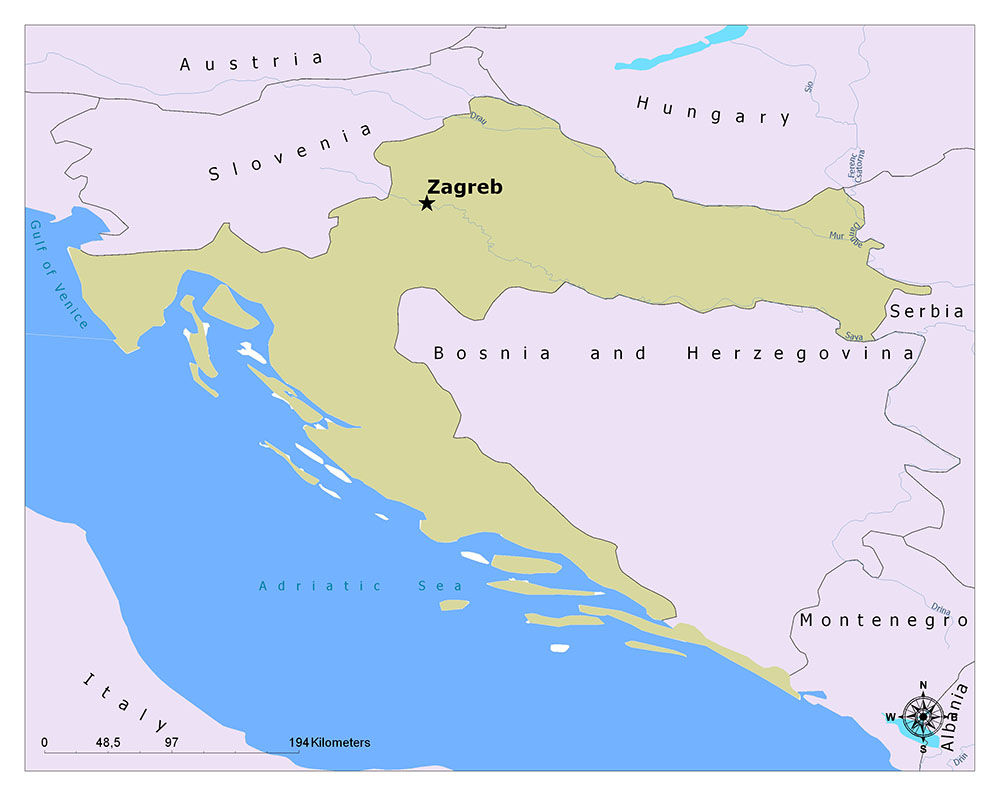 Zagreb is the hub of culture, science, economy, politics, and administration for the Republic of Croatia. This is the city where the Parliament, the President, and the Government have their respective headquarters.
Where is Zagreb?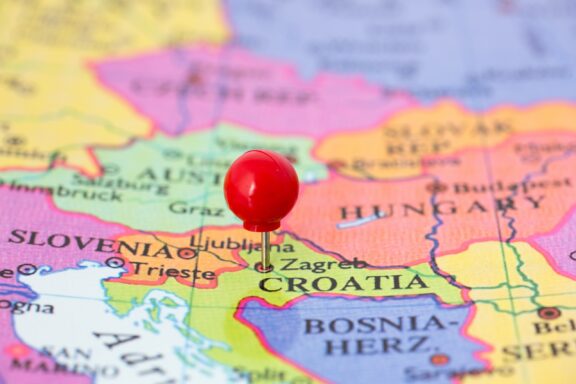 Zagreb is located northwest of Croatia in Central Europe. As the capital city of Croatia, it's positioned roughly halfway between the Adriatic coast and the country's eastern border. Its approximate coordinates are 45.8 °N latitude, 16.0 °E longitude.
History of Zagreb
The history of Zagreb stretches back to Roman times, although its name was first recorded in 1094 when a diocese was established in the area.
The development of Zagreb was centered around two settlements, Gradec (known as Gornji Grad, or Upper Town today) and Kaptol. Gradec was given a royal charter by the Hungarian King Bela IV in 1242, making it a free royal city. Kaptol, on the other hand, was the religious center of the Zagreb Cathedral.
These two settlements often had conflicts during the Middle Ages but merged in the 17th and 18th centuries, forming the basis for modern Zagreb.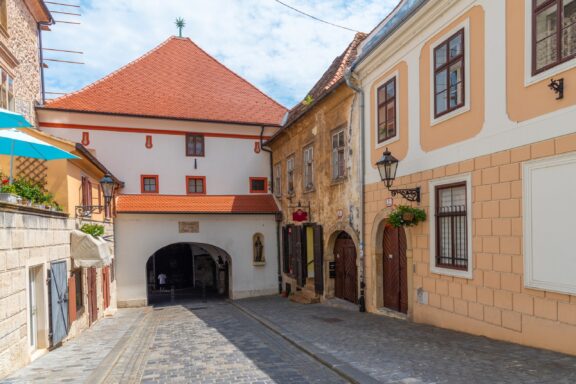 During the 19th century, the city saw further significant development and expansion. It became the center of the Croatian National Revival, a cultural and political movement advocating for the rights of Croats in the Kingdom of Hungary. The city continued to grow and expand, incorporating nearby settlements.
Zagreb officially became the capital of Croatia in 1945, after World War II, when the Socialist Federal Republic of Yugoslavia was established. This happened because Zagreb was the largest city and was seen as the country's economic, cultural, and educational heart. However, it's worth noting that even before this, from the late 19th century onwards, Zagreb was the de facto capital, as it was the seat of the Viceroy or Ban of Croatia during the Austro-Hungarian rule.
Throughout the 20th century, despite the turmoil of war and political changes, Zagreb continued to grow and develop, maintaining its status as Croatia's cultural and political center, which it still holds today. In the 1991-1995 Croatian War of Independence, the city endured several attacks, including rocket attacks in 1991 and 1995, but it was largely spared the widespread damage seen in other parts of Croatia.
Nowadays, Zagreb is a vibrant city that combines historical heritage with modern charm, and it remains the capital and the largest city of the Republic of Croatia.
Features of Zagreb
Zagreb is known for its blend of history and modern attractions marked by thriving businesses and a contemporary way of life. Zagreb has a lively cafe culture and nightlife, with many restaurants, bars, and clubs.
It hosts several major festivals and events throughout the year, including the Zagreb Film Festival and Animafest Zagreb.
Geography and Climate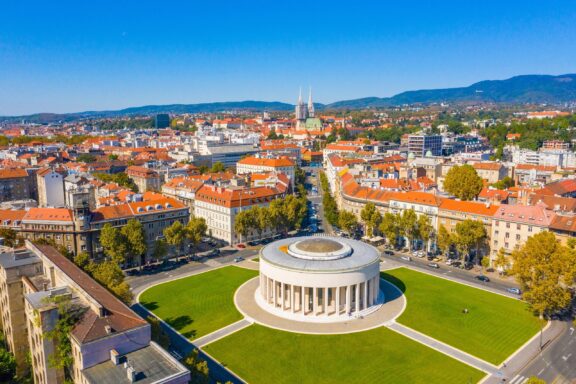 Zagreb is nestled along the Sava River in the northwestern part of Croatia. It's at the southern slope of the Medvednica mountain, providing a natural backdrop to the city.
The climate of Zagreb is classified as a humid continental climate with four distinct seasons. Summers are warm, occasionally hot, and winters can be pretty cold with frequent snowfall.
The average temperature in the warmest month (July) is about 20 °C (68 °F), while in the coldest month (January), it's around one °C (34 °F). Precipitation is relatively evenly distributed throughout the year.
Population and People of Zagreb
Zagreb's population is approximately 800,000 people, making it the largest city in Croatia. The Greater Zagreb metropolitan area, which includes the City of Zagreb and Zagreb County, has a larger population, surpassing a million inhabitants.
Zagreb is a multicultural city home to most of Croatia's minority populations. However, the vast majority of residents are ethnic Croats. The official language is Croatian, but English is widely spoken, particularly among younger generations and in tourist areas.
Economy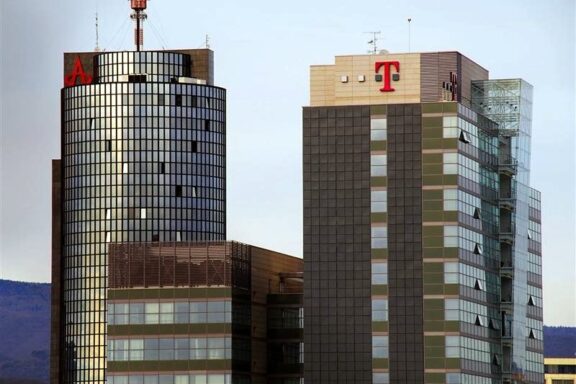 Zagreb is the economic heart of Croatia. Its economy is primarily based on service, industry, and trade sectors. Tourism plays a significant role in the service sector, bolstered by the city's rich historical and cultural heritage and its location as a crossroads of Central Europe. Other vital services include banking, information technology, and telecommunications.
In terms of industry, pharmaceuticals, food and drink, electrical and mechanical engineering, and chemical industries play a significant role. The city also has several international companies' headquarters or regional offices.
Additionally, Zagreb is a hub for entrepreneurship and startups, with numerous tech and innovation centers located in the city. The city's economy generally fares well compared to the rest of the country, with a higher per capita GDP and lower unemployment rate.
Things to Do and Places to See in Zagreb
Zagreb is brimming with a diverse array of sights and activities. Let's delve into some of the most sought-after attractions and destinations in the city:
1. Explore the Upper Town (Gornji Grad)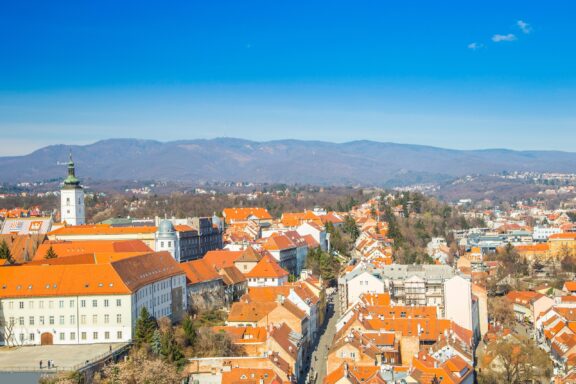 Gornji Grad, or Upper Town, is Zagreb's historical and political heart. The cobblestone streets, picturesque squares, and beautiful old buildings give it a quaint, old-world charm. Key attractions include the historic St. Mark's Church, the Lotrščak Tower with its daily cannon firing, and the Croatian Parliament building.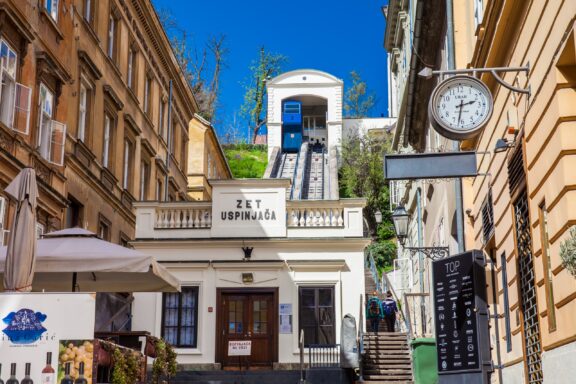 Take a stroll through its lanes, absorbing the stories that each corner has to tell, and remember to take a ride on the Zagreb Funicular, the shortest passenger cable railway in the world.
2. Explore the Dolac Market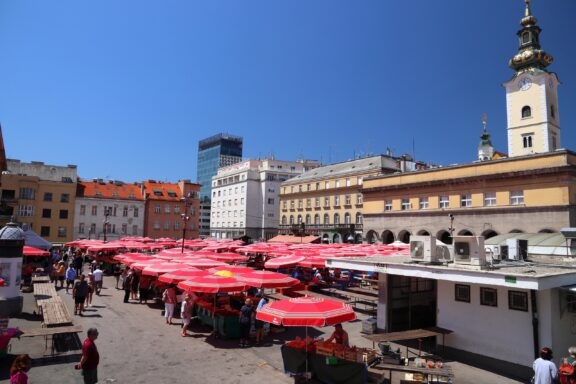 Dolac Market is the city's largest farmers' market and a sensory feast. Stalls brimming with fresh fruits, vegetables, cheeses, and flowers create a riot of colors and fragrances. Upper stalls overflow with farm produce, while the lower part of the market houses fishmongers and butchers.
Remember to try the fresh cottage cheese, a Dolac Market specialty. The vibrant atmosphere and the delightful mix of sights, sounds, and smells make this market an authentic local experience.
3. Take a Walk Down Tkalčićeva Street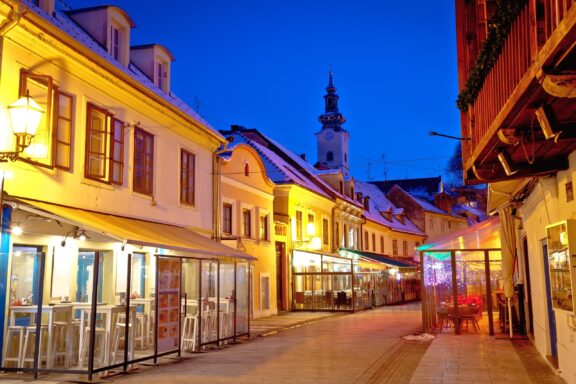 Once a river dividing two historic settlements, today, Tkalciceva Street is one of the liveliest spots in Zagreb. The street is lined with various cafés, restaurants, boutiques, and galleries housed in colorful buildings, offering a Bohemian vibe. Whether you want to try Croatian beer, buy unique souvenirs, or indulge in people-watching from a cozy café, Tkalciceva Street is the place to be.
4. Visit Lake Jarun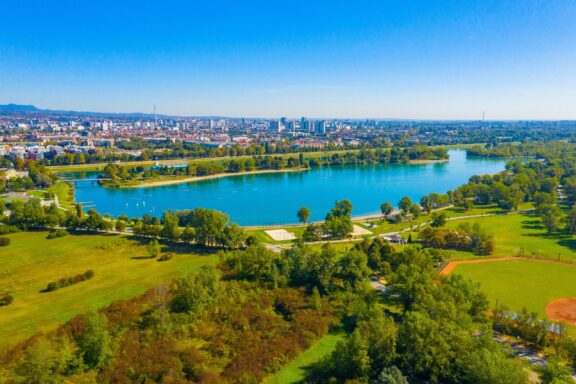 Often referred to as "Zagreb's Sea," Lake Jarun is a large artificial lake that offers a welcome escape from the city bustle. The lake is surrounded by well-maintained paths perfect for walking, jogging, cycling, or rollerblading.
thYou can rent a pedal boat or kayak to explore the lake, picnic in the grassy areas, or relax at one of the cafés or nightclubs. During summer, the lake's beaches are a favorite swimming spot among locals.
5. Cathedral of Zagreb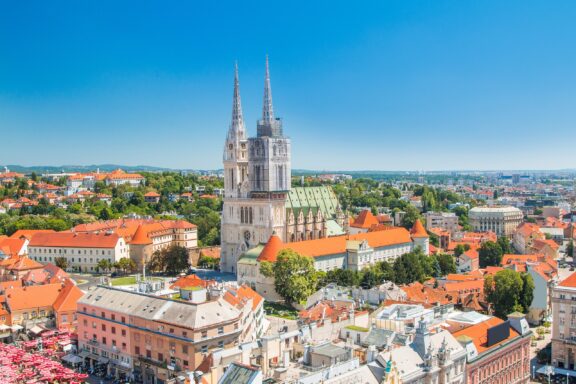 The Zagreb Cathedral, dedicated to the Assumption of Mary and Kings Stephen and Ladislaus, is the tallest building in Croatia and a defining feature of the city's skyline.
The cathedral's stunning gothic design, beautifully preserved despite several natural disasters and historical conflicts, is a testament to the resilience of Zagreb. The intricately decorated interior and the outstanding treasury with valuable religious artifacts make the cathedral a must-visit spot.
6. Museum of Broken Relationships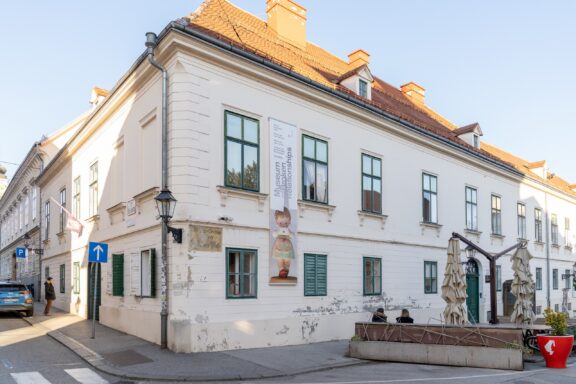 A globally unique museum that explores breakups, the Museum of Broken Relationships displays donated personal items from failed relationships, each with its own poignant story. This unusual collection takes you on an emotional journey through the complexities of human relationships, making it a memorable experience.
7. St. Mark's Church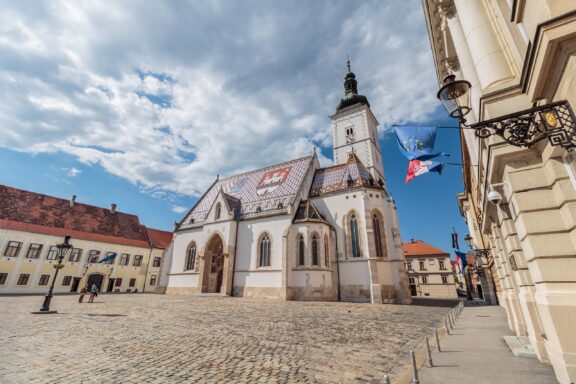 Located in Upper Town, St. Mark's Church symbolizes Zagreb, mainly because of its stunning tiled roof. The roof tiles depict the coat of arms of Zagreb and the Triune Kingdom of Croatia, Slavonia, and Dalmatia. The church is a beautiful example of Gothic and Romanesque architecture.
In its long history, St. Mark's Church has been the location of many important events, including the swearing-in of the Croatian Kings and the reading of the Triune kingdom's first constitution in 1848.
8. Maksimir Park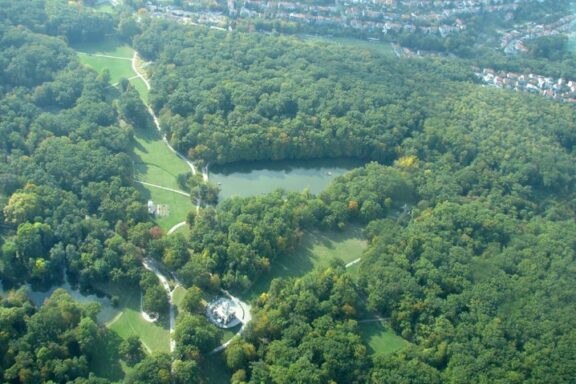 Maksimir Park is the perfect place to unwind amidst nature without leaving the city. It's the oldest public park in Zagreb, opened in 1794. The park spans 316 acres and features lush forests, serene lakes, open spaces, and walking trails. There's also a small zoo within the park, which is popular with families. Maksimir Park is an excellent spot for a picnic, a stroll, or birdwatching.
9. Croatian National Theatre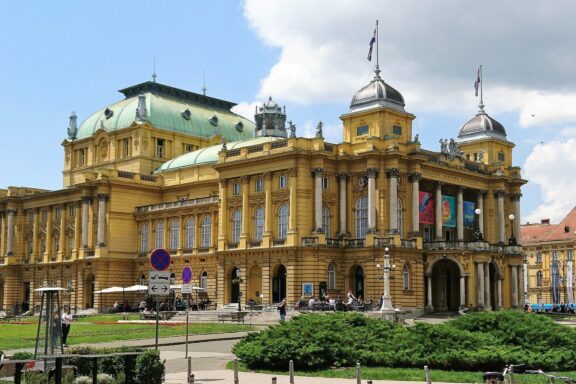 The Croatian National Theatre, also known as HNK Zagreb, is one of the city's architectural gems. The grand building, opened in 1895, is a work of art with its beautiful yellow facade and Neo-Baroque style.
The theater is home to opera, ballet, and drama performances, and its repertoire includes classical and modern works. Whether attending a performance or just admiring the architecture, the Croatian National Theatre is a cultural landmark to be noticed.
10. King Tomislav Square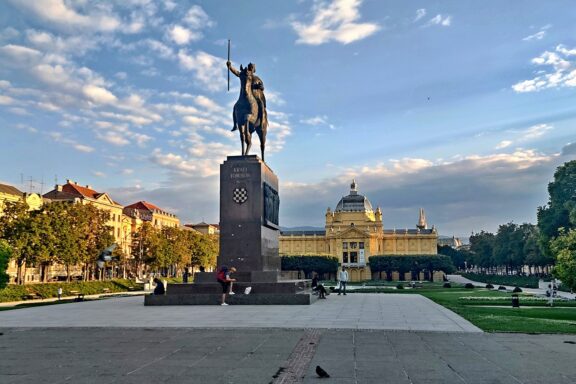 King Tomislav Square is one of the most prominent squares in Zagreb, Croatia, named after the first king of Croatia, King Tomislav. This beautifully landscaped park is a favorite spot for locals and tourists alike.
Dominating the square is an imposing equestrian statue of King Tomislav, created by the renowned Croatian sculptor Robert Frangeš-Mihanović. The statue, erected in 1947, honors the first King of Croatia, who ruled from 910 to 928 AD.
The Art Pavilion on King Tomislav Square is an important cultural landmark with its distinctive yellow facade. This architectural gem is one of the oldest exhibition halls in the Slavic South, dating back to 1898.
Frequently Asked Questions
When's the best time to visit Zagreb?
The best time to visit Zagreb depends on what you prefer. Spring (April to June) and Fall (September and October) offer pleasant temperatures and fewer tourists. Summer (July and August) is also a great time to visit, especially if you plan on attending the numerous festivals around the city but expect larger crowds. Winters can be chilly but beautiful, especially if there's snow, and you can enjoy the city's famous Christmas market.
What is the traditional food like in Zagreb?
Traditional dishes in Zagreb are hearty and heavily influenced by Central European cuisine. Some of the dishes you need to try are:
• Strukli: a type of pastry with cheese
• Purica s mlincima: roast turkey with a special kind of pastry
• Kremšnita: a type of cream cake dessert
Is it safe to visit Zagreb?
Yes, Zagreb is generally considered a safe city for tourists. As with any city, taking usual precautions like watching your belongings and being aware of your surroundings is recommended, especially at night or in crowded places.
How can I get around in Zagreb?
Zagreb has an extensive tram and bus network that covers most of the city. Tickets can be purchased at newspaper kiosks or from the driver. Taxis and ride-sharing services are also available, and the city is quite walkable, especially the city center.
What cultural customs should I be aware of when visiting Zagreb?
Croatians value politeness and courtesy. When entering shops, cafés, or restaurants, it's customary to greet with a simple "Dobar dan" (Good day). Bringing a small gift when invited to someone's home is also traditional.
How can I respect the local culture and environment during my visit?
Respect the city's historic sites and public spaces by not littering and obeying any posted signs or rules. Respect local traditions and customs, try to learn a few words in Croatian, and engage with locals politely and kindly. Stay on marked trails in natural areas or parks to protect the local flora and fauna.
What's the currency in Zagreb?
The official currency of Croatia, including Zagreb, is the Croatian Kuna (HRK).
Final Thoughts
Zagreb, with its prosperous history, vibrant culture, and diverse array of attractions, is undoubtedly worth a visit. The city presents a unique blend of traditional charm and modern liveliness.
Whether you're a lover of art and history, an adventurous spirit eager to explore outdoor spaces, or a foodie ready to indulge in local cuisine, Zagreb has something for everyone.