Phnom Penh is the capital of Cambodia. It's the nation's largest city and its economic, cultural, and political center.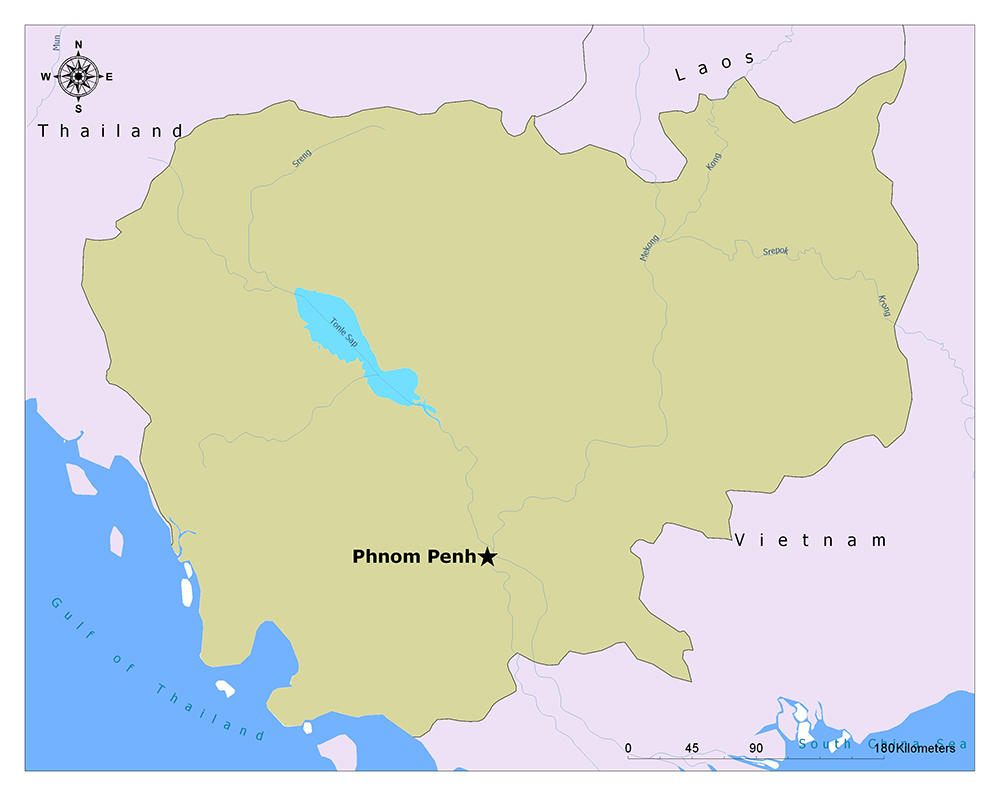 Phnom Penh boasts a history with diverse cultural influences, evident in its architecture which ranges from ornate Khmer-era temples to classical colonial buildings.
Where is Phnom Penh?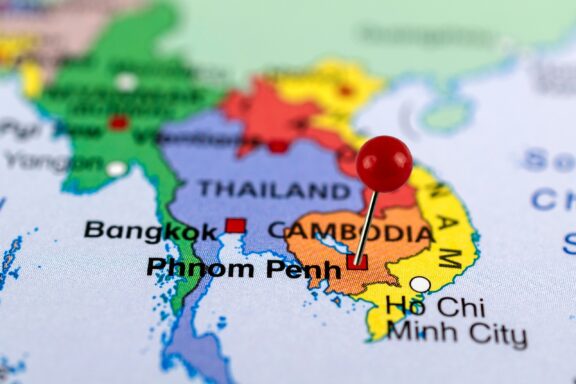 Phnom Penh sits on the eastern bank of the Tonlé Sap River, about 45 miles (72 kilometers) from the Gulf of Thailand. It is surrounded by low-lying wetlands and agricultural land, which makes it exceptionally fertile for cultivation. The city has grown significantly in recent decades, expanding beyond the riverside core to accommodate its burgeoning population and rapid urban development.
Phnom Penh's central location within Cambodia and its well-connected transportation network make it an important national and regional hub, with road and river links to various parts of the country and neighboring nations. The Phnom Penh International Airport also connects the city to other major cities worldwide.
History of Phnom Penh
Phnom Penh's history is both rich and complex, marked by periods of growth, turmoil, and resilience.
The city's origins trace back to the 14th century when a wealthy widow named Lady Penh discovered four statues of the Buddha on the banks of the Mekong River. She built a hill ('Phnom in Khmer') and a temple ('wat') to house the sacred objects, thereby establishing Wat Phnom, the city's namesake.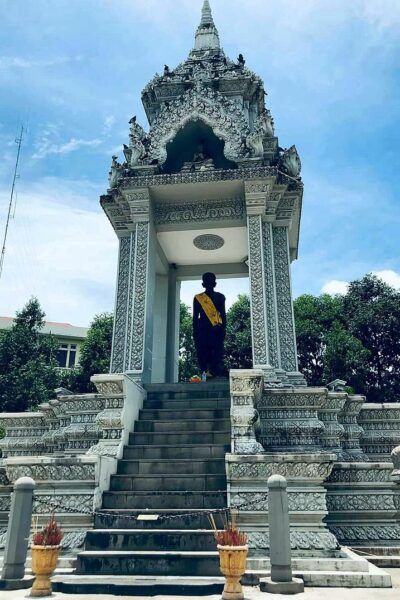 Phnom Penh did not become the capital until 1434, following the fall of Angkor. Under the rule of King Ponhea Yat, the city developed into a significant trading port. However, it was largely abandoned for nearly four centuries after the fall of the Khmer Empire in the 15th century.
The city began to reemerge as the country's capital in the mid-19th century during the French colonial period. The French transformed Phnom Penh, constructing a European-style city with wide boulevards, infrastructure, and magnificent colonial buildings. The city further expanded and modernized in the post-independence era of the 1950s and early 1960s under the rule of King Norodom Sihanouk.
However, the city's progress was severely disrupted in the mid-1970s when the Khmer Rouge seized power. The city was forcibly evacuated, and its population was driven to rural labor camps. The brutal regime left a mark on the city with institutions such as Tuol Sleng, a high school that was turned into a prison and torture center.
After the fall of the Khmer Rouge in 1979, Phnom Penh began the process of recovery. Refugees and exiles slowly repopulated the city, rebuilding their lives amidst widespread devastation.
Today, Phnom Penh is a symbol of Cambodia's resilience. While still facing challenges, the city has undergone significant development and modernization. It is an energetic city with an intriguing mix of tradition and modernity. The Royal Palace, Silver Pagoda, National Museum, bustling markets, and riverside promenade are a testament to its vibrant culture and history.
Features of Phnom Penh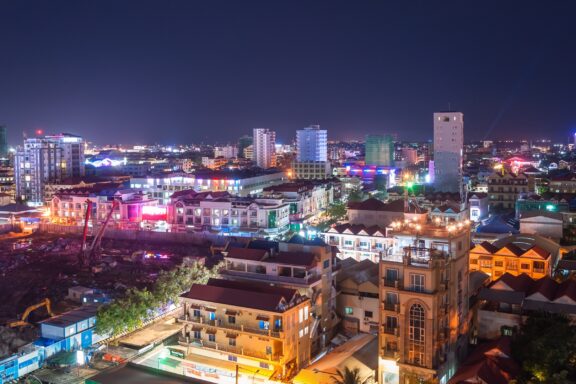 Phnom Penh is notable for its vibrant mix of tradition and modernity and its resilience in the face of a tumultuous history. It is a melting pot of different cultures, evident in its cuisine, architecture, and local customs.
Geography and Climate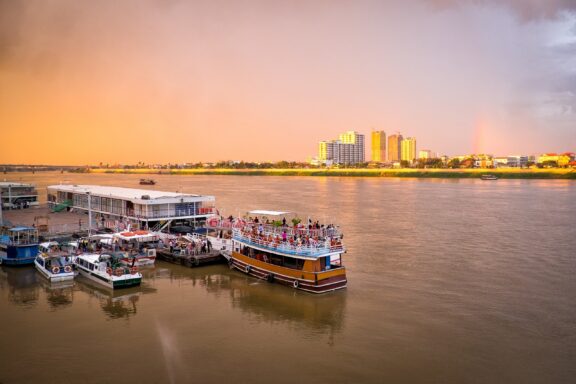 Phnom Penh experiences a tropical monsoon climate with two distinct seasons: the rainy season from May to October and the dry season from November to April.
Average temperatures range from around 22 °C (72 °F) in the cooler months to 35 °C (95 °F) during the hotter months. These rater high average temperatures make Cambodia one of the hottest countries in the world.
The city receives significant rainfall during the monsoon season, while high temperatures and low humidity characterize the dry season.
Population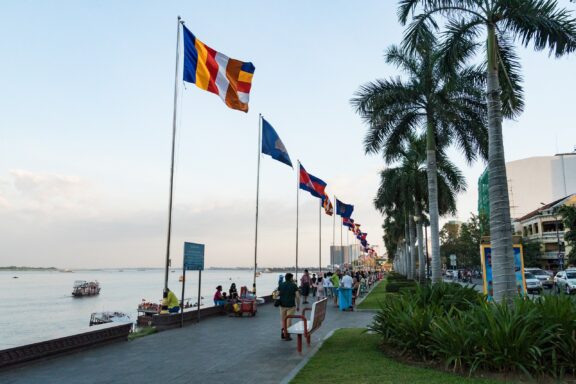 Phnom Penh has a population of over 2.1 million people. It is the most populous city in Cambodia. The population is predominantly of Khmer ethnicity, but there are also sizable communities of Chinese, Vietnamese, and other ethnicities. The city is known for its youthful population, reflecting the demographic trend of Cambodia as a whole.
Economy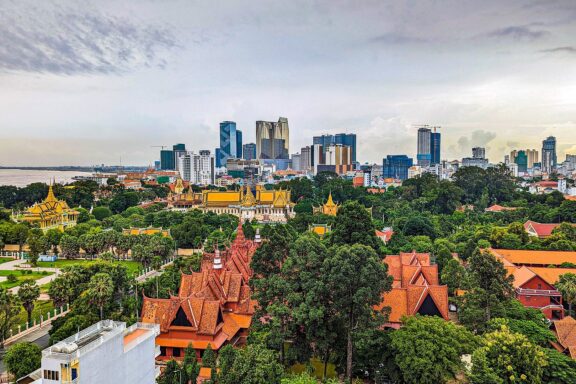 Phnom Penh is the economic hub of Cambodia, contributing a significant portion to the country's GDP. It is characterized by a rapidly growing and diversifying economy, with key sectors including textiles, clothing, construction, real estate, and tourism. The garment industry, in particular, is a major employer and a significant contributor to exports.
A range of small and medium-sized businesses contribute to the city's economy, including shops, restaurants, and service providers. Phnom Penh is also the nation's center for banking and finance.
In recent years, the city has seen substantial foreign investment, particularly from countries like China, leading to significant urban development and the construction of high-rise buildings.
However, despite these positive trends, it's important to note that challenges persist, including income inequality and issues related to urbanization, such as traffic congestion and environmental pollution.
Things to Do and Places to See in Phnom Penh
Phnom Penh is brimming with enthralling activities and remarkable sights that provide a window into different aspects of Phnom Penh.
1. Tuol Sleng Genocide Museum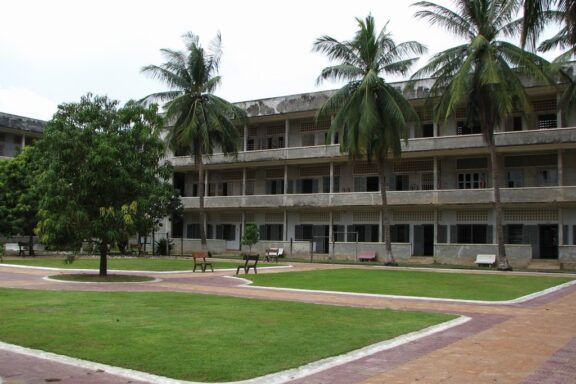 Once a high school, the Khmer Rouge turned this building into Security Prison 21 (S-21). Thousands were imprisoned, tortured, and executed here between 1975 and 1979. Today, the site is a museum dedicated to preserving the memory of the genocide. Exhibits include haunting photographs of prisoners, cells, and torture devices.
2. Phnom Penh Royal Palace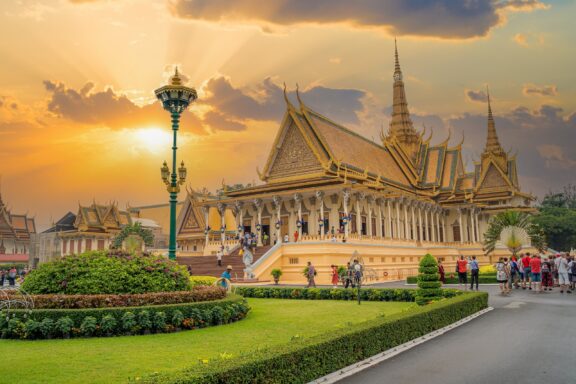 The Royal Palace is a complex of buildings serving as the royal residence of the King of Cambodia. Its striking architecture and lavish decoration make it one of the city's most iconic landmarks. The Silver Pagoda, located within the palace grounds, contains many national treasures, including gold and jeweled Buddha statues.
3. Wat Phnom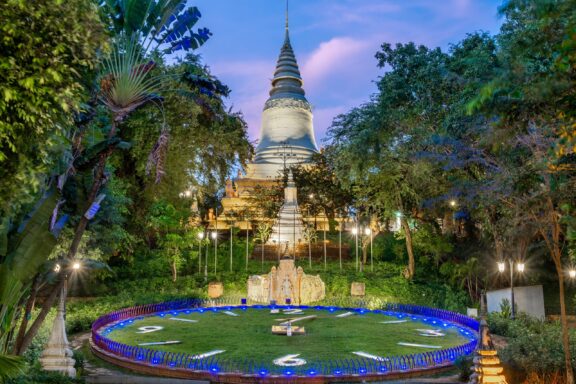 This is the city's namesake hill ("Phnom" means hill in Khmer) and temple ("wat"). Legend says that a woman named Penh found four Buddha statues and built a temple to house them there. Wat Phnom Daun Penh is one of the most important pagodas in Phnom Penh.
4. Choeung Ek Genocidal Center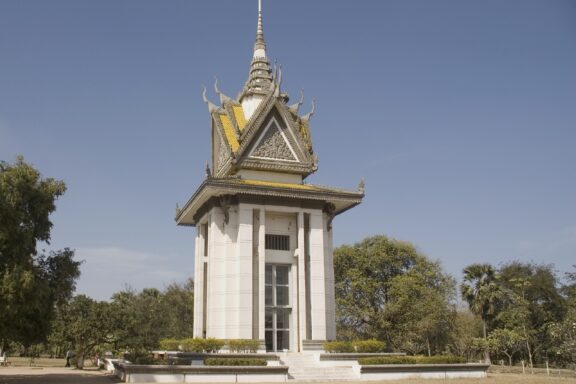 Known globally as "the Killing Fields," this site was where the Khmer Rouge executed over a million people between 1975 and 1979. Today, it's a memorial marked by a Buddhist stupa filled with over 5,000 human skulls arranged by sex and age, a chilling reminder of the scale of the atrocities. The site serves as a grim reminder of Cambodia's tragic past.
5. National Museum of Cambodia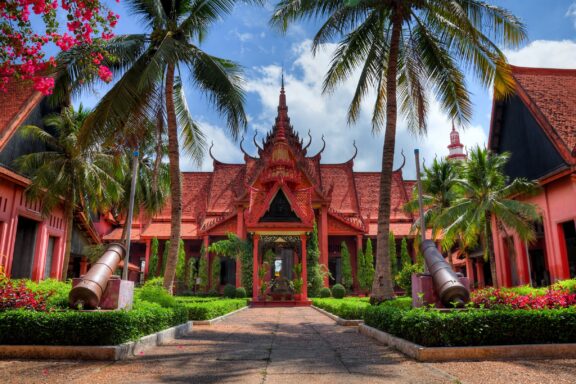 Cambodia's most significant cultural history and archaeology museum houses one of the world's largest collections of Khmer art, including sculpture, ceramics, and ethnographic objects. The museum is located next to the Royal Palace.
Among its most significant pieces is a statue of King Jayavarman VII (1181–1218) in meditation, the 'Leper King' statue, and a massive 11th-century bronze Vishnu.
6. Wat Langka Buddhist Temple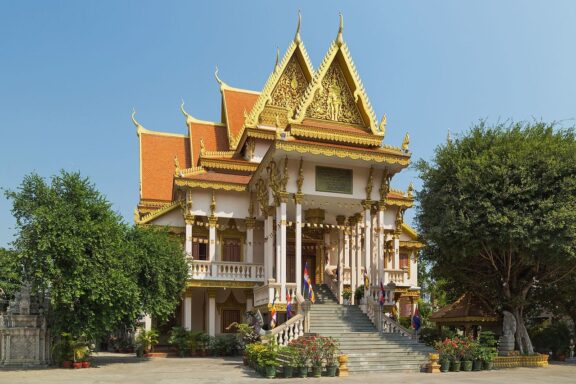 One of the five original Buddhist temples in Phnom Penh, Wat Langka is notable for its beautiful pagoda and its historical significance. Initially, it served as a sanctuary for the scriptures and monks from Sri Lanka, hence the name Langka.
The temple also houses a library with ancient religious texts, adding to its significance in preserving the religious and cultural heritage of Cambodia. In recent years, the temple has gained popularity as a peaceful location for yoga classes, which are held in its tranquil gardens.
7. Statue of King Norodom Sihanouk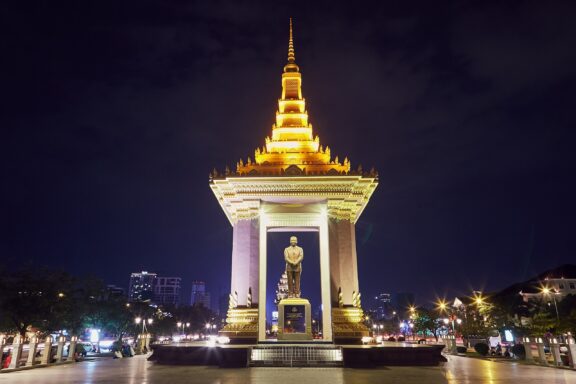 This grand, golden statue is in a park in central Phnom Penh and is dedicated to the former King Norodom Sihanouk. He was an influential figure in Cambodia's modern history, leading the country to independence from France in 1953 and serving as King and Prime Minister from the 1940s to 2004. The statue serves as a tribute to his contributions.
8. Phochani Pavilion
The Pavilion is located on the north side of the Royal Palace compound, adjacent to the Throne Hall.
The Pavilion underwent restoration in the early 20th century. In the 1990s, it received further renovation, funded by donations from King Norodom Sihanouk. It has hosted several royal functions, including the coronation ceremony of King Norodom Sihamoni in 2004.
The Phochani Pavilion is used for royal receptions and other large gatherings. It's also been used as a classical Khmer dance theater.
Frequently Asked Questions
What is the currency in Phnom Penh?
The official currency of Cambodia, including Phnom Penh, is the Cambodian riel (KHR). However, the US dollar is widely accepted in Phnom Penh and is often preferred for more significant transactions. Credit cards are also commonly accepted in hotels and upscale restaurants.
When is the best time to visit Phnom Penh?
The best time to visit Phnom Penh is during the dry season, between November and April. During this time, temperatures are more manageable, and there is less rainfall, making sightseeing more comfortable.
What is the traditional food of Phnom Penh?
Traditional Cambodian cuisine, or Khmer cuisine, is commonly eaten in Phnom Penh. This includes dishes like:
• Amok: Often considered Cambodia's national dish, Amok is a creamy curry typically made with fish, although chicken and tofu are also available.
• Kuyteav: Kuyteav is a famous Cambodian breakfast dish. It's a noodle soup made from pork or beef bones and rice vermicelli, garnished with fried shallots, green onions, and aromatic herbs.
• Bai Sach Chrouk: Another favorite breakfast dish in Cambodia, Bai Sach Chrouk is a simple yet delicious dish of grilled pork and rice. Thin slices of marinated pork, often cooked over charcoal for a smoky flavor, are served over steamed rice.
The city also offers a range of international cuisines due to its cosmopolitan nature.
Is it safe to visit Phnom Penh?
Phnom Penh is generally considered safe for tourists, but like in any major city, it's vital to take basic safety precautions. Petty theft and pickpocketing can occur, particularly in crowded areas. Checking up-to-date travel advisories before planning your trip is always a good idea.
What language is spoken in Phnom Penh?
The official language of Phnom Penh, like the rest of Cambodia, is Khmer. However, English is widely spoken, especially in tourist areas, hotels, and restaurants. Due to the country's colonial history, some also speak French, particularly in government and business settings.
How can I get around in Phnom Penh?
Phnom Penh offers a variety of transportation options. Tuk-tuks and motorbike taxis are popular choices for getting around the city. There are also metered taxis available. For a more independent option, you can rent bicycles or motorbikes. Buses and boats provide connections between Phnom Penh and other cities for more extensive travel within Cambodia.
Final Thoughts
With its history, cultural heritage, bustling city life, and vibrant energy of its markets and street life, the city has much to offer Phnom Penh undoubtedly presents a compelling destination for travelers. It provides a unique blend of the past and present, where tradition meets modernity.
Visitors also get to savor the distinct flavors of Khmer cuisine, experience the local people's hospitality, and witness this resilient city's rapid growth.