Thimphu is the capital of Bhutan. Thimphu is Bhutan's largest city and its political and economic center.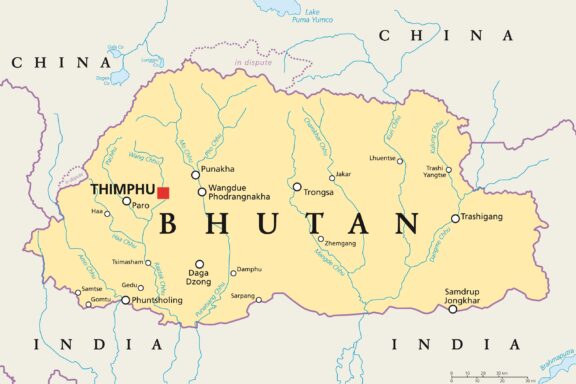 While it has the trappings of a modern city with many newly developed buildings, hotels, and shopping centers, Thimphu retains its cultural essence with traditional architecture and prominent landmarks. It provides a unique window into Bhutan's culture, traditions, and development trajectory.
Where is Thimphu?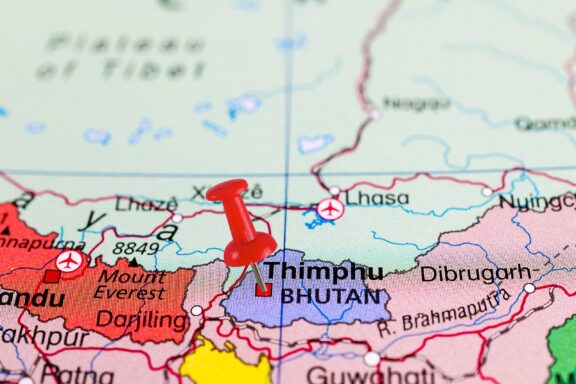 Thimphu is located in the South-Central, mountainous terrain of Bhutan, in the Thimphu Valley within the eastern Himalayas. The city is spread out along the western bank of the Wang Chuu (or Thimphu Chuu) River.
Thimphu serves not only as Bhutan's political and economic hub but is also the entry point for many visitors, given its proximity to Paro Airport, the primary international gateway to Bhutan.
History of Thimphu
Thimphu's historical narrative is deeply intertwined with the broader history of Bhutan.
Thimphu, initially, was part of a scattered collection of hamlets across the valley. The region has had religious significance since ancient times due to various Ihakhangs (temples) and Chortens (stupas).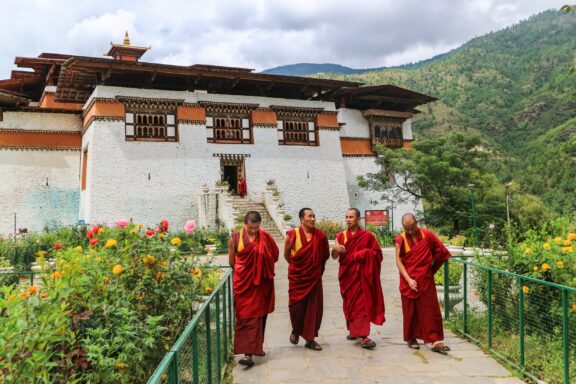 Thimphu's importance as a religious site is reflected in its name, which is believed to be derived from 'Thim' meaning 'to sink' and 'Phu' telling 'high ground,' suggesting a place where the sublime and earthly meet.
Establishment as Capital
Before 1961, Punakha was the winter capital of Bhutan, while Thimphu was the summer residence. However, with the push for modernization under King Jigme Dorji Wangchuck, Thimphu began to evolve as the full-time political center.
In 1961, Thimphu was officially established as the capital, marking a new era of development and modernization for the city and the country.
Modernization and Development
The period post-1961 saw rapid infrastructural development in Thimphu, turning it from a modest collection of traditional structures into a city with modern amenities.
In the late 20th and early 21st centuries, Thimphu experienced a construction boom, leading to new roads, buildings, and other urban facilities, often juxtaposed against traditional Bhutanese architecture.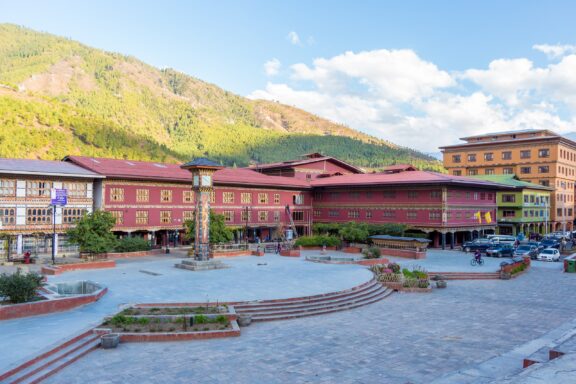 Thimphu faced urban challenges such as traffic congestion and housing shortages as it grew. However, despite these pressures, the government has made a concerted effort to ensure that the city retains its cultural and historical identity.
Building regulations often mandate traditional Bhutanese architectural styles, ensuring that even new constructions echo the nation's cultural legacy.
Thimphu's history is a testament to Bhutan's journey from a secluded Himalayan kingdom to a nation that gracefully balances modernization with tradition. The city reflects the broader shifts in Bhutanese society, where ancient practices coexist seamlessly with contemporary aspirations.
Features of Thimphu
Thimphu presents an intriguing blend of ancient traditions and burgeoning modernity. The hustle and bustle of its marketplaces showcase a lively local scene where residents engage in the sale and purchase of everything from fresh produce to traditional handicrafts.
Modern establishments, including cafes, shops, and entertainment venues, have sprouted alongside traditional businesses, indicating the city's evolving dynamics. It's a city where the past and present blend seamlessly with contemporary conversations, offering a unique urban experience rooted deeply in its rich cultural heritage.
Geography and Climate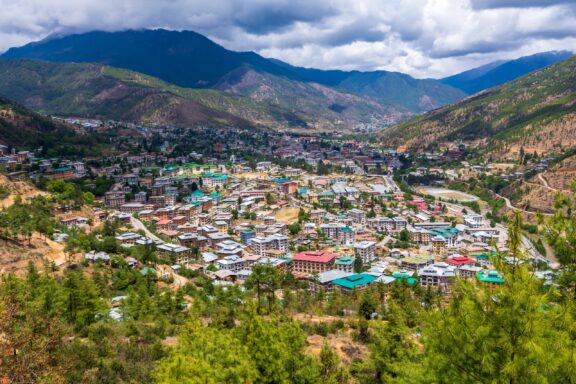 Thimphu, one of the highest capitals in the world, is surrounded by hills and mountains, offering a natural shield and an impressive backdrop.
Elevations in the valley range from 2,248 meters to 2,648 meters, resulting in a varied microclimate even within the confines of the city. The climate, while temperate, can exhibit considerable fluctuations.
The summer months, from June to September, witness the monsoon season. Heavy rainfall is typical and can sometimes lead to landslides in mountainous areas. Post-monsoon, the autumn months are generally dry and characterized by clear blue skies. Winter, which spans from December to February, sees cold temperatures, often causing frost.
While snowfall in the city is not every day, the surrounding higher elevations usually receive a good amount of snow. Spring is marked by moderate temperatures and blossoming flora from March to May, making it a particularly picturesque time.
Population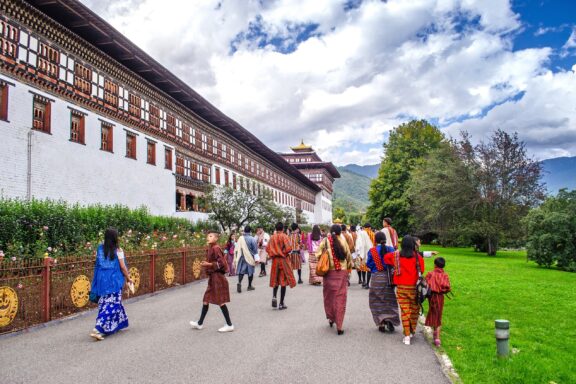 Over recent decades, Thimphu has witnessed a surge in its population as a result of rural-urban migration as well as the city's status as the country's central hub for opportunities in education, healthcare, and employment.
Today, Thimphu has a population of over 100,000 inhabitants. The city embodies a melting pot of Bhutan's diverse regional cultures, with residents hailing from various parts of the country.
Thimphu's populace is predominantly of Bhutanese ethnicity, practicing Buddhism, which plays a central role in their daily lives. A growing young population also creates a dynamic blend of traditional values with contemporary aspirations.
Economy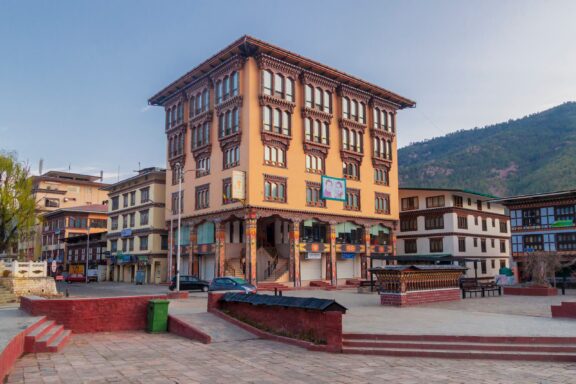 As the capital city, Thimphu is the economic nerve center of Bhutan. While agriculture has traditionally been the backbone of Bhutan's economy, Thimphu has seen a shift towards service-oriented industries, including tourism, information technology, and financial services.
Tourism, in particular, is a significant contributor, with the city's hotels, restaurants, and handicraft shops benefiting from a steady influx of visitors drawn to Bhutan's unique culture and pristine environment.
Traditional crafts and textiles also form a significant part of the city's economic fabric, with the sale of intricate thangkas (Buddhist paintings), hand-woven textiles, and other handicrafts being a source of income for many.
Given the city's rapid urbanization, construction, and real estate have boomed. Additionally, Thimphu is home to most of the country's banking and financial institutions, cementing its role as Bhutan's epicenter of economic activities.
Despite the evident growth, the government's focus on Gross National Happiness (GNH) ensures that economic development in Thimphu and across Bhutan is balanced with environmental conservation and cultural preservation.
Things to Do and Places to See in Thimphu
Thimphu offers a diverse array of attractions and activities. Let's delve into some of the standout sites and highlights in the capital:
1. Tashichho Dzong
Tashichho Dzong, a historic fortress and Buddhist monastery, is an iconic symbol of Thimphu. Nestled by the Wang Chhu River, it is a masterful blend of tradition and elegance.
The Dzong is a stunning example of Bhutanese architecture, with massive whitewashed walls, ornate wooden doors, and golden rooftops. Serving as the administrative center and the seat of the Bhutanese government, it also houses the offices of the King.
A visit to Tashichho Dzong offers a glimpse into the heart of Bhutanese culture and governance. Tourists can explore the artistry of Bhutanese craftsmen and learn about the country's history. The fortress hosts the colorful Tsechu festival annually, where locals perform traditional dances, a spectacle not to be missed.
2. Buddha Dordenma Statue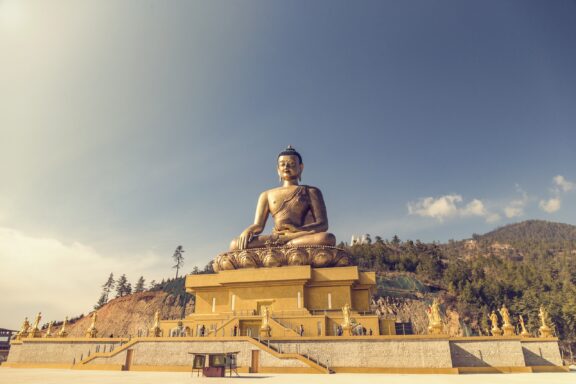 The Buddha Dordenma Statue is a monumental figure symbolizing peace and prosperity. This shimmering golden statue is one of the largest Buddha representations in the world. Standing at an impressive height of 169 feet (51.5 meters), the statue is made of bronze and gilded in gold.
The statue depicts Vairocana Buddha, and inside its vast hollow structure, it houses 125,000 smaller Buddha statues. The Statue overlooks the Southern entrance to Thimphu Valley, offering breathtaking panoramic views.
The Buddha Dordenma Statue is not merely an architectural marvel but a spiritual haven. Visitors can experience a unique sense of tranquility while exploring the meditation hall and adjoining areas.
3. National Memorial Chorten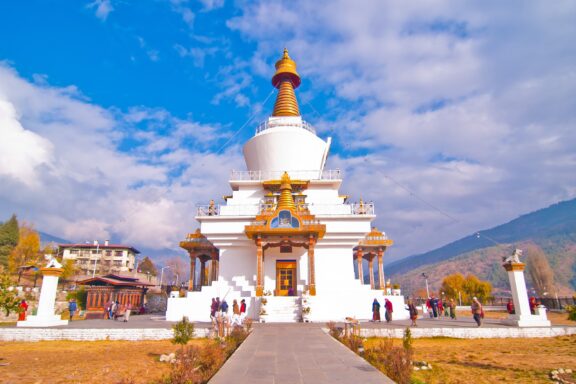 In the heart of Thimphu lies the National Memorial Chorten, a stupa built as a monument to world peace and prosperity. It's a prominent religious landmark that pays homage to the third King of Bhutan, His Majesty Jigme Dorji Wangchuck.
The National Memorial Chorten is an intricately designed structure with golden spires, bells, and elaborate paintings. Its whitewashed walls and richly decorated exteriors are an elegant portrayal of Bhutanese architecture. Inside, the chorten houses a series of prayer wheels and beautiful shrines filled with statues and religious paintings.
Visitors can immerse in the local culture by observing or participating in rituals and prayers. The peaceful ambiance and spiritual energy make it a perfect place for contemplation, connection, and a unique opportunity to witness the blend of faith, art, and tradition that defines Bhutan.
4. Motithang Takin Preserve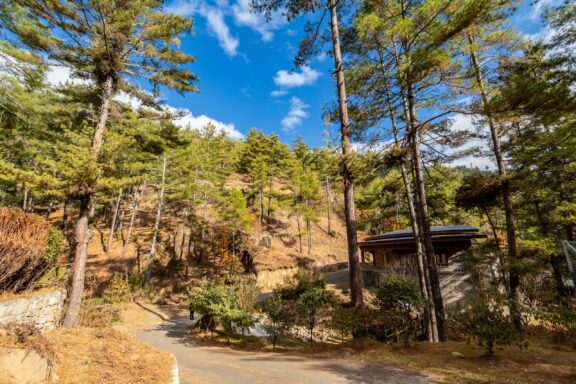 The Motithang Takin Preserve is a unique wildlife reserve dedicated to the Takin. This preserve provides a rare opportunity to witness these unusual creatures up close.
A trip to the Motithang Takin Preserve offers a chance to observe Takins in their natural environment, an experience found nowhere else. The preserve's tranquil setting provides an ideal escape from the city's hustle and bustle. Nature enthusiasts, wildlife photographers, and curious travelers will find the preserve a fascinating place to explore and learn about Bhutan's rich biodiversity.
5. Folk Heritage Museum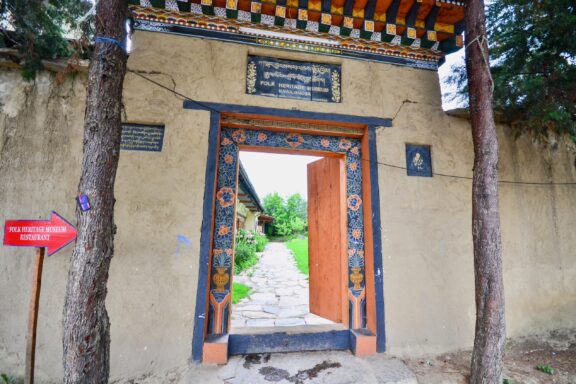 The Folk Heritage Museum is a remarkable institution that celebrates the country's vibrant cultural heritage. Housed in a traditional Bhutanese building, the museum offers insights into the rural life and time-honored practices of the Bhutanese people.
Set in a three-story, 19th-century rammed-earth and timber building, the Folk Heritage Museum showcases authentic Bhutanese artifacts, tools, and household objects. It offers visitors to immerse themselves in a unique cultural experience. It's an opportunity to travel back in time and explore traditional Bhutanese living.
6. Changangkha Lhakhang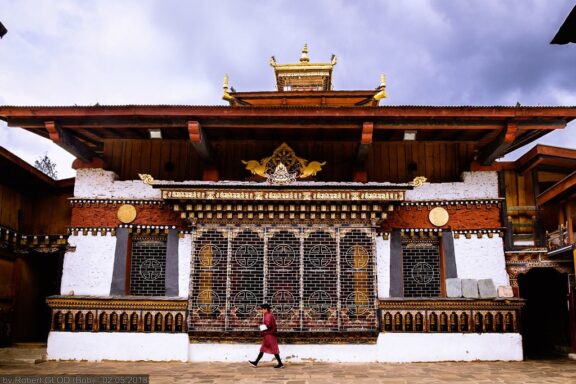 Changangkha Lhakhang, one of the oldest temples in Thimphu, stands as a spiritual sanctuary. Perched on a ridge overlooking the city, it's a significant place of worship and a must-visit historical site. Constructed in the 12th century, Changangkha Lhakhang is renowned for its stunning Bhutanese architecture, adorned with traditional woodwork and intricate carvings.
Changangkha Lhakhang offers a tranquil retreat from urban life and a glimpse into the spiritual core of Bhutanese society. Visitors can partake in prayer rituals, spin prayer wheels, and enjoy breathtaking views of Thimphu Valley. Whether drawn by the history, spirituality, or simply the exquisite artistry of the temple, tourists will find the experience both enriching and unforgettable.
7. Thimphu's Craft Bazaar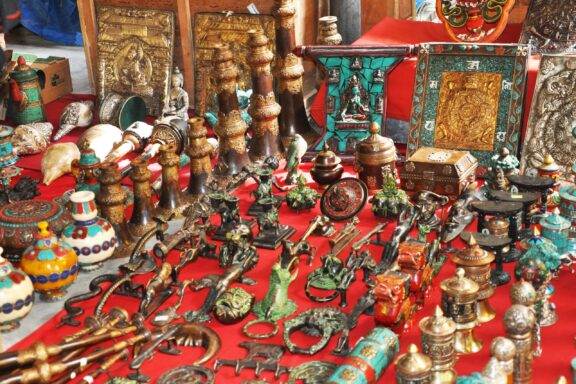 Thimphu's Craft Bazaar is a bustling marketplace in the heart of Thimphu, where tradition meets creativity. A hub for artisans nationwide, this open-air market provides an authentic shopping experience for visitors seeking Bhutanese handicrafts. Lined with over 80 stalls, the Craft Bazaar showcases various handmade products, including textiles, jewelry, wooden crafts, and more.
The Craft Bazaar is the perfect place to find souvenirs and gifts. Visitors can interact with local artisans, learn about their crafts, and even see some items being made on-site. The market's lively atmosphere and array of high-quality skills make it a delightful destination for tourists interested in local culture and arts.
Frequently Asked Questions
Is Thimphu safe for tourists?
Yes, Thimphu, like most parts of Bhutan, is considered safe for tourists. The local population is friendly and hospitable. However, following general safety precautions is always good, especially in crowded places.
What's the best time to visit Thimphu?
The ideal times to visit Thimphu are spring (March to May) and autumn (September to November) when the weather is pleasant and the skies are clear. These seasons also coincide with various festivals.
Do people in Thimphu speak English?
Yes, English is widely known in Bhutan and taught in schools. While Dzongkha is the national language, most people in Thimphu, especially those in the service and tourism sectors, can communicate in English.
Is it easy to find vegetarian food in Thimphu?
Yes, Bhutanese cuisine offers a range of vegetarian dishes. Given the strong influence of Buddhism, which promotes non-violence, many traditional dishes are vegetable-based. Restaurants in Thimphu cater to diverse tastes, including vegetarian options.
Can I use credit cards in Thimphu?
While some hotels, restaurants, and shops in Thimphu accept credit cards, many places still prefer cash. For convenience, it's advisable to carry some Bhutanese currency, called Ngultrum (Nu).
Is there a dress code for religious sites in Thimphu?
Yes, when visiting religious sites like monasteries, dzongs, and temples, it's respectful to dress modestly. Long pants and shirts with sleeves are recommended. Hats should be removed before entering such places.
How do I get around Thimphu?
Thimphu is relatively compact, making it easy to explore on foot. For longer distances, taxis are readily available and are reasonably priced.
Do I need a permit to visit Thimphu?
While tourists need a visa to enter Bhutan, no special permit is required to visit Thimphu. However, you will need a special route permit if you travel to other parts of Bhutan outside of Thimphu, Paro, and Punakha.
What is the time zone of Thimphu?
Thimphu follows Bhutan Standard Time (BST), 6 hours ahead of Coordinated Universal Time (UTC+6).
Are there internet facilities in Thimphu?
Yes, most hotels and many cafes in Thimphu offer Wi-Fi. Mobile data is also available through local service providers.
Final Thoughts
Thimphu seamlessly blends the allure of ancient traditions with the stirrings of modernity. It offers travelers a unique tableau, where monastic chants harmonize with urban hum, and the timeless beauty of Himalayan landscapes converges with contemporary life.
Whether you're drawn to the mystique of its spiritual centers, the vibrancy of its markets, or the tapestry of its cultural events, Thimphu promises an experience unlike any other.
The city is a testament to Bhutan's commitment to preserving its heritage while embracing the future, making it an unquestionably worthwhile destination for any traveler seeking depth, beauty, and authenticity.