Nassau is the capital of the Bahamas. It's known for its beautiful beaches, historic sites, and a lively atmosphere that draws tourists worldwide.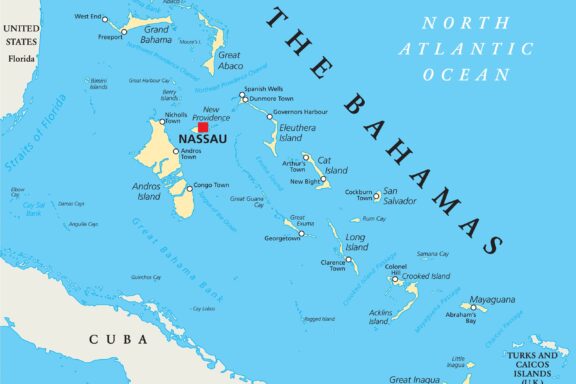 Nassau serves as the Bahamas' political, cultural, and economic center. However, it's a hub for governance and a significant port in the Caribbean. The city boasts a mix of colonial architecture and modern buildings, illustrating its prosperous history and current growth.
Where is Nassau?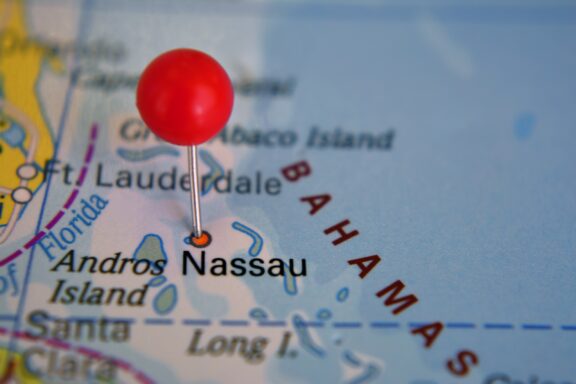 Nassau is situated on the island of New Providence in the Bahamas, an archipelago comprising over 700 islands and cays. It lies southeast of Florida, USA, and north of Cuba in the North Atlantic Ocean.
Nassau is centrally located within the Bahamas, making it easily accessible from other islands. It is the primary gateway to the nation, but strictly in terms of location, it is in the central part of the archipelago.
History of Nassau
Before European arrival, the island of New Providence was inhabited by the Lucayan people, a branch of the Arawak Indians. They led a peaceful life centered around fishing and small-scale agriculture.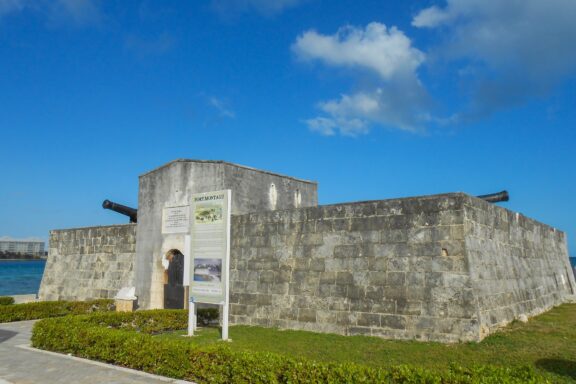 In the late 17th century, British settlers began to arrive. Originally known as Charles Town, the city was renamed Nassau in 1695 after the Dutch House of Orange-Nassau. It was initially a haven for British settlers but soon attracted pirates due to its strategic location.
Nassau was known as a pirate sanctuary from the late 1600s to early 1700s. The city was virtually lawless during this time. Infamous pirates like Blackbeard and Calico Jack frequented the port. This era ended with the appointment of Woodes Rogers as Royal Governor in 1718. He expelled the pirates and restored the British rule.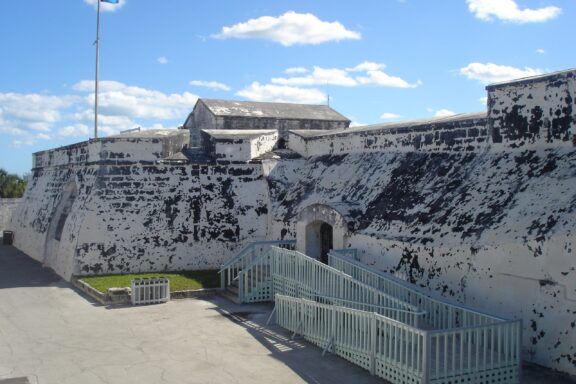 Under British governance, Nassau grew as a trade center, especially for cotton and sugar. Slavery became an unfortunate part of its history during this period. The island became a Loyalist haven during the American Revolutionary War, leading to an influx of British sympathizers and their slaves.
The early 20th century brought modernization and development, partly due to American investment. During Prohibition in the United States (1920–1933), Nassau became a rum-running center. Following World War II, tourism flourished, leading to rapid economic growth.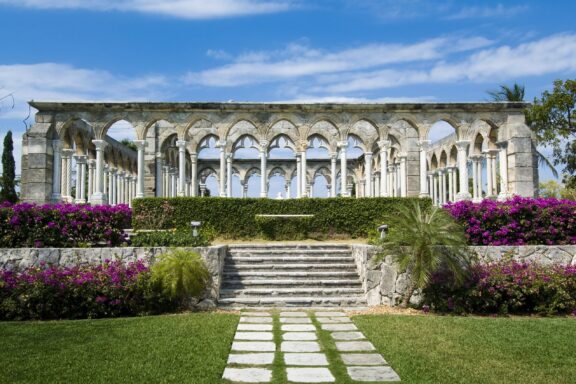 The Bahamas gained independence from Britain on July 10, 1973. Nassau continued to be the political and economic center of the newly independent nation. Since then, it has focused on developing its tourism sector, which remains a crucial part of today's economy.
Features of Nassau
Nassau is a city where history meets contemporary, and natural beauty complements man-made marvels. It offers a rich tapestry of experiences, from its historical landmarks and natural attractions to its cultural festivals and gastronomic delights.
Geography and Climate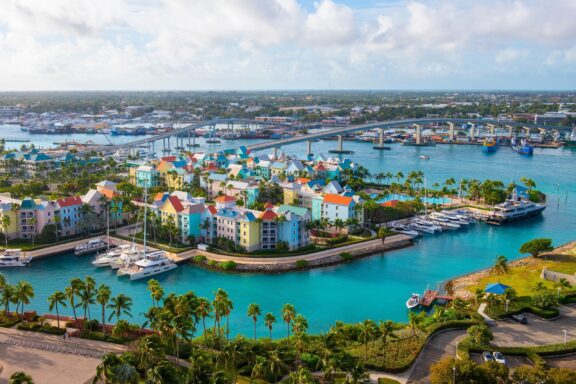 Nassau experiences a tropical monsoon climate marked by a wet and dry season. The wet season typically runs from May to October, while the dry season is from November to April.
Despite a wet season, Nassau enjoys a considerable amount of sunshine year-round. The average temperature hovers around 80 °F (27 °C), making it a desirable destination for sun-seekers.
Population
Nassau is the most populous city in the Bahamas, with an estimated population of around 275,000. The city is a melting pot of diverse ethnicities but is predominantly Afro-Bahamian.
There are also smaller communities of European, Asian, and Latin American descent. English is the official language, but you'll often hear a Bahamian dialect spoken among locals. Most of the population is Christian, with smaller groups practicing other religions.
Economy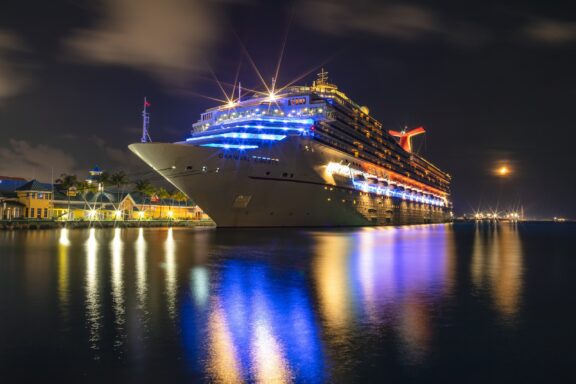 Tourism is the cornerstone of Nassau's economy, especially significant given that the Bahamas is one of the most expensive countries in the world. The city's luxury hotels and resorts attract millions, boosting local businesses. Nassau is also a key cruise ship port, further amplifying tourism revenue.
Beyond tourism, the financial services sector thrives due to the Bahamas' tax-haven status, attracting global clients. Banking and asset management are particularly important. While light manufacturing and agriculture play a smaller role, Nassau's economy primarily thrives on high-end tourism and financial services.
Things to Do and Places to See in Nassau
A plethora of activities and sights await you in Nassau, offering a rich tapestry of experiences. Here's a glimpse into some of the city's must-visit destinations and activities.
1. Queen's Staircase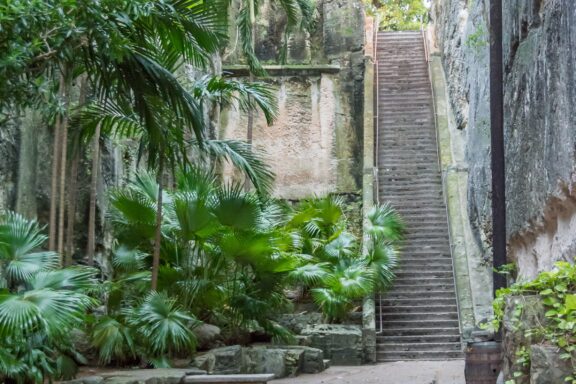 The Queen's Staircase, also known as the 66 Steps, is a marvel of nature and craftsmanship in Nassau. It serves as a tribute to Queen Victoria's efforts to abolish slavery, symbolizing liberation and human rights.
Guests can explore the hand-carved steps, each filled with historical resonance. Many take a guided tour to get an in-depth understanding of the site's significance. It's a serene experience, often described as a journey through time and nature.
2. Tour Fort Fincastle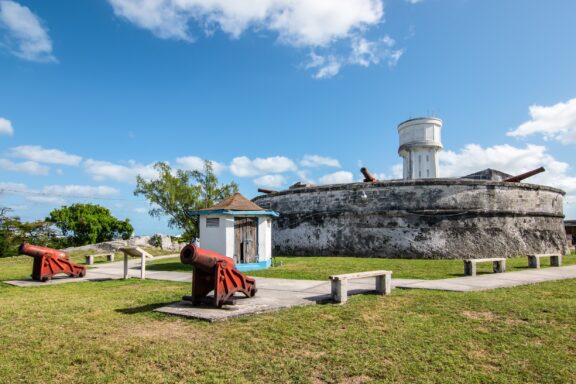 Fort Fincastle towers over the Bahamian capital, offering an unparalleled view of Nassau and its harbor. Established in 1793, the fort has an unusual shape that has intrigued historians and tourists alike.
Whether you arrive via the Queen's Staircase or another route, your visit will likely include a walk around the fort's perimeter, exploring its cannons, and enjoying the panoramic views of Nassau below.
3. Pirates of Nassau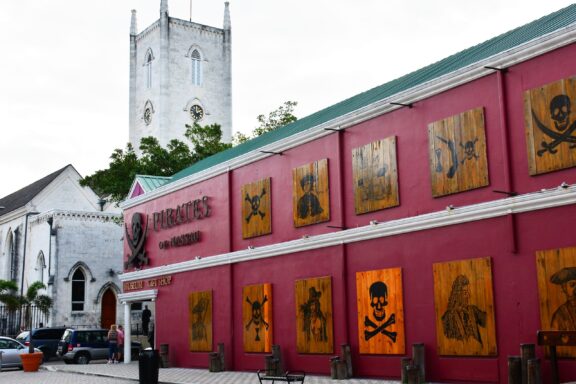 Step back into the 18th century and immerse yourself in the world of swashbuckling pirates at the Pirates of Nassau Museum. This family-friendly attraction provides a deep dive into the notorious and often misunderstood pirate culture.
The museum replicates a pirate ship and port with lifelike figures, artifacts, and interactive exhibits. Sounds and lighting enhance the ambiance, making you feel like you've entered a different era.
4. Pompey Museum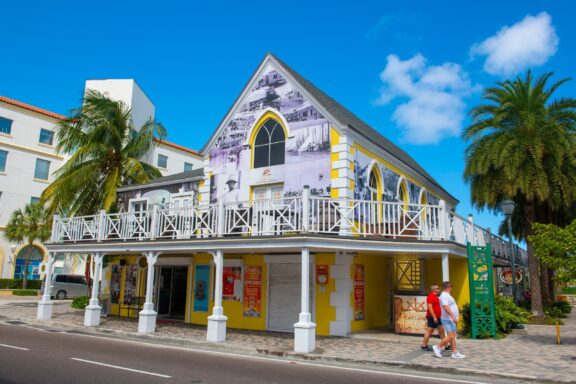 The Pompey Museum focuses on the critical and often overlooked topic of slavery and emancipation in Bahamian history. Located in a 1760s-era building that once served as a marketplace, the museum houses exhibits featuring artifacts, documents, and multimedia presentations that chronicle the slave trade, plantation life, and the journey to freedom.
The museum offers a thoughtful and emotionally resonant experience. You can engage with historical records, personal narratives, and eye-opening exhibits designed to educate visitors about this complex and painful chapter in Bahamian history.
5. Ardastra Gardens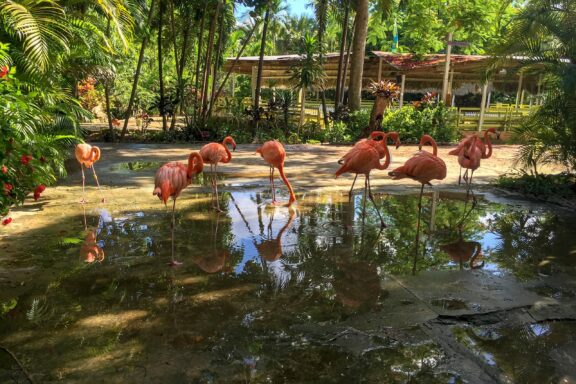 Ardastra Gardens is a haven for nature enthusiasts and families looking for a day of fun and education. It's not only the Bahamas' sole zoo but also a beautiful botanical garden, making it a two-in-one attraction.
Spanning four acres, the gardens feature a range of exotic plants and animals, including the national bird of the Bahamas—the flamingo. Several pathways lead visitors through themed areas, such as the "Lory Parrot" feeding station and the "Jungle Walk," which offers glimpses of indigenous and exotic plants.
Here, you can expect a fun-filled day where they can hand-feed colorful parrots, witness the well-known flamingo march, and stroll through expertly curated gardens.
6. Visit Atlantis Resort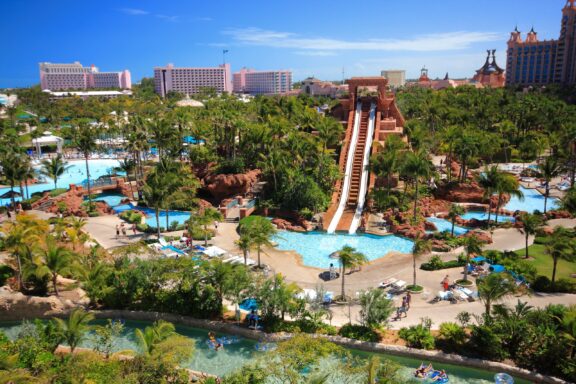 The Atlantis Resort stands as a symbol of luxury and entertainment in the Caribbean. With its extensive array of amenities, dining options, and aquatic adventures, the resort aims to offer an unparalleled holiday experience.
Spanning a large area, the resort features a casino, multiple dining venues, and its marine habitat. The architecture reflects a blend of tropical aesthetics and mythical elements inspired by the lost city of Atlantis. Aquatic life, from exotic fish to grand sea creatures, can be found in its large aquariums and habitats.
7. Cable Beach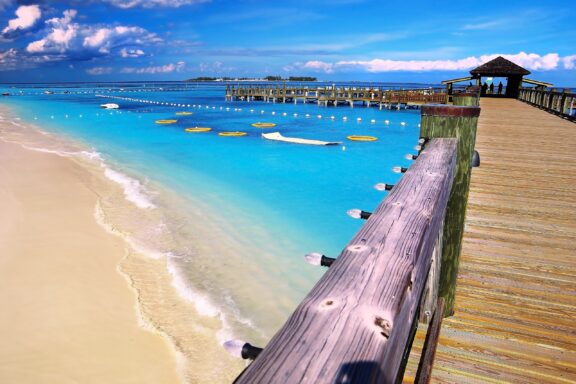 Cable Beach is synonymous with the quintessential Caribbean vacation experience, featuring golden sands and crystal-clear waters. It's a locale where visitors can immerse themselves in natural beauty and various activities.
Here, you can look forward to multiple experiences, from tranquil sunbathing to exhilarating water sports like jet skiing and parasailing. Many resorts offer beachfront services, so you can enjoy a cocktail or a meal without leaving the sand.
8. Junkanoo Beach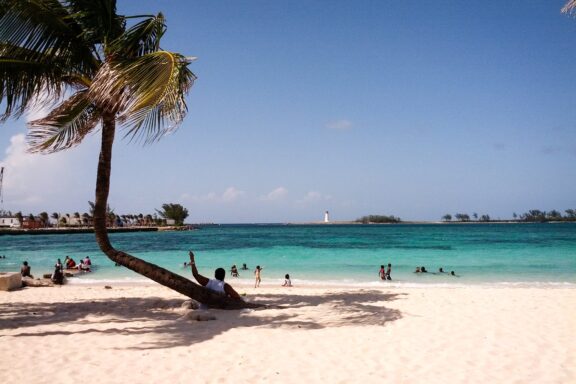 Junkanoo Beach is a unique locale that combines the culture and natural beauty of the Bahamas in one accessible location. The beach features a party-like atmosphere, complete with food stands and music. The sand is soft and white, while the waters suit swimming and snorkeling.
Junkanoo Beach offers a livelier experience than some of the more secluded beaches. Street performers and musicians often contribute to the festive atmosphere. You can enjoy traditional Bahamian food from beachside vendors while enjoying local culture.
9. Explore Parliament Square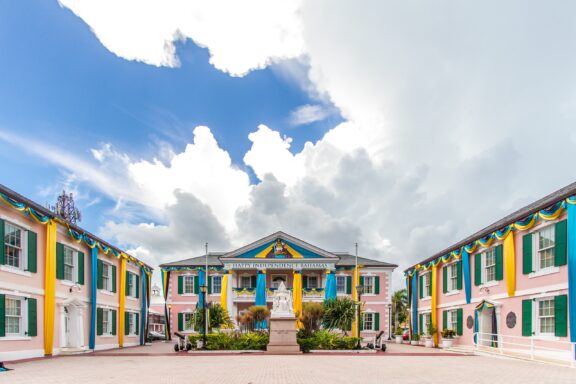 Parliament Square stands as the political nucleus of Nassau, highlighting the Bahamas' enduring relationship with its colonial past and its modern governance. The square is replete with classical colonial architecture, including government buildings like the House of Assembly.
The vibrant pink hues of these structures are a unique feature that catches every visitor's eye, and guests can explore the square, learning about the functioning of the Bahamian government and the history of these iconic buildings.
10. Fishing Excursions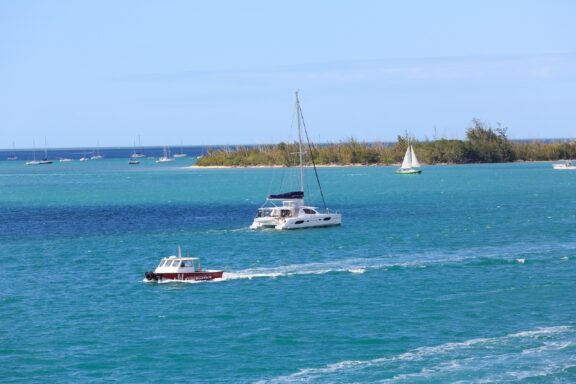 Fishing excursions near Nassau offer a different kind of Bahamian experience. They cater to amateur fishermen and seasoned anglers, aiming to provide an authentic adventure on the high seas.
If you ever take a tour, prepare for an exhilarating day on the water. Depending on the type of fishing, you could catch anything from marlin to snapper. Most tours provide all the necessary equipment and often conclude with the opportunity to cook and enjoy your catch.
Frequently Asked Questions
What's the best time to visit Nassau?
The ideal time to visit is between November and April, during the dry season with pleasant temperatures.
Is Nassau safe for tourists?
While Nassau is generally safe for tourists, staying in areas frequented by visitors is advisable. Exercise usual caution and specifically steer clear of regions south of Shirley Street, known as "over the hill," and the Fish Fry at Arawak Cay, particularly during nighttime.
What's the currency?
The Bahamian Dollar is the official currency, but U.S. Dollars are also commonly accepted.
How do I get around Nassau?
Taxis, public buses known as "jitneys," and rental vehicles are popular options for getting around.
What's traditional food like in Nassau?
The traditional cuisine in Nassau has been shaped by its rich maritime resources, colonial history, and African heritage. The abundance of seafood, especially conch and fish, plays a major role in local dishes.
British influences have also left their mark, introducing starchy elements like rice and tubers. Over time, Bahamian cuisine has blended these influences, offering a unique culinary experience.
What are must-try authentic Nassau dishes?
When visiting Nassau, several dishes offer an authentic taste of the local culture:
1. Conch Salad: Freshly diced conch with vegetables and citrus juices.
2. Bahamian Stew Fish: A hearty stew featuring local fish, typically grouper, cooked with spices and vegetables.
3. Cracked Conch: Deep-fried conch meat, often served with a side of dipping sauce or rice.
4. Johnnycakes: A type of cornbread, these are a staple in Bahamian meals and often enjoyed as a side dish.
Final Thoughts
Nassau offers a captivating blend of natural beauty, rich history, and diverse cultural experiences. Whether you are interested in water sports, exploring historical landmarks, or simply relaxing on pristine beaches, the city provides various options to suit every traveler's needs.
Its unique culinary offerings and vibrant local culture further add to its allure. Overall, Nassau is a destination worth visiting for those looking to experience the multifaceted charms of the Bahamas.