Sometimes referred to as the Peace Garden State, North Dakota is located in the Midwestern United States. Created from part of the Dakota Territory, named for the Indigenous Dakota Sioux, North Dakota is now known for its Native American heritage, stunning landscapes, and energy production. It's also one of the least populous states in the country.
North Dakota (ND) on the US Map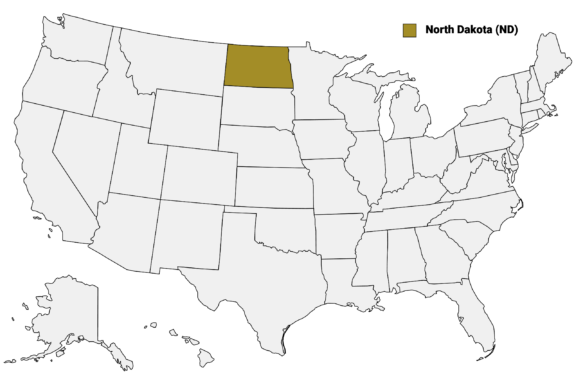 There are 53 counties in North Dakota, each with its own history and identity, though many share characteristics such as rural landscapes and a focus on agricultural or energy sectors. In this post, we'll explore some of the most noteworthy counties in North Dakota, starting with the most populous.
Below is a map of the 53 counties of North Dakota (you can click on the map to enlarge it and to see the major city in each county).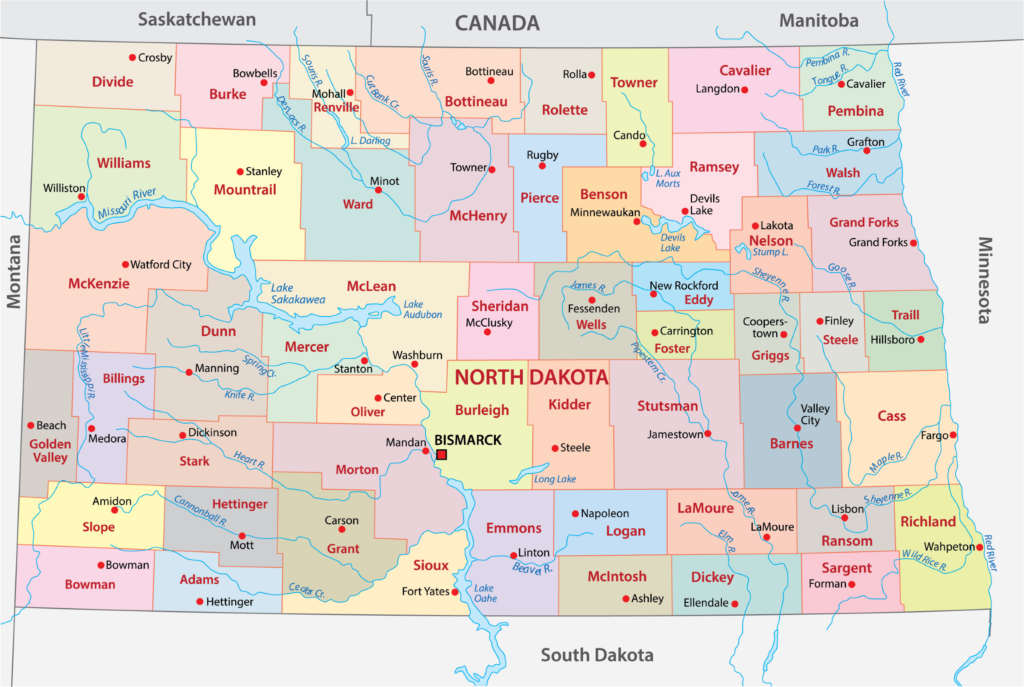 Interactive Map of North Dakota Counties
Click on any of the counties on the map to see the county's population, economic data, time zone, and zip code (the data will appear below the map). Data is sourced from the US Census 2021.
List of the Counties of North Dakota:
| County | Population | Per sq. km | Largest City |
| --- | --- | --- | --- |
| Adams County | 2,237 | 0.87 | Hettinger |
| Barnes County | 10,869 | 2.81 | Valley City |
| Benson County | 6,090 | 1.69 | Fort Totten |
| Billings County | 839 | 0.28 | Medora |
| Bottineau County | 6,442 | 1.49 | Bottineau |
| Bowman County | 3,024 | 1 | Bowman |
| Burke County | 2,177 | 0.76 | Bowbells |
| Burleigh County | 97,895 | 23.15 | Bismarck |
| Cass County | 182,992 | 40.03 | Fargo |
| Cavalier County | 3,725 | 0.97 | Langdon |
| Dickey County | 5,013 | 1.71 | Oakes |
| Divide County | 2,196 | 0.67 | Crosby |
| Dunn County | 4,054 | 0.78 | Killdeer |
| Eddy County | 2,378 | 1.46 | New Rockford |
| Emmons County | 3,316 | 0.85 | Linton |
| Foster County | 3,396 | 2.07 | Carrington |
| Golden Valley County | 1,812 | 0.7 | Beach |
| Grand Forks County | 73,101 | 19.65 | Grand Forks |
| Grant County | 2,351 | 0.55 | Elgin |
| Griggs County | 2,242 | 1.22 | Cooperstown |
| Hettinger County | 2,502 | 0.85 | New England |
| Kidder County | 2,397 | 0.69 | Steele |
| LaMoure County | 4,173 | 1.41 | LaMoure |
| Logan County | 1,814 | 0.71 | Napoleon |
| McHenry County | 5,420 | 1.12 | Velva |
| McIntosh County | 2,568 | 1.02 | Wishek |
| McKenzie County | 13,762 | 1.93 | Watford City |
| McLean County | 9,788 | 1.79 | Garrison |
| Mercer County | 8,405 | 3.11 | Beulah |
| Morton County | 32,916 | 6.6 | Mandan |
| Mountrail County | 9,717 | 2.06 | New Town |
| Nelson County | 3,035 | 1.19 | Lakota |
| Oliver County | 1,850 | 0.99 | Center |
| Pembina County | 6,912 | 2.39 | Cavalier |
| Pierce County | 4,038 | 1.53 | Rugby |
| Ramsey County | 11,638 | 3.79 | Devils Lake |
| Ransom County | 5,679 | 2.54 | Lisbon |
| Renville County | 2,328 | 1.02 | Mohall |
| Richland County | 16,546 | 4.45 | Wahpeton |
| Rolette County | 12,508 | 5.35 | Belcourt |
| Sargent County | 3,839 | 1.73 | Gwinner |
| Sheridan County | 1,328 | 0.53 | McClusky |
| Sioux County | 3,993 | 1.41 | Cannon Ball |
| Slope County | 775 | 0.25 | Marmarth |
| Stark County | 32,710 | 9.46 | Dickinson |
| Steele County | 1,870 | 1.01 | Finley |
| Stutsman County | 21,678 | 3.77 | Jamestown |
| Towner County | 2,190 | 0.82 | Cando |
| Traill County | 8,008 | 3.59 | Mayville |
| Walsh County | 10,631 | 3.2 | Grafton |
| Ward County | 69,686 | 13.37 | Minot |
| Wells County | 4,031 | 1.22 | Harvey |
| Williams County | 38,460 | 7.15 | Williston |
Largest North Dakota Counties by Population
Cass County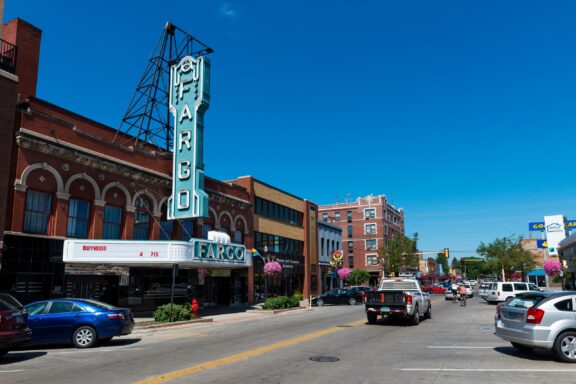 Cass County, situated in the southeastern part of North Dakota, stands out as the most populous county in the state. Established in 1873 and named after George Washington Cass, a railroad executive, the county plays a pivotal role in the state's agricultural and economic landscapes.
Fargo, the largest city in North Dakota, serves as the county seat, acting as a cultural and commercial hub. It's also the setting of the cult-classic movie and TV series of the same name. The county is characterized by its fertile Red River Valley soil, which makes it highly suited for agriculture, especially wheat and corn production.
Cass County hosts several notable events, including the Fargo Marathon and the Red River Valley Fair, which attract thousands of visitors annually. The county also features unique landmarks like the historic Fargo Theatre and the Plains Art Museum, which showcase the region's rich cultural heritage.
Burleigh County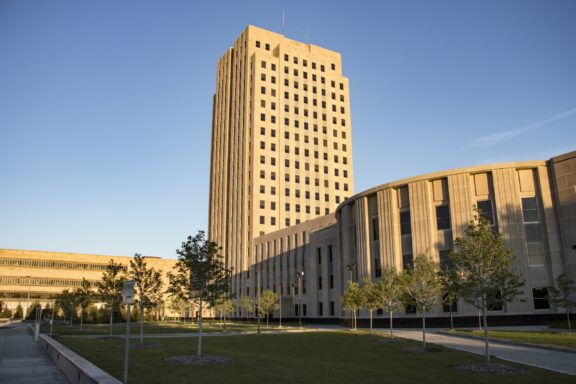 Burleigh County, located in central North Dakota, is renowned for its historical significance and vibrant community. Organized in 1873 and named after Walter A. Burleigh, a prominent lawyer and politician, the county has a rich historical backdrop.
Bismarck, the state capital of North Dakota, resides within Burleigh County and serves as its county seat. Bismarck is not only the political center of the state but also a hub for healthcare, retail, and education.
The city's skyline is dominated by the impressive North Dakota State Capitol building, a 19-story Art Deco tower known as the "Skyscraper on the Prairie."
The Missouri River, a significant natural feature, flows along the western edge of Burleigh County, providing recreational opportunities and contributing to the area's natural beauty. The county also hosts the United Tribes International Powwow, one of the largest gatherings of indigenous tribes in North America, celebrating Native American culture and heritage.
Grand Forks County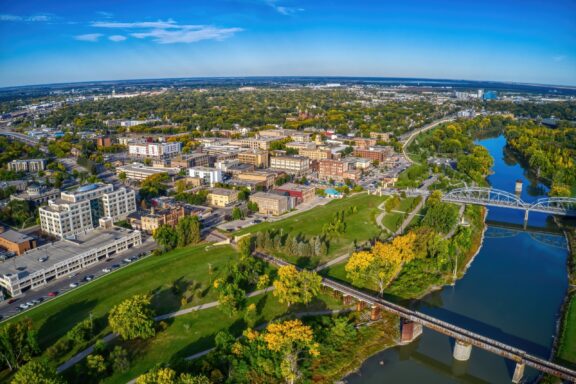 Grand Forks County, situated in the northeastern region of North Dakota, is a blend of rich history, academic prominence, and natural beauty. Established in 1873, the county is named after the forking of the Red River with the Red Lake River, an area of strategic importance in its early days.
The city of Grand Forks, serving as the county seat, is recognized as a central educational and cultural hub in North Dakota. It is home to the University of North Dakota (UND), the state's oldest university, known for its aerospace school, one of the top programs in the country.
Unfortunately, Grand Forks County is also known for its natural disasters. The Red River Flood of 1997 was particularly devastating, which significantly impacted the city and led to extensive reconstruction and flood protection measures.
The county boasts a variety of cultural and recreational facilities, including the North Dakota Museum of Art and the Alerus Center, a large entertainment and convention facility. The Greenway, a large park area along the Red River, offers extensive outdoor activities, such as biking, hiking, and fishing, enhancing the county's appeal as a destination for nature enthusiasts.
Ward County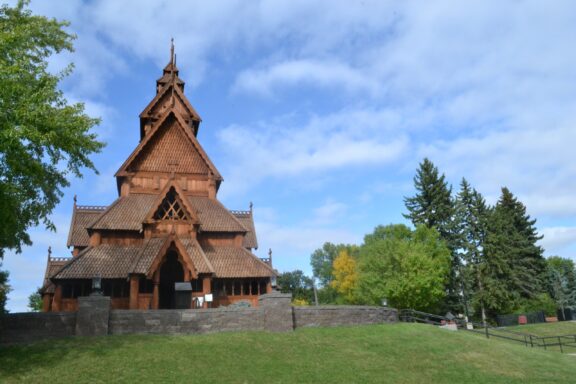 Ward County, located in north-central North Dakota, is a region marked by its rich history and strong community spirit. Established in 1885, it was named in honor of Mark Ward, the chairman of the House Committee on Counties at the time. The county has a distinct blend of urban development and rural charm, contributing to its unique character.
Minot, known as the "Magic City" due to its rapid growth during the railroad era, is the county seat of Ward County. It's a major cultural and economic hub in the region, home to the North Dakota State Fair, an annual event that attracts visitors from across the state.
Ward County is also known for its military presence, particularly the Minot Air Force Base, a key component of the county's economy and community. The base significantly contributes to the area's demographic diversity and economic stability.
The county's geographical landscape includes rolling plains and agricultural land, emphasizing North Dakota's agricultural heritage. Minot's Scandinavian Heritage Park, celebrating the region's rich Scandinavian roots, features replicas of traditional Nordic structures and artifacts.
Williams County
Williams County in northwestern North Dakota is known for its dynamic energy sector and historical significance. Established in 1891, it's named after Erastus Appelman Williams, a notable politician. The county seat, Williston, is at the heart of the Bakken oil formation, driving significant economic growth and diversity.
The area's history is richly preserved at Fort Buford State Historic Site and the Missouri-Yellowstone Confluence Interpretive Center, showcasing the region's heritage. Williams County's landscape features the confluence of the Missouri and Yellowstone Rivers, where it's possible to enjoy fishing and boating.
The county also celebrates its heritage through events like the Upper Missouri Valley Fair, highlighting its agricultural roots and community spirit. Despite its focus on energy and agriculture, Williams County maintains a balance with nature, evident in its conservation areas and parks, which provide opportunities for outdoor exploration and recreation.
Smallest North Dakota Counties by Population
Slope County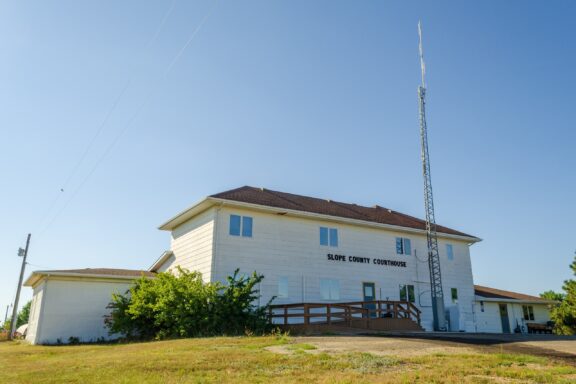 Slope County, located in southwestern North Dakota, is distinguished as the least populous county in the state, offering a unique blend of tranquility and historical richness. Established in 1914, the county was named for the Missouri Slope, referring to the Missouri Plateau's gradual descent towards the west.
Amidon, the county seat and the smallest county seat in the United States, epitomizes the county's serene and close-knit community atmosphere. Amidon and the surrounding area are steeped in history, with nearby sites like the White Butte, North Dakota's highest point, offering panoramic views of the picturesque landscape.
Slope County's economy primarily revolves around agriculture, with its vast, open spaces ideal for farming and ranching. Despite its small population, the county maintains a strong sense of community, evident in events like the Slope County Famers Fair, which is the longest continuously running fair in the state.
Billings County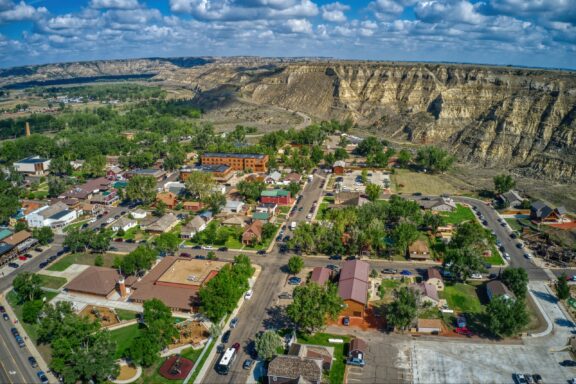 Nestled in the rugged badlands of western North Dakota, Billings County offers a distinctive blend of natural beauty and historical significance. This county, established in 1879, is named after railroad executive Frederick H. Billings. It's renowned for its picturesque landscapes and rich cultural heritage, encapsulated within the boundaries of Theodore Roosevelt National Park.
Medora, the county seat, serves not only as an administrative center but also as a gateway to the park, drawing visitors with its old-west charm and the famous Medora Musical. The county's deep connection with President Theodore Roosevelt is celebrated through the park, which preserves the stunning terrain that Roosevelt once explored and cherished.
Billings County's economy, though influenced by tourism and agriculture, is deeply rooted in its historical and natural assets. The rugged terrain, characterized by colorful buttes, deep gorges, and the winding Little Missouri River, provides a backdrop for outdoor activities like hiking, camping, and wildlife viewing.
This area, with its small population, offers a serene and intimate experience of North Dakota's wild and historical landscape, making it a unique and captivating part of the state.
Sheridan County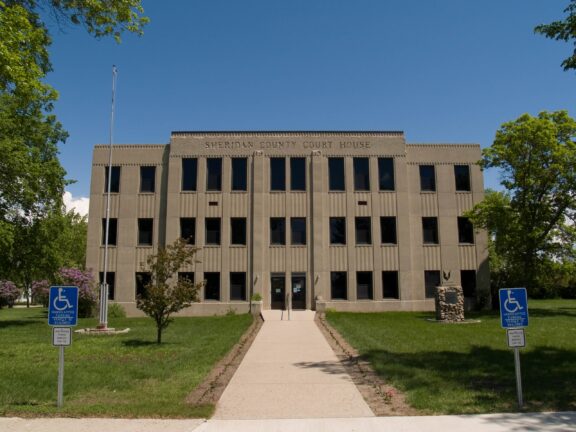 Sheridan County, found in the central region of North Dakota, is a testament to the state's serene prairie landscapes and agricultural heritage. Established in 1908, it was named in honor of General Philip Henry Sheridan, a notable figure in American history. With McClusky as its county seat, Sheridan County epitomizes the quiet, rural life characteristic of central North Dakota.
The county's economy is primarily driven by agriculture, with vast expanses of farmland and pastures shaping its landscape. This agricultural focus is celebrated annually with Sheridan County 4-H events in McClusky.
Despite its small population, Sheridan County boasts a strong sense of community and resilience. The county is dotted with small towns and communities, each contributing to the overall tapestry of rural North Dakota life.
Notable North Dakota Counties
Stark County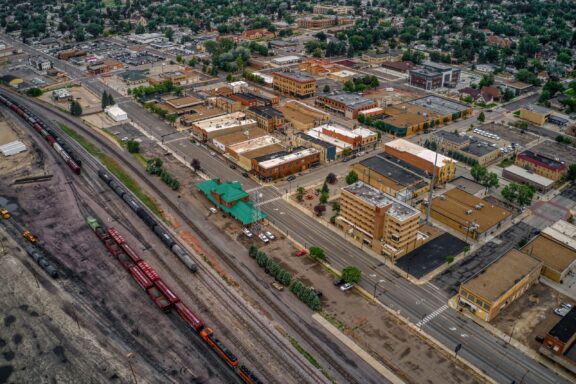 Stark County, located in southwestern North Dakota, is a dynamic blend of history, education, and economic growth. Established in 1879 and named after George Stark, a vice president of the Northern Pacific Railroad Company, the county has since become a hub of cultural and educational activities.
Dickinson, the county seat, is not only a gateway to the North Dakota Badlands but also home to Dickinson State University, fostering a vibrant academic atmosphere. The university adds a youthful energy and contributes significantly to the local culture and economy.
The county's economy is bolstered by a mix of agriculture, energy production, and manufacturing. Stark County's rich historical legacy is showcased at the Dickinson Museum Center, which includes the Joachim Regional Museum and the Pioneer Machinery Hall, offering insights into the region's past.
Additionally, the West River Community Center and the Heart River Golf Course in Dickinson provide recreational opportunities for residents and visitors alike, underlining the county's commitment to community and quality of life.
Morton County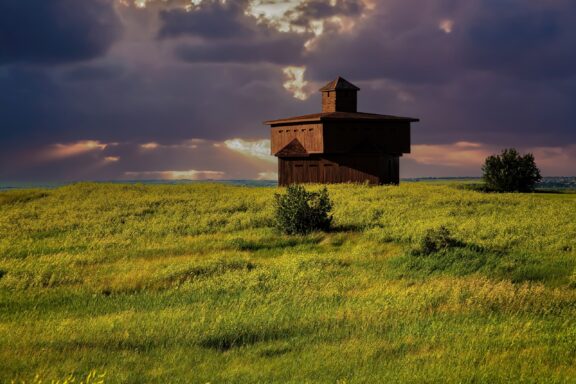 Morton County, located in south-central North Dakota, presents a rich tapestry of Native American history and diverse landscapes. The county, organized in 1878, is named after Oliver P. Morton, a U.S. Senator from Indiana. Mandan, the county seat, serves as a central hub for the region's cultural and economic activities.
The county's proximity to the Missouri River has historically made it a significant area for trade and settlement, particularly for the Mandan Native American tribe, known for their earth-lodge villages and agricultural practices. This rich heritage is celebrated at sites like Fort Abraham Lincoln State Park, which includes a reconstructed Mandan village, offering a glimpse into the county's deep indigenous roots.
Morton County's economy is predominantly driven by agriculture, with the river valley providing fertile lands for farming. The area also holds importance for the energy sector, contributing to North Dakota's position as a leader in energy production.
McLean County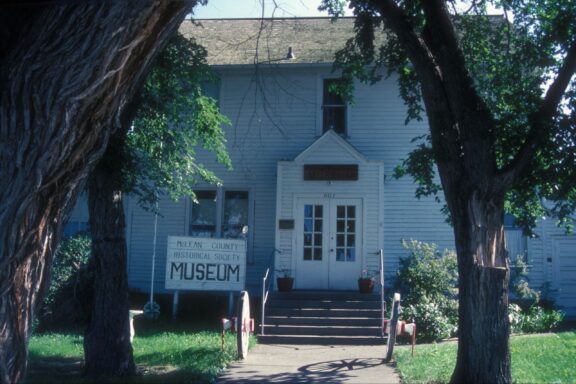 McLean County, situated in central North Dakota, is renowned for its significant role in the state's energy sector and its picturesque natural landscapes. Established in 1883, the county was named after John A. McLean, the first mayor of Bismarck, the state capital. The county seat, Washburn, is a hub of local governance and community life.
A key feature of McLean County is the Coal Creek Station, one of the largest coal-fired power plants in North Dakota. This facility, along with the nearby Falkirk and Coal Creek mines, underscores the county's pivotal role in energy production.
The county also encompasses parts of Lake Sakakawea, the expansive reservoir created by the Garrison Dam on the Missouri River. This lake is a recreational paradise, offering abundant opportunities for fishing, boating, and camping, and is a vital habitat for diverse wildlife.
McLean County's blend of industrial significance and natural beauty is further highlighted in places like the Fort Mandan historic site, where Lewis and Clark spent the winter of 1804-1805, connecting the county to a key chapter in American history.
More About North Dakota Counties: FAQs
What is the capital of North Dakota?
The capital of North Dakota is Bismarck, located in Burleigh County in the central part of the state.
What is the largest county in North Dakota by total area?
McKenzie County is the largest in North Dakota, covering a total area of 2,742 square miles (7,102 km2).
Are there any major rivers in North Dakota?
Yes, the Missouri River and the Red River are the two major rivers. The Missouri River runs through the central part of the state, while the Red River forms the eastern border with Minnesota.
Does North Dakota have any national parks?
Yes, Theodore Roosevelt National Park in western North Dakota is the state's only national park.
What is the climate like in North Dakota?
North Dakota experiences a continental climate with cold winters, hot summers, and relatively low precipitation.
Are there any unique festivals in North Dakota?
Yes, the Norsk Høstfest in Minot is one of the largest Scandinavian festivals in North America.
Is there a state motto for North Dakota?
Yes, the state motto is "Liberty and Union, Now and Forever, One and Inseparable."