New York (NY) on the US Map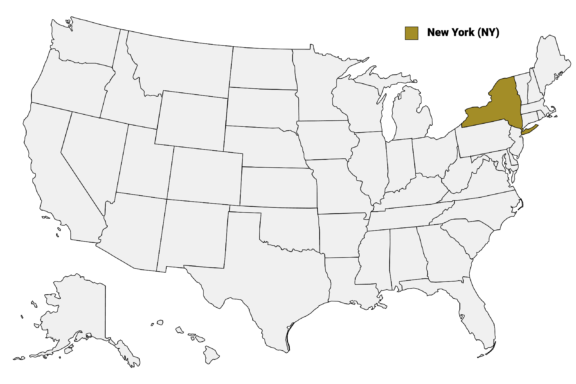 Below is a map of the 62 counties of New York (you can click on the map to enlarge it and to see the major city in each state).
Map of New York Counties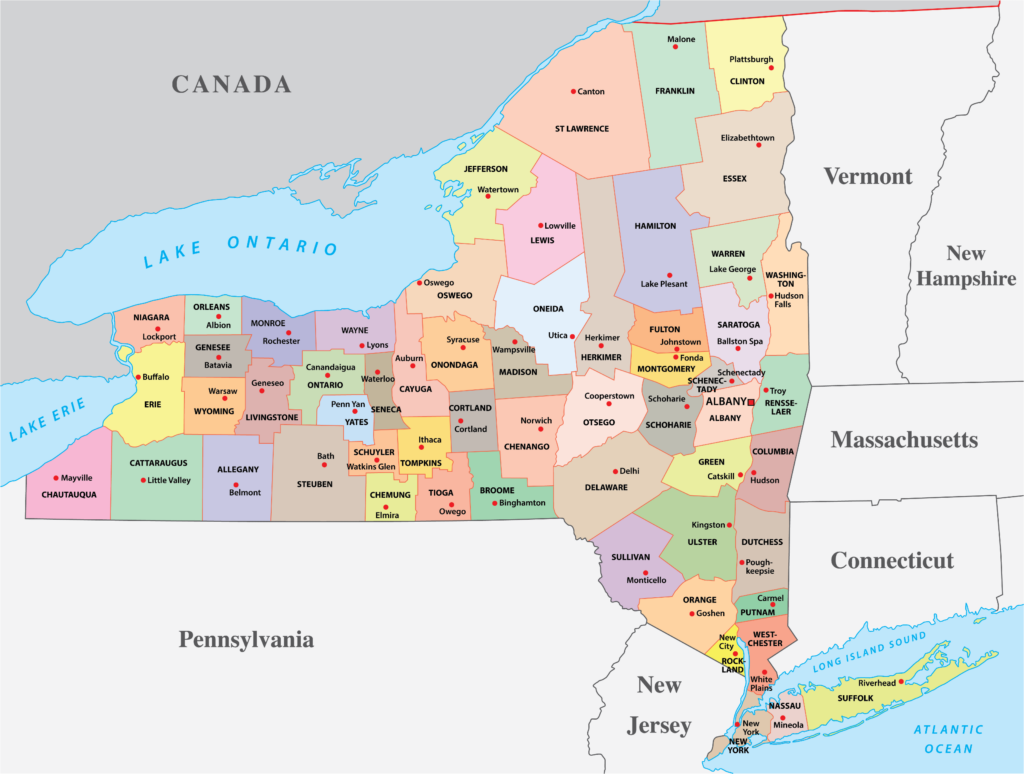 Interactive Map of New York Counties
Click on any of the counties on the map to see the county's population, economic data, time zone, and zip code (the data will appear below the map). Data is sourced from the US Census 2021.
List of the Counties of New York:
| County | Population | Per sq. km | Largest City |
| --- | --- | --- | --- |
| Albany County | 314,679 | 232.36 | Albany |
| Allegany County | 46,654 | 17.5 | Wellsville |
| Bronx County | 1,468,262 | 13441.5 | New York |
| Broome County | 198,591 | 108.66 | Binghamton |
| Cattaraugus County | 77,211 | 22.79 | Olean |
| Cayuga County | 76,644 | 42.79 | Auburn |
| Chautauqua County | 128,042 | 46.62 | Jamestown |
| Chemung County | 84,456 | 80.05 | Elmira |
| Chenango County | 47,407 | 20.48 | Norwich |
| Clinton County | 80,095 | 29.8 | Plattsburgh |
| Columbia County | 61,587 | 37.47 | Kinderhook |
| Cortland County | 46,984 | 36.37 | Cortland |
| Delaware County | 44,644 | 11.95 | Sidney |
| Dutchess County | 296,012 | 143.65 | Poughkeepsie |
| Erie County | 949,715 | 351.66 | Buffalo |
| Essex County | 37,501 | 8.07 | North Elba |
| Franklin County | 47,996 | 11.37 | Malone |
| Fulton County | 53,588 | 41.76 | Gloversville |
| Genesee County | 58,387 | 45.73 | Batavia |
| Greene County | 48,026 | 28.65 | Catskill |
| Hamilton County | 5,068 | 1.14 | Hope |
| Herkimer County | 60,596 | 16.59 | German Flatts |
| Jefferson County | 117,634 | 35.82 | Watertown |
| Kings County | 2,712,360 | 15095.13 | New York |
| Lewis County | 26,681 | 8.07 | Lowville |
| Livingston County | 62,253 | 38.05 | Geneseo |
| Madison County | 68,466 | 40.37 | Sullivan |
| Monroe County | 757,332 | 445.1 | Rochester |
| Montgomery County | 49,539 | 47.45 | Amsterdam |
| Nassau County | 1,391,678 | 1888.4 | Hempstead |
| New York County | 1,669,127 | 28442.84 | New York |
| Niagara County | 212,808 | 157.3 | Niagara Falls |
| Oneida County | 232,034 | 73.89 | Utica |
| Onondaga County | 474,621 | 235.42 | Syracuse |
| Ontario County | 112,060 | 67.18 | Victor |
| Orange County | 398,277 | 189.36 | Kiryas Joel |
| Orleans County | 40,588 | 40.05 | Ridgeway |
| Oswego County | 118,019 | 47.89 | Oswego |
| Otsego County | 58,952 | 22.72 | Oneonta |
| Putnam County | 97,960 | 164.27 | Carmel |
| Queens County | 2,393,104 | 8498.42 | New York |
| Rensselaer County | 161,125 | 95.35 | Troy |
| Richmond County | 493,194 | 3310.41 | New York |
| Rockland County | 336,485 | 748.01 | Ramapo |
| Saratoga County | 235,010 | 112.03 | Saratoga Springs |
| Schenectady County | 157,515 | 297.15 | Schenectady |
| Schoharie County | 29,936 | 18.59 | Cobleskill |
| Schuyler County | 17,920 | 21.07 | Hector |
| Seneca County | 33,900 | 40.44 | Geneva |
| St. Lawrence County | 108,836 | 15.68 | Potsdam |
| Steuben County | 94,153 | 26.14 | Bath |
| Suffolk County | 1,522,998 | 645.55 | Brookhaven |
| Sullivan County | 78,230 | 31.2 | Thompson |
| Tioga County | 48,567 | 36.15 | Owego |
| Tompkins County | 105,638 | 85.93 | Ithaca |
| Ulster County | 181,862 | 62.46 | Kingston |
| Warren County | 65,692 | 29.25 | Glens Falls |
| Washington County | 61,504 | 28.57 | Kingsbury |
| Wayne County | 91,332 | 58.4 | Arcadia |
| Westchester County | 999,723 | 896.16 | Yonkers |
| Wyoming County | 40,679 | 26.5 | Attica |
| Yates County | 24,808 | 28.33 | Milo |