Naypyidaw is the capital of Myanmar. Although less populated than other major cities, Naypyidaw represents the nation's political heart.
Naypyidaw is known for its spacious and well-planned layout. The city features wide roads, modern infrastructure, and several prominent government buildings.
Where is Naypyidaw?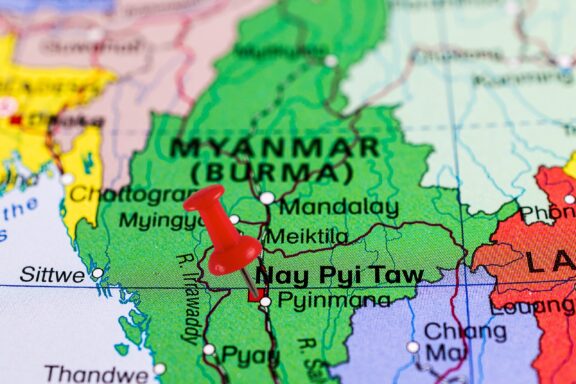 Naypyidaw is located in the central part of Myanmar, Southeast Asia. It lies in the Mandalay Division and is roughly between the country's two largest cities, Yangon and Mandalay. The city's central location was chosen to make it more accessible from various parts of Myanmar.
The nearby water features, such as the Ngalaik Lake, add to the city's scenic beauty and provide recreational opportunities for residents and visitors alike.
History of Naypyidaw
Naypyidaw's establishment as the capital of Myanmar on 6 November 2005 marked a significant and sudden shift in the country's political landscape. The decision to replace Yangon with Naypyidaw was strategically made, considering its central location and the intention to create a new, contemporary administrative center.
The city was meticulously planned for different functions, such as governmental, residential, and commercial sectors. The attention to infrastructure, transportation, utilities, and public services laid the foundation for a well-organized city.
Following Naypyidaw's foundation, the development period witnessed a construction boom and economic growth. Many buildings, roads, bridges, and public facilities were constructed, transforming the landscape and stimulating economic development through investments from both governmental and private sectors.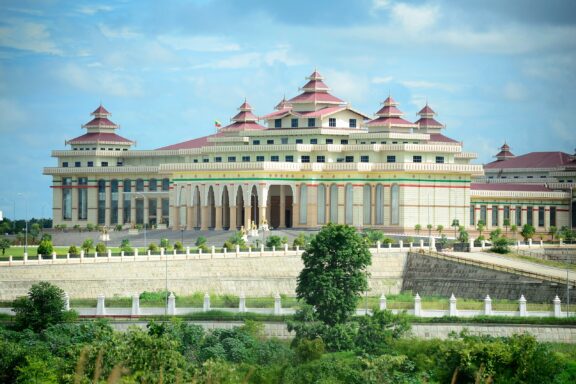 The city also began to host international conferences and summits, strengthening its role as Myanmar's political center and enhancing its international profile. Several foreign embassies moved to Naypyidaw, and landmarks like the Uppatasanti Pagoda and the Naypyidaw Zoological Garden became significant tourist destinations.
Efforts were also made to promote tourism, and the city saw increased economic growth and cultural exchange opportunities. However, despite its planned nature, Naypyidaw's spread-out design led to challenges in urban management and community building. The disparities in development across different areas of the city further added to its complex growth dynamics.
Naypyidaw's history is a unique tale of a city suddenly thrust into prominence and meticulously shaped to serve as Myanmar's political and administrative hub. Its well-planned phases of development, international recognition, tourism attractions, and ongoing challenges continue to define its evolving character and importance in Myanmar's national landscape.
Features of Naypyidaw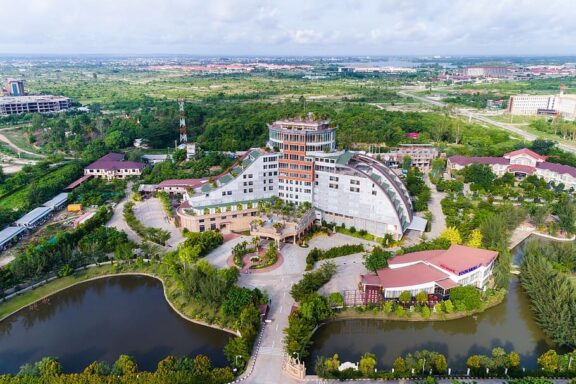 Its deliberate design and notable features distinguish Naypyidaw. A well-organized layout defines the city. One of the most recognizable aspects of Naypyidaw is its infrastructure, including extensive road networks, bridges, and public facilities. The city's 20-lane highways are particularly eye-catching, often symbolizing the city's ambitious planning.
Naypyidaw's features paint a picture of a city carefully planned and striving to fulfill its role as Myanmar's capital. Its political significance, cultural landmarks, and ongoing development challenges make it a unique and fascinating place in the Southeast Asian region.
Geography and Climate
Naypyidaw's geography is characterized by relatively flat terrain with some hilly regions in the periphery. Lush green landscapes surround the city, enjoying a tropical wet and dry climate.
The weather typically consists of three seasons:
A cool, dry winter from November to February
A hot, dry summer from March to May
A wet, rainy monsoon season from June to October
The temperature can vary from as cool as 15 °C (59 °F) in the winter to as hot as 40 °C (104 °F) during the summer months.
Population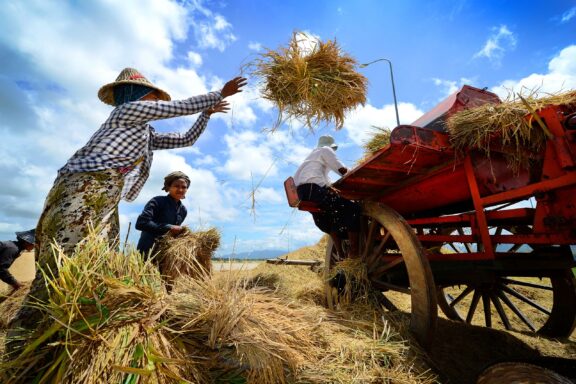 Though designed to be the administrative heart of Myanmar, Naypyidaw's population is relatively low compared to other major cities in the country. The city's population is over 1.2 million inhabitants.
The people of Naypyidaw include government officials, civil servants, military personnel, and other workers and their families. The city also houses a mix of ethnic groups, reflecting the diversity of Myanmar's population. Educational and healthcare facilities have been developed to cater to the needs of the residents, adding to the city's growing community life.
Economy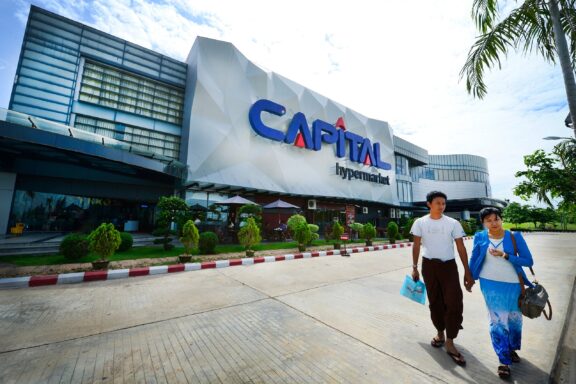 Naypyidaw's economy is anchored by government activities, which serve as the core of the city's economic structure. Apart from the government sector, there is growth in real estate, construction, and the service industry, particularly in hotels and restaurants catering to tourism and conferences.
The city also aims to promote itself as a hub for information technology and has attracted investments in this sector. Some agricultural activities in the surrounding areas contribute to the local economy.
The city's economic health is intrinsically linked to its role as the capital, and its planned nature helps facilitate diverse economic opportunities. However, challenges remain in achieving uniform development across different sectors.
Things to Do and Places to See in Naypyidaw
Naypyidaw offers a diverse array of activities and sights to explore. Let's explore some of this intriguing capital city's most sought-after sites and attractions.
1. Uppatasanti Pagoda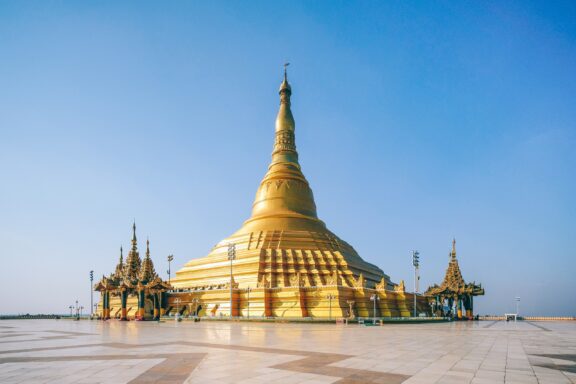 The Uppatasanti Pagoda, known as the "Peace Pagoda," stands tall in Naypyidaw, offering spiritual nourishment and a striking example of traditional Myanmar architecture. The famous Shwedagon Pagoda influences the pagoda's impressive design in Yangon.
Inside, you'll find a serene atmosphere complemented by beautiful artifacts, including a Buddha tooth relic. Its 99-meter height and golden hue make it visible from various parts of the city, with surrounding grounds that include gardens, ponds, and sculptures.
2. Naypyidaw Zoological Garden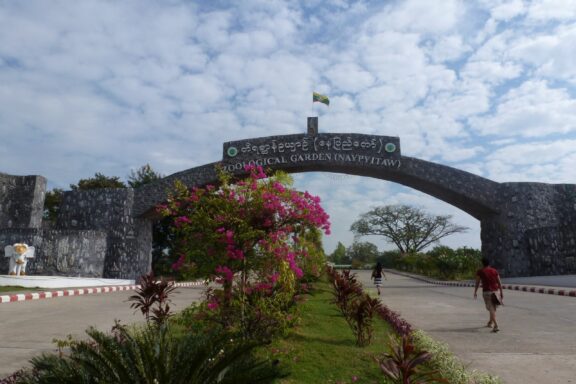 Naypyidaw Zoological Garden offers a window into the world of animals and a chance to connect with nature right in the heart of Myanmar's capital. Spread over a large area, this zoological garden is home to a wide array of species, both native and exotic.
The spacious enclosures mimic natural habitats, allowing animals to roam freely. There are educational displays and interactive experiences aimed at fostering appreciation and understanding of wildlife.
Ideal for families and wildlife enthusiasts, Naypyidaw Zoological Garden offers an engaging and educational experience. Whether it's observing animals in their habitats, participating in feeding sessions, or learning about conservation efforts, there's something for every animal lover here.
3. Water Fountain Garden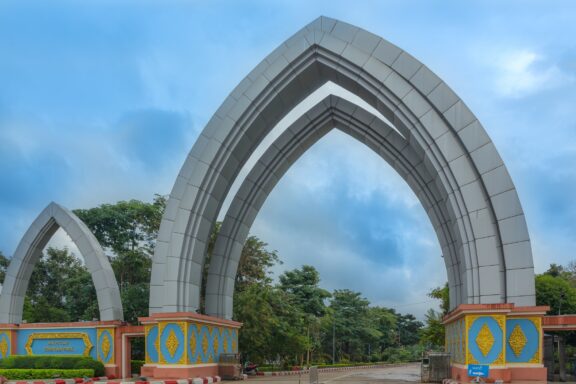 The Water Fountain Garden is a unique and artistic destination where water, light, and landscape merge to create a captivating visual experience. Designed with meticulous attention to detail, the garden features various fountains, each with its distinct style and theme.
Colorful lights add to the charm at night, creating a magical setting. Paths weave through the garden, inviting visitors to explore the different sections at leisure.
The Water Fountain Garden is a refreshing departure from traditional tourist spots. It offers a stroll through artistic water features and a chance to unwind in a peaceful setting. The evening light shows are particularly mesmerizing and should not be missed.
4. National Museum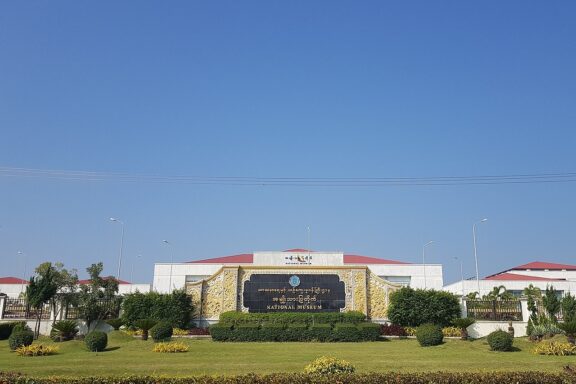 The National Museum is a treasure trove of Myanmar's cultural heritage, offering visitors an immersive journey through time and tradition. Housing a vast collection, the museum covers various aspects of Myanmar's history, art, and culture. Exhibits range from ancient artifacts to contemporary artworks, and themed galleries provide a coherent and engaging narrative.
The museum's layout and design enhance the visitor experience, guiding them through different eras and aspects of Myanmar's identity. The National Museum is a must-visit for history buffs, art enthusiasts, and anyone interested in gaining deeper insights into Myanmar. Its well-curated exhibits provide a rich educational experience, and its accessibility and organization make it suitable for all ages.
5. The Gem Museum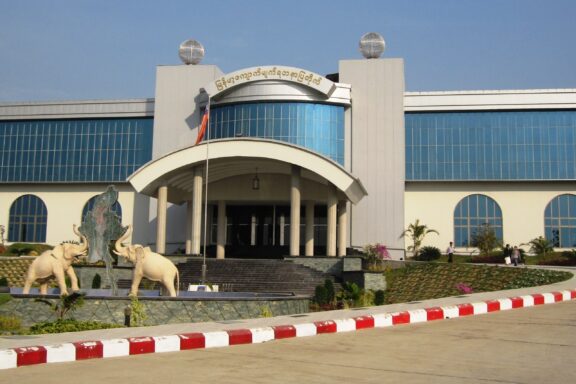 The museum exhibits a breathtaking collection of precious stones, including rubies, sapphires, and jade. Visitors can explore various facets of the gem industry, from mining and processing to the artistry involved in crafting fine jewelry. Informative displays explain the geological processes that form these natural wonders.
Anyone interested in gemology or captivated by the allure of precious stones will find the Gem Museum a fascinating destination. It offers a unique perspective on an industry that has shaped both the economy and culture of Myanmar. The quality of the exhibits and the informative presentations make it a standout attraction in Naypyidaw.
6. Naypyidaw Safari Park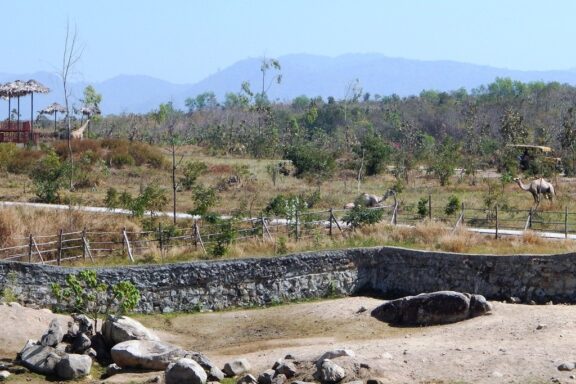 Spanning a large area, the park is carefully designed to emulate natural habitats, giving visitors an authentic safari experience. From big cats to gentle herbivores, the park hosts a variety of species. Guided tours are available, providing insights into animal behavior, conservation efforts, and ecological balance.
Adventure-seekers and nature enthusiasts will find Naypyidaw Safari Park an unforgettable experience. It's a rare opportunity to observe animals in surroundings that mirror their natural habitats and gain awareness about wildlife conservation's importance.
7. Naypyidaw Myoma Market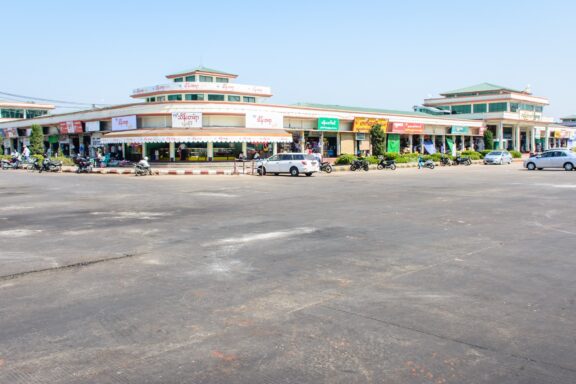 An expansive market filled with diverse goods, from fresh produce and traditional snacks to clothing and handicrafts. Visitors can explore the myriad stalls, engage with local vendors, and discover unique items that reflect the rich tapestry of Myanmar's traditions.
A visit to Naypyidaw Myoma Market is an immersive experience, providing a chance to interact with locals, taste authentic dishes, and shop for souvenirs. It's a perfect place for those looking to step off the typical tourist path and dive into the vibrant culture of Naypyidaw.
8. Bodhgaya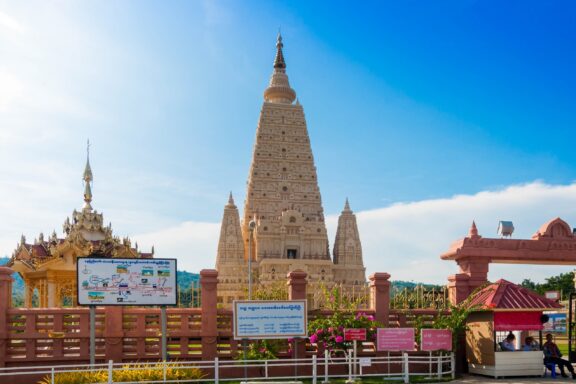 The famous Bodhgaya inspires this sacred space in India, where Buddha attained enlightenment. It includes replicas of well-known Buddhist structures, meditation areas, and beautifully landscaped gardens. Every aspect of the site is imbued with symbolism, reflecting the core principles of Buddhist philosophy.
Whether you're a spiritual seeker or simply curious about Buddhism, Bodhgaya Naypyidaw offers a peaceful retreat and a chance to contemplate life's deeper meanings. Guided tours, meditation sessions, and educational resources make this a rewarding destination for visitors of all backgrounds.
9. National Herbal Park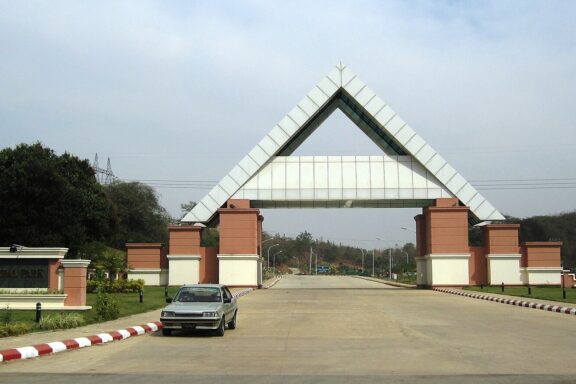 This unique park features a vast collection of medicinal plants labeled and described for specific uses. Meandering paths guide visitors through the various sections, and knowledgeable guides are available to explain the herbs' therapeutic properties and traditional applications.
The National Herbal Park offers a distinctive and informative experience for those interested in natural healing, botany or simply looking for a tranquil escape. It's an opportunity to connect with the natural world and gain insights into a vital aspect of Myanmar's healthcare heritage.
Frequently Asked Questions
Is Naypyidaw safe for tourists?
Yes, Naypyidaw is relatively safe for tourists, unlike other parts of Myanmar, where there might be concerns about armed conflict and civil unrest. The city's modern infrastructure and governmental presence contribute to its safety. However, following standard travel safety guidelines is always wise when visiting any foreign place.
What is the local cuisine like in Naypyidaw?
Naypyidaw offers a range of culinary experiences, from traditional Burmese dishes to international cuisine. Trying local specialties is part of the cultural experience. Here are some of the must-try authentic local dishes:
• Mohinga: A comforting fish soup made with rice noodles. It's flavored with lemongrass, garlic, onions, and ginger.
• Tea Leaf Salad (Lahpet Thoke): A salad from fermented tea leaves mixed with crunchy beans, nuts, and seeds.
• Shan Noodles: A popular dish that can be enjoyed as soup or salad. The dish consists of rice noodles, marinated chicken or pork.
• Burmese Curry: Chicken, pork, or vegetarian option, slowly cooked with tomatoes, garlic, onions, and traditional spices.
How do I get to Naypyidaw?
Naypyidaw is accessible by air, with the Naypyidaw International Airport connecting it to other major cities. Bus and train services also link Naypyidaw to cities like Yangon and Mandalay.
Where can I stay in Naypyidaw?
Naypyidaw offers various accommodation options ranging from luxury hotels to more budget-friendly choices. Many are located near key attractions and governmental areas.
What languages are spoken in Naypyidaw?
The primary language spoken in Naypyidaw is Burmese. English is understood in governmental areas, and some hotels and restaurants cater to tourists.
Can I use credit cards in Naypyidaw?
Credit cards are accepted in many hotels and larger restaurants but might only be accepted in some places. It's advisable to carry local currency for smaller establishments.
Final Thoughts
Naypyidaw stands as a symbol of Myanmar's aspirations and cultural richness. Its well-planned layout, stunning landmarks, authentic culinary delights, and safety compared to other parts of the country make it an intriguing destination.
Naypyidaw offers a diverse range of experiences for everyone. While it may not have the bustling energy of other Asian capitals, its distinctive character and attractions make Naypyidaw a worthwhile visit for those interested in understanding the heart of Myanmar's governance and a different facet of its culture.