Before we start writing, we want to make it clear that all women are beautiful and that what is important is inner beauty! 🙂
Having said that, here are the World's 10 Most Beautiful Blondes.
We almost here that you think, "what have blond women to do with maps?"… but do not worry, we are still on a map!
Below you will find a map showing the countries where 10 blondes have been born with this beauty: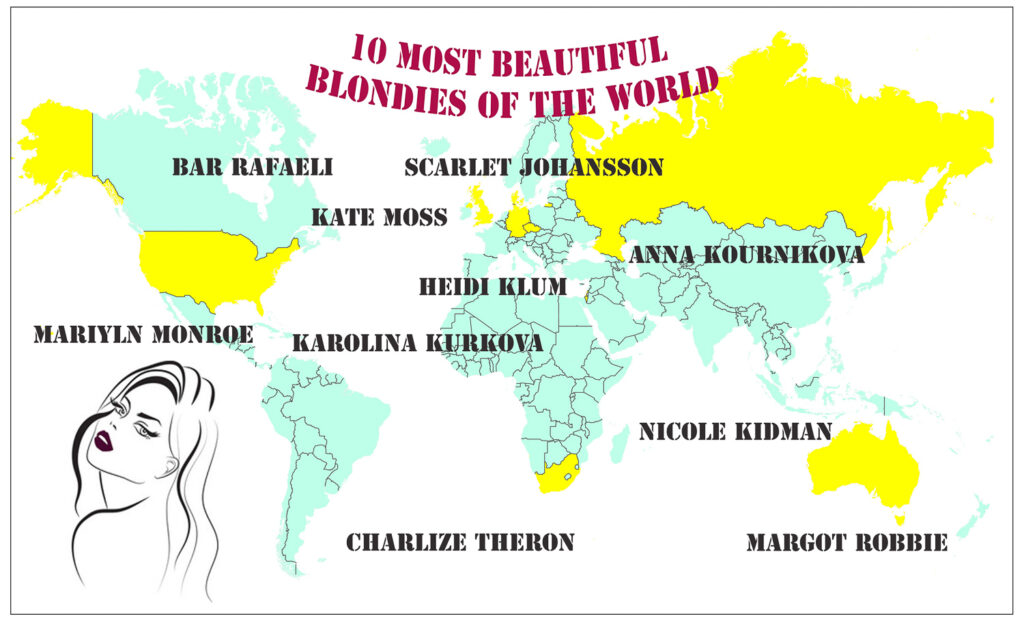 We would like to remind you that there are many surveys and publications about this topic. In this context, we share with you the list we have prepared, considering the past up to the present day.
1.Mariyln Monroe
The first line of our list is for Mariyln Monroe, the beautiful American woman, whose beauty has been talken for years, the first woman to come to mind as a blonde.
2. Charlize Theron
Charlize Theron is a South African who has adorable green eyes and a fascinating beauty with her blonde hair.
She gets a full score from us not only with her beauty, but also for her great filmmaking and acting skills.
3. Nicole Kidman
Nicole Kidman is one of the first names to come to mind, perhaps in terms of blondness and acting.
She is in third place in our list, beautiful Australian.
4. Scarlet Johansson
Scarlett Johansson is from Denmark.
She is memorable with her successful career and stunning beauty.
5. Heidi Klum
The successful model, known for Victoria Secrets modeling, has added to her career in the field of presenting. Heidi Klum is from Germany.
6. Kate Moss
Successful model Kate Moss, who has lost nothing from her beauty over the years, is from England. Kate Moss is in the sixth place in our list.
7. Karolina Kurkova
It would not have been possible to talk about blondes without her. She truly is blond and beautiful. Czech-born Karolina Kurkova is in the 7th place in our list.
8. Anna Kournikova
Russian-born successful tennis player, a blonde bomb. We believe that she has taken her genes from her country's land and we wish her successful tennis career to continue.
9. Bar Rafaeli
She is from Israel and no doubt she is one of the most beatiful blonde women in the world.
10. Margot Robbie
Another famous blonde in our list is Australian Margot Robbie. Despite her young age, Robbie has already begun to be shown among the finest women in the world.